As our wedding traditions series winds down, we have one last share-worthy post. We began the series with our favorite first dance wedding photos and brought it all the way back to the ever-entertaining bouquet and garter toss. What more couldn't we pass up the chance to highlight? Let's just say that we thought we'd wrap up our wedding traditions series with something sweet. Check out what the SnapKnot community has to say about wedding cake cutting!
"In doing our research we found that in ancient times, the wedding cake was broken over the bride's head as a symbol of fertility. Most brides understandably won't opt to follow this tradition to the letter, but most couples choose to cut the first piece together and feed each other a bite to symbolize their unity."
– Peggy of Golden Vision Photography
Photo Tip: "Just before the cake cutting, arrange to have your cake moved away from any walls and into the middle of the floor. This allows guests to get a better look at your cake cutting without having them crowd too closely and block your professional photographer. Also, if you're going to cake smash, make sure you've sized up your competition ahead of time! You never know what you're getting into!" – Uncorked Studios
Below is one of our fave shots. Jen + Travis of Uncorked Studios relives the moment:
"He told her he was going to cake smash her. She asked him not to, but they lined up back to back anyways. I'm not sure if he was expecting her just to take it, but when the DJ yelled, "Go!" she turned around so fast and got him so good, he didn't know what hit him!"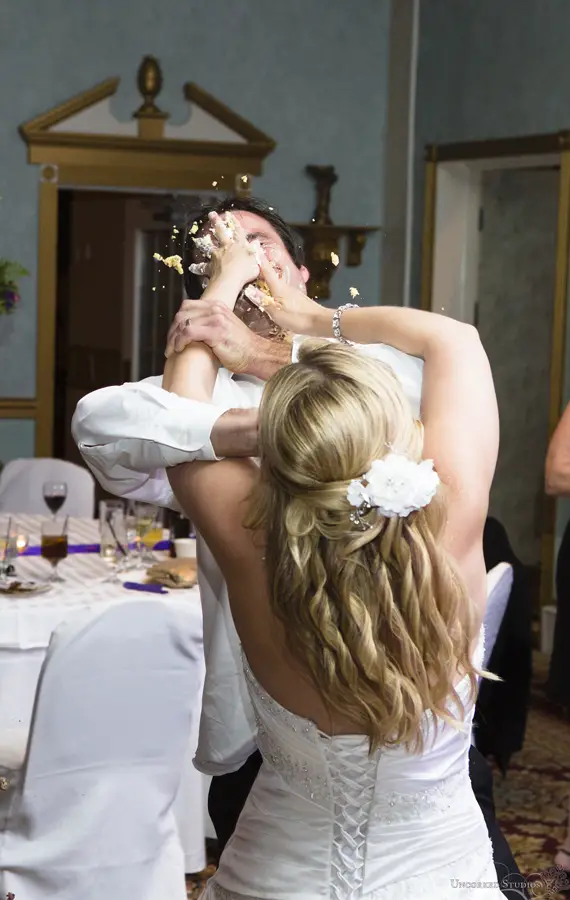 Don't miss out on the previous posts in our wedding traditions series for more fun reception ideas!