There is just as much detail that goes into planning a destination wedding… or maybe even more! We want to offer you these destination weddings' do's and don'ts that will help you out when planning all the details of your big day.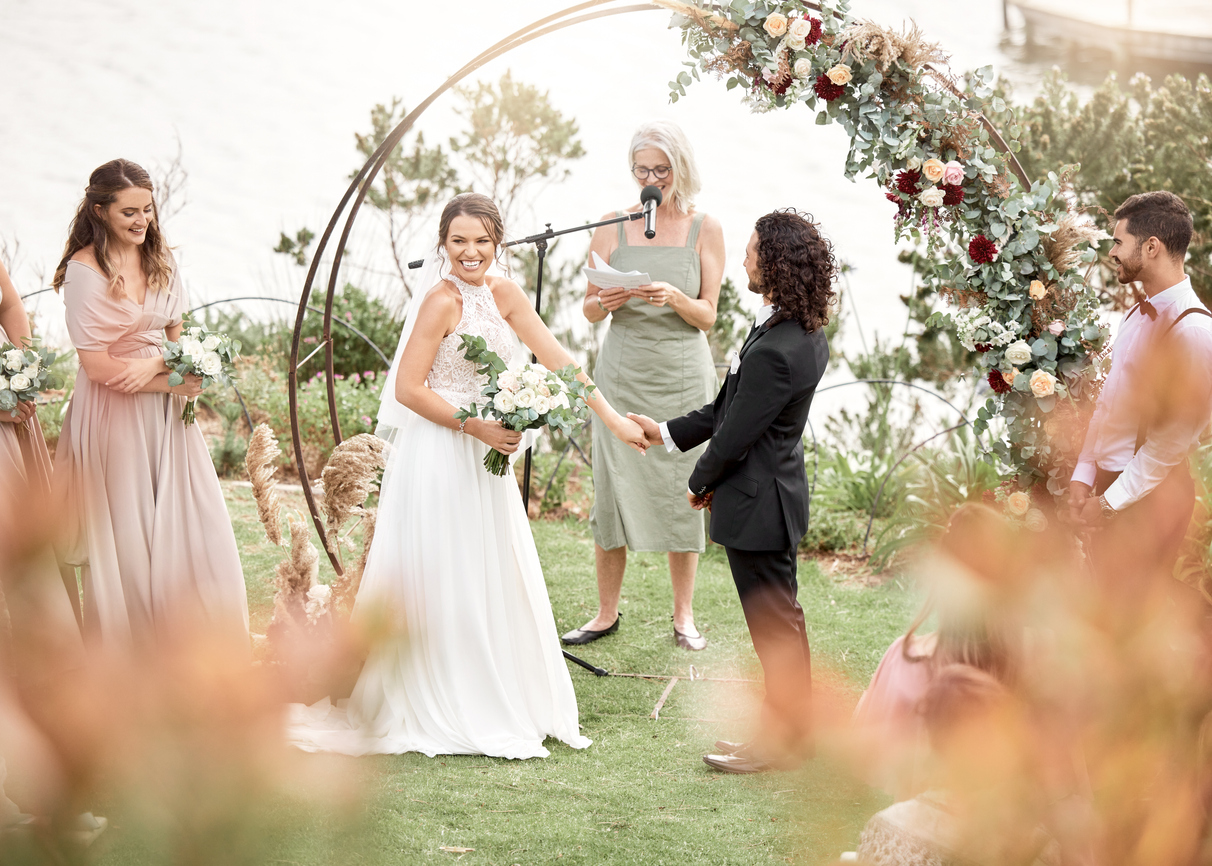 Destination Wedding Do's
1. Select a Destination That is Easy To Get To
Your guests are more likely to attend and be happy once they get there. Plus, it eliminates other potential issues with coordinating your event.
2. Carry On Your Dress If You Have To Fly To Your Destination
This coveted gown is the one you've been dreaming of wearing your entire life, and let's face it – airlines are notorious for losing luggage. Most airplanes have a coat closet they can hang it in, and knowing exactly where it is, will give you much needed peace of mind.
3. Create a Wedding Website For Your Guests
We love eweddings. You can add all kinds of cool stuff, customize it, add music, and all the information you can think of. Plus, if you enter the code DIDO, you'll get $10 off a 1-year package.
4. Find Local Favors and Gifts For Your Guests
You chose your destination for a reason – so reflect on the destination by finding little trinkets from the area to give to guests. Do you love Hawaii because of its macadamia nuts? Add them to your welcome baskets. Captivated by Italy because of its exquisite wine? Give a bottle of your favorite vino to guests as a favor.
5. Research the Marriage Requirements Before You Select Your Destination
Each country and state has its own requirements, which can change from time to time. Make sure you are aware of what those requirements are and get the legwork done before you go.
6. Hire a Professional Wedding Planner
Many hotels and resorts offer day-of planning services, but to ensure you have all the details covered, it's best to hire a 3rd party professional. Your location will likely have a list of preferred vendors they have an established relationship.
7. Hire a Professional Photographer and Bring Them With You
Your images will be one of the few tangible things you can take from your wedding day – make sure you're going to love 'em!
8. Take a Scouting Trip Prior To the Big Day
If you can afford to go to the destination at least once before your event, do it. It helps to meet your professionals before you go and get an idea of any potential issues you'll have (traffic, distance from other hotels etc.) so you can work around them. It will also show you some awesome places for amazing wedding photos.
9. Call Hotels To See If You Can Negotiate Group Discounts
If you book 10 or more rooms, most hotels will provide a discount. Call the Group Sales Manager and ask for details. You can also see if you can do a full buyout, depending on the number of rooms and guests you expect.
10. Create an Event That Is Unique To You and Your Fiancé
Cookie cutter events are a thing of the past. Find out what your passions are and reflect them in your event. Dog lovers? Make a donation to an animal rescue organization for each of your guests – then leave a card letting them know what you did. Not a huge fan of wedding cakes? Do a "Candy Bar" or serve up your favorite sweet treat instead. Do you love the winter and both have a passion for skiing? If so, why not plan a destination wedding in Vermont.
Destination Wedding Don'ts
1. Don't Sweat the Small Stuff
Things may go wrong with a hometown wedding or a destination wedding. Make sure to keep it all in perspective and enjoy the process every step of the way.
2. Don't Wait Until the Last Minute To Send Your Invitations
You need additional lead time when planning a destination wedding. Family and friends should get at least 3 months notice, so they can book their accommodations, request off of work if needed, get a sitter planned, and do all of this without paying a huge amount of money for their trip.
3. Do Not Assume People Know Where They Are Going
Some people aren't 100% comfortable traveling to a place they've never been. Instead – make it easy on them by providing them with written correspondence beyond the invitation with maps and directions. Also, make sure each guest gets a welcome basket with repeated itineraries and how to get to each place. This couple below had their wedding in Sifnos, Greece.
Do not assume your guest have all visited here and feel comfortable with directions for where they are going… be sure to give them all the information they need.
4. Don't Expect Too Much Of Others
Sure, it's "your big day" but know that your bridesmaids, groomsmen, and family members are not your temporary slaves. Sure, you can expect them to help out, but keep it realistic, give other duties you know they can handle, yet still allow them the ability to enjoy your event too.
5. Do Not Let "Aunt Flow" Pay You a Visit
You've dreamed of this event for, most likely, your entire life. If you are PMSing, feeling bloated, and irritated, and can't seal the deal on your wedding night – you'll be disappointed. If you are taking the pill, talk to your doctor about ways to avoid your period. If you are not on the pill – try to avoid planning your wedding during that week.
6. Don't Leave Guests Hanging
The rehearsal dinner and wedding are obviously required events, but adding a few more activities that are "optional" for guests is the way to do it. People will want to explore the destination on their own, but also want to have some quality time with you. Maybe try a "bonfire" on the beach at sunset. Bring some blankets, ingredients for s'mores, and a few bottles of wine. The gatherings don't have to be extravagant; it's more about spending time with your loved ones.
7. Don't Expect That Everyone Will Come
If you live in Manhattan and are doing a destination wedding in Kauai, you may have a small number of attending guests. Understand that cost, time and distance will play a major role in how many people attend. And if you are planning a destination wedding that is somewhere closer and many guests can drive to, the turnout may be much better than if it was an international destination wedding.
8. Do Not Forget To Check the Average Traffic Low In The Area
Communicate to your guests how much time they will need to get there on time. Or better yet, try to get room discounts so most or all of your guests can stay at or close to your wedding site.
9. Don't Choose a Dress Because Of What Is "IN"
Rather, choose a dress that compliments your body and accentuates your best features. Go shopping with a friend or family member you know will be honest with you.
10. Hauling Your Dress Around With You On Your Honeymoon
Instead, designate a family member or friend to take the dress home with them – and any other items you can't carry.
Are you looking for amazing destinations for your upcoming wedding? Some of our favorites at SnapKnot are the Amalfi Coast of Italy, Mustique Island, Aspen, Colorado, and the Bahamas.