Planning a wedding is a tough job with so many details to remember including the venue, photographer, food, music, and decorations. Many people love to create their decorations and those little "extra" details on their own so we have pulled together a list of some of our favorite DIY wedding ceremony ideas to help inspire your creativity for your wedding day!
Your creativity can shine for your wedding and there are amazing things you can create all on your own for all aspects of your wedding day. You can create beautiful backdrops for your ceremony, signage for guests, centerpieces, invitations and save-the-dates, thank-you cards and so much more. The possibilities are truly endless.
Do you have an awesome idea for something you want to create but are not sure if you can get it all done on your own? How about having all the bridesmaids get together for dinner at your house and you have a fun girls' night making all those centerpieces or wedding favors? It is hard to get everything done on your own and you do not want to make yourself more stressed than you already are about your big day. Most of the time bridesmaids are so excited to help out, so utilize them where ever you can!
Check out these great DIY wedding ceremony ideas below!
The wedding ceremony is such a beautiful thing, one you want to remember forever. Having a focal point decorated beautifully will help to create a picture-perfect scene for you and your soon-to-be spouse to say "I do!" There are so many awesome DIY wedding ideas for the ceremony.
It is always a great idea during your wedding to have signs letting the guests know where to go, so why not make those signs more personalized to you and your wedding theme? At a typical wedding ceremony, the groom's family sits on one side of the aisle and the bride's family sits on the other. In reality, both families are about to join so why not have everyone intermingle together? This cute DIY wedding idea is the perfect sign to make sure the guests do not stay on separate sides! This photo was taken by Shmily Face Photography.
This ceremony backdrop is such great inspiration for a backyard or outdoor wedding. All you need for this look is a long curtain rod and white fabric of your choice that you would hang over two trees.
For a more romantic, evening wedding, how about this beautifully lit backdrop? You would simply take a plain white (or another light-colored wall) and cover it with twinkling white lights. It is the perfect way to create a plain wall or room as a stunning backdrop for your ceremony and wedding photo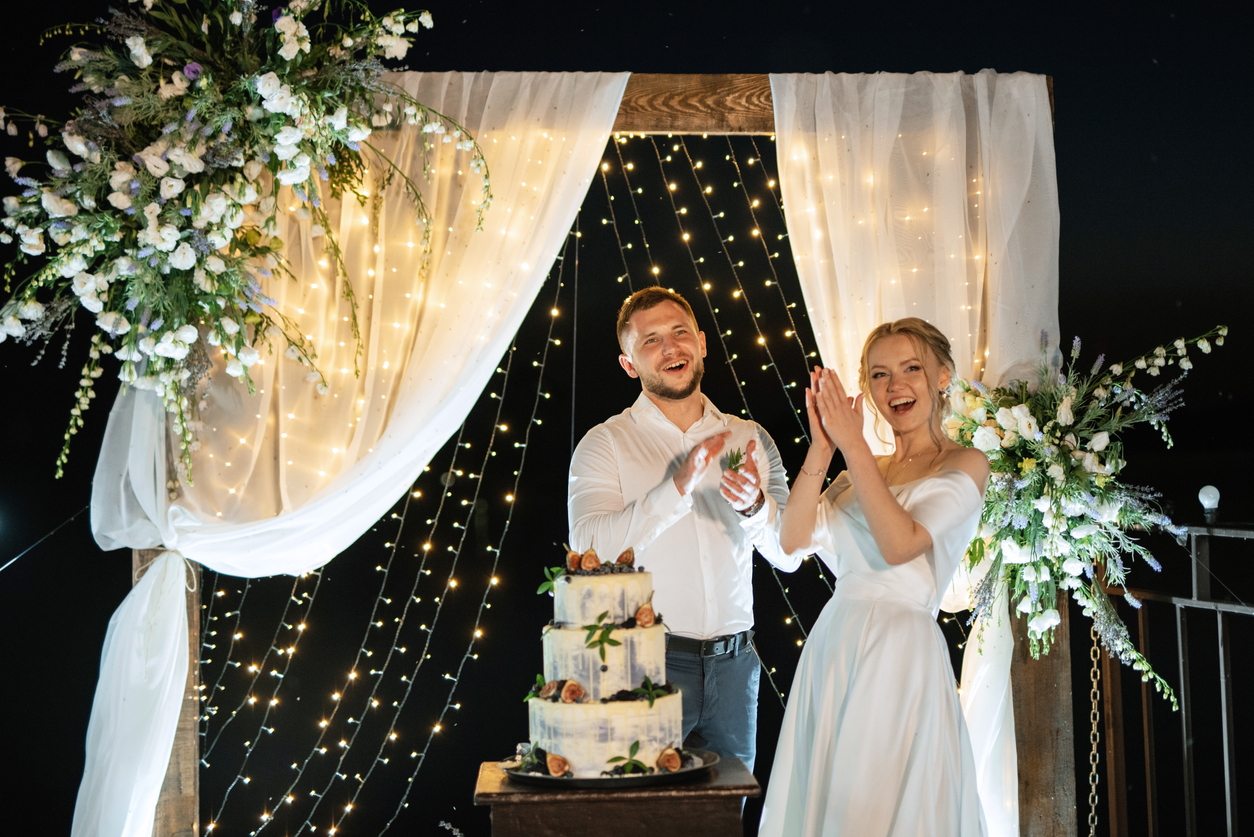 This backdrop is fun and so easy to do! Remember making paper links when you were little? Pick out your wedding colors and have a blast creating this fun, yet colorful, chain-link backdrop. This photo was taken by Beaux Artx Photographie.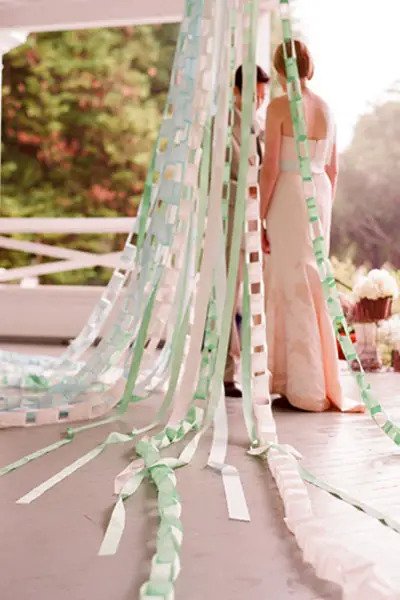 This wedding arch is simple yet makes a picture-perfect backdrop for you to say "I do." Simply using 3 wood pieces, decorate the top with the flowers (real or fake!) of your choice. This photo was taken by John Schnack Photography.
Another VERY unique ceremony backdrop that is the perfect vocal point of the room is this idea of romantic country mirrors with a love quote written on each one. The different sizes and types of mirrors with the gold details make for a different, yet beautiful backdrop. This wedding was photographed by Studio Castillero.
Not only is the front and center of the room a very important place to have decorations, but other small details throughout the ceremony also help to create a romantic and beautiful atmosphere. Having a beautiful aisle for the bride and bridal party to enter through can be so amazing and you can customize it to whatever theme of wedding you are having. This romantic aisle is lined with pink flower petals and candles and fits in perfectly with the rest of the decorations throughout the room.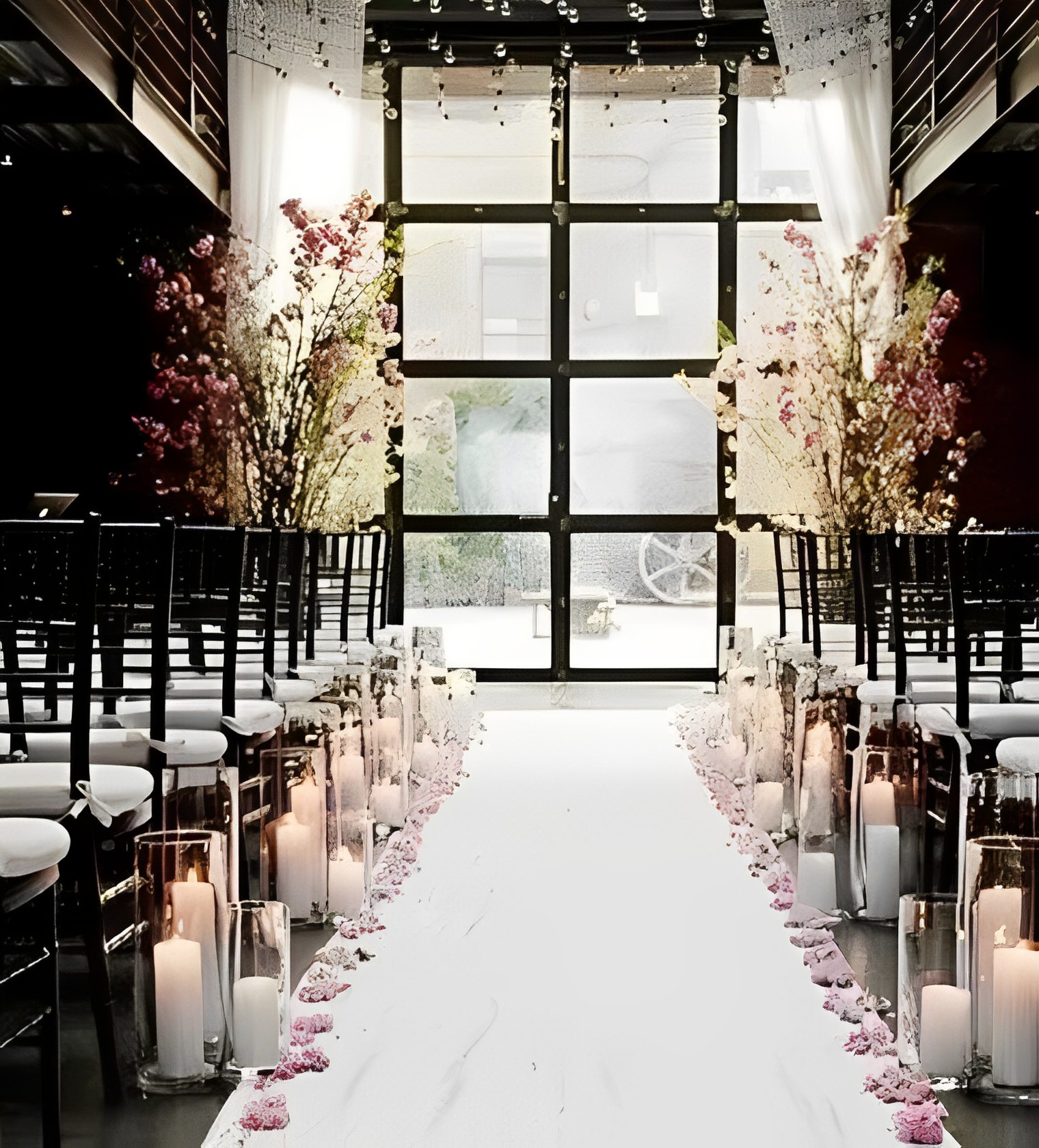 How about decorating the chairs that all the guests will be sitting in? Including those colorful streamers from the chairs can be bright and fun in an outdoor-themed or beach wedding like the photo below on Green Wedding Shoes, or the streamers can be lighter or pale colors that would make things look more romantic and calming like the photos below from Confetti Daydreams.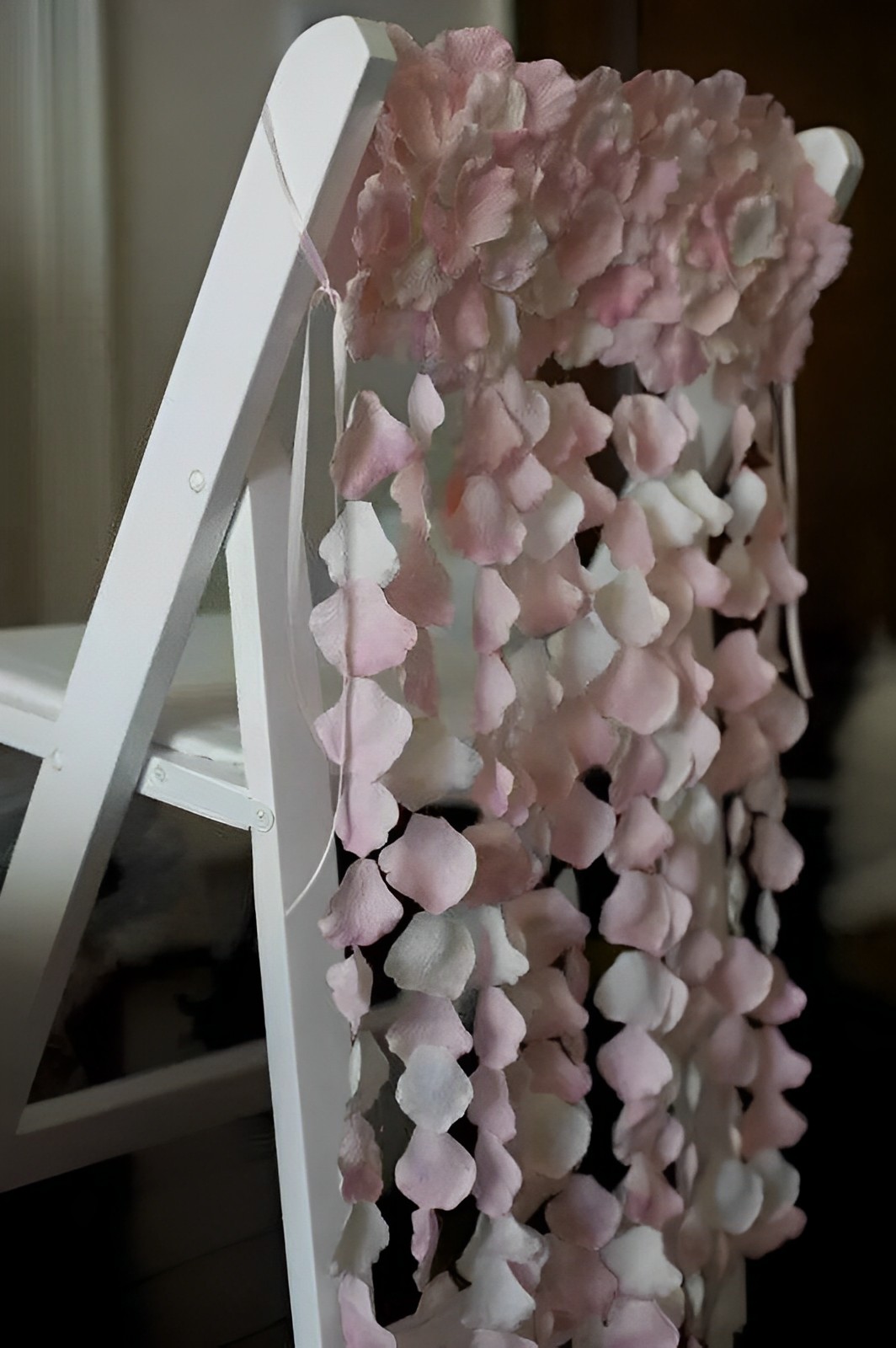 You certainly can not forget the ceremony program! The program is a wonderful way to list out the chain of events for the entire wedding. This can include listing out the music and various prayers, explaining the relationships for everyone in the bridal party, the family of the bride and groom, as well as anyone who may be reading a bible excerpt, singing, playing music, etc. You may also want to include an explanation of any type of ceremony "rituals" you will be doing, in case others in attendance are from a different religion. Another great thing to include is directions to the reception if you will be driving to another location.
This fan program from Wedding Day Pin is a fun and easy DIY wedding ceremony idea that is perfect… especially if you have an outdoor wedding in the warmer weather!
Be sure to check back each week for more DIY wedding ideas including reception ideas, save-the-date, invitation and thank-you card ideas, and centerpiece and flower ideas!
Do you have any other really great, unique, DIY wedding ceremony ideas? We would love to hear about them in the comments below!