Getting engaged is a once-in-a-lifetime event. Once it happens, you may have the immediate urge to share this fantastic news with friends and family. In this day and age, it is so easy to jump to social media. You can send a photo or text the ring. While we SnapKnot are all about photos and videos, we wanted to give you a few ideas to share this blessed time in a more personable way. One of these ideas is to throw an engagement party, and below you read about some cool engagement party ideas that we think you will love!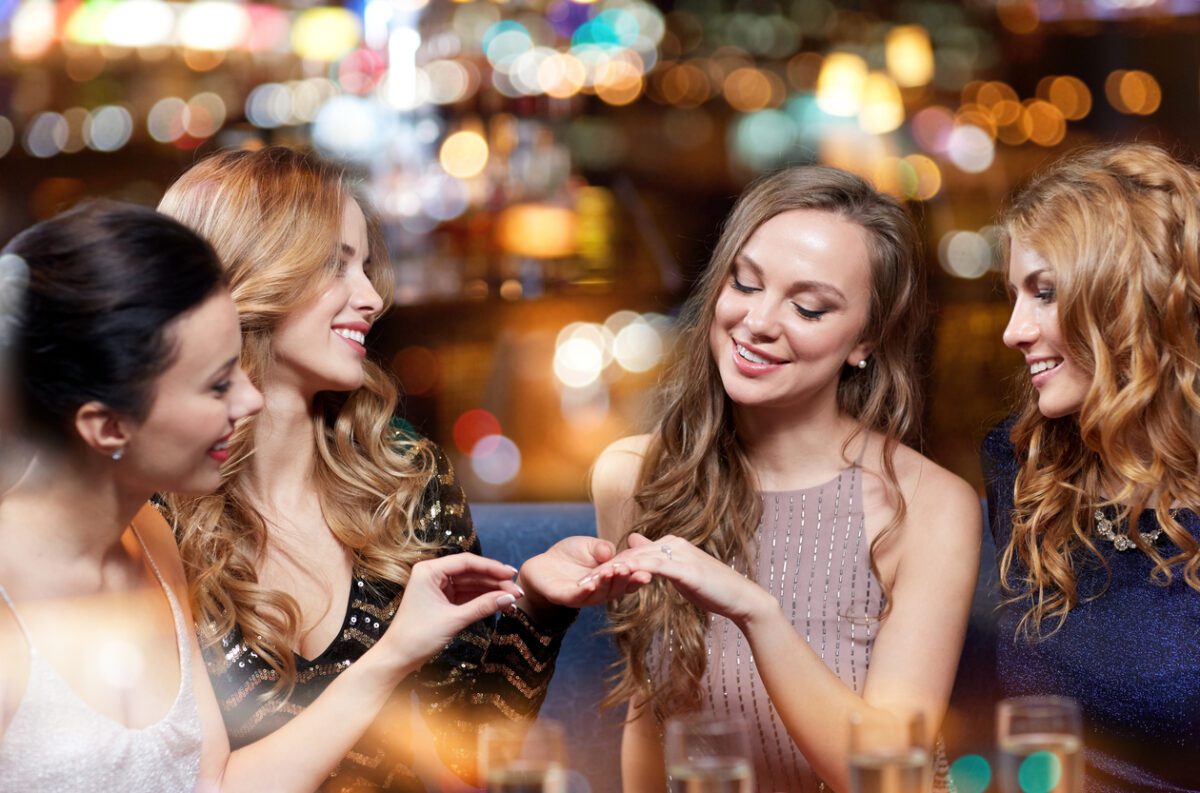 Go back to the original roots of the engagement party. Keep the news from friends and family until you invite them to the party or better yet, keep it quiet until they arrive!
Some fun engagement party ideas and ways to announce your engagement include:
Host a dinner party
Whether you choose to have dinner at your own house, or at a restaurant, for dessert, you can bring out a cake or cupcakes that say " we're engaged" or "we're getting married!"
Another fun option might be to use place cards or menus for your guests with a photograph from your wedding photographer of the proposal on it.
Go out for a night on the town
Bring your family and friends out to your local bar or any place where they have a band or DJ. Near the beginning of the night, the DJ can announce the next song as being dedicated to the "newly engaged couple, (insert your name here)." It will be such a fun announcement!
Let the guests surprise the bride
Sometimes men choose to have a party right after the proposal where close friends and family are just around the corner or back at the house waiting for the newly engaged couple to arrive. This can be a really fun way to share your engagement and help the moment sink in. Just be careful the secret gets kept by everyone who knows and plans to attend the party!
Murder Mystery Party
Tell your friends you are having a murder mystery party and when they show up and have the storyline slowly reveal your engagement.
Combine the News With a Holiday Party
If you are engaged near a holiday or a birthday, throw a big party and announce the news during a special time… for example, at the New Years midnight champaign toast, when everyone is saying their thanks at Thanksgiving, or on Easter by setting up an Easter egg hunt and have all the eggs filled with your announcement! The possibilities are endless.
Celebrate At The Beach
Invite your friends and family to the beach for a beach day or BBQ. Have your announcement written in the sand or a sand statue built that says congrats on the engagement with your name or even a statue of a proposal.
A Few Things To Remember When You Announce Your Engagement
1) Visit as many people as possible and tell them in person. Want to have some fun? Wait and see if they notice the ring.
2) Call loved ones that are farther away that you may not be able to visit in person. This way, you will be able to hear and see their excitement, and they will be able to hear yours!
3) After all of this is shared with close friends and family, post your proposal photos or videos on social media for all to see, and be sure to keep these special moments treasured for yourself.
We hope these ideas will help you create the perfect engagement party or announcement. Remember, this is the beginning of your new journey together, and learning how to love each other in sickness and health, richer or poorer, better or worse. Take the time to celebrate and share your love with those you love.