Looking for engagement photoshoot outfit ideas to help you put together the perfect look that makes for the best sentimental snapshots? We've got you covered.
You got engaged—congratulations! It's a glorious moment that you should absolutely commemorate. And what's a better way to do that than take engagement photos? And with that—your engagement photo outfit (or outfits)!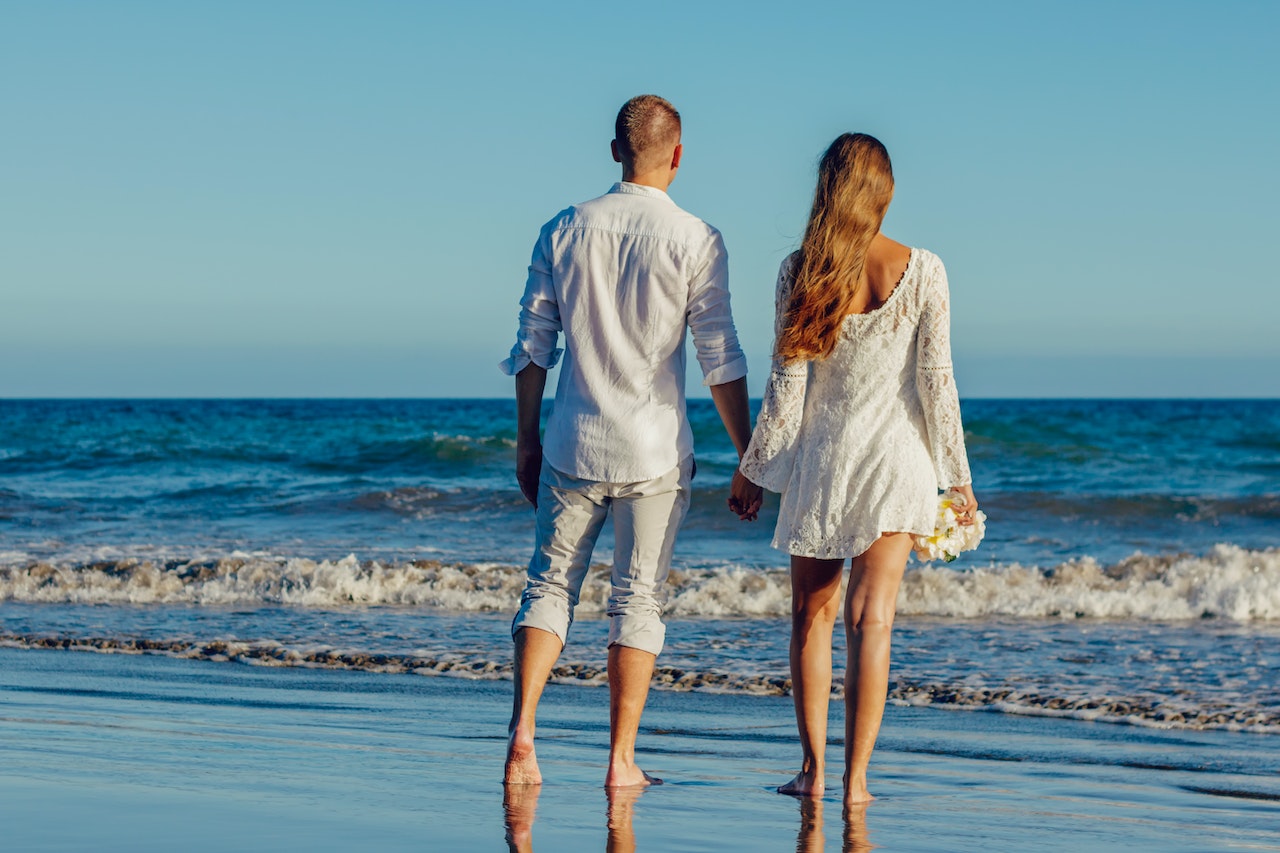 One of the fun parts of planning an engagement photoshoot is figuring out what to wear. Unfortunately, selecting outfits to get the perfect look for your engagement photo can also be overwhelming. After all, many variables go into this.
What's your personal style? Casual and comfortable or dressy and timeless?
What's the time of the year? The weather?
Where do you plan to take your engagement photos? Beach, cityscape, nature, at home?
To help take the guesswork and hassle out of choosing your engagement wardrobe, read on for our engagement photoshoot outfit ideas and tips.
What to Wear for Your Engagement Photoshoot
You've got the chemistry down pat, have chosen your perfect photoshoot location, and practiced your photoshoot poses for couples. There's only one thing left to do—choose the perfect engagement photoshoot outfit!
Engagement Photoshoot Outfit Ideas for Her
For the ladies, below are some great tips and ideas for choosing engagement photoshoot outfits that will make you feel confident and classy and give you an all-around better engagement portrait experience.
Consider wearing a dress. Regardless of your body type, dresses will generally photograph the best. A dress will flow with the wind or as you move doing your poses, which gives movement or that alive feeling in photographs, which brings us to the next point.
When choosing a dress, the key is movement. We recommend choosing light and flowy dresses. Go for fabrics like lace, tulle, crepe, and other lightly textured fabrics that are able to catch the breeze.
Choose the appropriate dress for the mood and occasion. Not all dresses are the same, so pick your engagement outfit to how casual or dressy you want your photos to be. For example, cotton summer dresses are ideal for fun, casual engagement photos. But if you're looking for a bit more formal or dressy, choose a long dress for your engagement outfit.
Avoid bold, heavy prints. The more colors and patterns are involved in the photograph, the more distracting it will be. You don't want your outfit to be the center of attention. If you want patterns, try to stick to more subtle ones like stripes, polka dots, and simple florals, limited to 2-3 colors.
Engagement Photoshoot Outfit Ideas for Him
For the gentlemen, below are tips for choosing engagement outfits that will make you feel sleek and sophisticated and give that masculine look to your photos.
White shirt and slacks. Simple is good, and you won't go wrong with the white button-down and slacks combo. But make sure everything is steamed or ironed. You don't want those wrinkles ruining a perfectly good engagement photo.
Grab your suit (and tie). Here's one simple trick to make sure he's best dressed in the engagement photos—pick an outfit you'd wear at a formal wedding. It may feel stuffy if you're not used to wearing a suit and tie, but trust that it will photograph very well.
Think of layers. Layers are a man's best friend when it comes to engagement outfit ideas. Blazers, vests, and coats can create multiple looks, and no outfit changes are necessary. On top of that, layers add a certain dimension and interest to photographs.
Choose a well-fitting outfit. We can't stress this enough. The fit of your outfit, especially if you're donning a suit, can make or break a photo. There's a fine line between dad's baggy suit and sports coat that makes you look like a GQ model.
Casual Engagement Photoshoot Outfit Ideas
Casual outfits will give your engagement photos a more relaxed, cozy vibe, so it's a good starting point. It's also a good option if you're a low-key than a luxury kind of couple.
Think of casual outfits as something you'd wear going on a picnic date or a coffee. Below are a few different casual engagement photoshoot ideas to start.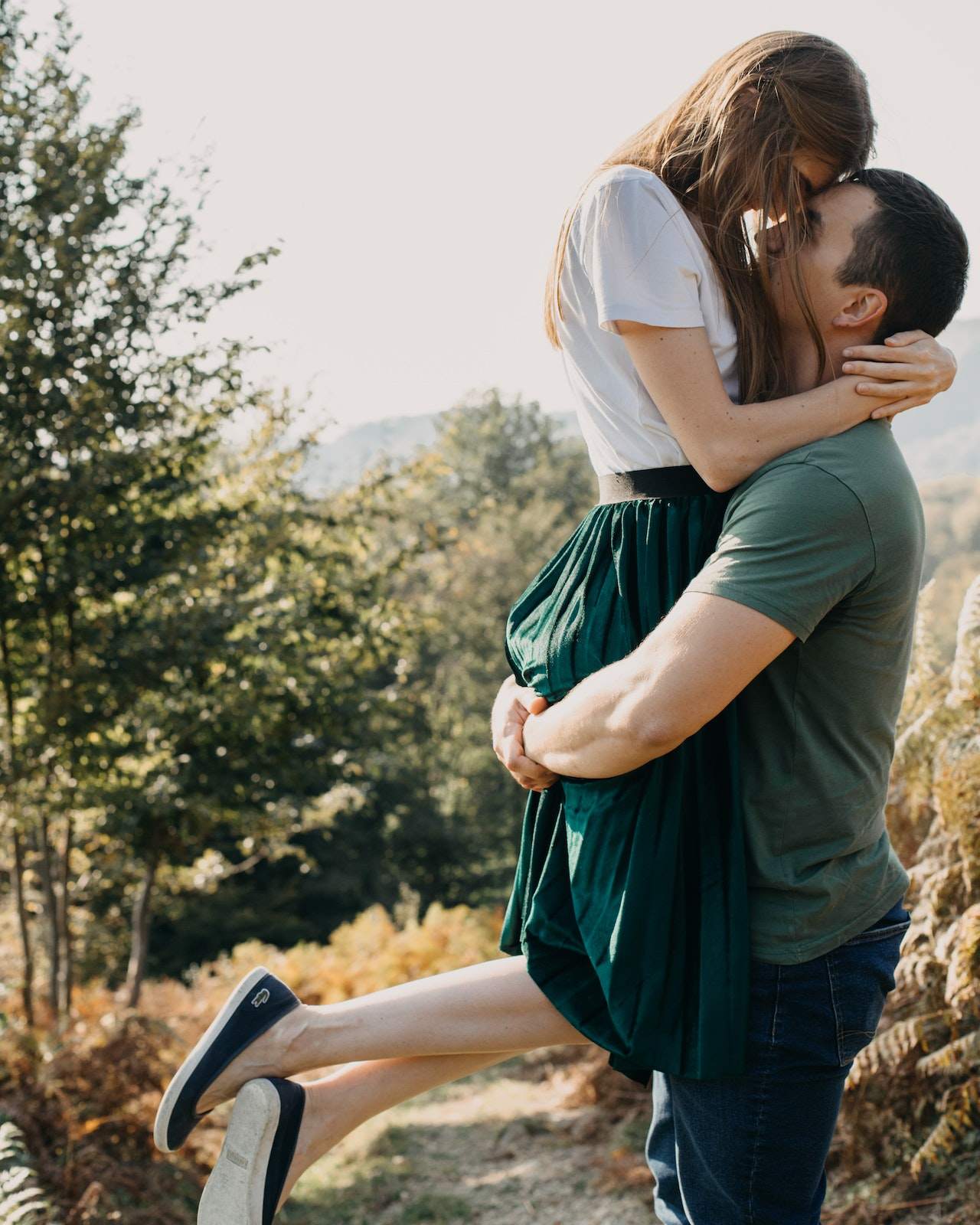 For the ladies:
A simple top and a skirt. Customize the outfit however you want with a plain top or a top with a simple pattern or a plain, denim, or flowy skirt.
Mid-length dresses. A pretty, flowy midi dress is an easy and inspired outfit perfect for the summer or fall.
Rock a denim jacket. In case it's a bit cold out, a denim jacket is awesome. Plus, it will add a certain depth and detail to the picture. Consider adding a scarf for an extra, softer touch too.
For the gentlemen:
Simple henley t-shirt and denim. You won't go wrong with a neutral plain t-shirt paired with light or dark-wash jeans.
Button-ups and jeans. Jeans are dependable options, and it's incredibly versatile. Pair it with a plain button-up or a patterned one, but only if your significant other is wearing a plain, solid color.
Dressy Engagement Photoshoot Outfit Ideas
The key to the best formal engagement photoshoot is a timeless outfit. We're not saying you need to wear a tux and a ball gown. Consider a dressy outfit as something you'd wear as a wedding guest or on a nice dinner date with your partner on your anniversary. Below are a few outfit choices for inspiration.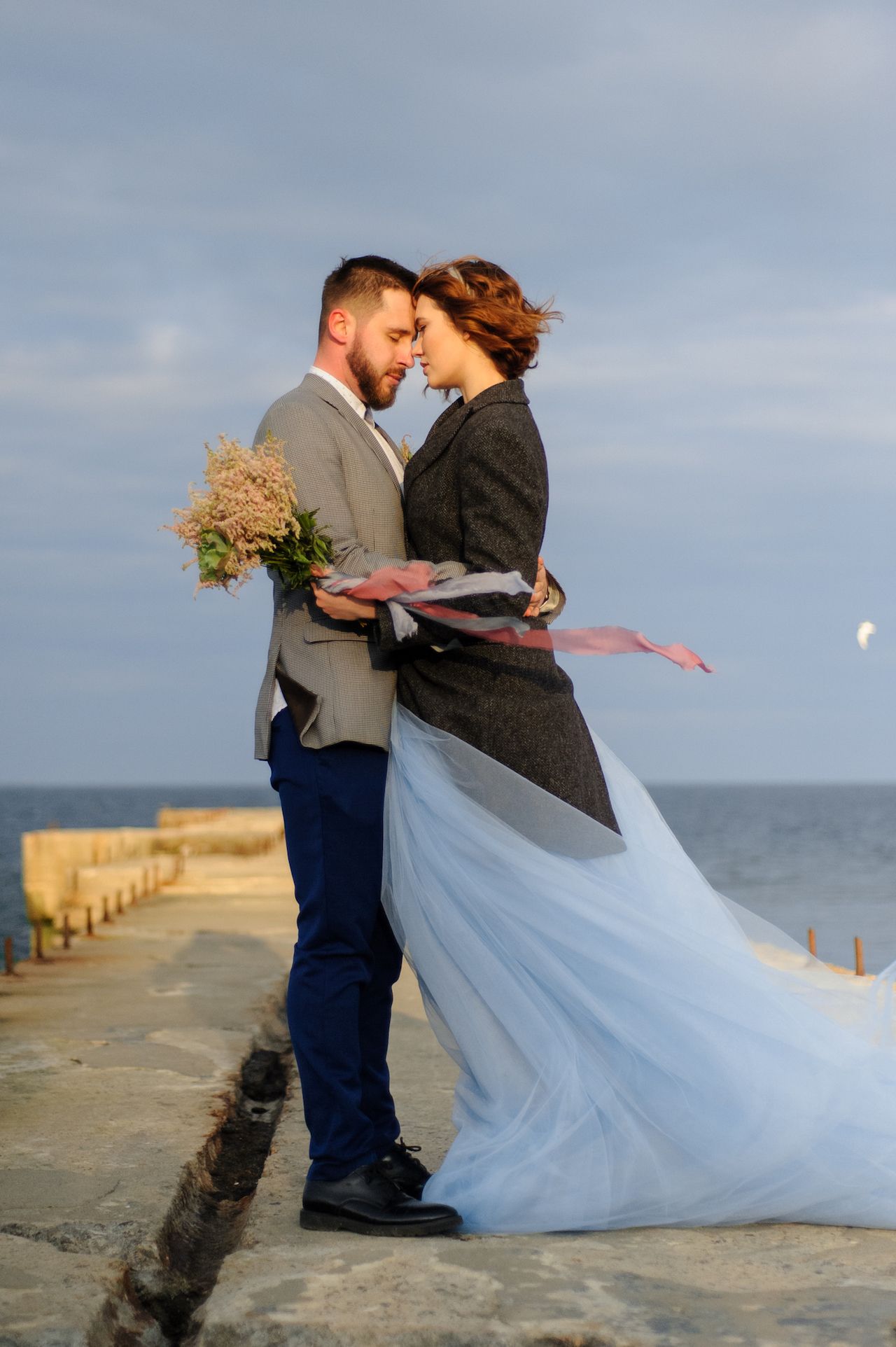 For the ladies:
Choose full-length dresses. A flowy, full-length dress will look elegant in engagement photos.
Gorgeous sequin dress. Pick appropriate shoes, and you have a complete look that screams elegance.
Go for luxe fabrics. Silk and satin are classic choices if you want to go for a dressy engagement dress. Chiffon and lace will also add a bit of feminine flair to the photos. Velvet also has a terrific texture that always looks rich and luxurious in pictures.
For the gentlemen:
Dark suit. Nothing stands the test of time more than a well-fitting dark suit.
Choose a two or three-piece suit. Layers will go a long way to match the dressy outfit of your fiancee.
Seasonal Engagement Photoshoot Outfit Ideas
Engagement outfits should fit the specific season you're planning to take photos. The key here is to choose a flattering outfit that keeps you comfortable.
Winter and fall engagement photoshoot outfits call for thicker and warmer, with lots of darker, bolder colors.
Spring and summer engagement photoshoot outfits typically lean towards neutrals and flowy outfits appropriate for the warm weather.
Check out below for more fantastic engagement photoshoot outfit ideas and inspiration fit for every season.
Winter Photoshoot Outfit Ideas
For an engagement photoshoot in wintertime, go for warm and comfortable outfits, especially if you're shooting in a snowy environment. Your ski gear will be an adorable outfit choice if you're both winter sports fanatics.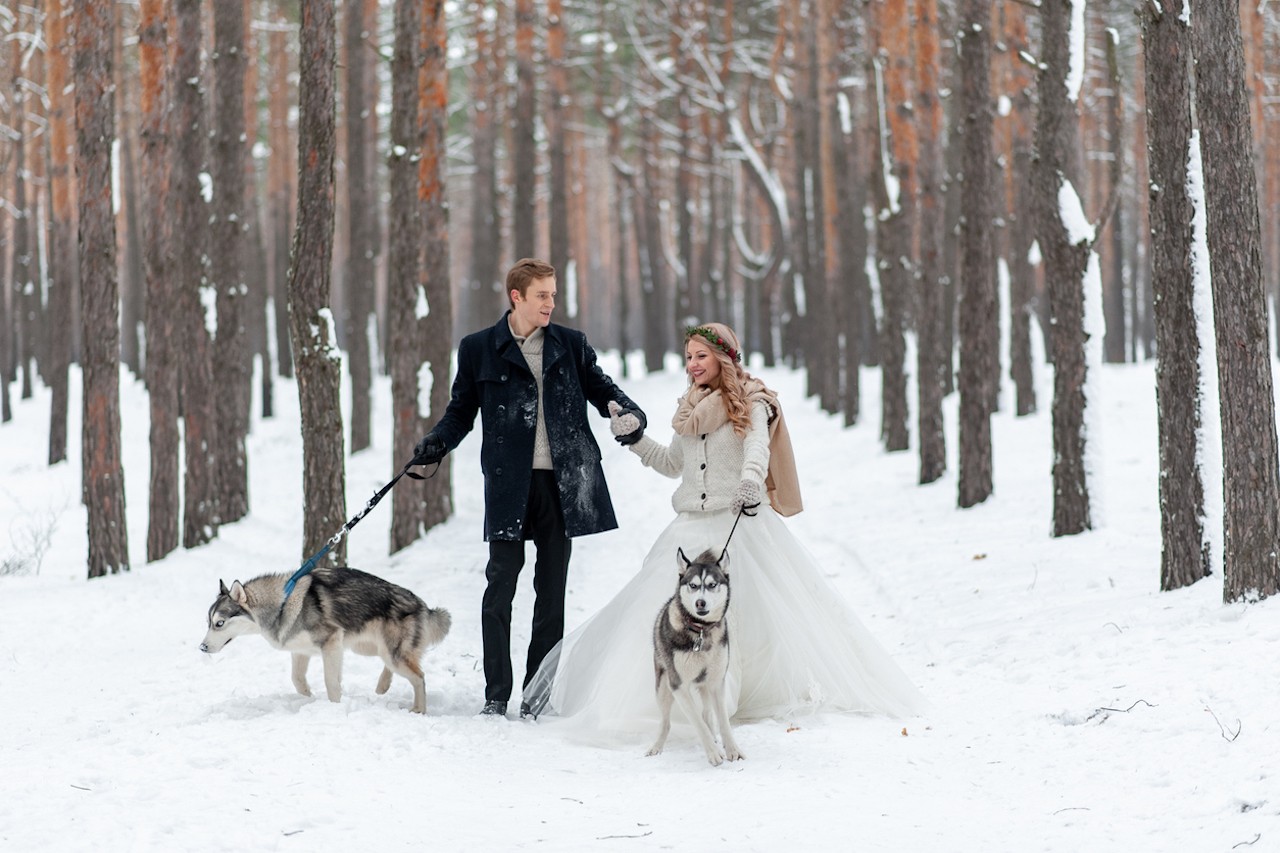 Here are a few more ideas for your winter photoshoot outfit:
Fur or leather. Besides keeping you extra warm, fur and leather fabrics to your outfit will add extra texture and dimension to your photos. If you're wearing a gown for a winter engagement photoshoot, that extra layer will keep you cozy too.
Go with jewel tones. Darker jewel tones like deep purples and emerald greens are a good contrast against the extraordinarily white, snowy scenery.
Spring Photoshoot Outfit Ideas
For your spring engagement photo outfits, try sticking to a minimal aesthetic. It's a glorious time with gorgeous blue skies and blossoms all around, so you'd want your clothes a bit toned down.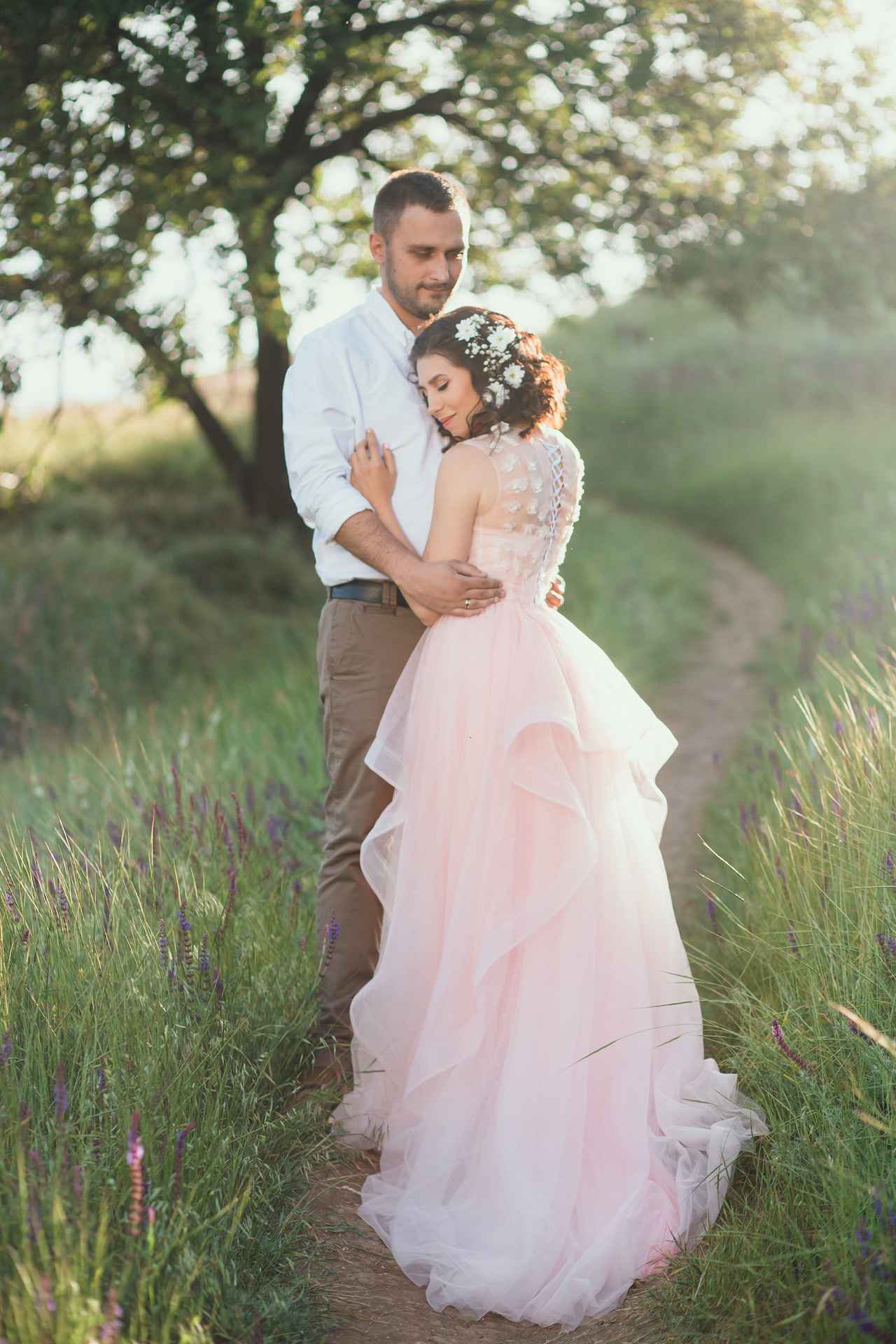 A few ideas:
Pastels and neutrals. Soft colors are perfect for a spring engagement photo, and so are neutrals—whites, browns, and blacks. Light floral patterns are also an obvious choice for this season.
Go for light layers. Fabrics like silk, cotton, and lace are excellent choices to create depth and contrast in your outfits.
Add a sweater or a light trench coat. Coming out of the winter season, it might still be a bit cold outside, so an extra layer of light, flowy material is always nice to have.
Summer Photoshoot Outfit Ideas
Summertime is often the most fun season to take a couple's photos. The weather is warm, the sun is bright, and the colors are lush, depending on where you want to take your engagement photos. Think about bright beachside scenes and greeneries.
Below are excellent summer engagement photoshoot outfit ideas and tips for your inspiration.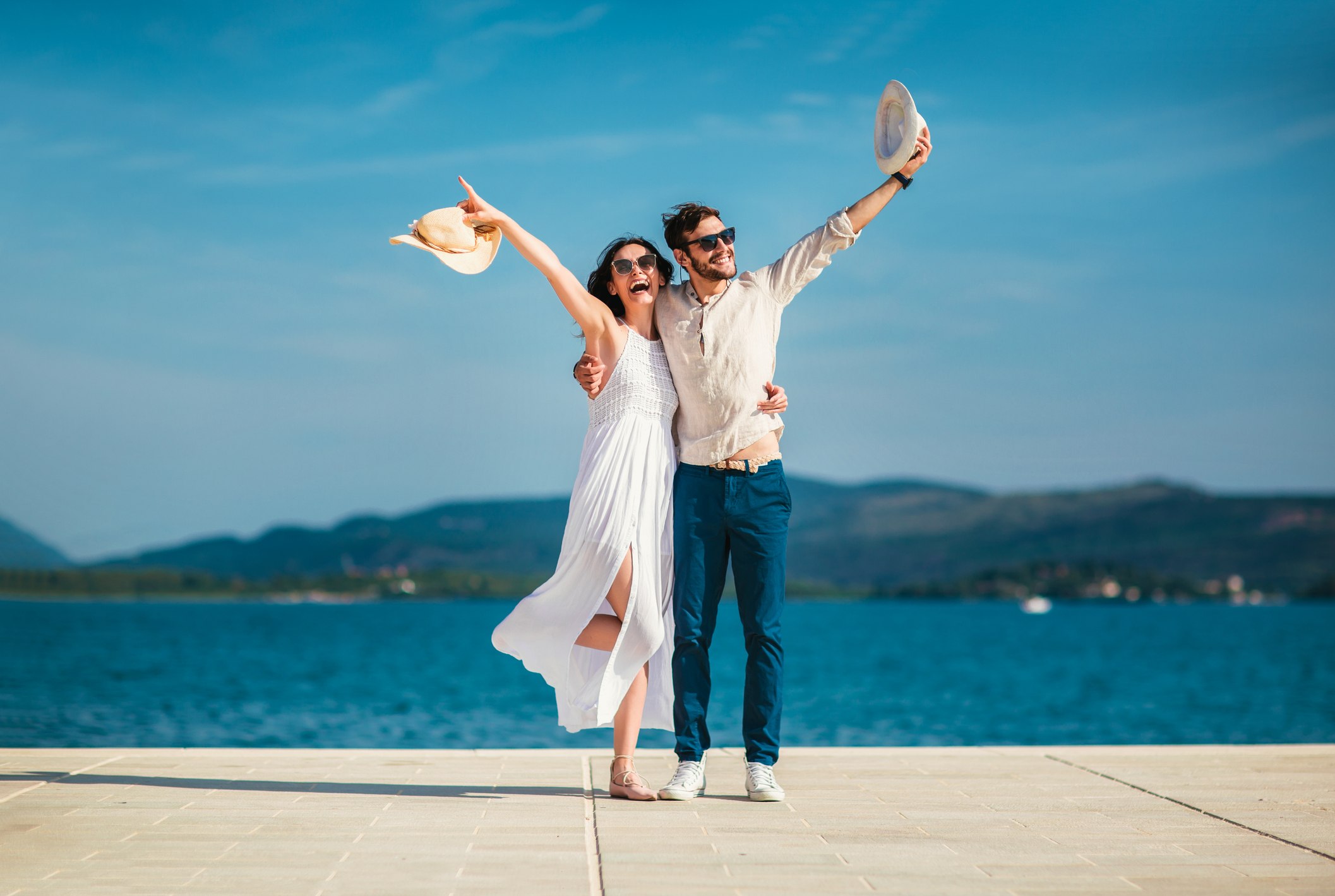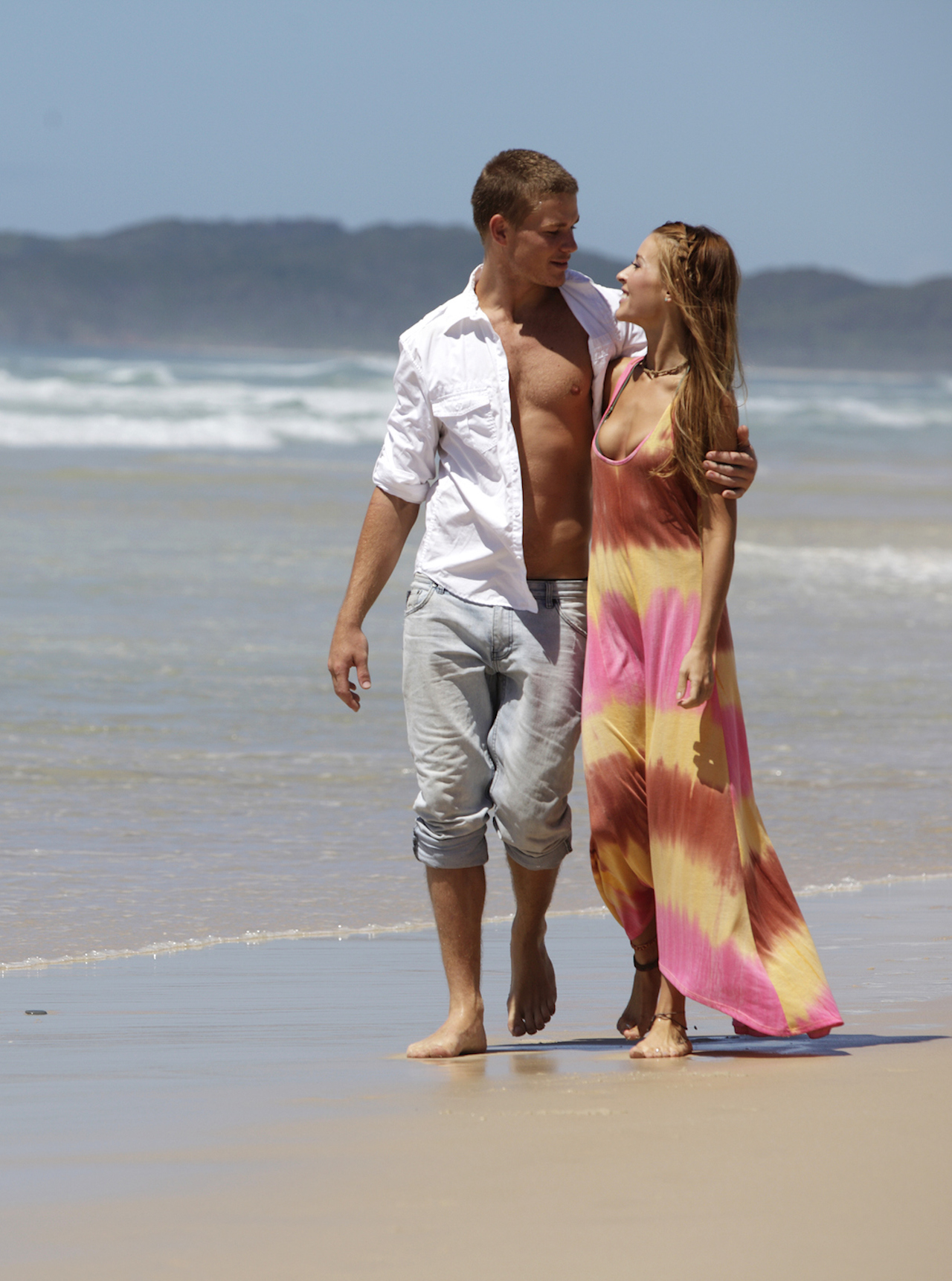 Dress comfortably. Avoid the layers and too-tight outfits. Uncomfortable and sweaty is not the look you're going for here.
Opt for light fabrics. Light and flowy fabrics like cotton, lace, and linen are perfect for summer photoshoots. They are airy and subtle and will make you feel comfortable in the sun.
One or two bright colors. If you want to wear something bright, choose one or two colors that complement your skin tone.
Keep it simple. If you decide to go with patterns, stick to something minimal and subtle. A vintage Hawaiian shirt will only take the spotlight away from your face.
Fall Photoshoot Outfit Ideas
Fall may be glorious weather, but it has highs and lows. So, plan a balanced outfit that worlds for both cooler and warmer weather. The key is to choose long and comfortable outfits.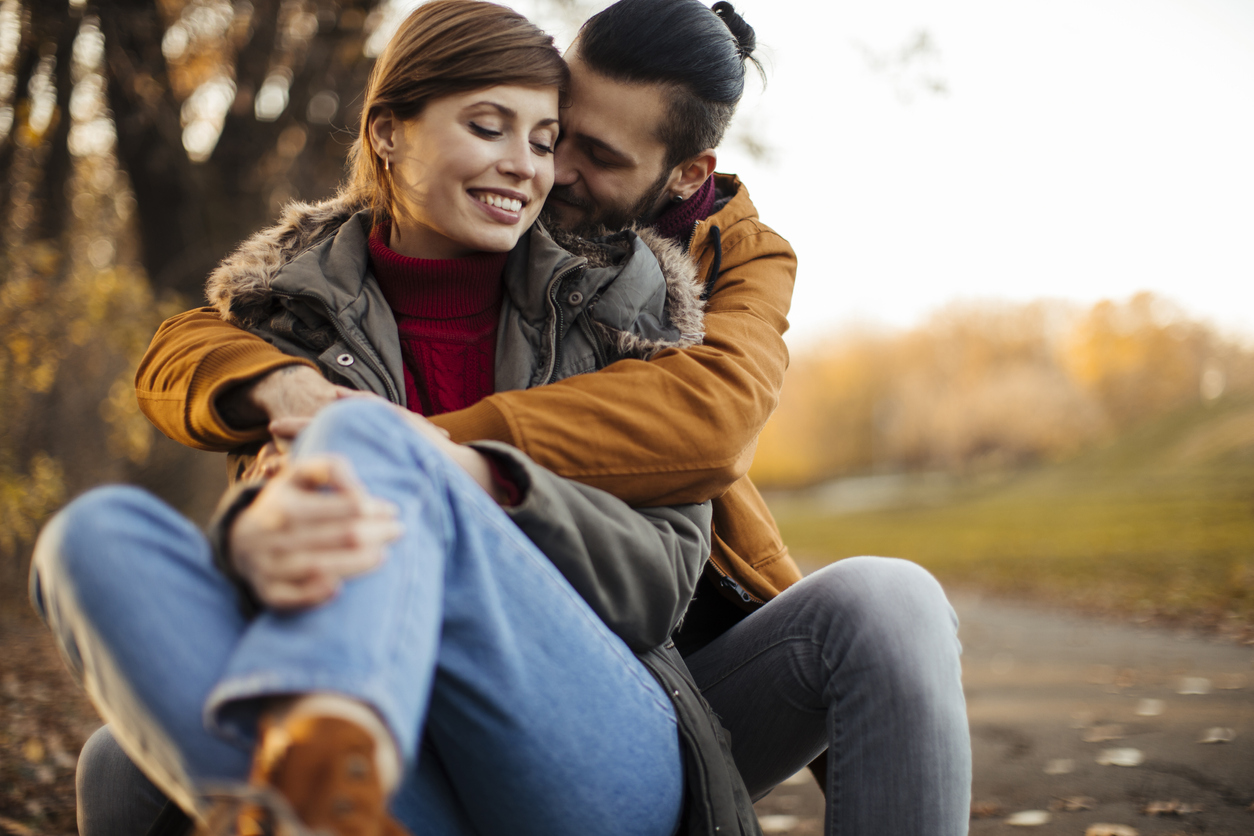 Here are a few more tips for choosing your fall engagement photo outfit below.
Match the color outdoors. Try to anticipate what the color of the foliage will be when you take your engagement photos, and plan to match the colors of the time of the season. It could be the tail end of the summer when everything is still pretty lush, or it's popping with color as the trees change.
If it's still pretty summery, opt for flowy outfits but in bolder colors.
If the leaves are changing, stick to neutrals. You don't want to clash with the oranges, reds, yellows, and greens if you're doing a fall engagement photoshoot outdoors. Otherwise, you might get lost in the photos dressing the same as your background.
Ready to Capture Your Engagement?
Choosing the right engagement photoshoot outfits has a way of showing off your personality. Not to mention, the best engagement photo outfit can add depth, drama, and story to your engagement photos!
And now that you got your engagement photoshoot outfit (almost) sorted out—how about some couple's posing tips? Check out our favorite photography poses for couples to help you capture cute, fun, and romantic engagement photos.