You want to be prepared on your wedding day and make sure that you have everything you may, or may not, need. There are some items that you might not even realize you would need, but you may find that one (or all) of these may come in handy in one way or another. Here are 10 items you may need on the wedding day that you want to be sure to bring along the morning of your big day!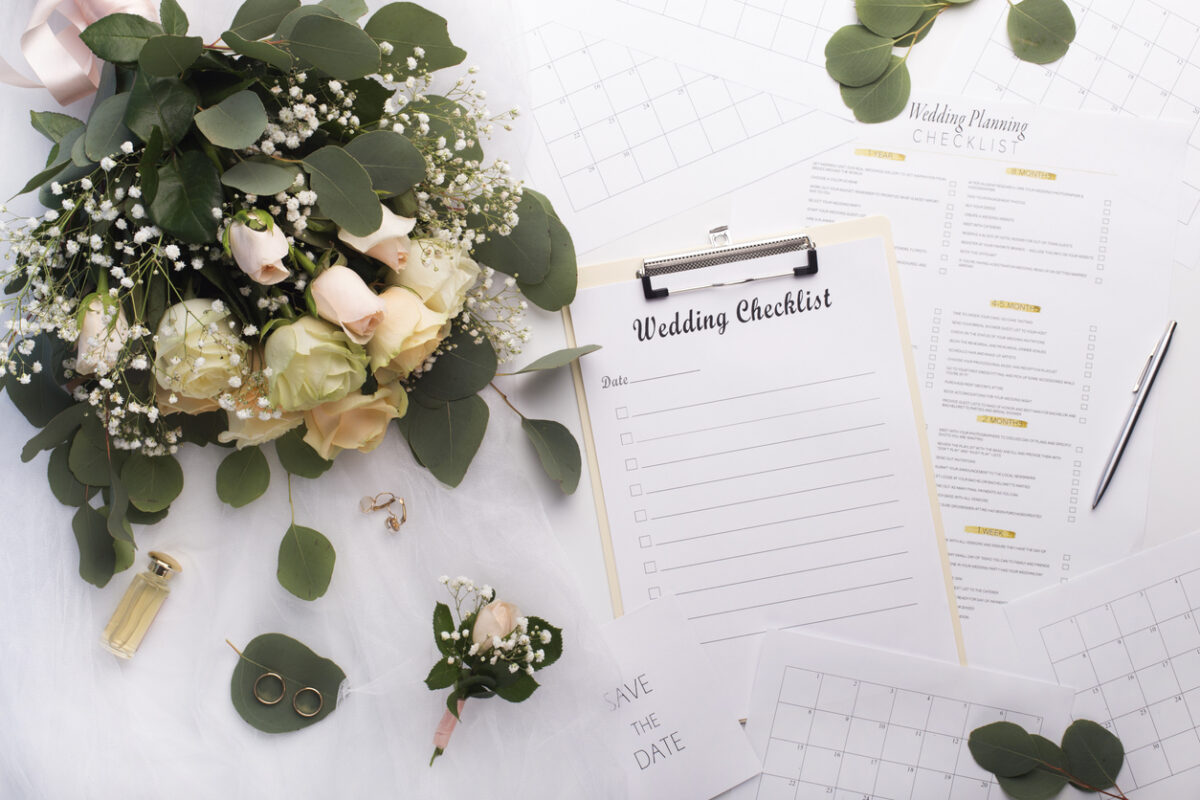 1. A steamer.
This is handy to have just in case your wedding gown or any of your bridesmaids' dresses get a little bit wrinkly.
2. A beauty bag.
You will most likely need to do some makeup touch-ups throughout your long wedding day. Be sure to have a bag with powder, lipstick, or lip gloss and blotting papers just in case!
3. Comfy shoes.
During the ceremony you have the most gorgeous heels you could find and you are so excited to wear them… but can you imagine wearing them for hours after the ceremony is over? They may not be the most comfortable shoes to dance the night away in so be sure to bring along a pair of flats or flip-flops that you can move around easily in.
4. Brunch.
While you and your bridesmaids are getting ready that morning, you want to make sure you keep everyone nourished. There is nothing worse than being hungry before your wedding – you want to eat lunch or bring along enough snacks and drinks (think waters too… not just mimosas) so you can keep hydrated and feeling good before you say 'I do.'
5. Cute getting ready clothes.
You want to have some cute clothes to wear while you are getting your hair and makeup done. Your wedding photographer will most likely be capturing some photos of you getting ready, so something cute and appropriate is best. A robe or button-up shirt is a perfect choice, so you do not have to worry about messing up your hair when you have to take it off and change into your wedding gown.
6. An emergency kit.
You never know when you or a bridesmaid or groomsmen will need a Band-Aid, Advil, sewing kit, super glue, or even a few extra bobby pins. Having an emergency kit with all of these items is a good idea.
7. Portable speakers.
Music is always fun and relaxing, so think about bringing along some portable speakers so you and your bridesmaids can listen to great music to help set the mood of your wedding day! Make sure your groom has some to use with his groomsmen as well.
8. Printed timelines.
You want to be sure everyone knows the general timeline of your wedding day, so everyone can plan ahead depending on how much time they need specifically to get ready. Make sure you have timelines for the groomsmen, bridesmaids, parents of the bride and groom, and even your wedding vendors.
9. Extra undergarments.
You never know when a bra strap makes snap or something will rip and you do not want to be minutes away from walking down the aisle without an extra if needed. Put an extra pair of undies, a bra, a garter, or anything else you may be wearing under your gown just in case.
10. A wedding planner.
Having a wedding planner (even if just a day-of coordinator) can take tons of pressure off of your plate and let you stay relaxed and enjoy every moment. If you do not hire someone specifically, perhaps a family member or close friend who is not in the wedding can take on this responsibility. Just be sure they are actually responsible and will do the job well.
This person will make sure everyone is where they need to be on time, everything is ready to go, and things run according to the timeline as much as possible.
We hope these 10 tips we found on Martha Stewart Weddings were helpful for you! If you enjoyed this, here are a few more articles you may like: