There comes a time in every woman's life when they might need answers to the following three questions:
1. "I'm getting married soon. What do I gift my fiancé as a wedding gift?"
2. "My husband and I are celebrating an anniversary milestone soon. Is there anything I can give him?"
3. "I feel unsexy and don't like the way my body looks. How do I feel more confident about how I look?"
It might feel a little risqué but a wonderful answer to all three questions is a Boudoir photography shoot. It's an intimate and personal style of photography that focuses on celebrating sensual femininity, typically taken on a studio set or in the bedroom.
If you think about it, boudoir photography can be the best gift to yourself. After all, the end result is an emergence of empowering and confidence-boosting photos featuring the hottest version of yourself.  
About Boudoir Photography
Is Boudoir Photography for Everyone?
Boudoir photography is for all bodies, shapes, and sizes. It doesn't matter how you look – all that matters is how you feel. It's about capturing the sexiest version of yourself in a photograph. And everyone is allowed to feel sexy, irrespective of how they perceive themselves.
Why Do People Do Boudoir Photography?
As you get older, you go through many milestones. But those milestones come with changes that are difficult to get accustomed to. Time and so many changes can also cause many people to lose confidence in themselves. So sometimes, boudoir photography can be a great way to reconnect with your most intimate self.
Many women choose to do bridal boudoir photography just before getting married as a present for their soon-to-be-husband. Others do it to re-spark chemistry in a long relationship to remind their partner of the sexy gift they are. Or it's simply because they want to show off recently-purchased lingerie that's fancy and makes them feel oh-so-good.
This is a great way to regain what was always there within yourself. We understand if you feel nervous about it, especially if you're the kind of person who chooses not to wear a bikini at the beach. But that's the point – choosing to do this will result in an overall confidence boost that brings you closest to your inner feminity.
We do feel the need to put out a warning, however – you might just cry when you receive the photos because never in your wildest dreams did you think you could look this beautiful.
Find a Photographer You Trust.
Try to find a photographer you feel extremely comfortable with – comfortable enough to pose in front of in an intimate setting. Maybe this person could be a recommendation from another friend or a photographer you've previously worked with.
It's important to find a photographer who specializes in boudoir photography – a given since this is very different from typical styles of photography. It requires a certain understanding of posing for these kinds of shoots and getting up close and personal. These specialist photographers will be able to look after you throughout the shoot and guide you through different poses, even for the awkward potatoes who never show skin on a daily basis.
You're going to be down to very little clothing so it's important that you take the time to find a photographer who makes you feel at ease and knows what they're doing.
Check out Le Boudoir Studio, a photography studio specializing in boudoir and previously featured on our website.
Eat a Good Few Hours Before Your Shoot.
It's important that you come into the studio with an empty stomach. You don't want to look bloated or feel gassy during your shoot. We're not telling you to starve before the shoot (most definitely not!!), but have your last meal a good few hours before the shoot.
A professional recommendation is to book the shoot for earlier in the day so that you can head in after a light breakfast and feel your best.
Bring Your A-Game in Confidence.
Many women are scared to do boudoir photography because they feel like they need to look perfect before doing it. And we completely understand how scary it can feel. After all, it's not exactly an easy thing to do.
This is why bringing your most confident self into the studio is so important. A lot of people feel like they can't do it now because they need to look absolutely perfect before doing it. But the thing is, what you're carrying isn't the need to look 'perfect' but fear from lack of self-confidence. Remember the reason you want to do this – either for your partner, for yourself, or just because. And the only thing you need to carry that reason forward is confidence.
If what's stopping you is feeling conscious about being half-naked in front of your photographer, remember that they're professionals who've done this before. Their clients in the past have included women of all shapes and sizes – women who look just like you. Your photographer's only goal is to click photos that make you feel incredible when you see them at the end. They'll help you figure out the posing and even when you become scared about not doing it right, you'll be able to let go of that fear because you'll trust your photographer knows what they're doing.
Decide on the Clothes You Need.
There are three kinds of clothing you'll need to think about in the weeks leading up to the shoot:
i. What you'll be wearing during the photo shoot:
There are only two ideas to keep in mind when it comes to what you'll wear in the photoshoot – clothes that make you feel sexy and what makes your partner feel sexy. Especially if it's a gift for your partner, think of what they're most attracted to. There are also plenty of styled themes you can choose from – maybe a sexy sports theme, cosplay, vintage pin-up, or even the innocent bride, among others. Make sure you prepare the required lingerie and others items like corsets, thongs, and high thighs ahead of time. Choose the right size and ensure you feel good and comfortable in them.
Try them out at least once prior to the shoot so that you have an idea of the kind of poses you want to embody.
ii. What you'll be wearing a few hours prior to the shoot.
Wear loose clothing for at least one to two hours before the shoot. Any tight clothes, underwear, or wired bras will leave red lines on your body. You definitely don't want them showing up in photos.
iii. A covering: During the photoshoot, you're not just going to be shooting lingerie. There's going to be waiting time – whether it's the photographer setting up light for the new shot, changing of sets and props and you waiting around between shots. So the important thing is you don't wait around in skimpy attire. Carry a robe or dressing gown so you feel covered in between changes.
Study up Poses Ahead of Time.
While there are plenty of poses to choose from, the key to a fantastic boudoir shoot is selecting poses that make you feel most confident. And selecting these poses could lie in the parts of your body you feel like you can totally own. So whether it's your arms or butt, it's always good to find poses that highlight your good sides and discuss them with your photographer. After all, looking your best in a boudoir shoot is about feeling your most confident self.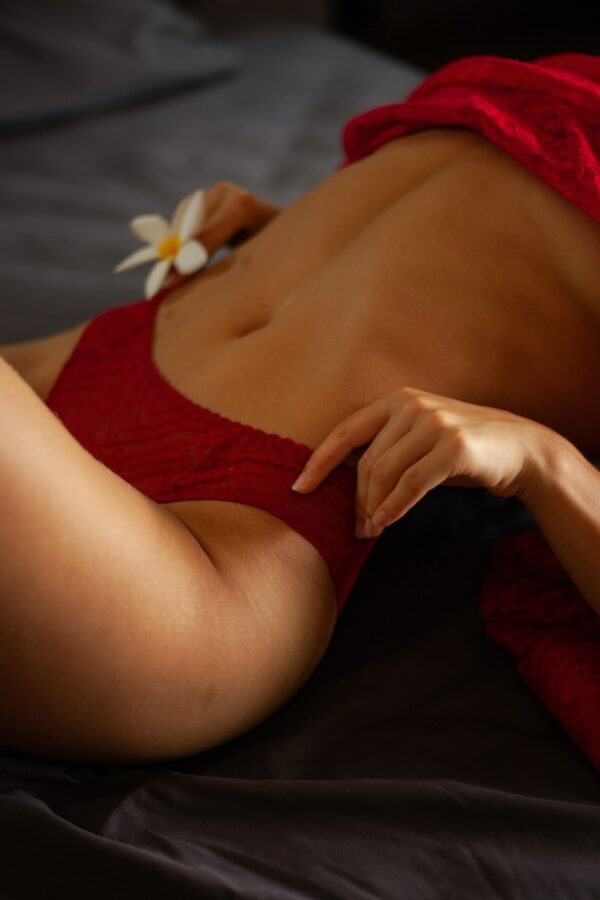 It also goes the same vice-versa. If there's a body part you feel particularly conscious over, find poses that minimize the areas you feel less confident over. It's important that you go over all this with your photographer beforehand so that they know what'll make you feel more comfortable. As we mentioned in the previous point, practice these poses in the mirror. And don't forget your face and hair! See how playing with your hair feels like and keep an eye on your smile – it's the little changes that'll amp up your hotness.
If you're keen on getting inspired, have a look at this blog post.
Hair and Face Is Key.
Carrying forward from the section about posing, your hair and face play a role. When you're investing all this money in a boudoir shoot, it's time to go all out. So don't hesitate and invest in professionals or an MUA to doll you up. Even if you're someone who typically prefers to go au naturel, do your best to bring out the bombshell in you. Especially when you're being photographed in intimates that are so sensual and sexy. A smoky eyeshadow, bold lip, and tousled waves will take you the distance in being a confidence boost, making you look like a goddess.
Bring Moral Support.
Now, this isn't for everyone. But if it's your first time doing a boudoir photoshoot and you're nauseous at the thought of it, why not bring some moral support? A friend can act as a cheerleader, knowing how to lift you up even when you don't feel confident and bring forward the hottie in you. They've anyways seen you in your worst times so why not during one of the best moments of your life?
By bringing along moral support for your boudoir shoot, it'll inject even more confidence knowing someone has your back.
Figure out Props and Accessories You Need to Carry.
Now, this is where things get really fun and naughty. In accordance with the theme or vision you have in mind, figure out props and accessories ahead of time with your photographer. Scarves, chains, bondage – whatever fits. For example, if it's a sports-themed photoshoot for your husband's favorite football team, an oversized jersey with his name on the back is a great idea. Cosplay might require ordering specialty things weeks ahead. Or even a simple shoot in the kitchen will need to prepare some food items like syrups and sauces for the day of.
Figure out what suits the vision in your head and account for it all.
Many clients tell us that the reason they chose to take up a boudoir shoot is after seeing a friend's reaction to their own. Because whatever age you're at, whatever reason you want to do it, and whatever shape you're in, you deserve to feel confident and sexy in your body.