On the hunt for the perfect outfits for family photoshoots? We got you covered.
So you decided to book a family photoshoot. Awesome. Family photo sessions are a treasured tradition for many families. And it's the perfect way to capture and document special moments, milestones, and growth within the family, so you have something to cherish and remember for years to come.
And if you're planning to shoot family portraits, one important question is, what should you wear for your family photoshoot?
In this article, we give you tons of tips on how to pick the perfect family outfit for your group photos. Whether you want simple, comfy, or classy, we've rounded up some favorite family photoshoot outfit options for you.
Ready? Let's get the stressful part of choosing the best outfits for family photoshoots out of the way!
How to Choose the Best Outfits for Family Photoshoots?
The right outfit can make or break a family portrait. Uncoordinated outfits can look chaotic, especially in group photos. And no one would be genuinely smiling if their pants were just a bit too tight. So yes, your photoshoot outfits greatly affect how the final family portrait comes out.
And here are the best tips for planning your outfits for family photoshoots, so everyone will feel confident and happy in front of the camera.
Choose a color palette.
Choose the color you want to wear for the photoshoot and build from there. Pick a dominant color, then brainstorm coordinating shades to be your accent colors. We recommend picking 2-3 colors for your color palette. You can then pick variations of those colors, like in lighter or darker shades.
Decide on the family photoshoot location.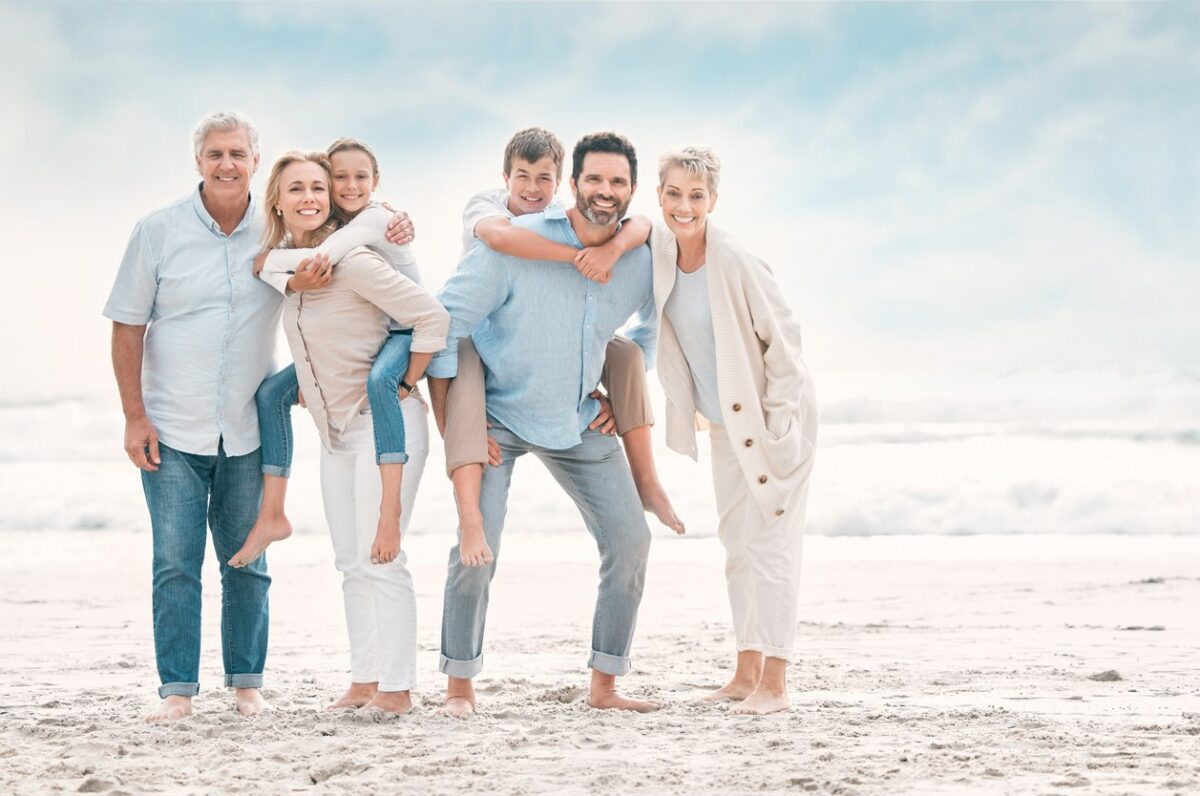 Do you want to have your family photo shoot at the beach? Or maybe take advantage of the endless green background in the botanical garden? Maybe a street-style photoshoot with the impressive cityscape?
Deciding on the best photoshoot location will help lay the foundation for the entire photo session, including picking out the perfect outfits for family photoshoots.
Another reason to decide your location before planning what to wear is that you need to consider the background. You don't want to wear black tops with dark backgrounds because details will be lost. You'll end up looking like floating heads in the final photo. The same can be said for an all-white outfit when taking outdoor photos where the sun is shining brightly.
Limit patterns
When it comes to patterns when planning for family photoshoot outfits, you want to keep them in small doses. Avoid picking large and bold patterns. You want your faces to show for the photos, and loud patterns will only take the spotlight from your beautiful faces.
Here's a tip—pick one outfit for your family photo with a fun pattern or has a lot of colors. Now, you can build from that and pick other coordinating outfits.
Style with texture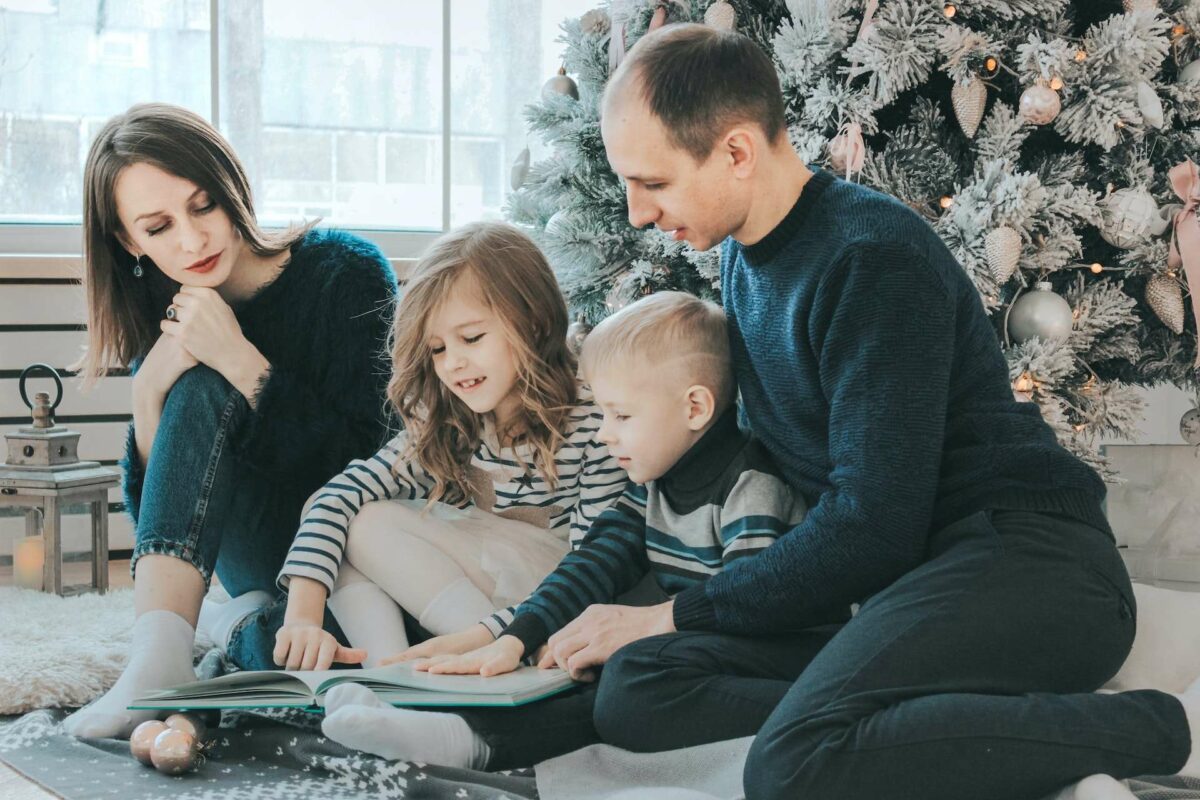 Limiting patterns in your family photoshoot wardrobe doesn't mean you need to wear plain, boring pieces. You can play with textures and layers instead and give your outfit a bit of a flare without being too distracting.
Try layering your outfits with sweaters, jackets, vests, hats, and other accessories. However, you might want to avoid things that look bulky in pictures, like scarves.
Pick season-specific outfits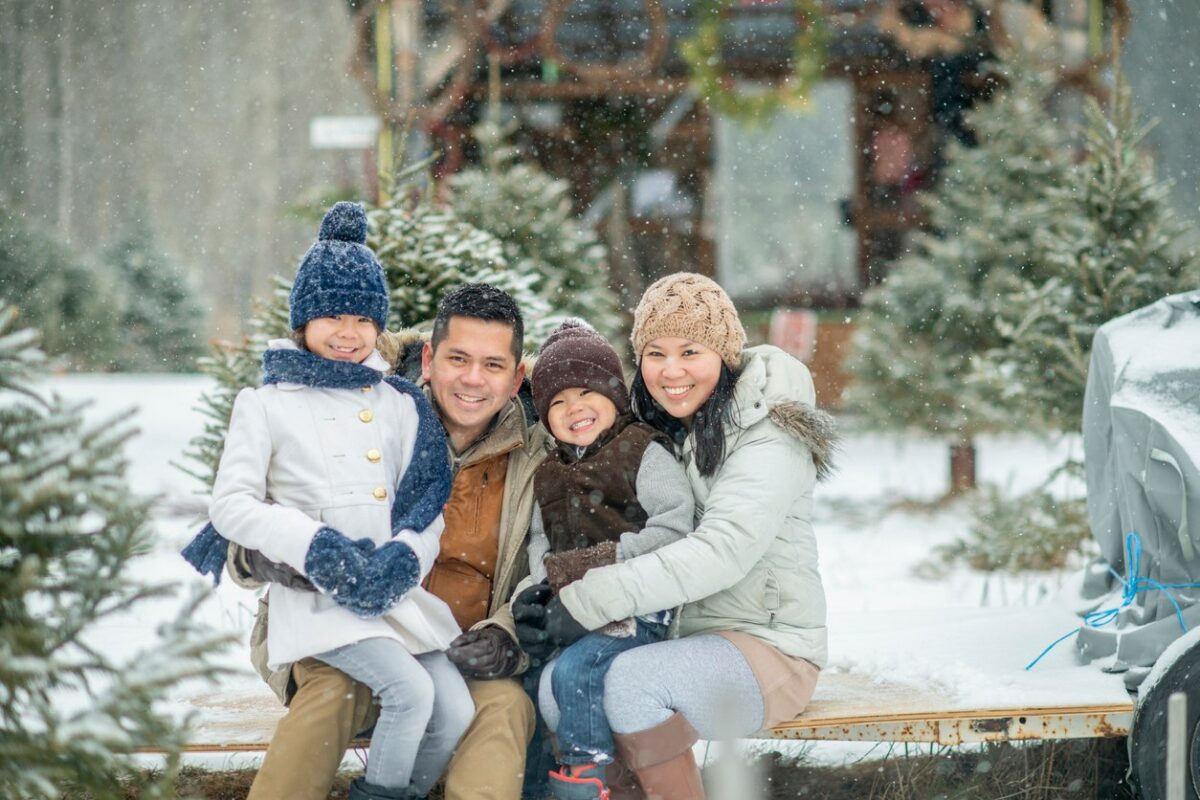 Use the season to find photoshoot outfits. Pick color schemes that match the season, weather, and landscapes. For example, brown, maroon, yellow, crimson, and navy will look incredible during fall. Meanwhile, red or crimson will add a pop of color for family photos set against the snowy winter, while white and glitter can add a bit of magic. You won't go wrong with teal, blush, yellow, and other cheerful hues and accessories for spring outfit colors. Lastly, summertime calls for something light and breezy in cheerful colors like tan, teal, orange, yellow, and light blue.
Dressing in season-specific outfits for your family photo shoot is also important comfort-wise. Nothing is worse than being too hot or cold during a photoshoot.
Think classic
Here's one last tip for picking the best outfits for family photoshoots—keep it as classic as you can. Your photos will be in your family album or hanging on your family home, so you would want to keep them looking timeless. This simple, classic wardrobe will help your family portraits stand the test of time compared to super trendy pieces.
What to avoid:
Brand name logos and large graphics. They will be too distracting in your photos.
Matchy-matchy outfits. Matching outfits will look adorable for little kids but not so much for the rest of the family. Too matchy-matchy clothing in photos won't reflect your family's unique style and will only look a little dated.
Now, it's time to pick your family photoshoot outfits!
12 Best Outfits for Family Photoshoots
Below are our top ideas and combinations for your outfits for family photoshoots.
1. Classic White and Jeans Combo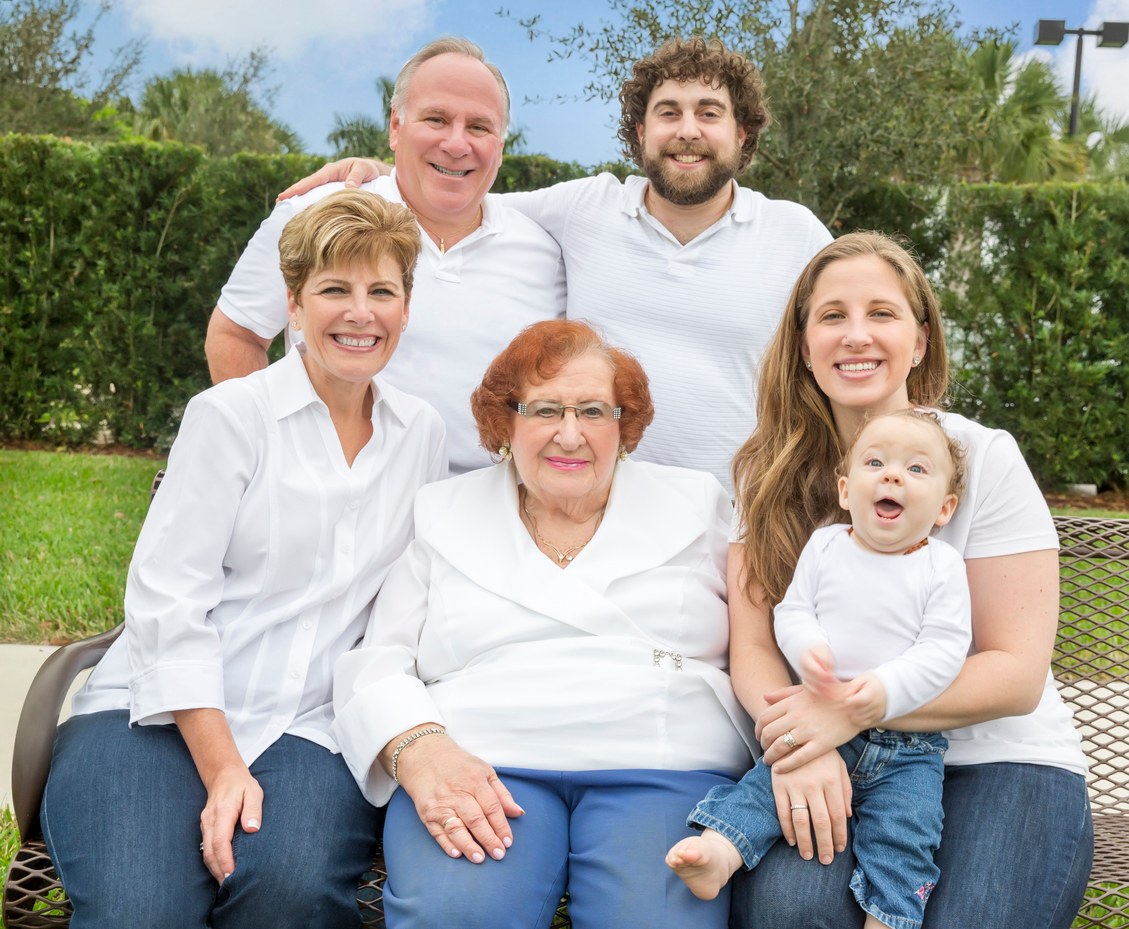 This is a simple outfit idea for family photoshoots. A white top and jeans are a classic combination if you want something comfy and laid-back. The same can be said for a white dress paired with a denim jacket for her.
White will look clean and downright fantastic against darker-colored backdrops or the greenery in the background.
2. Black and Denim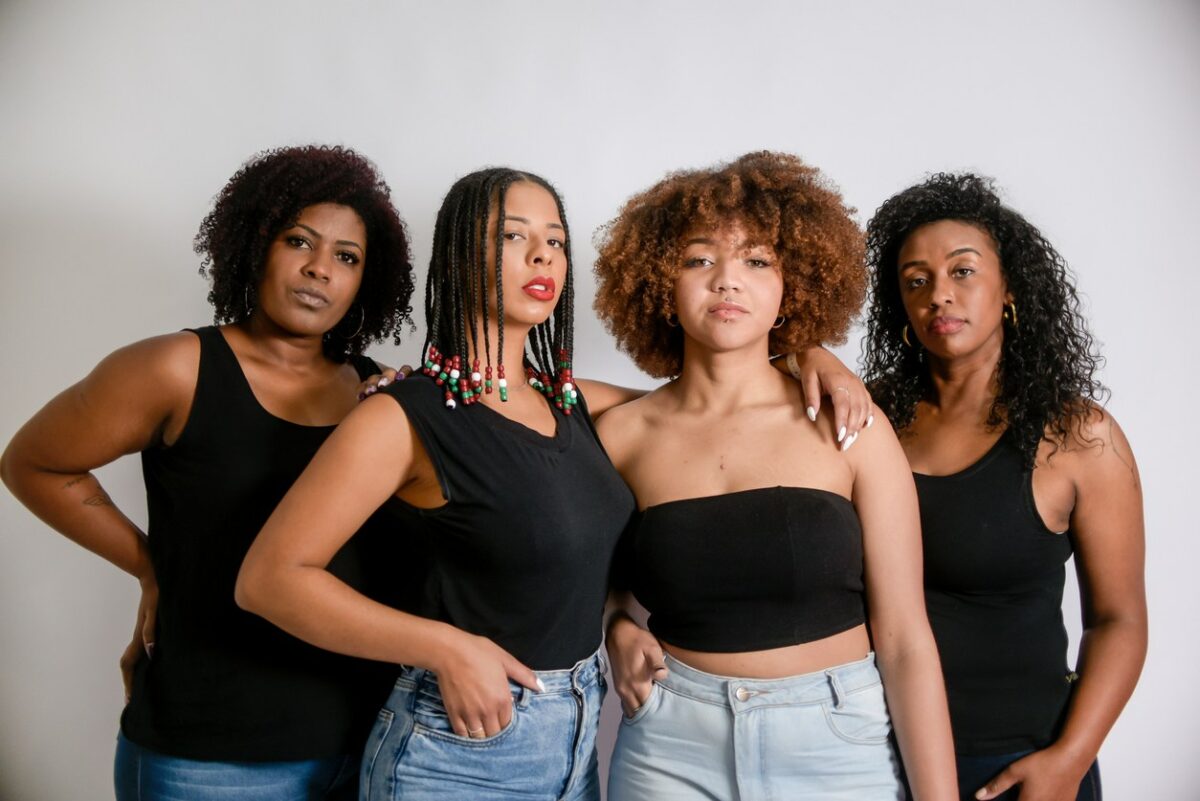 Keep the denim but switch from white to black for your top. It's another casual outfit option for family photoshoots. But this time, it will photograph prettily against airy and lighter-colored backgrounds.
3. Elegant Black and Tan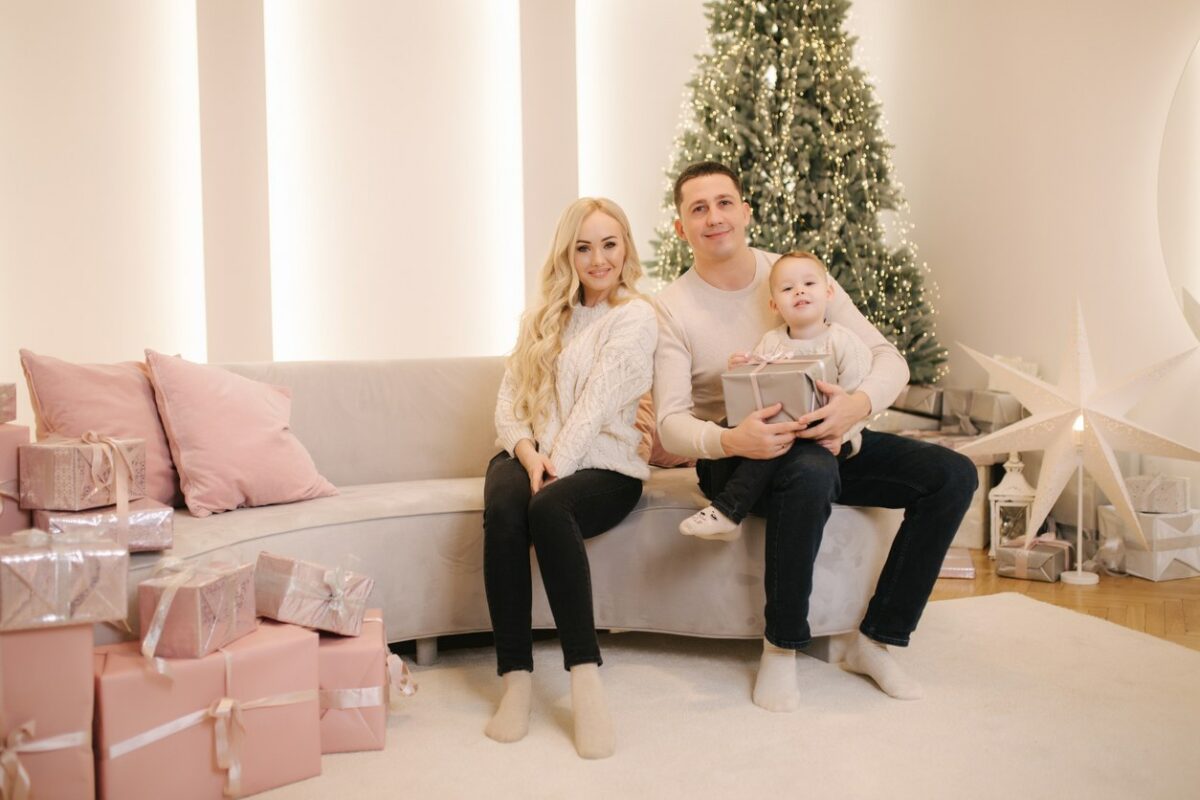 A black and tan outfit for a family photoshoot will look down-to-earth but also elegant. The black and tan combination will look even more captivating for outdoor photoshoots during the golden hour.
Pick outfits in varying shades of tan and black, or you can have everyone wearing the same shades, your choice. A few key pieces and accessories like statement jewelry, a hat, or shoes can then highlight each of your personal styles.
4. Casual and Chic Neutrals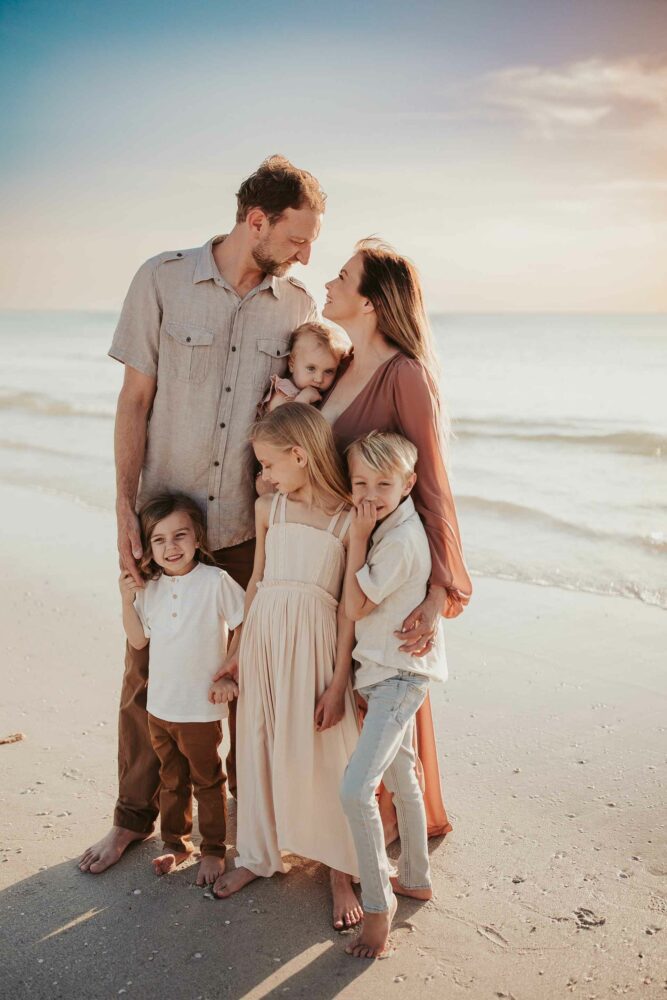 You can never go wrong with choosing neutrals for your outfits for family photoshoots. They are subtle and classy. Creamy neutrals also work well with other accent color tones, making it easier to plan family photo outfits for everyone, especially for a large group family photo.
Beige, tan, ivory, cream, gray, and taupe are all lovely options, and they pair very well with accent shades like navy, blush, sage green, and blue.
Another great choice about neutrals is that you can wear the same color but in varying styles, from casual to chic.
5. Contrasting Black and White
A black-and-white contrast is a classic combination that will look clean and timeless in photos.
If you're unsure how to make a contrasting black and white wardrobe for your family photoshoot look interesting, you can have each person wear different shades of white and black. Or, like one of the tips we mentioned above—texture and layering is your friend.
6. Timeless All-White Photoshoot Outfits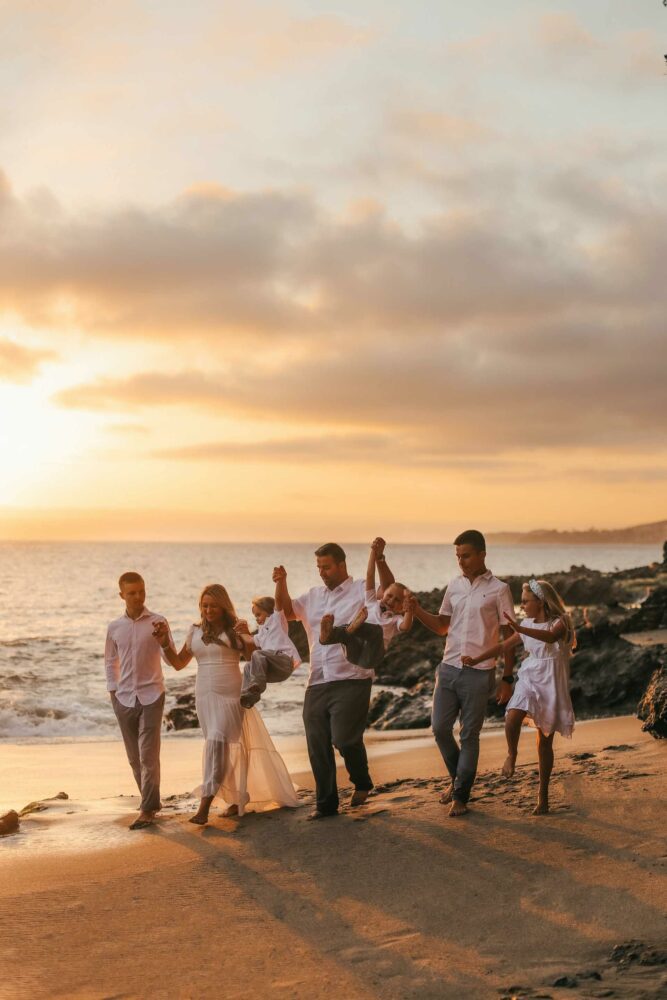 All-white photoshoot outfits for the entire family are as simple as they come but also scream clean, elegant, and timeless.
That said, it may be a difficult outfit to pull off. It's easy for an all-white outfit to get dirty, especially if you have little kids around. But with some careful planning, it's possible to capture stunning shots with the family wearing all white whether you plan for an indoor or outdoor shoot.
7. Stylish Black on Black
It's the opposite of the previous family photoshoot outfit idea, but it totally works. We love the idea of black-on-black outfits against airy and lighter backdrops.
A monochromatic black outfit also works perfectly for family photoshoots during winter. The color tones will surely pop in a snowy environment.
8. Clean and Warm White and Tan Combo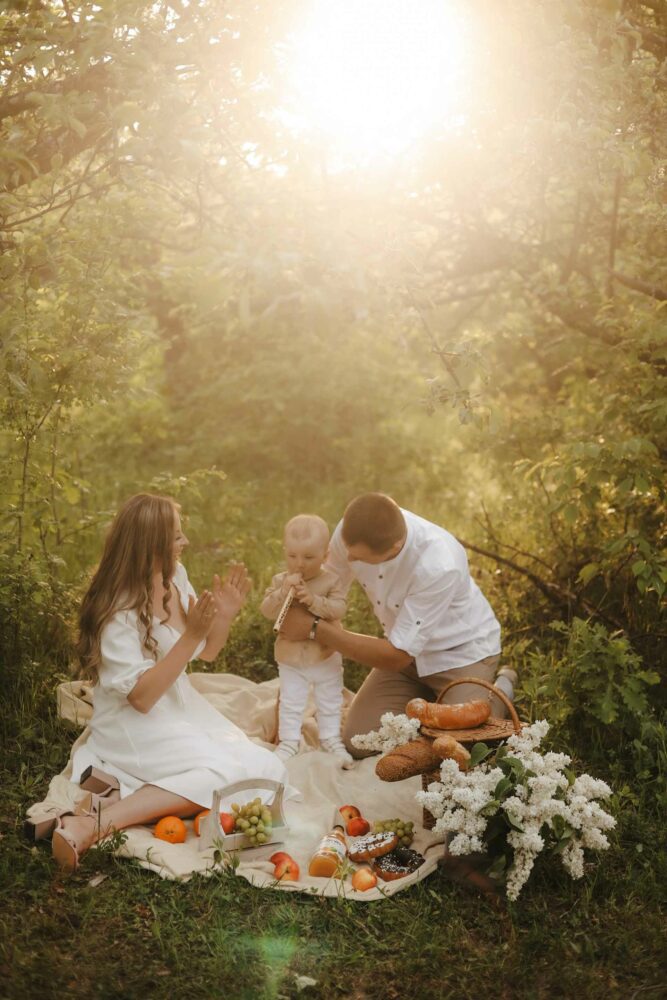 White and tan are colors that go well together. Whatever shade you decide, you will never worry about a white and tan outfit clashing with each other. A white and tan outfit looks warm, comfy, and inviting on a warm sunny or breezy day.
This outfit combo for family photoshoots is perfect for a beachy backdrop. The white outfit will help reflect the sunlight beautifully and make your face look radiant, while the tan will blend perfectly with the sand.
9. Perfect Play with Burgundy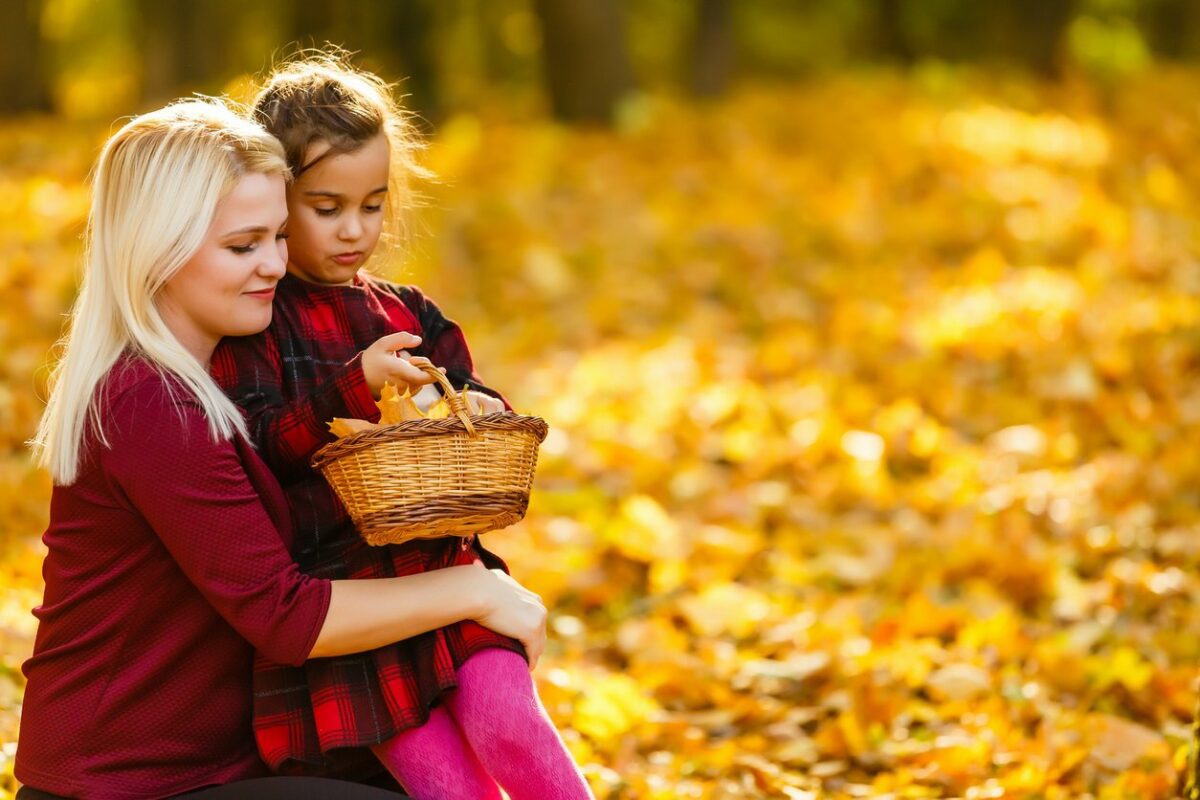 It's a bold color but one that can make your family photoshoot pop. Burgundy outfits can evoke warmth, coziness, and luxury in portraits, making everyone look organized and put together without much effort.
Burgundy outfits for family photoshoots also bring out the natural colors of the leaves during the fall season. So, if you're planning on a fall family photo shoot, burgundy clothing is a fantastic color to go for.
10. Calming White and Blue Outfits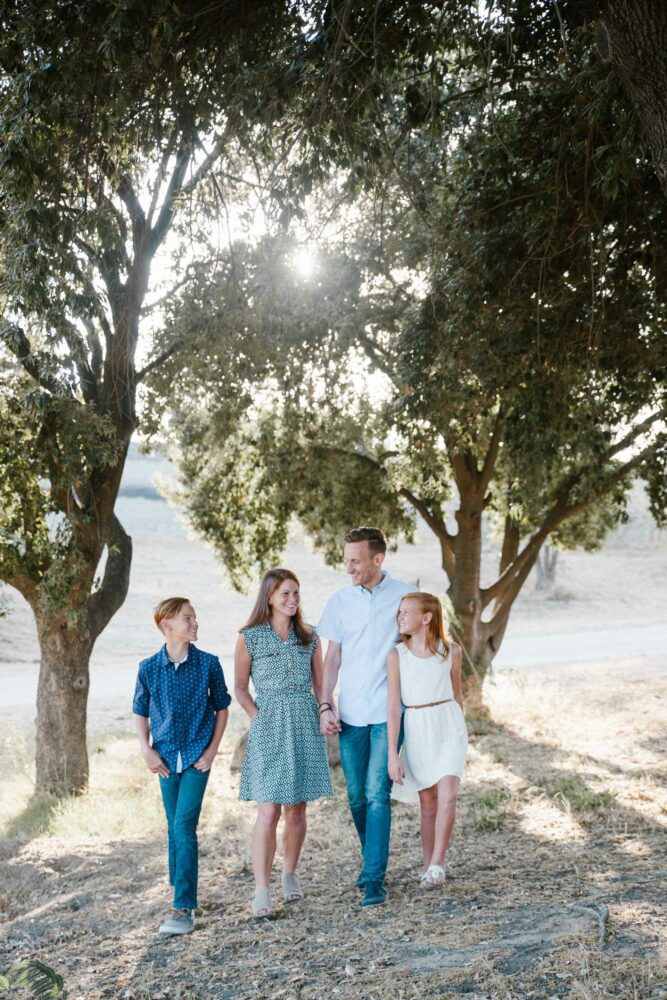 If you want your family photo to look airy, calm, and easy on the eyes, consider wearing white and blue outfits. This combination of colors gives such a cool vibe that's perfect for any setting, especially the outdoors.
A simple tip: have everyone wear different shades of blue to keep the photo eye-catching and interesting and not unoriginal or boring. Opt for a blue or white dress for her and a blue top and white pants or a white top and blue pants for him. And the kids can wear simple dresses or shirts with pants in different shades.
11. Go Soft with Pastels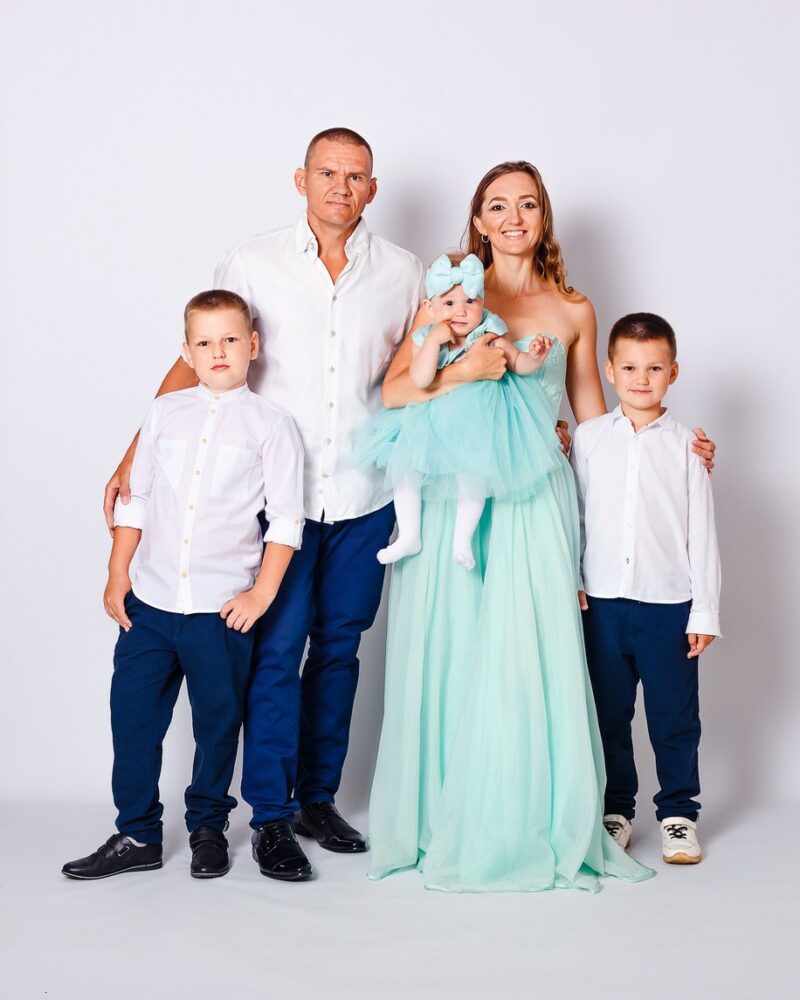 The most awesome part about pastels is that they can make a portrait pop and go great with any color scheme. They add a soft, dreamy aesthetic, especially for family photoshoots during the spring or summer season.
Green, pink, blue, yellow, and purple are all great options. And if you're feeling funky, you can mix and match different pastel colors for a unique family portrait. Or, you can keep it simple with one pastel color paired with white in the photo above.
There's only one important rule to remember when wearing pastel outfits for family photoshoots—make sure your pastel clothing compliments the background. A white, airy backdrop for indoor photoshoots, a blue sky, a sandy beach, or a green field are all awesome options.
12. Versatile Shades of Gray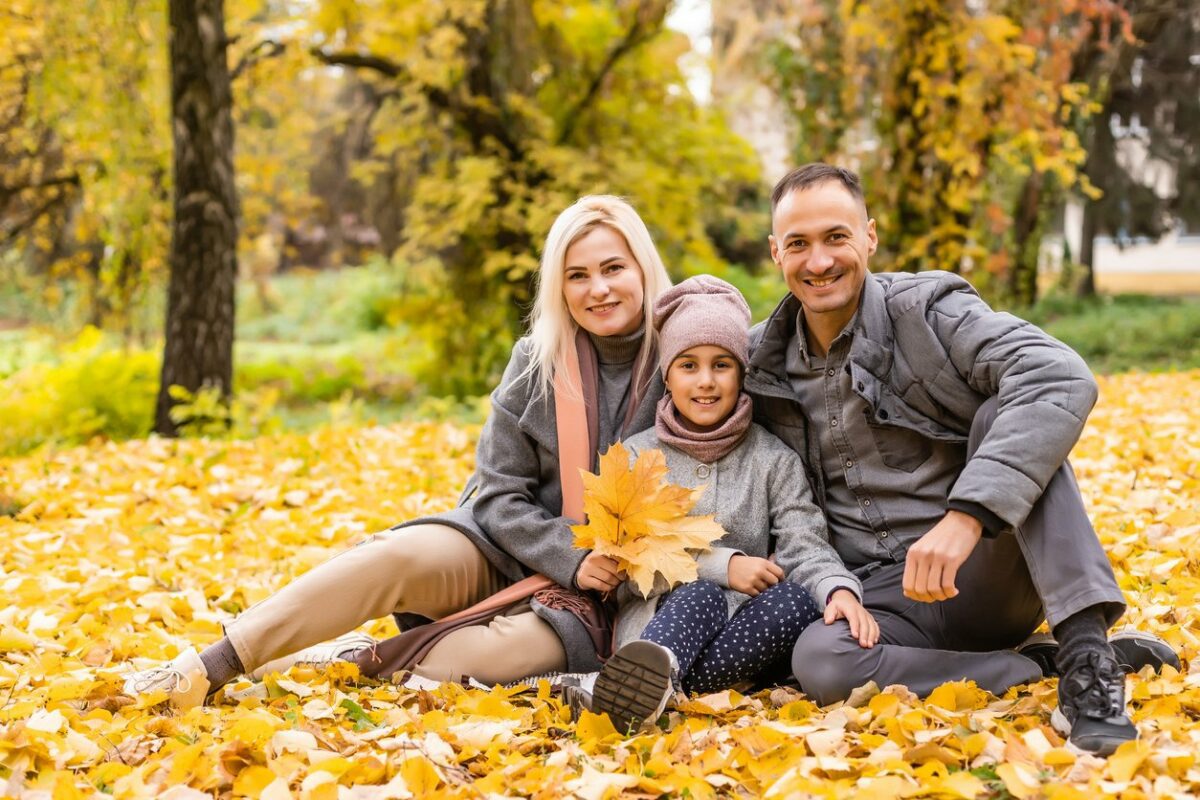 If you're planning for a family photoshoot soon, gray outfits are a safe choice for many reasons. For one, gray is a color that will give you plenty of creativity when it comes to playing with textures and shades. Second, gray is a great color for matching any kind of backdrop without worrying about blending in.
And there you have it!
We hope you enjoyed our list of favorite outfits for family photoshoots!
Be sure to pin these ideas for later, and don't forget to have fun planning what to wear for your upcoming family photo session.