Looking for pregnancy family photoshoot ideas for dreamy portraits to add to your family album? We've got you!
Pregnancy is such a magical time, not only for the mom-to-be but also for everyone in the family who can't wait for the new family member.
And one of the best ways to remember your pregnancy journey with the people you love most in your life is by taking family pregnancy photos.
A pregnancy family photoshoot is a fantastic way to capture your growing family and everyone's excitement about the impending birth.
Documenting your pregnancy journey with loved ones can be a gift that everyone in the family will treasure for a lifetime.
A maternity shoot with soon-to-be big sisters and big brothers is a great opportunity for them to develop a bond with their new baby sister or brother.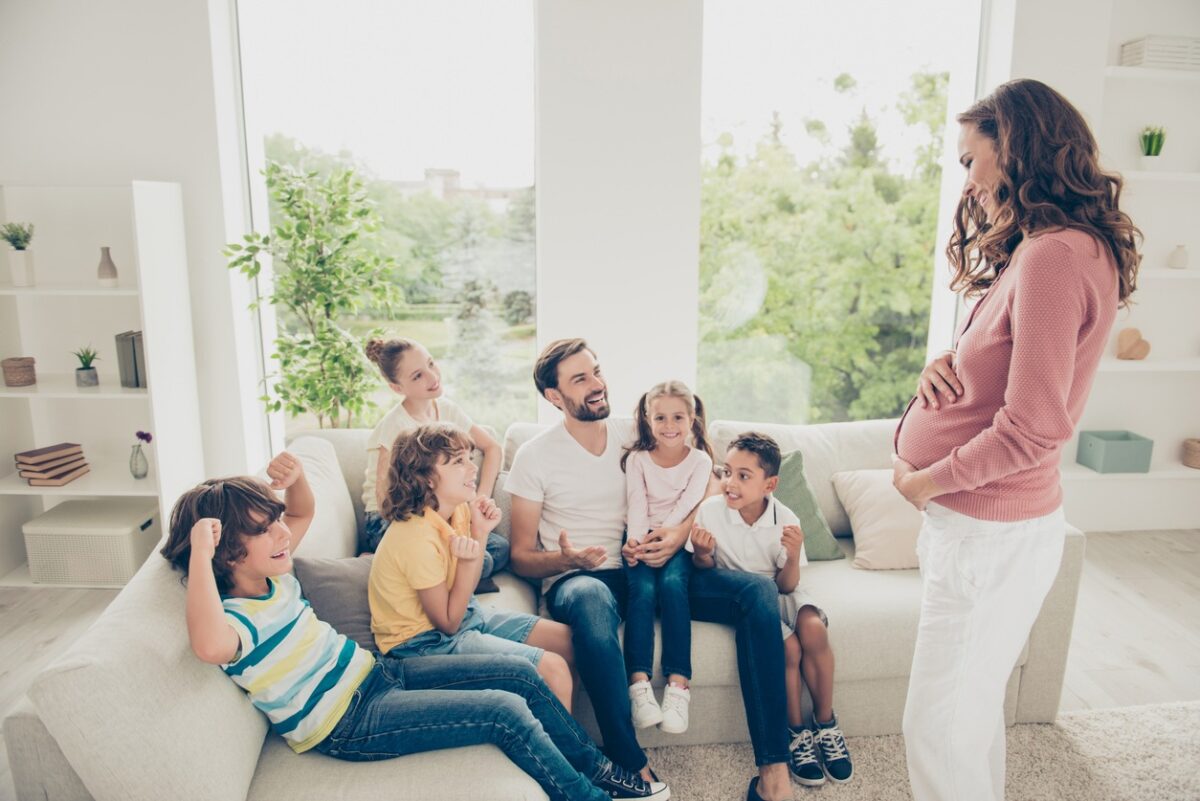 Are you on the hunt for the best way to preserve memories of your pregnancy and the excitement during this special time? Below are our favorite pregnancy family photoshoot ideas and tips to give you lots of inspiration for your maternity photo session with the fam.
11 Pregnancy Family Photoshoot Ideas
There are endless ideas to choose from when it comes to maternity photos with the family, so finding the perfect one for you shouldn't be difficult. To help, below are our favorite pregnancy family photoshoot ideas for dreamy portraits to remember this time in your life with your favorite people.
1. Baby Bump Close-Up Photoshoot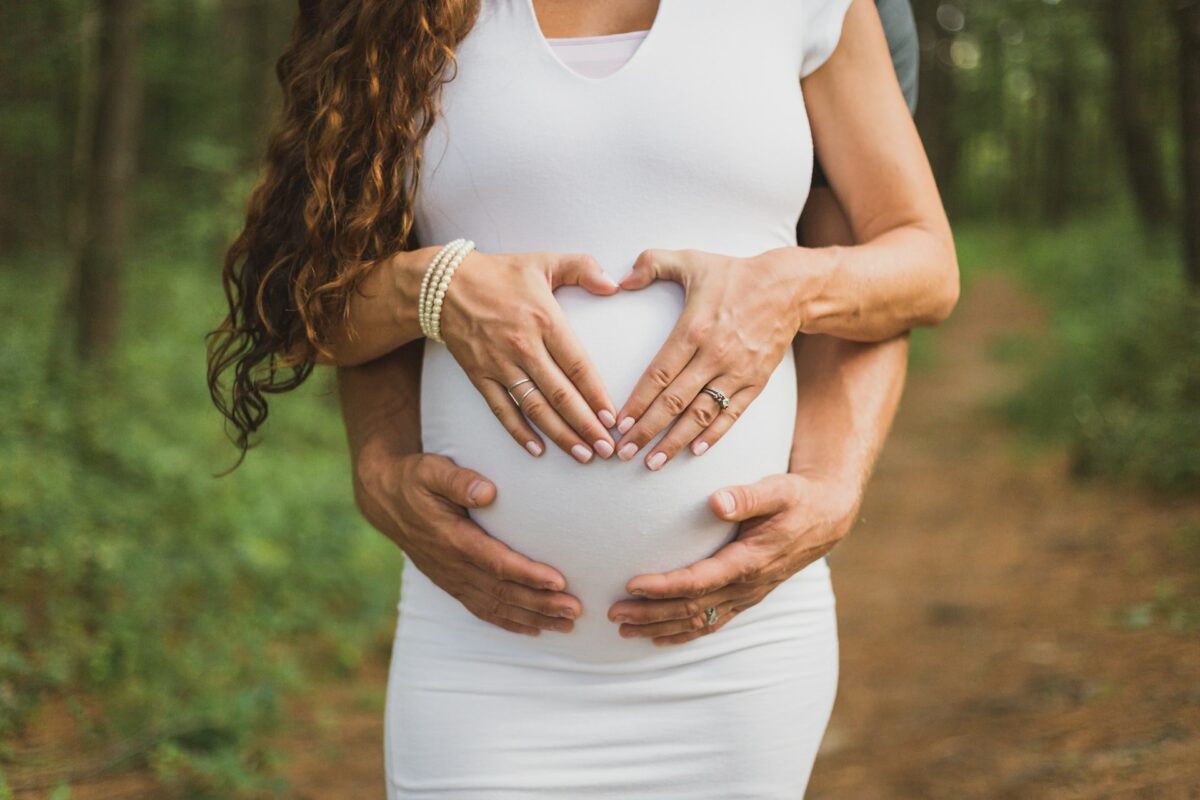 Celebrate your pregnancy in a family photoshoot with the main character—your growing belly!
A close-up shot of your baby bump will be the spotlight for this pregnancy family photoshoot idea. But there are plenty of ways to achieve this pose. You can ask your husband to craft a heart with his hands on your belly while embracing you from the back for an intimate shot.
And, of course, there are plenty of ways to incorporate the rest of the family in this shot. Get everyone in front of the camera, their hands on the baby bump and smiles on their faces.
2. Holding Hands
Even a simple pose like holding hands can create a charming portrait that reflects a family's love and support for one another.
Capture an exciting pregnancy family photo with your partner while holding hands and looking into each other's eyes.
You can get the kids in the frame too. Have everyone holding each other's hands while strolling at the beachside or the park—just anywhere dreamy, stunning, or special place, really.
3. A Sibling's Embrace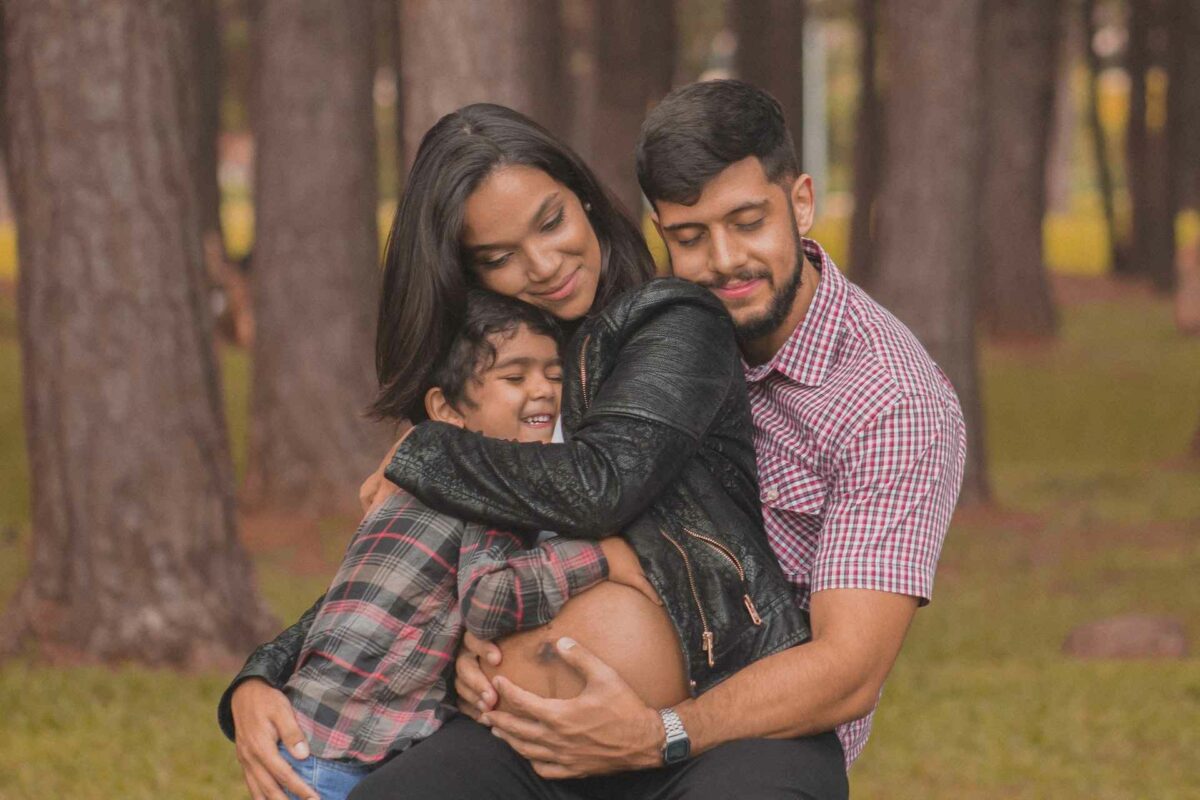 If you have an older daughter or son, or both, why not get them involved in the family photoshoot?
It can be a mommy-and-son or daughter photoshoot where you show off the baby bump and have him, or her gently touch or embrace your belly. Or, you can capture the love between the sibling by having them kiss your baby bump.
All you're going to need for this portrait to be a success is a nice picturesque setting and a smiling big sister or big-brother-to-be.
4. The Swing Shot
For this pregnancy family photoshoot idea, you'll need to have your kids take the starring role—both the baby in your belly and their soon-to-be big bro and sis.
It's another version of the holding hands pose above, but this time, you're going to ass a bit of movement and whimsical fun to the maternity family portrait. There are different ways to grab this shot. You and your partner can swing your toddler between the two of you. Or, if you're shooting in a park, you can have your toddler in the swing set.
5. Kiss From Daddy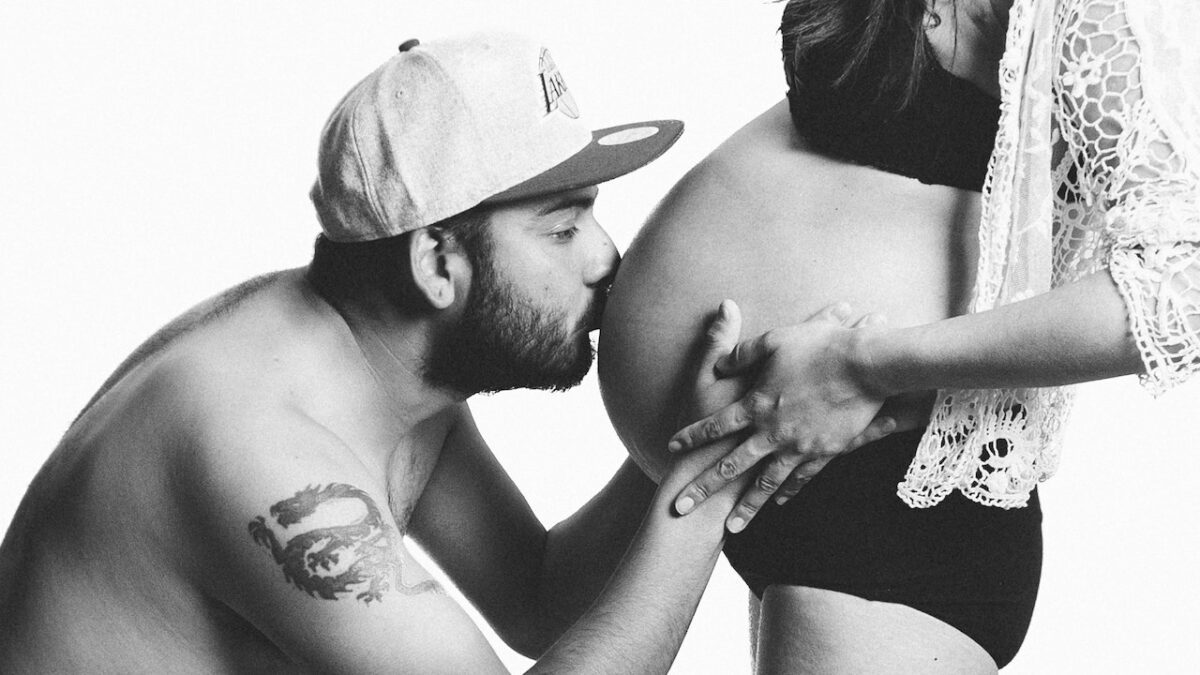 The right pose for the expectant mom and dad can make all the difference in a maternity photo. And there are many loving ways to include soon-to-be dad in the portrait.
Pose in front of the camera sideways for this to highlight your growing baby bump. Now, have your partner crouch down in front of you with his hands on the belly, also giving it a sweet kiss.
This pregnancy family photoshoot idea portrays the love and excitement of the new addition to the family.
6. Complete Family + a Sonogram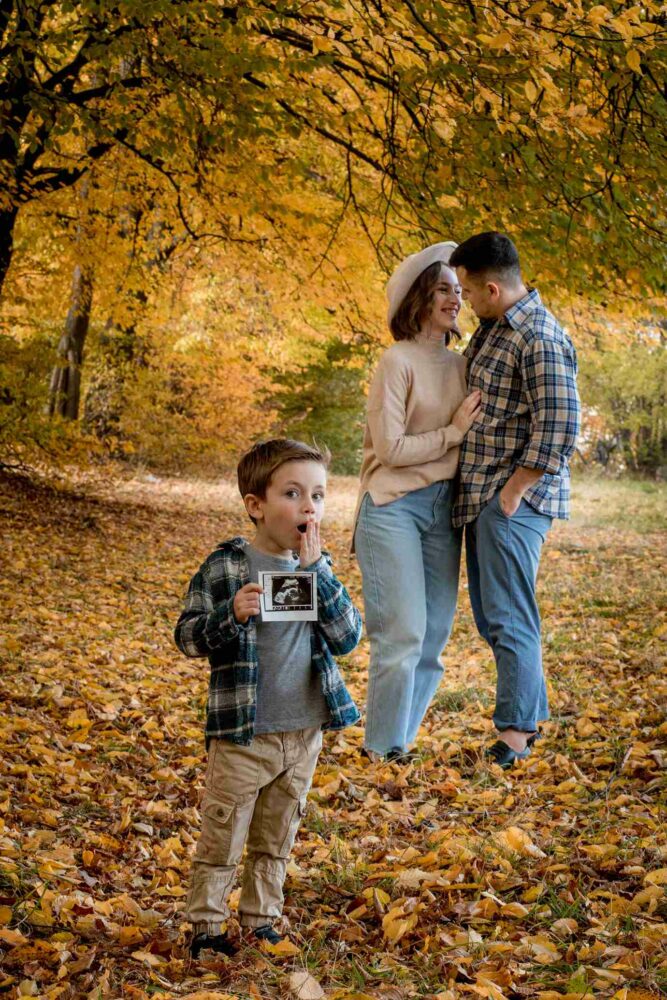 Just because you still have a couple of months or weeks to wait before your bundle of joy arrives, it doesn't mean they can't be in your maternity photos. Create an exciting family picture with your partner, kids, and your baby's first photo!
Including a sonogram is a great idea to show your excitement for the upcoming birth of your baby in your pregnancy photos. There are many ways to get the perfect shot. You can start with a close-up shot of your partner or kids holding your baby bump lovingly with the sonogram on full display in front of your belly.
Or, you and your partner can hold the sonogram in front of you. The idea is to make the sonogram take center stage and focus in the foreground while you and your partner can kiss or stare into each other's eyes in the background.
7. With Cute Maternity Photoshoot Props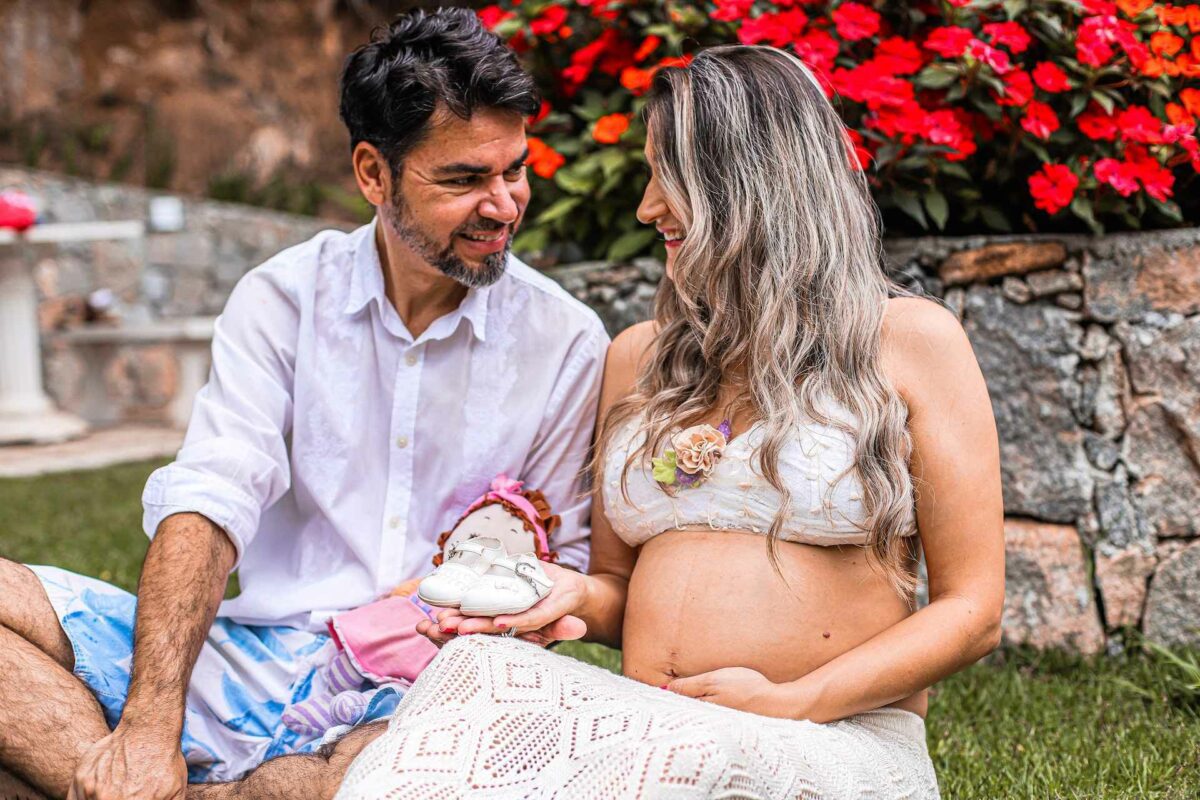 Including props in your maternity photoshoot with the family adds a lot of visual interest and fun to your photos. You have plenty to choose from—baby onesies, baby shoes, a cute baby bonnet, or some baby books. And if the baby's nursery is finished and ready, you can have everyone posing in the nursery.
You can also showcase different signs to show your excitement for the baby. Spell out the baby's name using alphabet blocks or write the due date on a chalkboard. Another prop you can include in this maternity family photoshoot idea is the perfect outfit for everyone in the family—a custom shirt. Your husband could wear a "daddy" shirt, and your older children can wear a "big sister" or "big brother" tee.
8. Include the Pets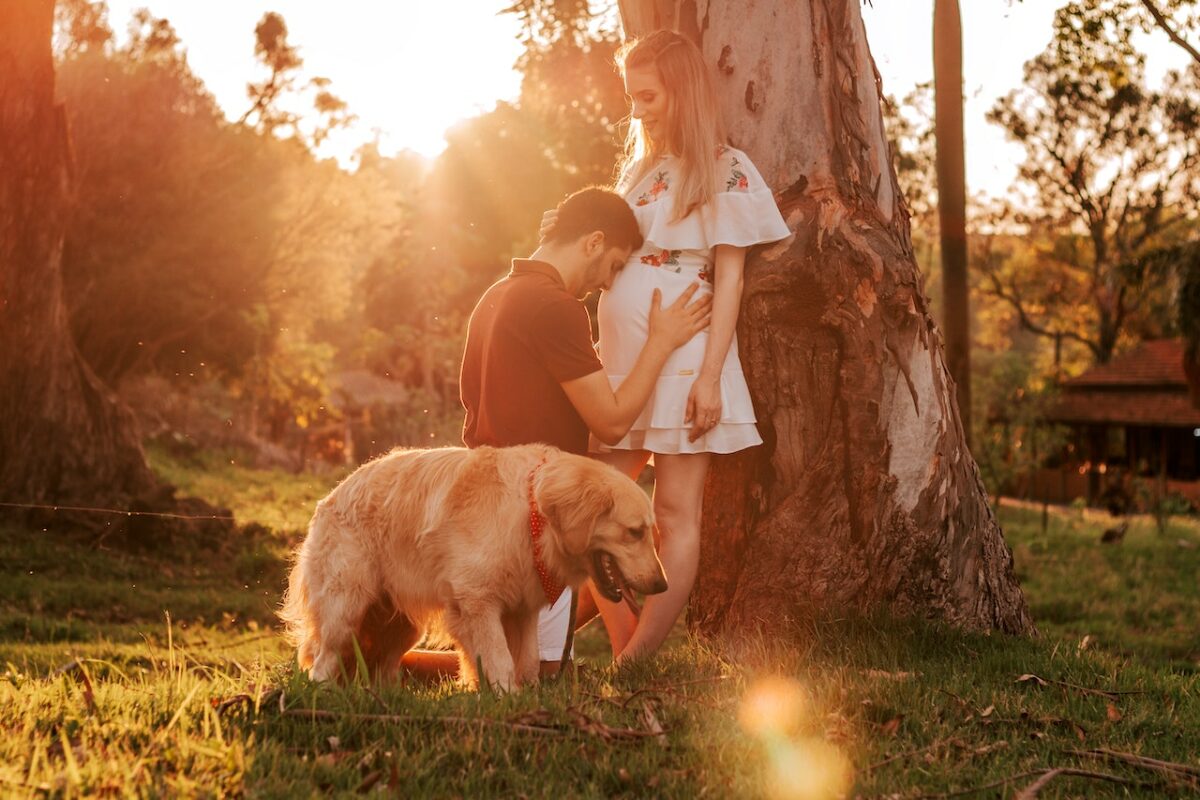 Besides using props, another one of the best pregnancy family photoshoot ideas to add more visual interest to your maternity photos is to include your pets!
Pose with your kids if you have older ones and your pets. You could be running around in the backyard, sitting on the porch steps, or lounging on the sofa. Whatever pose you choose, this pregnancy family photoshoot idea has enough cuteness for awesome maternity photos.
9. Embracing the Moment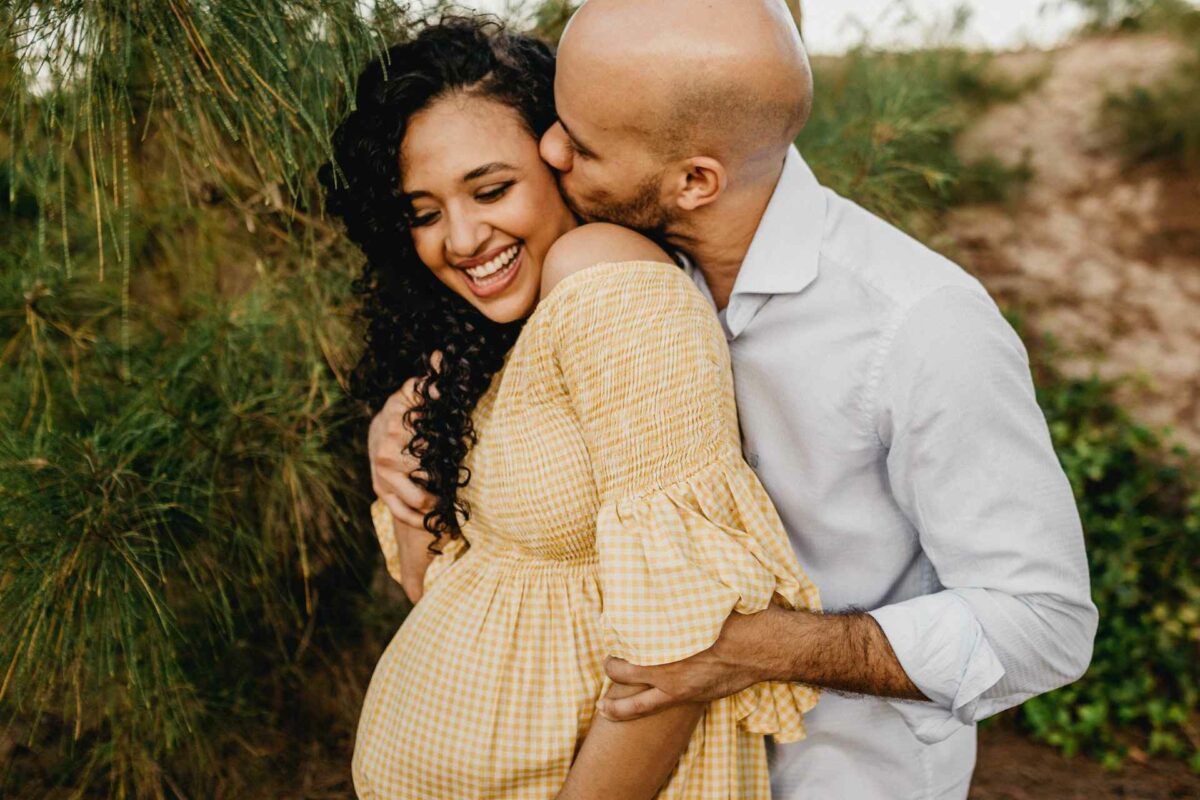 Pregnancy is such a magical time for parents and the entire family. You want to be present in the moment and bask in the joyful milestones of your pregnancy journey. And here's one of the simplest yet heartening pregnancy family photoshoot ideas we have on the list—mom and dad leaning on each other, embracing the moment.
Stand side by side with your hands wrapped around each other, and of course, with your growing belly in the center. Look into each other's eyes and share a gentle kiss for a more intimate maternity shot.
10. Family Picnic
Create an intimate and fun family moment at the park with a picnic blanket and everyone's favorite snacks. It would be perfect for getting this shot with everyone sitting together, smiling, laughing, eating, and admiring your growing belly.
Another pregnancy family photoshoot idea is to bring your family fun time and maternity photoshoot to the playground. It's a great option if you're planning to include your toddlers in your maternity photos. You can take advantage of the swings and slides to create fun and exciting poses.
11. Gender Reveal Party
If you're doing a maternity photoshoot, you're also likely to plan a gender reveal party with your family. Why not make it a combo?
For this idea, you can do a maternity photoshoot and a gender reveal with the entire fam. Get everyone together and set up a gender reveal party however you prefer. We have a few tips below if you're looking for inspiration on how to get this pregnancy family photoshoot idea to life.
Use smoke. Get everyone in front of the camera and set up a pink or blue smoke to reveal the gender of your baby. The colored smoke will make a stunning background for this maternity shot.
Use confetti. Have everyone pose side by side and pop a blue or pink confetti cannon to reveal the baby's gender. The idea is to capture everyone's reaction. The joy, the surprise, and the excitement, plus the colored confetti in the air, will make for a magical pregnancy family portrait.
Where to Do Your Pregnancy Family Photoshoot?
Now that you have plenty of pregnancy family photoshoot ideas, the next big question to ask is where to take your maternity photos.
Here are a few options you can consider.
At Home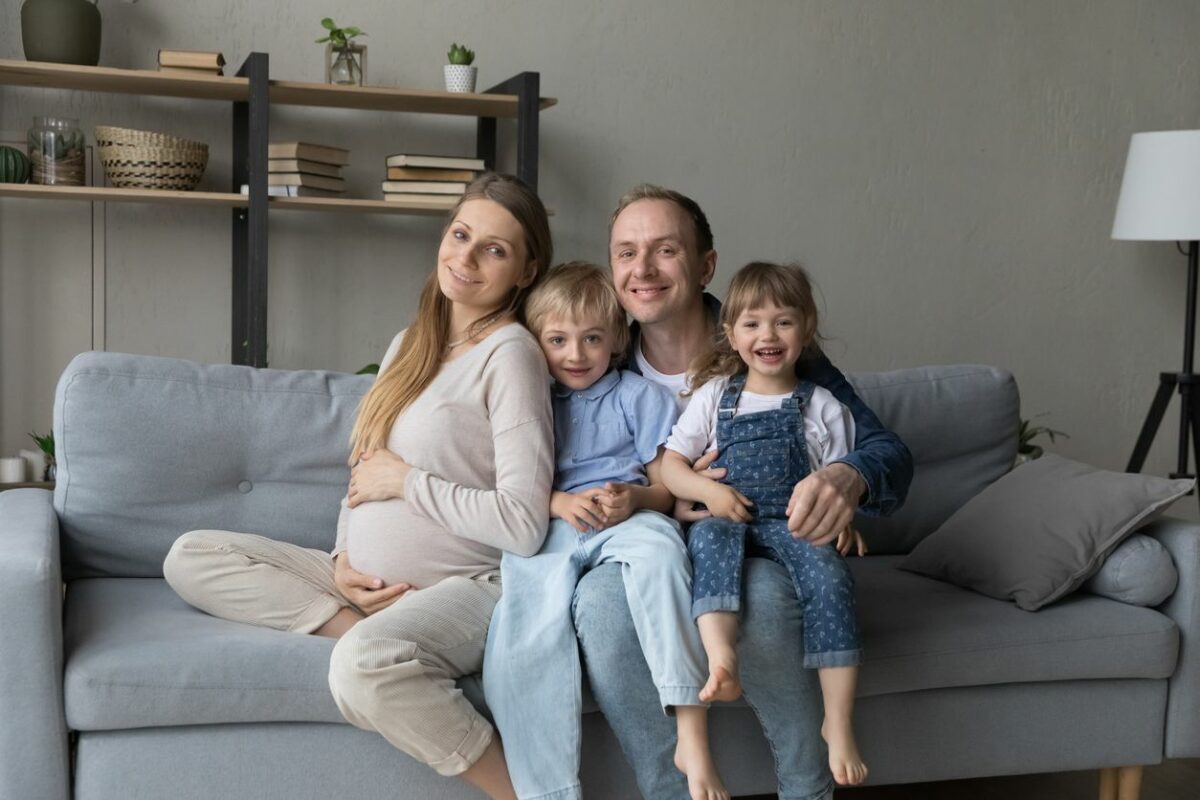 If you want to take maternity family photos but don't want to leave the house, that's perfectly fine. You can take pregnancy photos with the fam in your home. And in fact, it's a comfy and familiar space for everyone. The family can relax and enjoy themselves at home, so there is no awkwardness or stiffness in the photos.
The bedroom is a cozy place to take intimate pregnancy family portraits. The living room with large windows is also a great setting because of the abundance of natural light.
Outdoors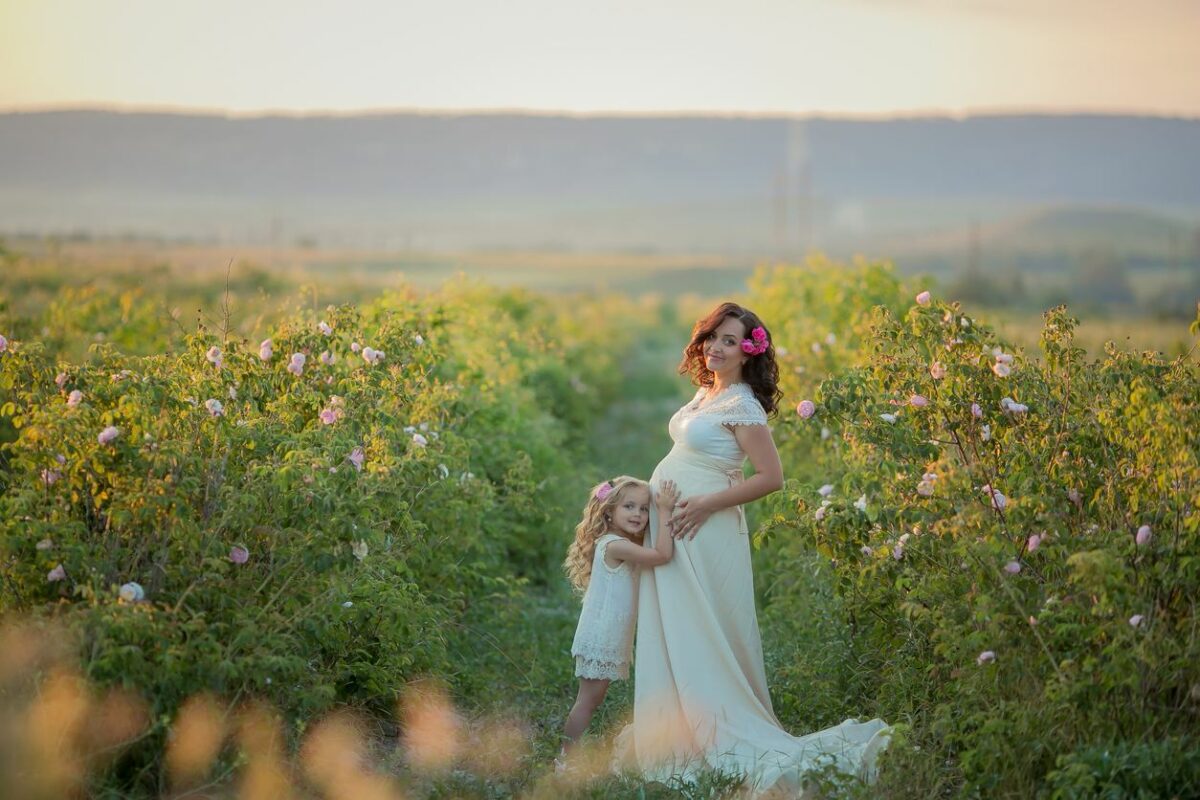 The best thing about taking your pregnancy family photos outdoors is that the opportunities are endless. The beautiful nature gives a wide range of background options for families. You can shoot your maternity photos in beautiful gardens, wooded areas, fairytale-like forests, the beach, stunning cityscapes, and many more.
Places That Have Meaning for You
Does the family have a special place that you always go to? Perhaps, you have a favorite diner that the fam goes to every Sunday morning. Or, it could be a summer house that you visit every summer. Or maybe you want to take maternity photos with your husband somewhere you first met each other. That works too.
Little details in your pregnancy family photo shoot will add a bit of magic to the final photos, like the photoshoot setting that's special for your family,
In the Studio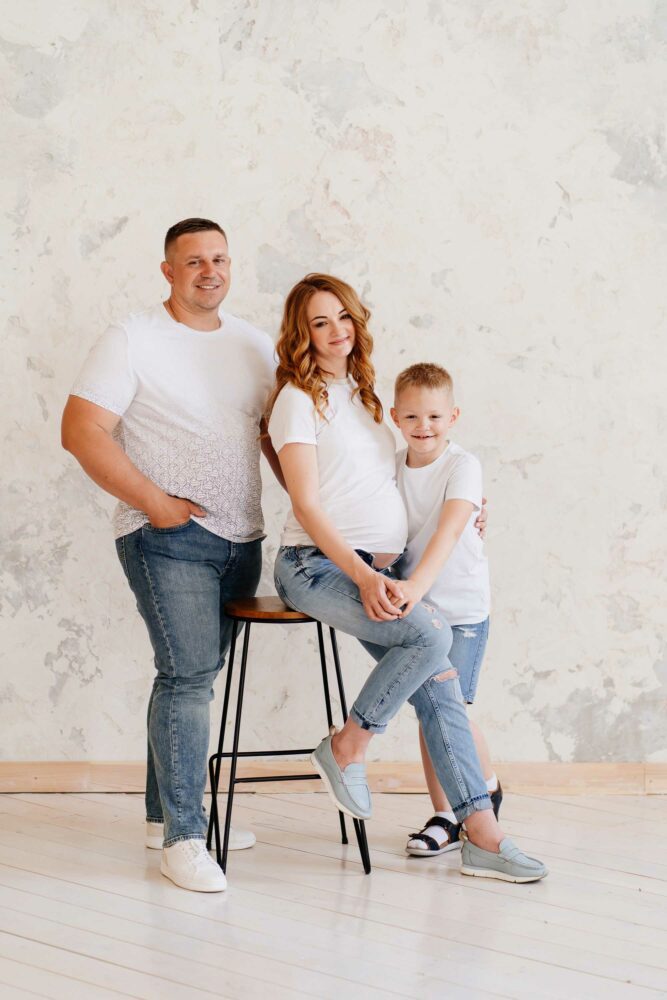 Shooting your maternity family portraits may not always be possible to do outdoors, maybe due to bad weather or other reasons. So, consider taking your pregnancy photos in a professional studio.
In-studio pregnancy photo sessions are a popular choice for families. It's safe, and it's easier to keep the kids in line in a smaller space. It will also provide the family with comfort and privacy since you won't have to share the space with passersby.
There you have it!
Photos make fantastic reminders of moments of happiness, like your pregnancy journey. Documenting these special milestones with the family means you'll have so many photos to look back to and smile at.
And hopefully, we've given you a lot of inspiration on how to take maternity photos. Make sure to try some of these pregnancy family photoshoot ideas to create lasting memories to add to your family album.
But the great thing about a photo session is that there is no right or wrong way you can do it. Feel free to recreate the pregnancy family photoshoot ideas we have or add your personal flare for unique maternity portraits that will take your breath away.