Looking for sexy photography poses and ideas that can make you feel confident and sexy in front of the camera and look drop-dead gorgeous? We've got you!
Whether you're a photogenic gal or not so much, the sexy photography poses and tips we have below will give you a boost of confidence and some amazingly sexy portraits.
Tried and True Sexy Photography Posing Tips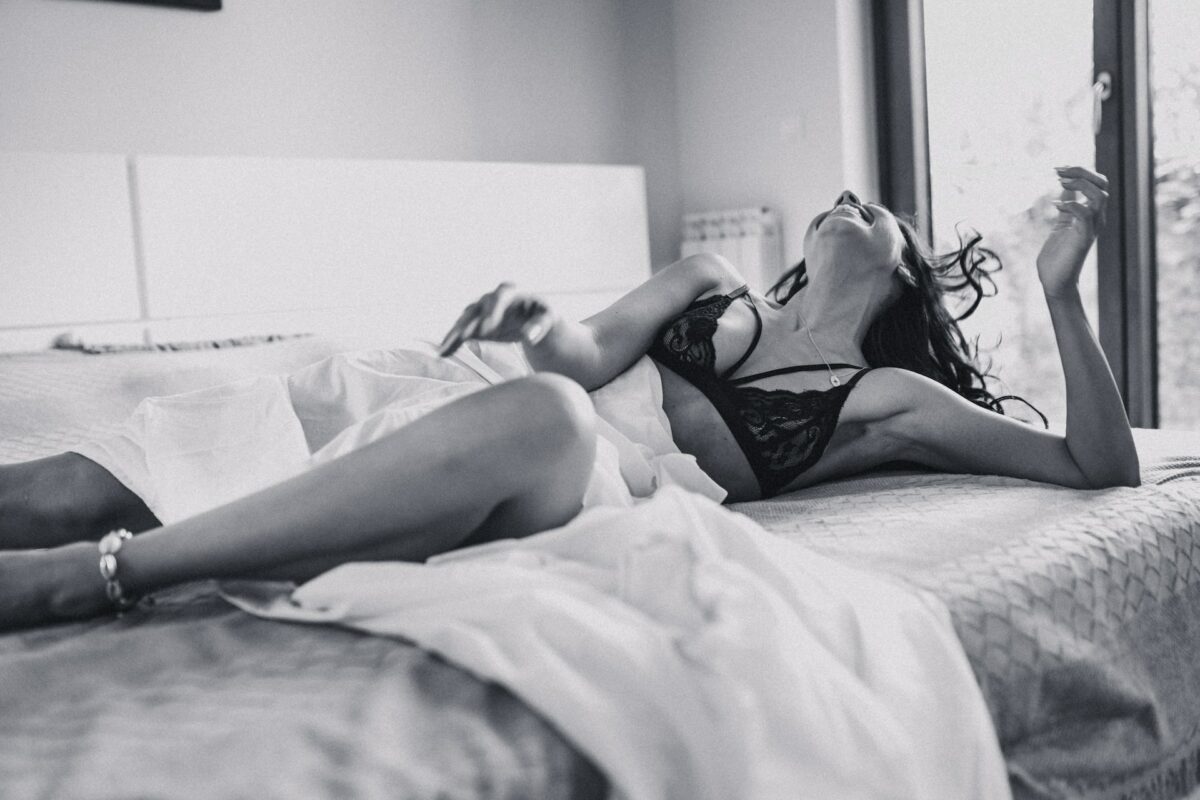 Now that you've seen some killer sexy photography poses you can copy and experiment with, it's time to take notes of some important points on how to nail those poses for your next photoshoot.
These posing tips will give you much needed boost to find the right angles and accentuate those curves for the most flattering photos.
Arch That Back
Lean forward and arch that back to create an hourglass shape. This posing strategy is classic to get that slimming yet curvy effect that works very well in sexy photos, especially with shots taken from the front.
Bend Those Limbs
Angles help create leading lines and conflict in any photographic composition. In the same way, making sure you have angles in your sexy photography pose goes a long way in making sure that the image doesn't look flat or tense.
It could be as simple as bending your arms or legs. Perhaps, you can raise your knee and lean your elbow on the top.
Make Eye Contact
You can shoot sexy poses while looking away from the camera, maybe reading a book or gazing out the window. But another way to do it is to create eye contact and make sure you get it right.
Think of innocent or suggestive, or intense expressions with your eyes, depending on what you want to portray in the final image.
Stand on Tiptoes
For standing sexy photography poses, putting one foot in front of the other and standing slightly on tiptoes will make your legs look slimmer and ridiculously long. And it makes your butt look good too.
Tilt Those Hips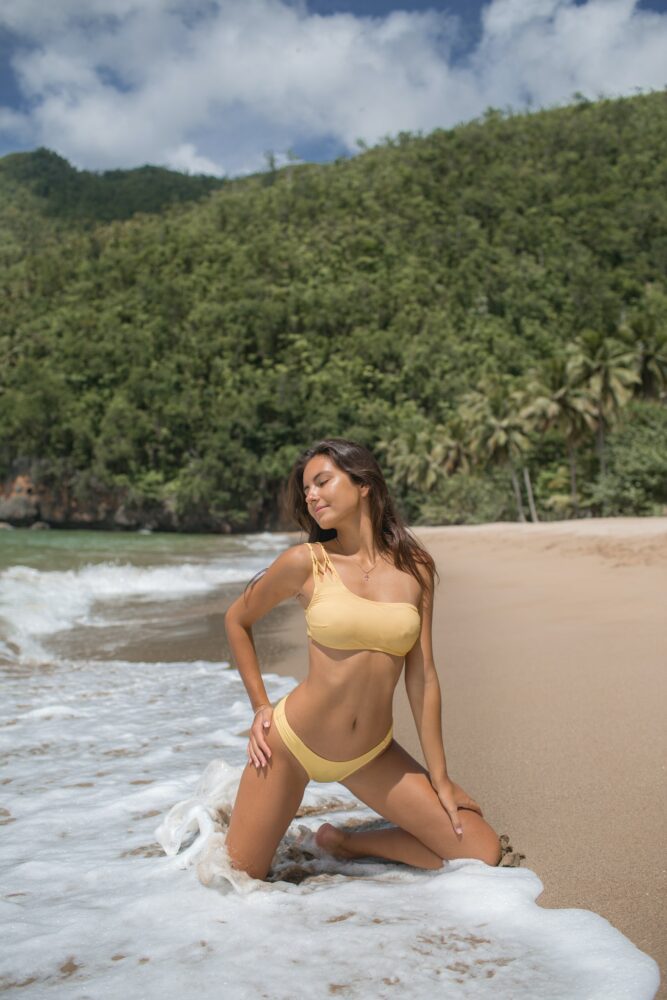 When it comes to sexy photography poses, especially those shot from the back or the side, it's all about tilting those hips. It will make your body look curvier, and putting one foot before the other can also elongate those legs.
9 Simply Sexy Photography Poses for Her
1. Lean Forward, Hips Back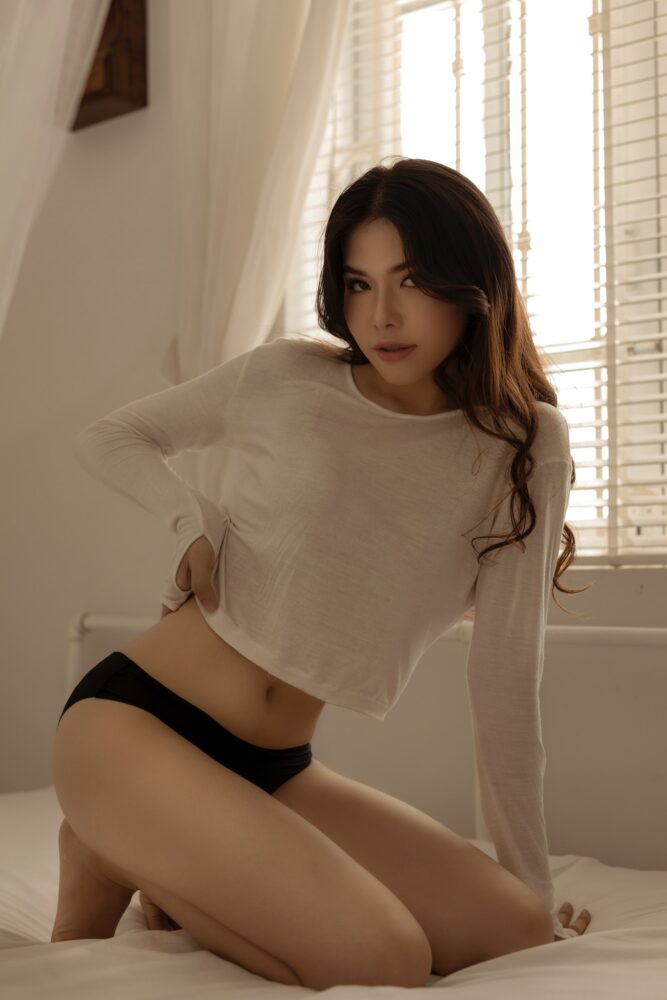 The coveted hourglass figure makes a totally mesmerizing picture. And one of the effective ways to create that hourglass shape in photos is posing with your hips pushed back. It's a more effective pose when shot while sitting down or kneeling on the ground.
For this pose, lead your upper body forward, with your hands on the floor, like you're ready to crawl. Eyes on the camera will be a nice finish for this alluring pose.
2. Leaning Back, Neck Stretched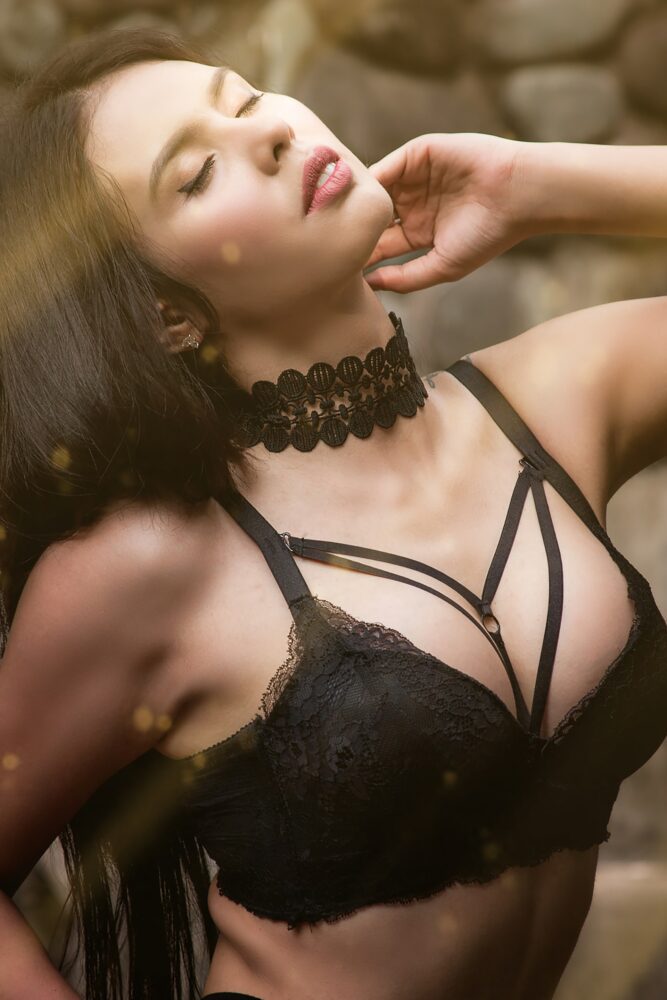 This sexy photography pose is more for a close-up shot. It would make a perfect faceless sexy portrait too. For this pose, you lean on your back and extend your head upwards with a stretched neck. It will be shot from a side angle, taking advantage of the curve of your neck and chest.
Dramatic lighting would add a level of depth to this sexy pose, making the image more sultry and mysterious. A chic necklace is a perfect finish for this shot.
3. Legs in the Air
Posing your legs in the air can look both playful and alluring. It will give you strong shots, especially when wearing a nice pair of high heels. And there are many ways you can recreate this pose.
For one, you can achieve this sexy pose by lying flat on your stomach and your legs extended in the air. You can play different positions for your hands and head in this and find your best angle.
Another option is to extend your legs flat against the wall while you lie flat on your back or perched on your elbows. You can play with how you position your legs, either straight up or crossed over one another.
4. Leaning on Your Side, Patiently Waiting
This sexy pose is equivalent to the enticing 'come hither' look that will bring plenty of sexy magic to the final image.
For this pose, you'll lean on your side and prop up your hands on a cozy couch, although the bed works, too, with your top leg stretched over the bent bottom leg. Arch your back a little and stare seductively at the camera.
And to create a feeling of someone looking at you, consider shooting from a high vantage point.
5. On Your Knees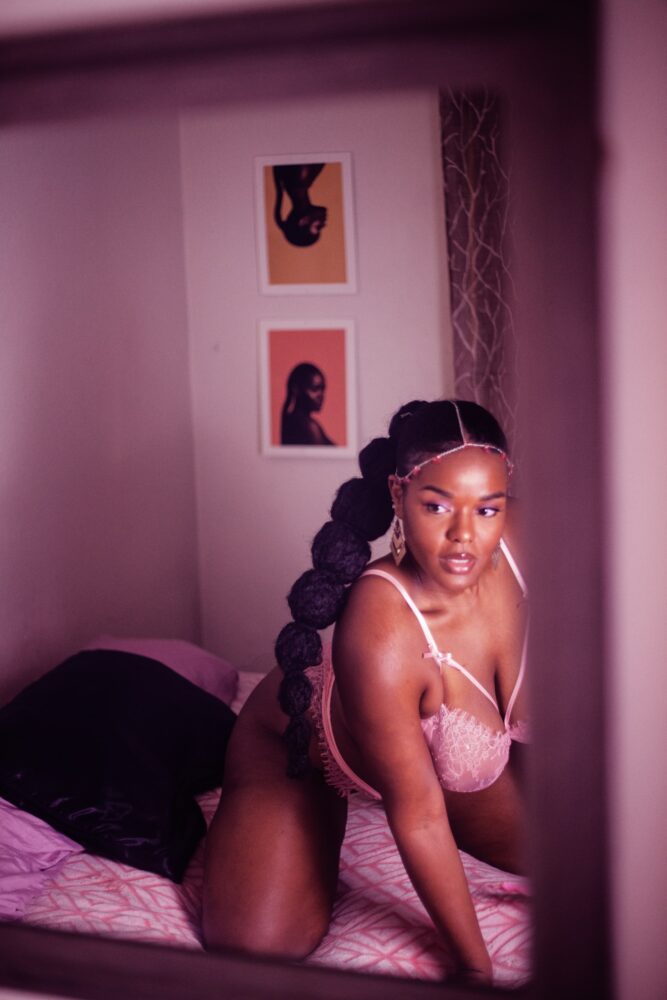 The kneeling pose, whether you do it front, back, or sideways, is sure to make a sexy portrait. You can start it simple—kneeling on the bed, hands relaxed on your sides, and looking slightly away from the camera.
Or, you can amp the pose by kneeling forward, keeping your hips slightly lifted, and arching your back. It will highlight your beautiful female figure and create a sexy hourglass shape. You can also play with your hands—place them on top of your knees, on your chest, or on your head.
6. Crouching Down, Tush Out
Instead of kneeling on the ground, you crouch on your feet, arch the back and push your tush out. This sexy photography pose will highlight plenty of your beautiful curves. When posing, you have your arms stretched upwards, your hands running through your hair, or rest them on the legs. And you can either look away or stare seductively at the camera.
7. Stretched Out on the Sofa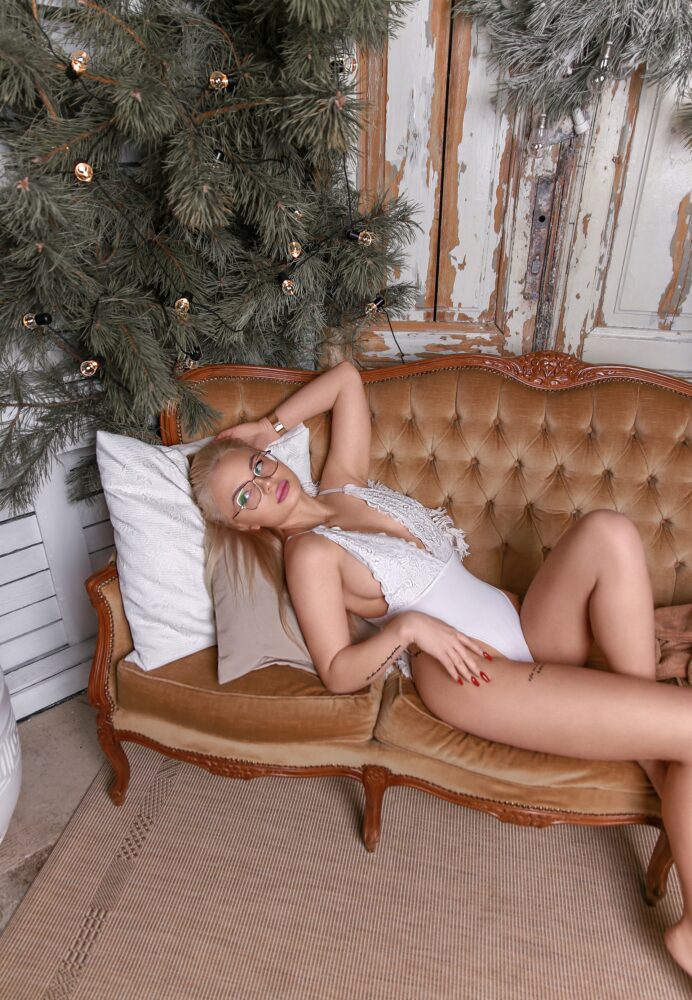 Adding curves to the body is the magic of sexy photography poses. And if you happen to have a nice, comfy couch, give this pose a true.
There are several ways to recreate this pose. One, perch your upper body on the couch's arm with your legs stretched out. Hold the pose while slightly leaning back to create a good curve along your back and hips. Second, do the opposite—your upper body lying down on the couch with your legs perched on top of the couch's arm. And don't forget to point those toes and give your back a little arch.
9. On All Fours
Done right, this sexy photography pose will heat up the final photo. The magic of this stance is the arch of the back, the booty pop, and the kick of the foot. It can really give the body some length and is also a fantastic way of showing as much of your curves as possible. You can also bring your arms forward, keeping your head down, or lay your head behind one arm for a little peek-a-boo moment. It will give your picture a sense of intrigue, making it sexier overall.
Another simple tip—shoot level to the eyes or below for a sexier but more empowering image.
9. Playing with a Sexy Outfit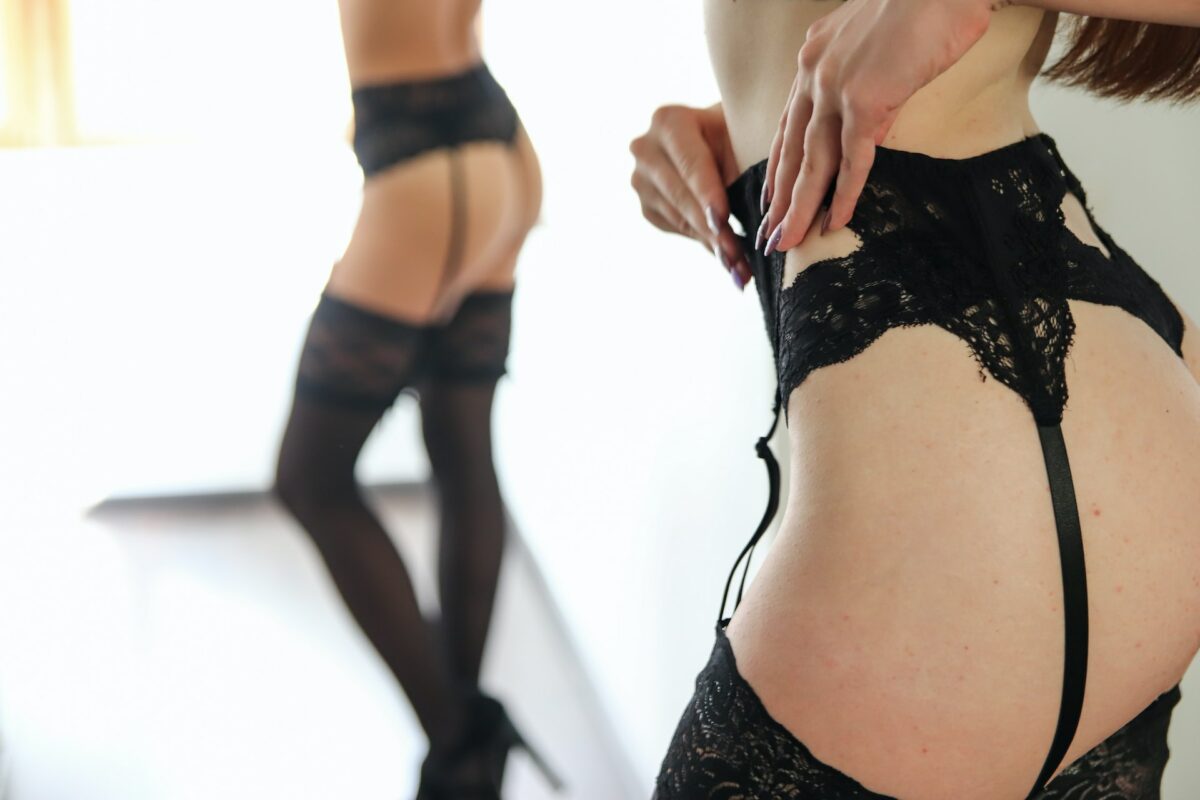 If you want to go sexy but natural, this pose is ideal. A shot taken while fiddling with your clothes, maybe the clasp of your bra, the strings in your bikini, or the buttons of the button-down shirt you're wearing, will appear candid.
It's simple yet incredibly appealing in a photo. And when taken with an expertly positioned mirror in the vicinity, this pose will look even sexier.
7 More Sexy Photography Poses to Hide Tummy Insecurities
Your body, whatever shape or size, is gorgeous, sexy, and sensual. And don't let anybody tell you otherwise.
That said, we all have our insecurities. One common area women are insecure about, especially when taking sexy photos, is their midsection. And because we hope that you'll have the most fun and enjoyable photoshoot session, we have a few sexy photography poses and ideas to help hide those tummy insecurities and highlight your other features.
Below are killer photography poses to look drop-dead gorgeous in images and without your tummy taking all the attention.
1. Lay on the Stomach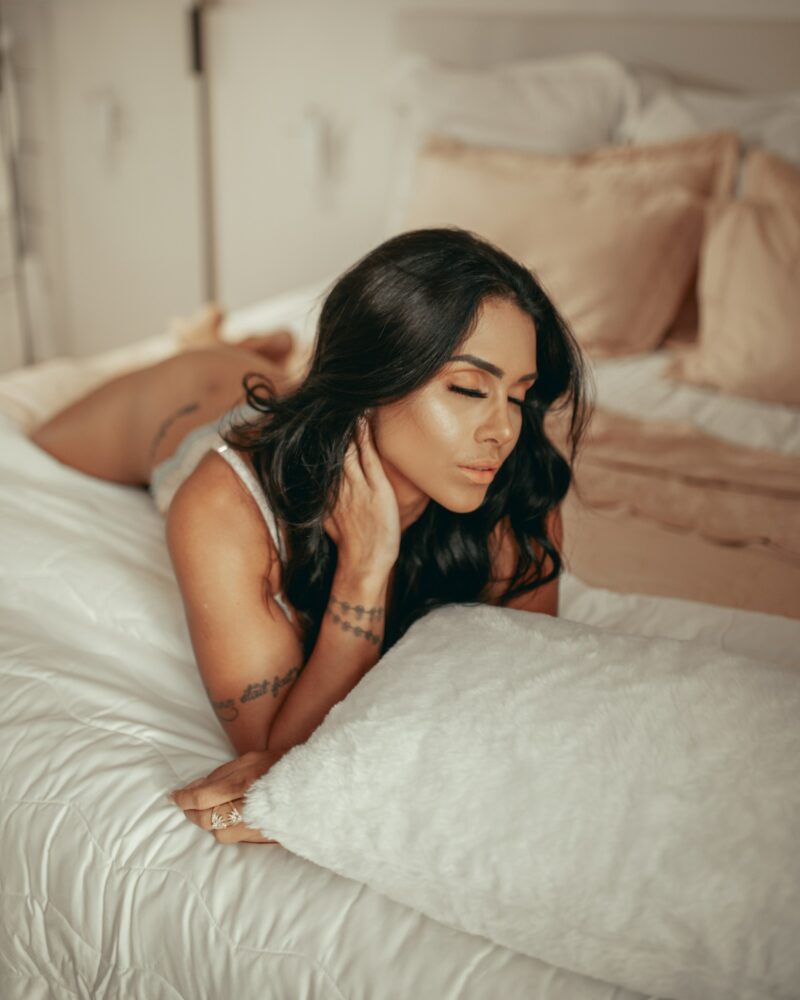 One effective way to hide your tummy in a pose is lying on it. It's an easy enough pose but not the sexiest of the bunch. Lying on your stomach is not as flattering to your figure unless you do it right—arch your back and push your tush out. Now, those simple add-ons will do plenty to accentuate your natural curves. Plus, it will highlight your other features—your beautiful face, back, legs, and that backside.
If you need a bit more body shape, bring one knee up like you are doing an army crawl and extend your other leg. You'll get more curves this way, while the extended leg helps elongate your body.
2. Show Off the Legs
This sexy pose is shot while sitting down. Placing and bending the legs expertly in front of you is an expert way to cover your pooch. It will look natural and will show off one of your most appealing features—slender and curvaceous legs.
3. Shots from the Back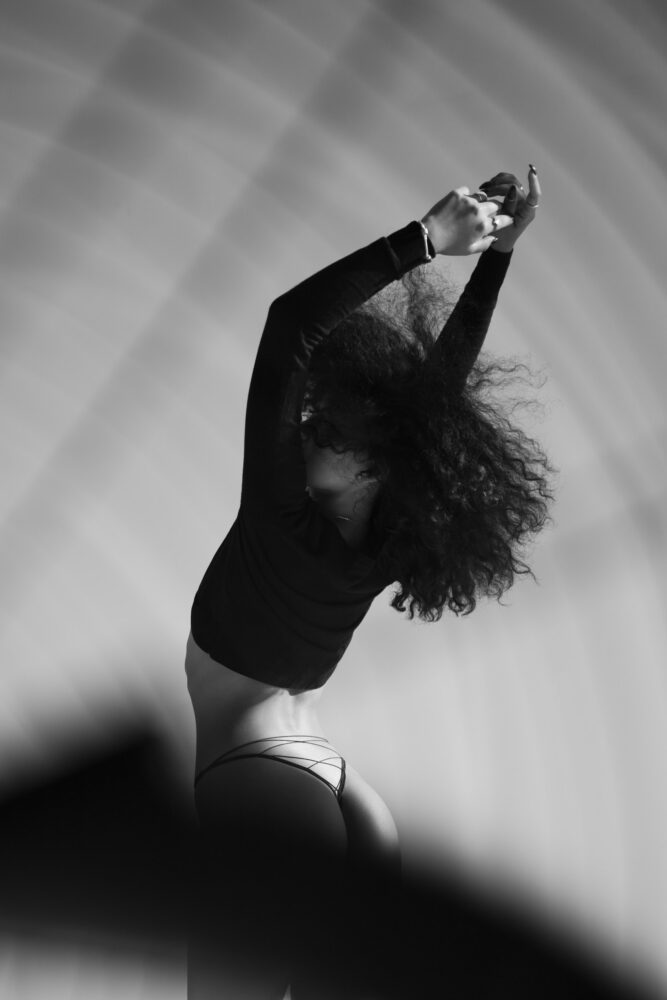 There are many slender and curvaceous parts of a woman's body, like her back. It's a simple sexy photography pose but super effective in hiding the stomach area completely. The idea for this pose is to work that back really well and accentuate its curves and slenderness.
Simple tip—pose with your arms up. You can have your arms stretched all the way up or bent with your hand playing with your hair. Either option will help stretch out your back and slim the waist.
You can do this sexy pose while standing, sitting on a chair backward, or sitting on your knees.
4. Curled-Up Pose
Posing curled up while sitting on the bed or a chair is an excellent way to block the tummy. Have both of your legs in front of you, or use your arms to hold your knees to your chest.
The only downside of this pose is it also effectively hides your curves. But it's easily rectifiable. Consider a sexy outfit that shows off a little bit of cleavage, or do this pose while slightly leaning to one side with your tush pushed in the other direction to highlight some visible curves.
5. Take Angle Shots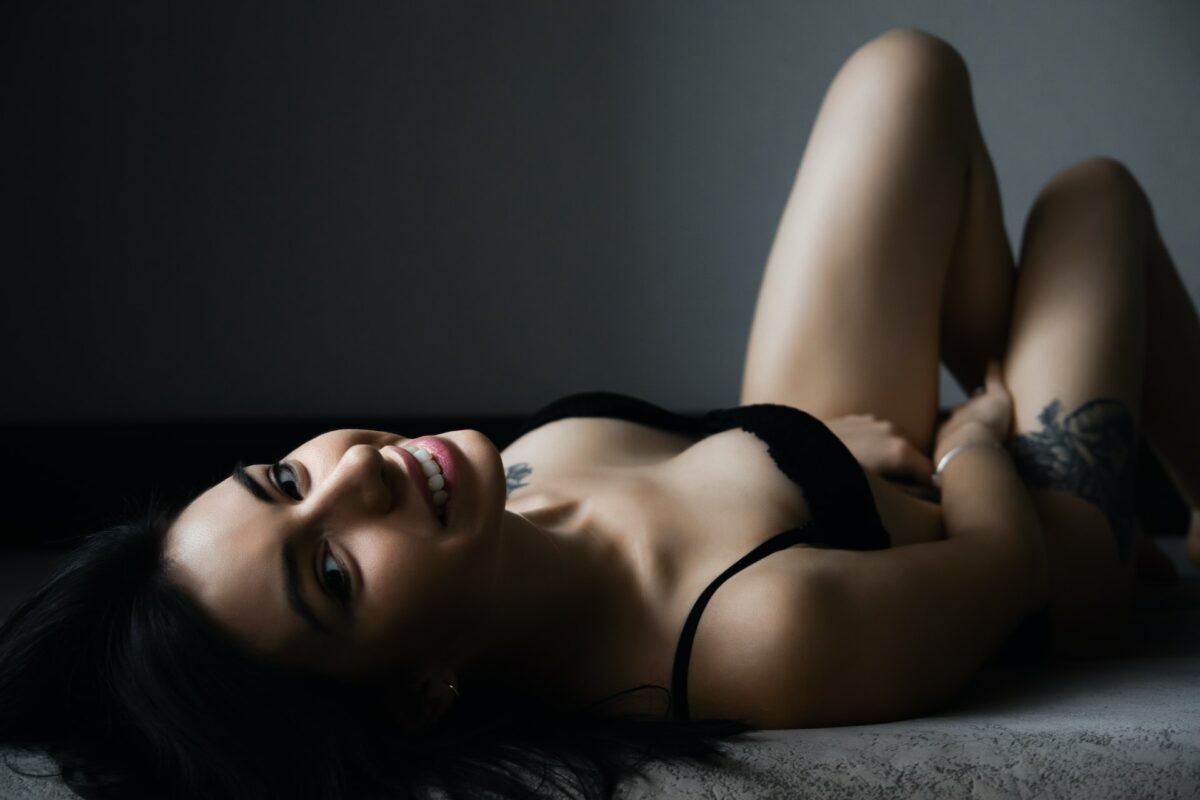 Another effective sexy photography pose that takes out your tummy as the center of attention is by using perspective and angles.
Firstly, high-angle poses force you to look up at the camera. By photographing the subject lying down and the camera above her eye line, this pose will slim down the stomach. On the other hand, taking a high-angle shot with her sitting or standing, the tummy will be virtually hidden.
Secondly, a low-angle shot while the subject is lying on her back, looking at the camera, will block out the tummy and focus on her other best features—the beautiful face and bust.
6. Stretch Out the Body
Stretching out enhances the length of your body, which also helps to slenderize your core. So, twist, arch, and elongate your body to help slim down the loose skin in your tummy. Start with the tips of your toes, maybe stand on your tiptoes if posing barefoot, to the slight tilt of your head back up to your fingertips.
You can do this pose while lying on your back or standing, maybe leaning on a wall.
7. Slide Off the Edge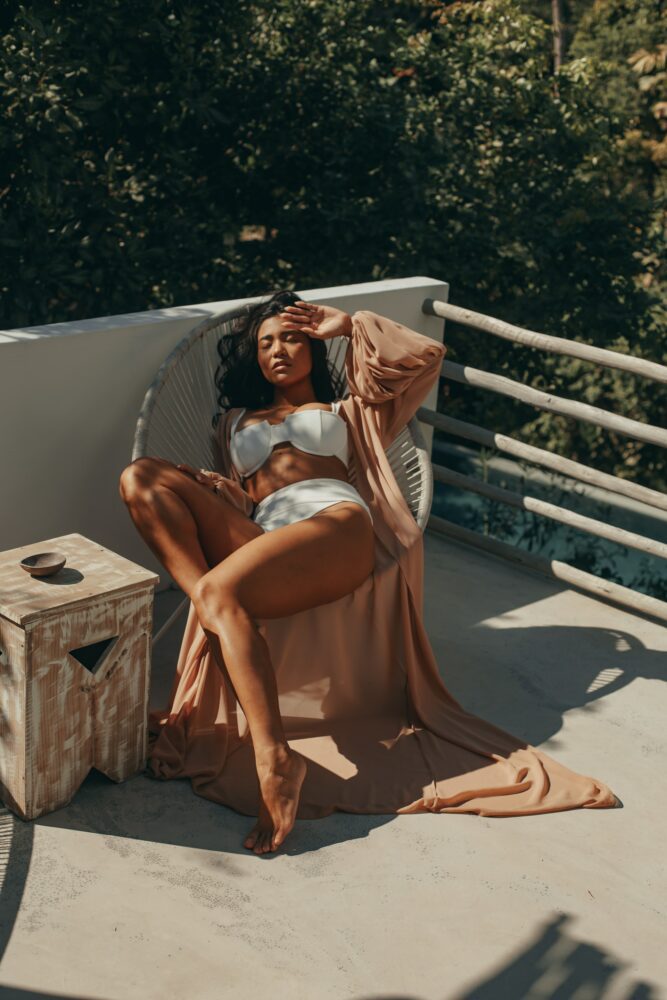 Holding off a pose as you fall or slide off the edge of a chair or the bed is a fantastic sexy pose. It stretches your core, creating a slimming effect. Extend one of your legs forward and maybe stretch your neck to face upward to elongate the body.
Try out this pose with a simple breathing technique—suck your belly button as closer to your spine as possible to help smoothen out the pooch.
The Takeaway
Learning how to take sexy portraits isn't that hard. You just need to know the best sexy photography poses and how to take advantage of those natural curves for your next photoshoot!