Planning a wedding is a huge task to take on, and every bride wants their wedding to go smoothly and exactly as planned. Sometimes it is very easy to get caught up in all the planning, the endless number of details, and the stress that comes with planning such a large event.
But when your big day arrives, we want to you be sure to relax, enjoy all the hard work you have put into all the planning, and spend quality time with your new spouse and your family and friends. That is why we have put together this list of things to remember for your wedding day.
If you are still in the planning process, be sure to check out our wedding planning checklist to help you plan! Here is our list of 10 things to remember for your wedding day!
1. Get Enough Sleep the Night Before
Sure, you are going to be excited, nervous, and have a thousand other emotions running through your head the night before you finally say "I do," but you want to make sure you get your ZZZ's.
If you are tired, you may feel a little more stressed, or feel irritated (you will be spending that day with your family, friends, and in-laws… many of who may be nervous as well and get a little irritated!). Being sleepy also makes your eyes not look as bright and awake as you should when all eyes are on you as you walk down the aisle.
2. Eat a Healthy Breakfast That Morning
You are going to be running around crazy getting the day of your wedding getting all those last minute decorations up and placed exactly where you want. Not to mention, you get to be pampered while getting your hair and makeup done.
Having a good, healthy breakfast with protein will keep your metabolism going and will not give you a lull in energy… you will be going non-stop all day until you live in the limo with your spouse… and you do not want to be completely exhausted when you finally get to spend quality alone time with your love.
3. Make Sure To Wear a Button Down Shirt When You Are Getting Ready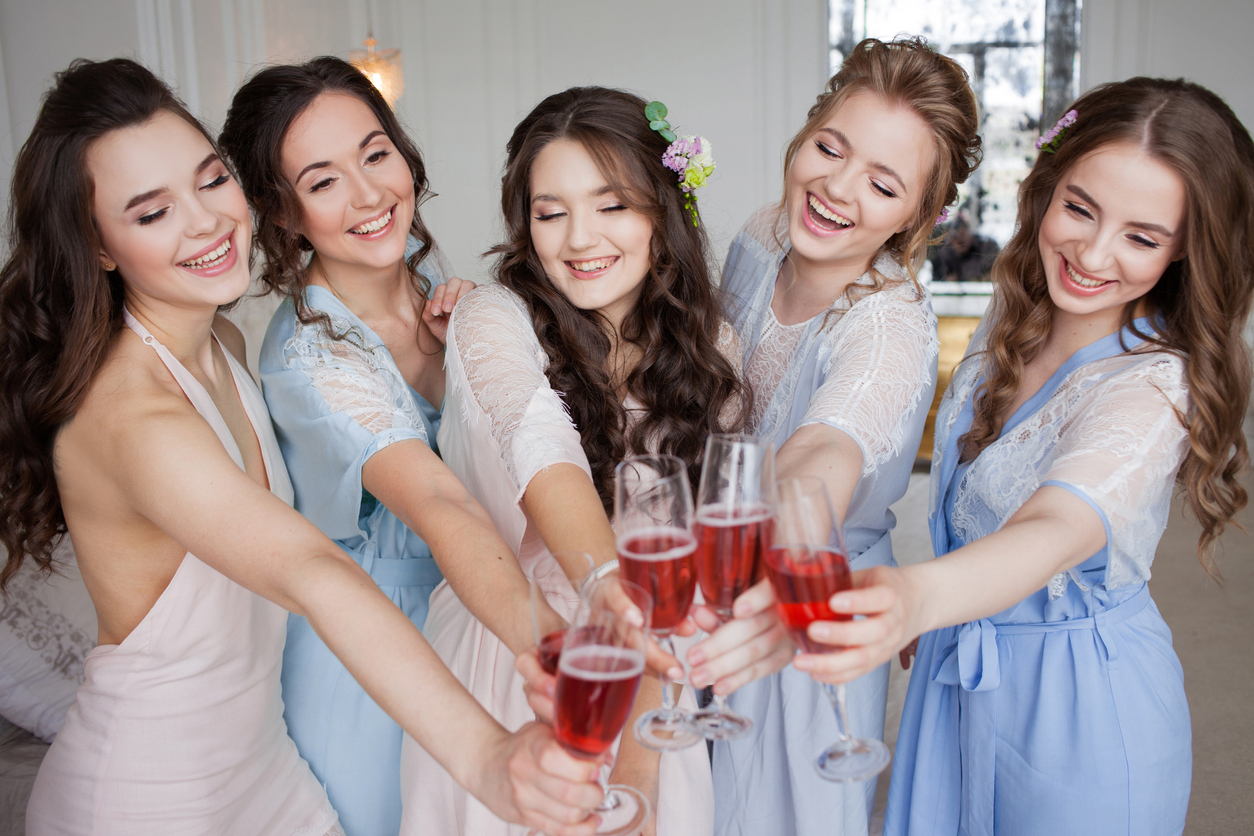 Imagine this… you spend hours while your hair is getting curled and bobby pinned up into the beautiful updo you have dreamed about forever. Then, you go to put on your wedding gown and realize you are in a t-shirt and have no way to get it over your head (and amazing hairstyle) without messing up all the work that went into creating the masterpiece!
Solve this issue right away by wearing a button down shirt (or even a comfy robe) from the beginning, so you can just take it off easily when changing. That is very important to remember for your wedding day… you would be devastated if your hair messed up right before you were going to put on your wedding gown!
4. Make Sure the Groom Knows What His Duties Are On The Day Of the Wedding
A bride typically has everything in order and knows what she is supposed to do on the morning of the wedding. A groom (with his groomsmen, who are making him drink a beer at 9 a.m. in celebration of his impending wedding vows) is not as organized. If you have given your groom the task of picking up all the beverages for the reception, or if he is supposed to help your father set up chairs, make sure he has that list handy… and maybe even task another one of the groomsmen (a dependable one is best) to make sure he remembers and gets everything done on time.
Also, make sure he knows what he is supposed to do before the day of the wedding, especially if you want to be traditional and not see each other until you walk down the aisle.
5. Bring Bobby Pins, Safety Pins, and Scissors… Just In Case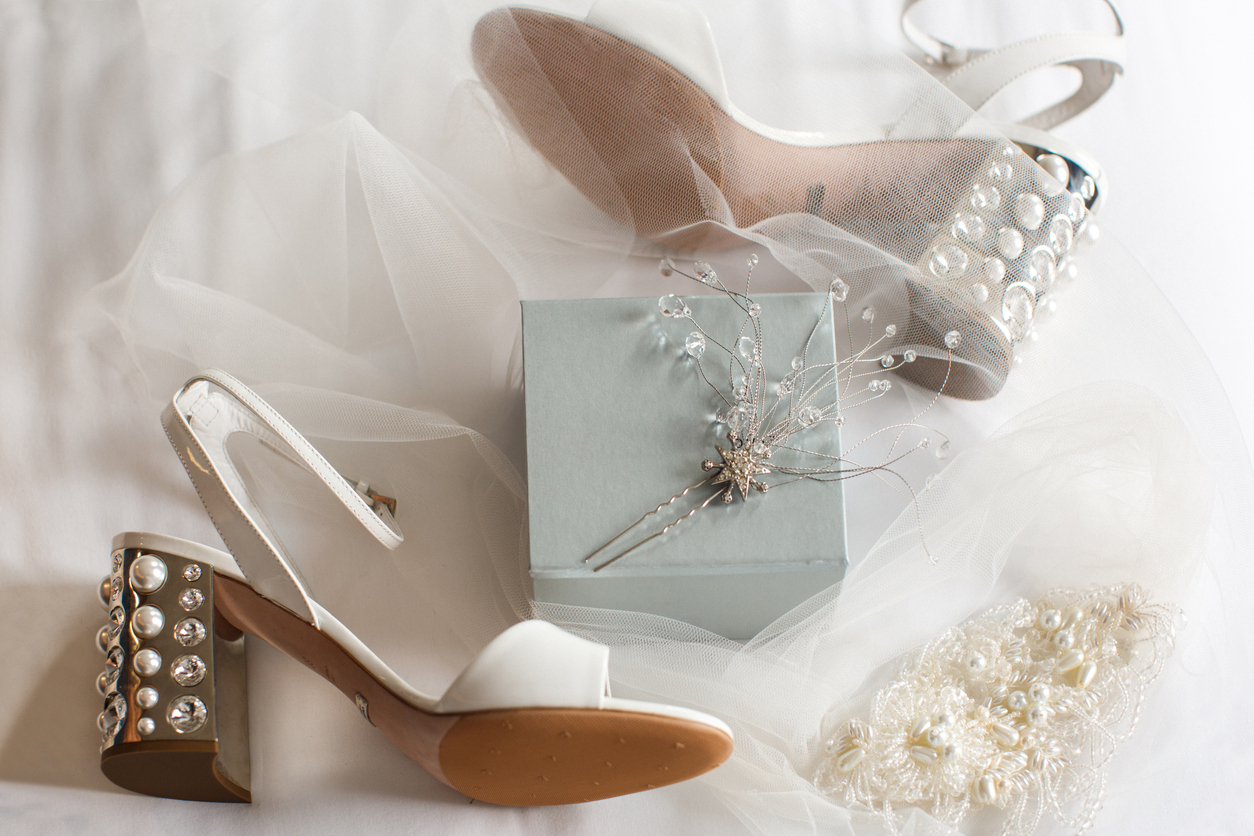 You never know what is going to happen, and things break, rip, and mess up, at the most inopportune times. There is no need to stress over what "could" happen, just be prepared so that if something does happen, you have what you need to fix it. You will likely be getting ready in a place that is not your own, so be sure to pack scissors, extra bobby pins, and safety pins. You never know when those items can come in handy.
Another great thing not to forget to pack is your toothbrush, so you can freshen up and brush your teeth before you say "I do." And some flat dress shoes may also be good to bring in case you want to change out of your heels for the reception (unless you are prepared to kill your feet in heels or dance the night away barefoot)!
6. Let Other People Handle Some Of the Logistics
You will be devastated if your grandparent's photos are not placed in the hallway, exactly where you want them to be for every guest to see as they walk into the church. And you have to make sure that there are enough permanent markers, so guests can sign the border of your engagement photo. There are so many family members and bridesmaids that are there to help you out on your special day… let them help you out!
Give each person a wedding day duty, tell them what they need to do, and then trust that they will do it correctly. That way, you can relax and enjoy getting ready for your day.
7. Give Yourselves Time To Sit and Eat During the Reception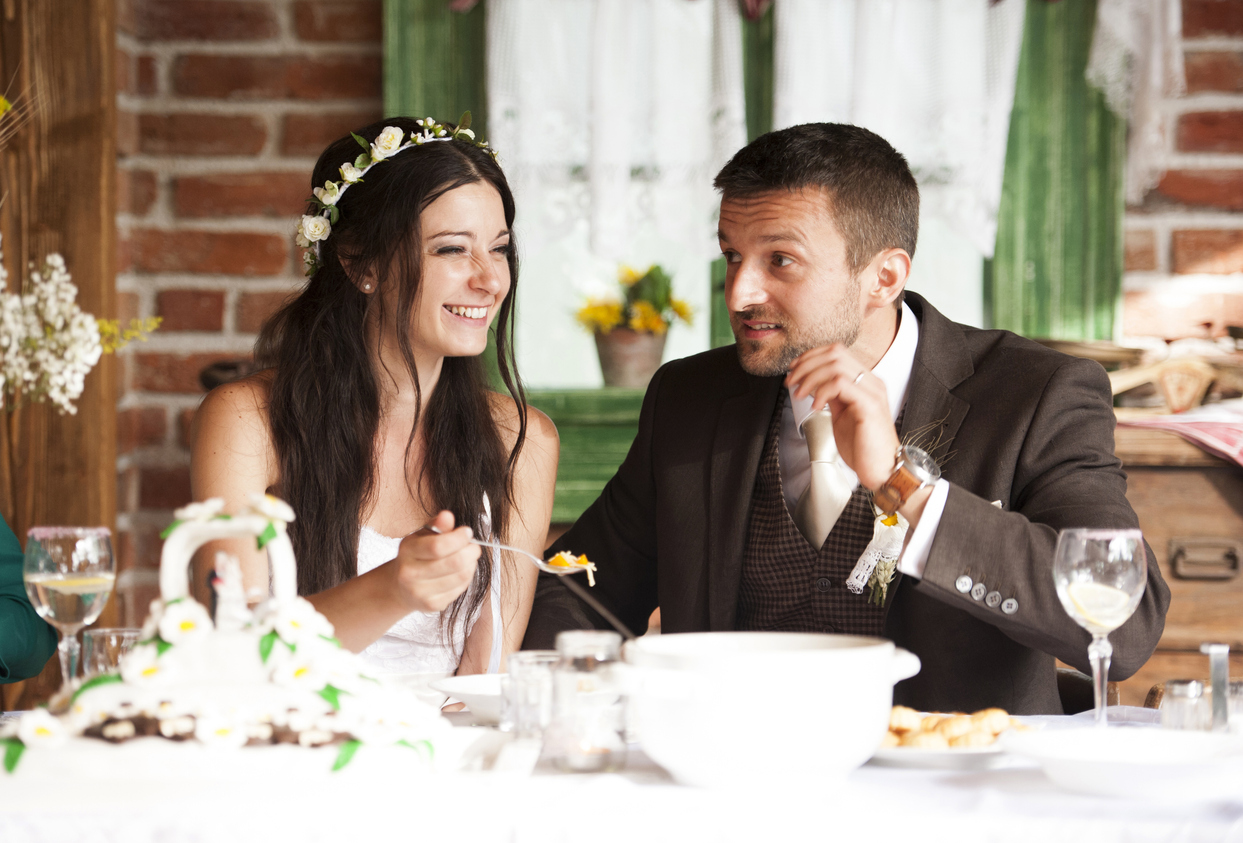 Many brides and grooms have a wonderful wedding and reception, but never get a chance to sit and eat the meal that they picked out for all their wedding guests. You will likely have had a couple of drinks throughout the day, and may or may not have had time to eat much since the healthy breakfast we told you to eat earlier, so make sure before you start saying hello to each and every guest, that you take a few minutes to sit down together and eat a little something. You want to keep up that energy, especially if you plan to drink a few more.
Plus, you are paying for the food… so why not eat some and make sure it is as delicious as all your friends and family said it was!
8. Dance, Dance, Dance!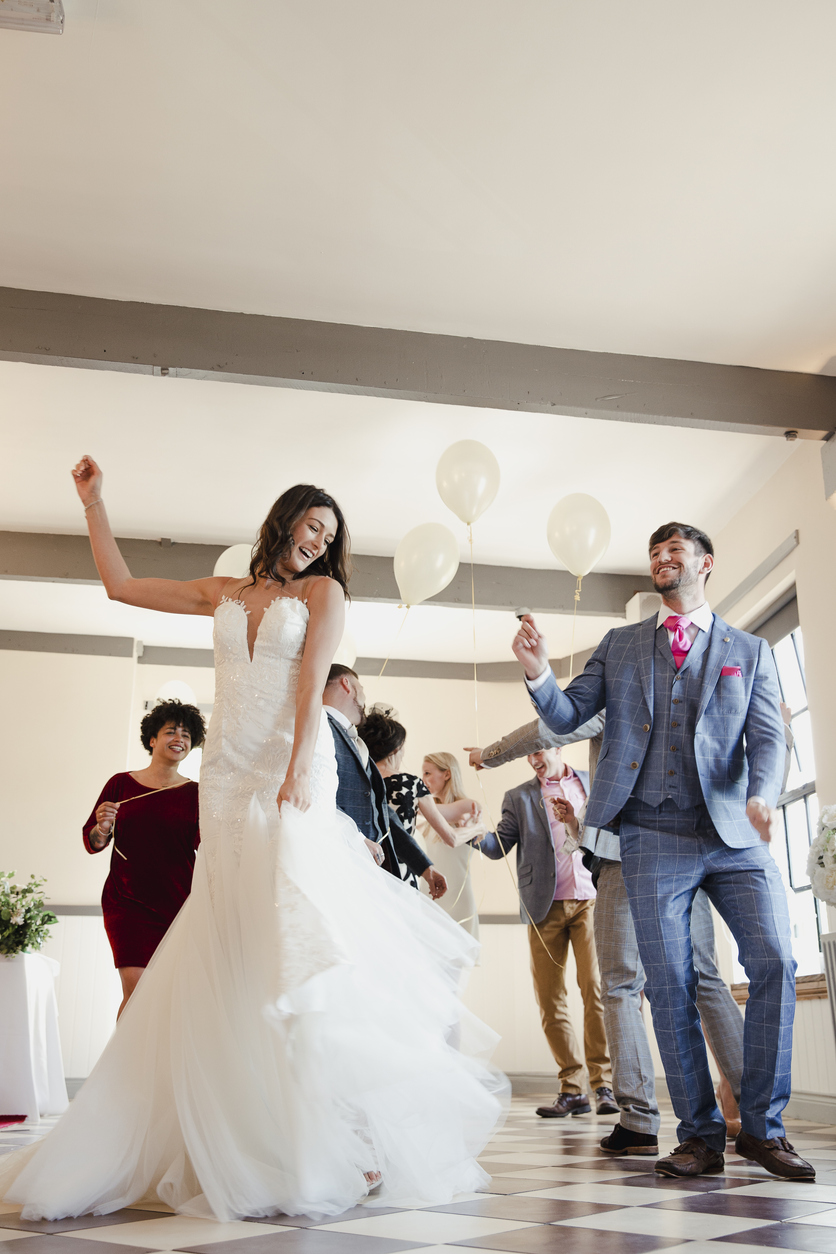 You have to say hello and thank each and every wedding guest for coming to your special day. Then everyone wants to hear about your life and more. Be sure to remember, with all that talking, you should break it up and take time to actually "party" and have fun… it is your day to celebrate. Ask the DJ to play your favorite music, grab your groom, and your bridal party, and get out and dance!
9. Be Careful Of Your Alcohol Consumption
Of course, it is fun to have a few drinks at your wedding… you have been planning the day forever, have all your favorite people together in one place, and want to have fun and relax. That is totally fine, but just make sure you do not go overboard. You will be the center of attention for the entire night, and may even have to talk to some people who you would rather not, so you want to stay classy and not be tipsy to the point that you could say something you may regret.
And like we mentioned before, be sure to eat… drinking all day on an empty stomach doesn't make for a good night (and we would not want you to feel miserable when you are leaving on your honeymoon)!
10. Enjoy Every Single Special Moment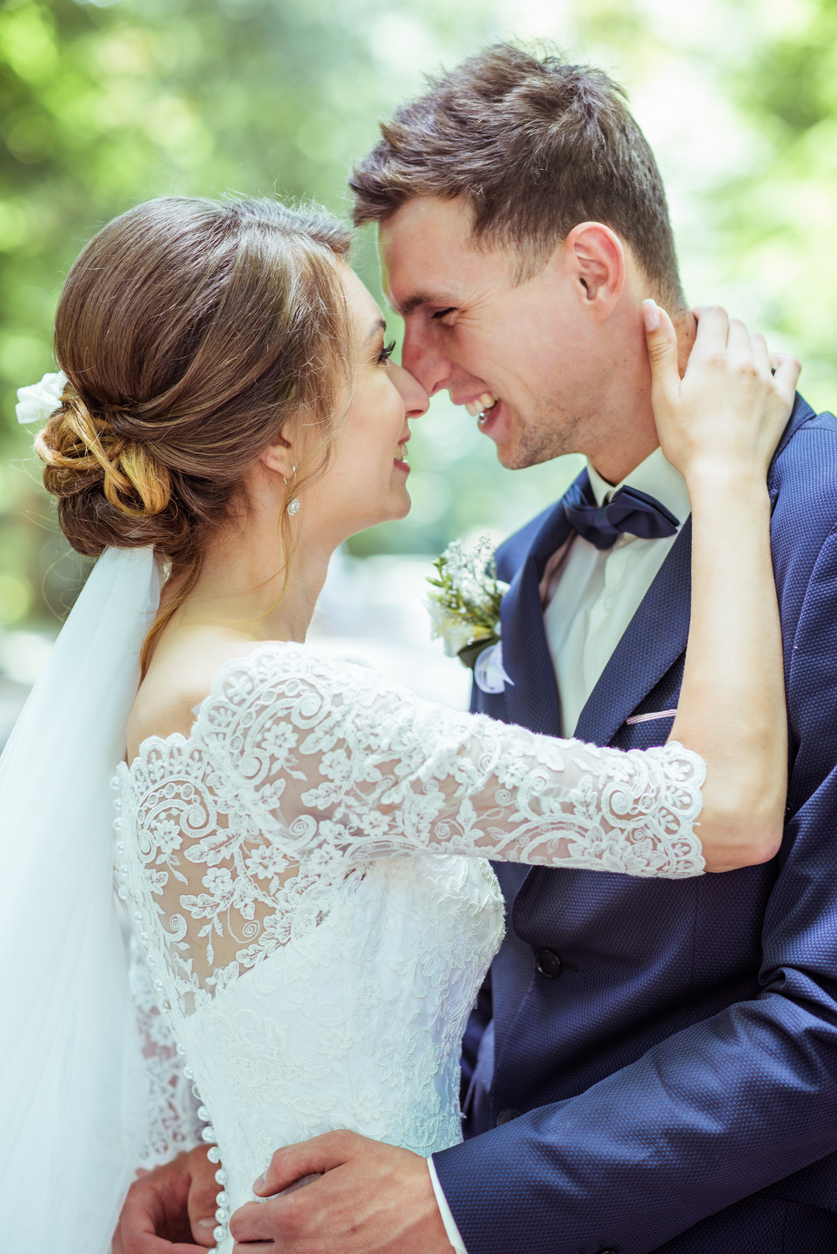 It is your wedding day! It is all about you and your new spouse. Every single guest is here for you. Relax, enjoy, and take in all the romantic, special, and amazing moments. You will be talking about your wedding day and looking back at the amazing photos for years to come, so enjoy, take it slow, and enjoy every single moment of your day!
So, after all the planning and hard work, you put into this day, keep in mind all these things to remember for your wedding day. After the day is over, you will be saying these same things to friends and family members you know who is getting ready to tie the knot.