Many people dream about having their wedding abroad but the reality is that many are nervous or scared to actually have their dream become a reality. Not only is planning a typical wedding a difficult task, but planning one so far away from where you live can make you feel very stressed out. But not to fear! We have put together 5 tips for planning a wedding abroad that you need to read before actually deciding what location to have your celebration.
We hope these tips will help ease your stress if having your dream wedding abroad is really something you want to do. So read on and happy wedding planning!
Tip #1 – Hire a Wedding Planner
Planning a wedding abroad can be tough. You may (or may not) be familiar with the location you are looking to say "I do" and that can make planning anything tough, not less a huge event like a wedding. Hiring a wedding planner that is familiar with the location can help you to find the best venue for what you are envisioning for your special day, as well as all the other vendors that you will need.
Tip #2 – Actually Visit The Destination
Seriously, you need to visit the location. You can not really, truly know that you want to have your wedding in a specific location if you have never even visited there. It could seem so wonderful in photos but when you visit, you realize it is really hard to get around with transportation. Or, the weather could be not what you were hoping for your wedding celebration.
If you have been there in the past for a vacation or during another time in your life, perfect. But if not, perhaps when you visit, you can schedule your wedding planner to go with you. Or, it may be good even if you have not totally decided to check out a few possible wedding venues while you are there to see if anything really stands out to you. If there is nothing you LOVE, it may not be the best location to choose.
Tip #3 – Be Sure To Know What Documents You Will Need
When you are traveling abroad, and especially when getting married abroad, there will be a good amount of documentation you will need to have. Depending on the marriage laws in the country as well as documents you need to actually travel there. Be sure to do your research ahead of time to make sure you have everything you need.
You will also want to make sure you know how long you must be present in the country before your wedding day. Some countries require you to have a visa, while others do not. If you do need a visa, it will be your and your fiancés' responsibility to get these.
Here is a list of items you may need if you are planning a wedding abroad:
Passports
Birth certificates for you both
Any documents that show a previous divorce
Parental consent for marriage if you are underage (in some countries this could be 18 or 21 so be sure to research)!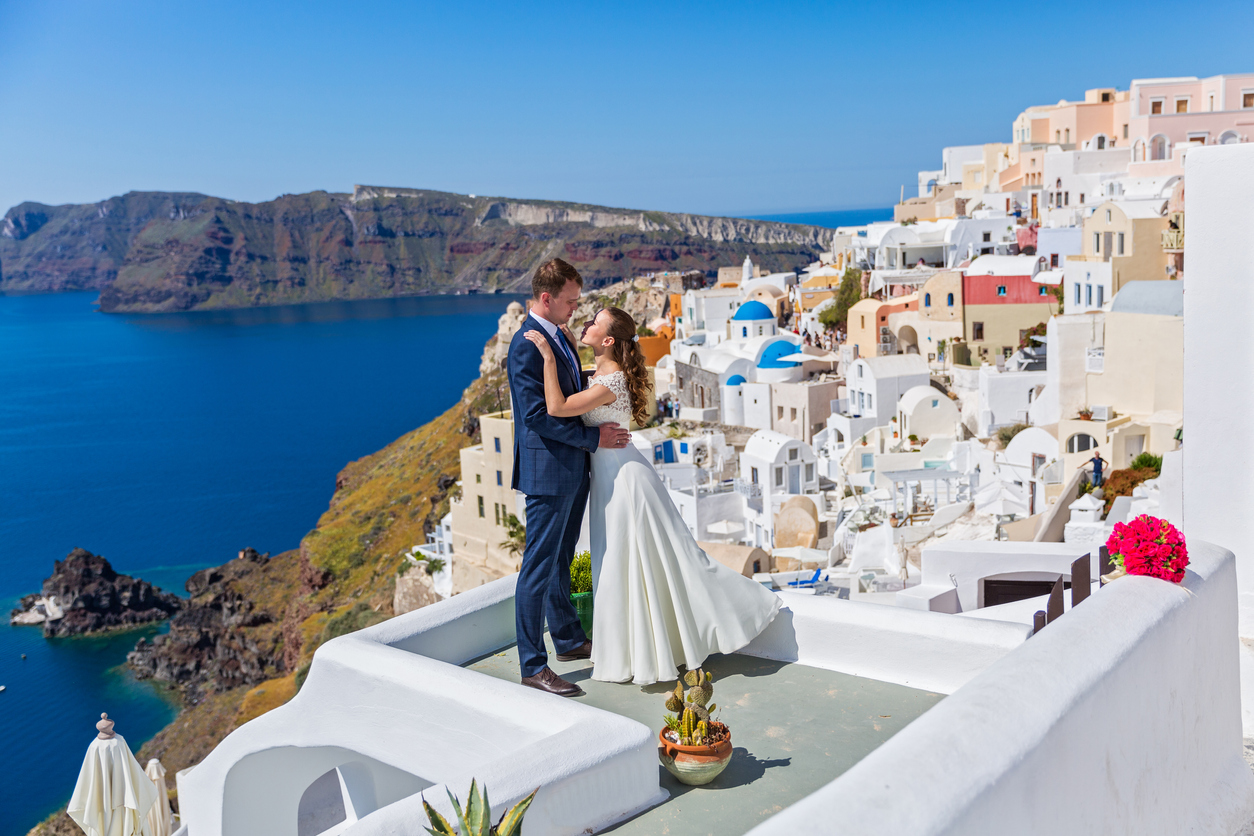 Tip #4 – Think About The Climate
Before you plan to have your wedding indoors or out, and what type of specific wedding gown or bridesmaid dresses you want to have, make sure you know what the climate is like in the country you are planning your wedding in. You do not want to plan an outdoor wedding if the weather is typically chilly during that time of year, or if it happens to be a very rainy season. Again, research is key. Find this out ahead of time, before you book a venue or set a date.
Tip #5 – Think About Your Guests
Do you really want to have a huge wedding with tons of family and friends? Then a wedding abroad may not be for you. With a wedding abroad, not only are you and your family going to be paying to travel and for the wedding, but your guests are going to have to pay for travel costs as well, which may keep many of your guests from being able to attend. You MUST keep in mind how much money your guests will be spending to travel to and attend your wedding in the country you choose.
Be sure you also check out our posts about destination wedding etiquette that will be very helpful if you are planning a wedding abroad!