You have asked all your closest friends and family members to be at your bridal party, and you are planning your wedding. Try to remember that being a bridesmaid can sometimes be hard.
Expenses can pile up with the cost of the bridesmaid dresses and shoes to match, to traveling out of town for the bachelorette party and wedding, and even getting your hair done on the day of. They may even be helping out with the bridal shower and do not forget a wedding gift. Sometimes a bride can even get stressed and that is no fun for the bridesmaids as well. You want to be a cool bride and keep everyone happy.
Here are 7 tips for your bridesmaids that brides should remember throughout their wedding planning: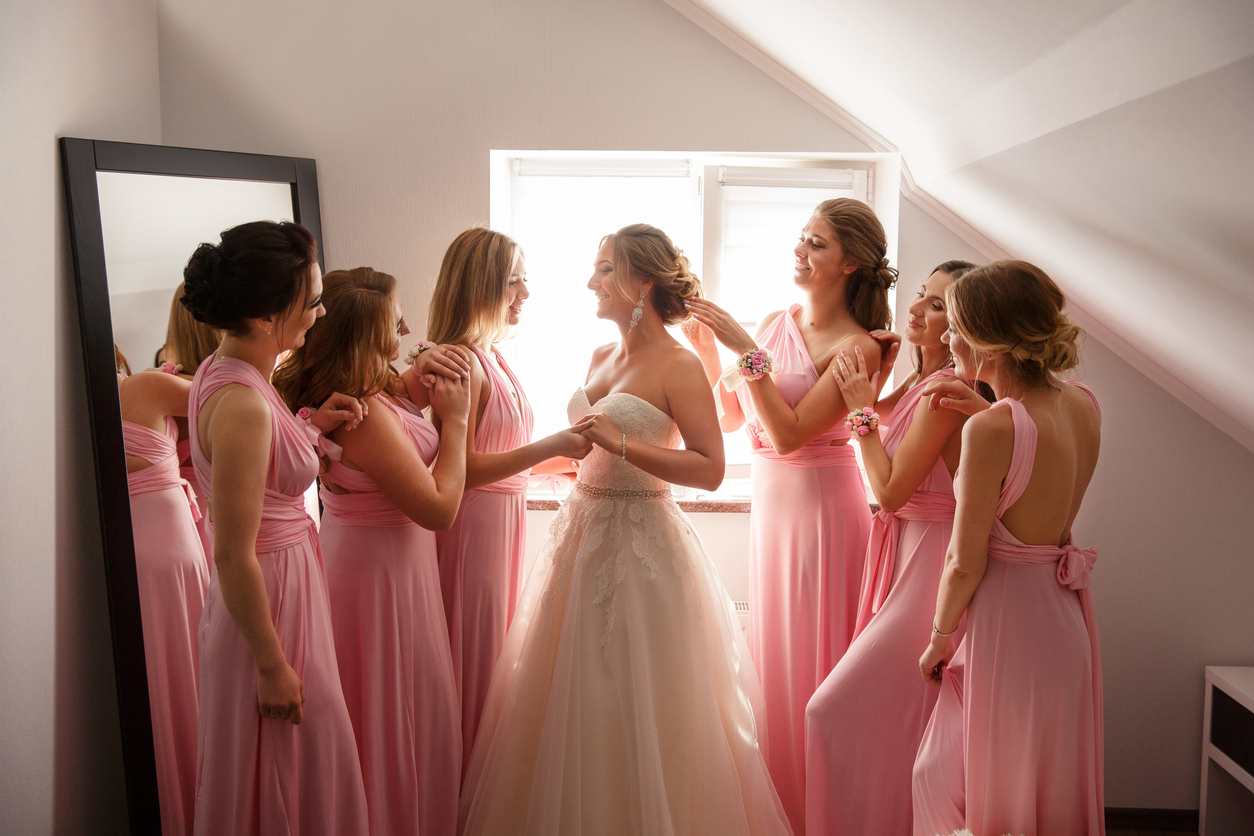 1. Set a Theme
Have your wedding theme set but allow your bridesmaids to express themselves as well. Perhaps you tell them what color of shoes to wear and allow them to choose the style they want. Some may prefer flats, while others love heels. It is always great to give boundaries but allow them to choose whatever it is they prefer.
2. Be Thankful
All of your bridesmaids are doing everything they can to ensure you have a wonderful engagement, bridal shower, and bachelorette party, and helping you plan your special day. And on that day, they will be there with you to help you out and support you. Be thankful for what they are taking the time out of their busy lives to do. Perhaps you can show your thanks with a nice gift or a note that explains how appreciative you are and how special they are to you.
3. Keep Them Updated
Be sure to keep your bridesmaids up to date on all wedding plans. If some of them need to make travel arrangements and figure out their schedules on the weekend of the wedding, it is good to keep them updated and give them plenty of time in advance to do these things. Do not be changing tons of times and locations the week before. That makes it hard and stressful for everyone involved.
4. Introduce Everyone
Many times, your bridesmaids will all come from different parts of your life. One may be a family member, another may be a best friend from childhood, and another you may have lived with in college. Plan a get together with everyone, so you can introduce everyone, so it is not awkward during your bachelorette party or other wedding events.
5. Consider Their Budget
Just like we mentioned earlier, being a bridesmaid can be costly. Keep this in mind when choosing bridesmaid dresses and other items. If you know all the bridesmaids will be forking over a bunch of money to travel to your destination wedding, perhaps pick a less expensive bridesmaid dress – or allow them to choose their own in the color of your choice.
6. Don't Make Everything About Your Wedding
You will likely be planning your wedding for a year (maybe more or maybe less) and you will probably choose your bridesmaids right away. Try not to constantly talk about your wedding planning every time you see these people. Remember that they also have their own lives and important things happening to them. Be considerate and a good friend without talking about wedding stuff all the time.
7. Treat Them All As Equals
Your maid of honor is most likely the person you are most close to – whether it be your sister or BFF, but be sure you treat every single one of them as equals. They are all there for you for your wedding and you do not want to hurt anyone's feelings by leaving someone out because you are "closer" to someone else.
We hope these tips for your bridesmaids have been helpful! If you like this, we think you will love these other great articles:
5 Ways To Enjoy Your Engagement
10 Wedding Planning Mistakes To Avoid