When it comes to wedding party photos, the opportunities are endless. The bridesmaids and groomsmen are chosen because they are part of a trusted circle in the bride and groom's lives. However, the mix of personalities and styles that accompany this variety within a group can make for both interesting and challenging images. We had our expert photographers give us some of their best advice so brides and photographers alike can plan ahead and achieve photos of their wedding party that they will love and cherish.
10 Tips for Your Best Wedding Party Photos: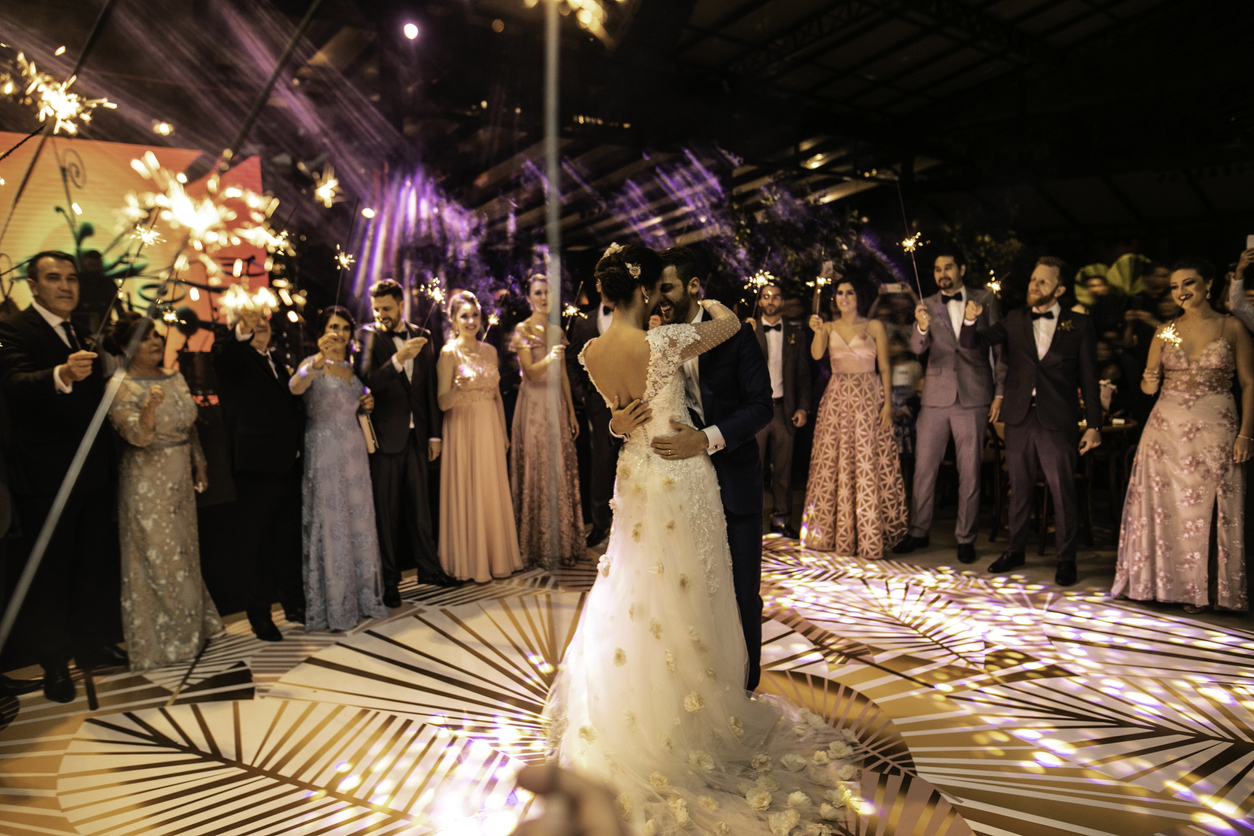 1. Know and communicate proper timing.
"Whether the couple opts to do group shots before or after the wedding, it always helps when they let their wedding party know ahead of time that they need to stick around for photos. Giving your bridal party the heads up that they will be needed for a photo session is always a good idea, especially for those who are eager to get the celebratory drinking started!"
– MarieSam Sanchez Photography
"Prepare your wedding party to be flexible and patient. Be honest about how long wedding party photos will take and let them know that they might be hungry, thirsting, cold, or hot, but that the photos mean a lot to you."
– Paired Images
2. Plan ahead for personalities.
"Members of your court are your best friends so you know their personalities best. At some point when speaking with your photographer before the big day, give them an idea of the characteristics of your bridesmaids and groomsmen. This way your photographer can plan ahead of time how they might photograph the group portraits. Is the Best Man a class clown but the Maid of Honor very shy? These are very helpful details for your photographer."
– Adrienne Fletcher Photography
"A goofy, fun-loving wedding party should have goofy, funny pictures. A more subdued crowd should have more classic photos. But trying to force goofy pictures on a serious crowd will just be awkward. So be sure to talk with your photographer about your ideas beforehand, to help avoid any awkward moments at the wedding."
– Fritz Photography
3. Have a group leader.
"Have a least one friend in your court (bride and groom) that knows how to keep you calm and laughing and that everyone listens to so that they can wrangle in the group if people are getting too rowdy or aren't paying attention to the schedule."
– Adrienne Fletcher Photography
"Ask someone who knows your family well, but isn't at the wedding party, to assist with the pictures. Then, if your best man wanders off to the bar, or your mom is chatting with an aunt, you'll have a runner who knows the group and can corral any strays! They can also help collect the group that's 'on deck' for pictures, making your day less stressful."
– Kristin Griffin Photography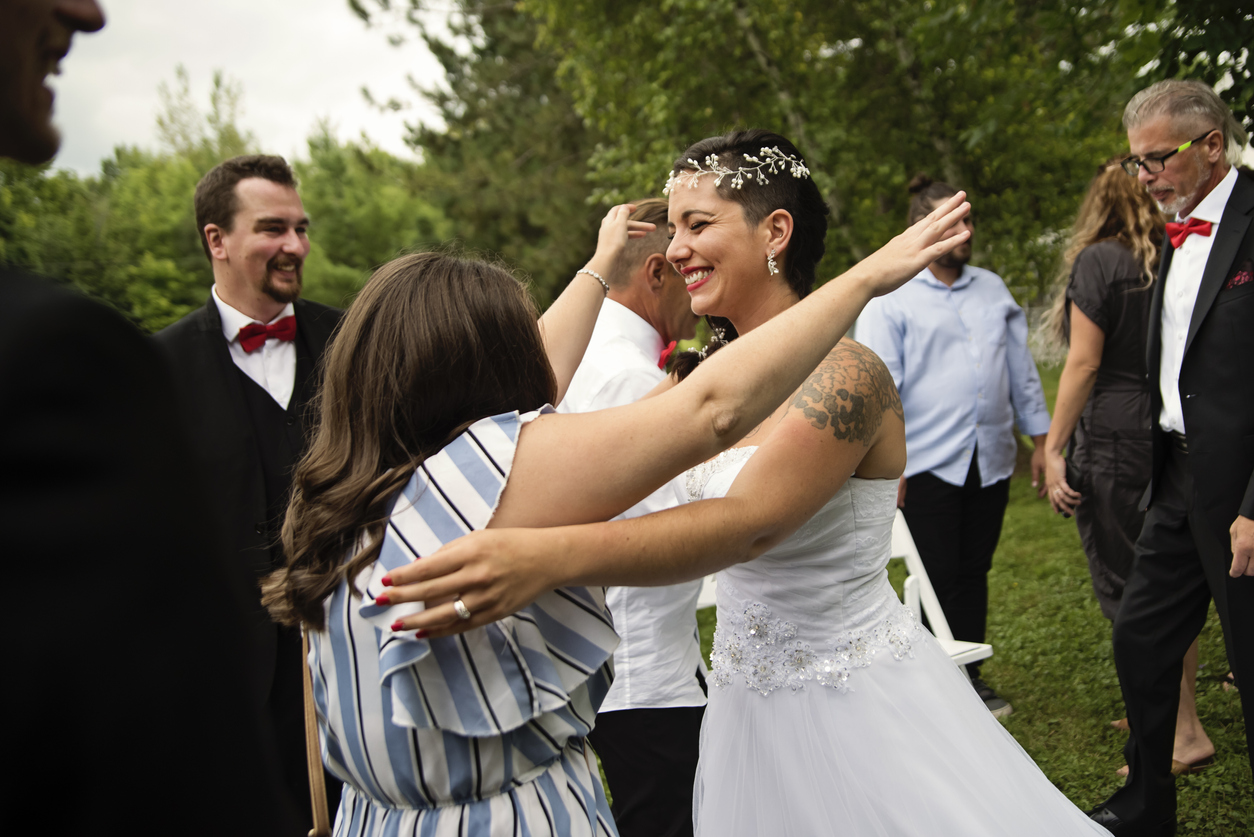 4. Use your surroundings and don't forget the details.
"Use the environment you are in! Your wedding is on a dude ranch? Play up that theme. A chic urban hotel? Utilize the city streets for your wedding party portraits, incorporating where you are getting married will better help tell the story of your day!"
– 8twenty8 Studios
"Sometimes you become so wrapped up in the people that you ignore the backdrop and cool details in your surroundings, which if used correctly, can add another wonderful element to your wedding party photos. Look for cool exteriors, fixtures, epic landscapes, and glorious views, and implement those aspects into your shot."
– MarieSam Sanchez Photography
5. Mix it up: posing
"Wedding parties LOVE photos that are stylish and scream, 'We are the coolest and most beautiful group of groomsmen and bridesmaids known to mankind!' Create this imagery by putting your subjects on different levels and/or layers, giving your photo dimension and intrigue."
– MarieSam Sanchez Photography
"When posing bridal party portraits, try arranging them boy/girl/boy/girl rather than putting all the girls on one side and all the boys on the other. This creates a more visually interesting composition and is a nice change from the predictable bridal party shot."
– Rima Campbell Photography
6. Interact with each other!
"By giving everyone a task — i.e., talk to the person next to you, look cool, look busy, etc. — group photos look slightly posed but still very natural."
– MarieSam Sanchez Photography
"Talk and laugh with your bridesmaids, show off your new ring, fix your dad's tie, give your grandmother a kiss on the cheek."
– Kristin Griffin Photography
"Look for different angles. When we think of portraits, we think of faces but, what about holding your best friend's hands while you pray? Or arms around your college buddies? You picked the people in your wedding party because of how special they are to you, so picking up on those special bonding moments is important as well."
– Black Forest Photography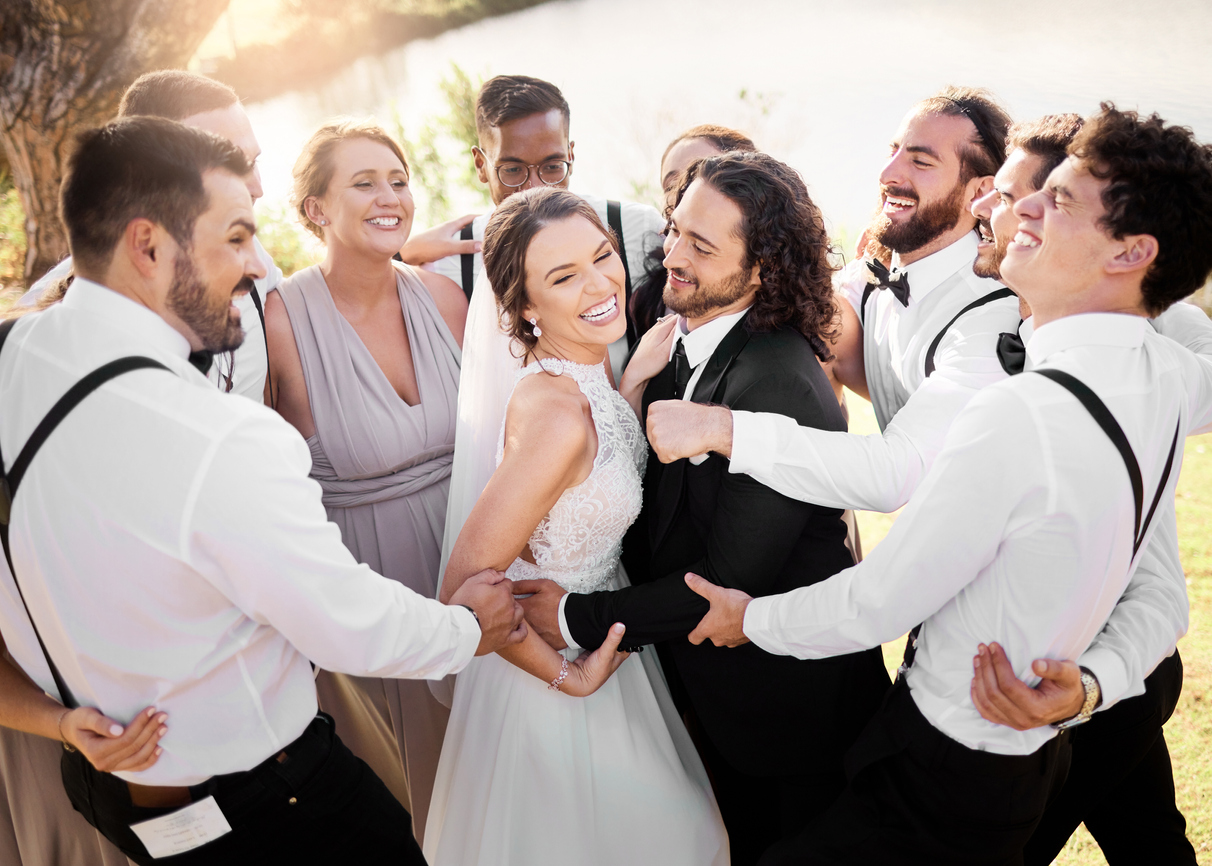 7. Use props for wedding party photos.
"Give your wedding matching items (such as ties, jewelry, socks, timepieces, scarves, belt buckles) as gifts once everyone arrives for the getting ready so that for sure no one forgets to bring them for photos."
– Adrienne Fletcher Photography
"Bring props! If you've been dreaming of a shot with your bridesmaids, on a footbridge over a river, holding pink umbrellas, then you should do it. If the groomsmen love pipes and cigars, bring them! What bride (or groom) would miss out on an excuse to go accessory shopping?"
– Fritz Photography
8. Have fun with wedding party photos!
"Inform your wedding party to have fun! Wedding photography doesn't have to be so stiff anymore. Take a nice one for Mom and then loosen up and get creative!"
– Paired Images
"Have fun, chances are your wedding party is comprised of your closest friends and family, make sure that you capture that fun-loving relationship, you don't have to stand in a straight line the whole time!"
– 8twenty8 Studios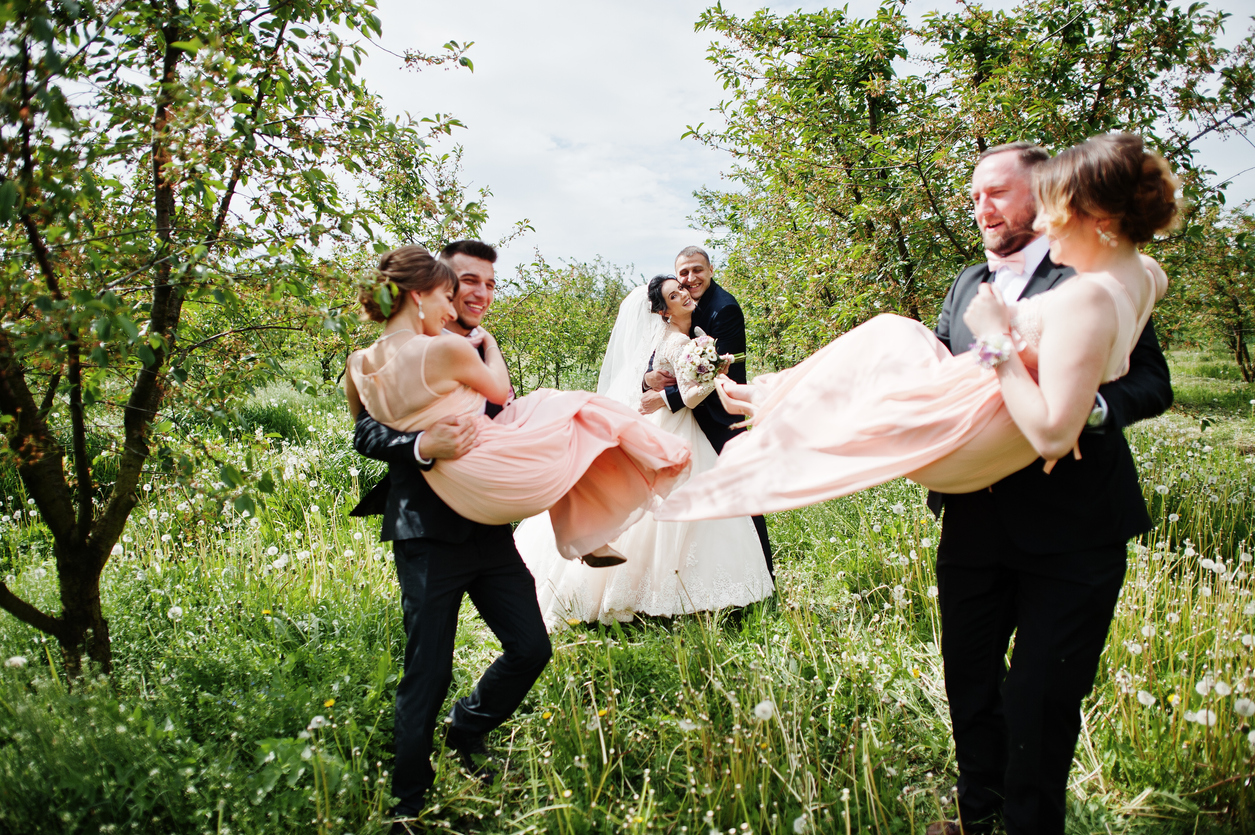 9. …But not too much fun!
"Tell the wedding party not to excessively drink the night before the wedding or before the ceremony. They will feel miserable and that comes through in wedding party photos."
– Paired Images
10. Don't forget the main focus: the bride and the groom!
"While we enjoy taking great shots of the wedding party, we always make sure the bride & groom remain the center of attention in the image. Whether that means placing them in the center of the photo, at a higher level, or toward the front — we always make sure our couple remains in the spotlight … no matter how epically cool or beautiful their bridal party may be!"
– MarieSam Sanchez Photography
One final recommendation for wedding party photos from Kristin Griffin Photography:
"Just like you're going over a 'do not play' list with your DJ, you might want to have a brief 'do not shoot' list with your photographer. If you've seen wedding party photographs on wedding inspiration blogs or even the photographer's own site that doesn't suit your style, speak up. I've had brides pin boards, email links, and send magazine clippings to express their ideal wedding party portraits, but the 'please avoid these' pics are just as helpful. Just make sure you clearly label which is which!"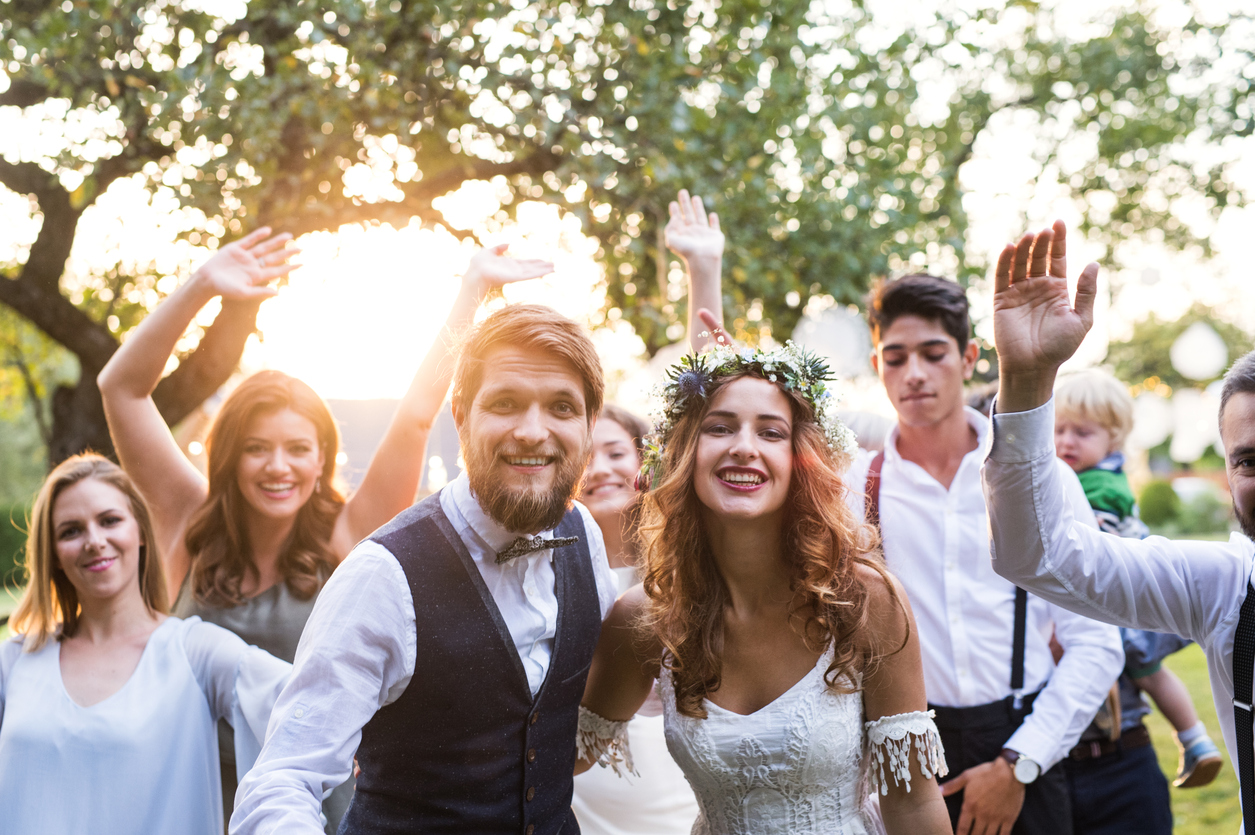 If you're still looking for your perfect wedding photographer make sure to get started for FREE on SnapKnot today! Click here to start searching.
Interested in more wedding tips? Check out these articles:
Wedding Photography Prices
Some wedding photographers cost just a few hundred dollars to show up and
shoot, some charge a few thousand dollars and some charge a small fortune. How to
choose?
What is the Average Cost of Wedding Photography
Ever wondered what goes into the prices that wedding photographers charge? What
exactly IS the average cost of wedding photography, and what does the job description
entail?
How to Choose a Wedding Photographer
We know that choosing a wedding photographer can seem like a daunting task. You only
have one shot (pun not intended) at capturing every precious moment- no do-overs or
repeats!