Wedding poses for brides are such an important factor to create beautiful bridal portraits. Posing not only requires judgment and interpretation from the photographer, but also input from the bride as to what feels most comfortable to her. In addition to the pose, adding in your own creativity and uniqueness is important as well to showcase your personality.
Not too many people simply LOVE being in front of the camera. Since a bridal portrait is a one dimensional photo, it is important to work your body in your wedding poses so that your image in the photograph really stands out and engages you with the person who is viewing the image. If you are standing straight ahead, with no angles at all to show, they could tend to be a bit boring.
You have to remember that taking photos is just like being a model. You need to move your shoulders and hips and be sure to make engaging eye contact with the camera…standing with a blank stare in front of the camera is no fun! Your wedding day is your time to shine and make the most of it!
Before taking your photos, be sure to talk to your photographer about having them help you to stay fully engaged and laughing throughout the session. It is important that from the beginning you work with a photographer who can keep you happy and can really capture those emotional moments shown in your eyes and through your expressions.
Choosing the right photographer is important for this… if you do not get along with your photographer, you will not feel comfortable taking photos with them. Read our post about how to get the most out of your photographer for a bit more advice on choosing the right person for you! Of course, you can also search on SnapKnot to find your perfect wedding photographer.
Even though choosing your perfect photographer is important, you cannot rely solely on your photographer to do it all for you. A photographer cannot magically make a bride smile or show emotion in her photos. They can try their best to make you move around and not be stiff, but they cannot work magic.
That is why if you know ahead of time that you are uncomfortable taking photos, or you need some ideas for posing like which angles look best or where to put your hands, it is best to do that research ahead of time (or just be sure to bookmark this article, so you can come back and get some inspiration!)
The type of dress that you have is also important to take into consideration when planning what wedding poses you will be doing throughout your session. If you have a dress that is form-fitting, it may not work for you to get on the ground.
Some of the best shots you will take maybe those totally impromptu ones – but having that photographer there to catch the perfect angles and those perfect looks will make it all come together beautifully!
We want to give some inspiration with some beautiful photos that showcase different wedding poses for brides. Enjoy!
These photos from George Street Photo & Video in Chicago do a perfect job showcasing how beautiful a bridal portrait can be when you look as though you are relaxed and having fun. Her smile does not look plastered on or fake, which truly brings out her personality in these photos.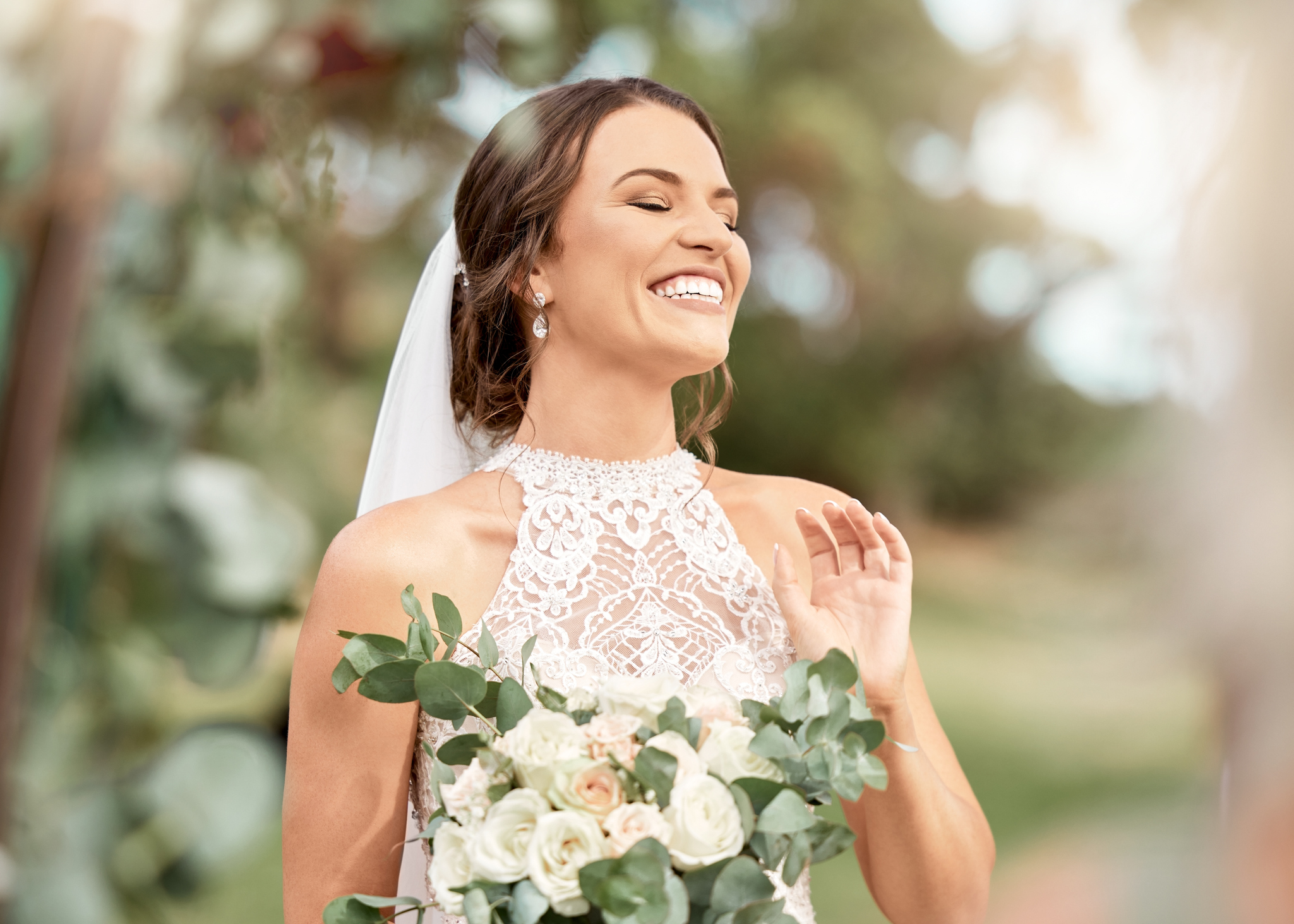 What a beautiful shot of this bride that showcases her profile and curvy lines in this form-fitting dress. Blomberg Weddings in Dallas did an amazing job capturing the perfect look. The red background really shows contrast from her dress, making her stand out perfectly!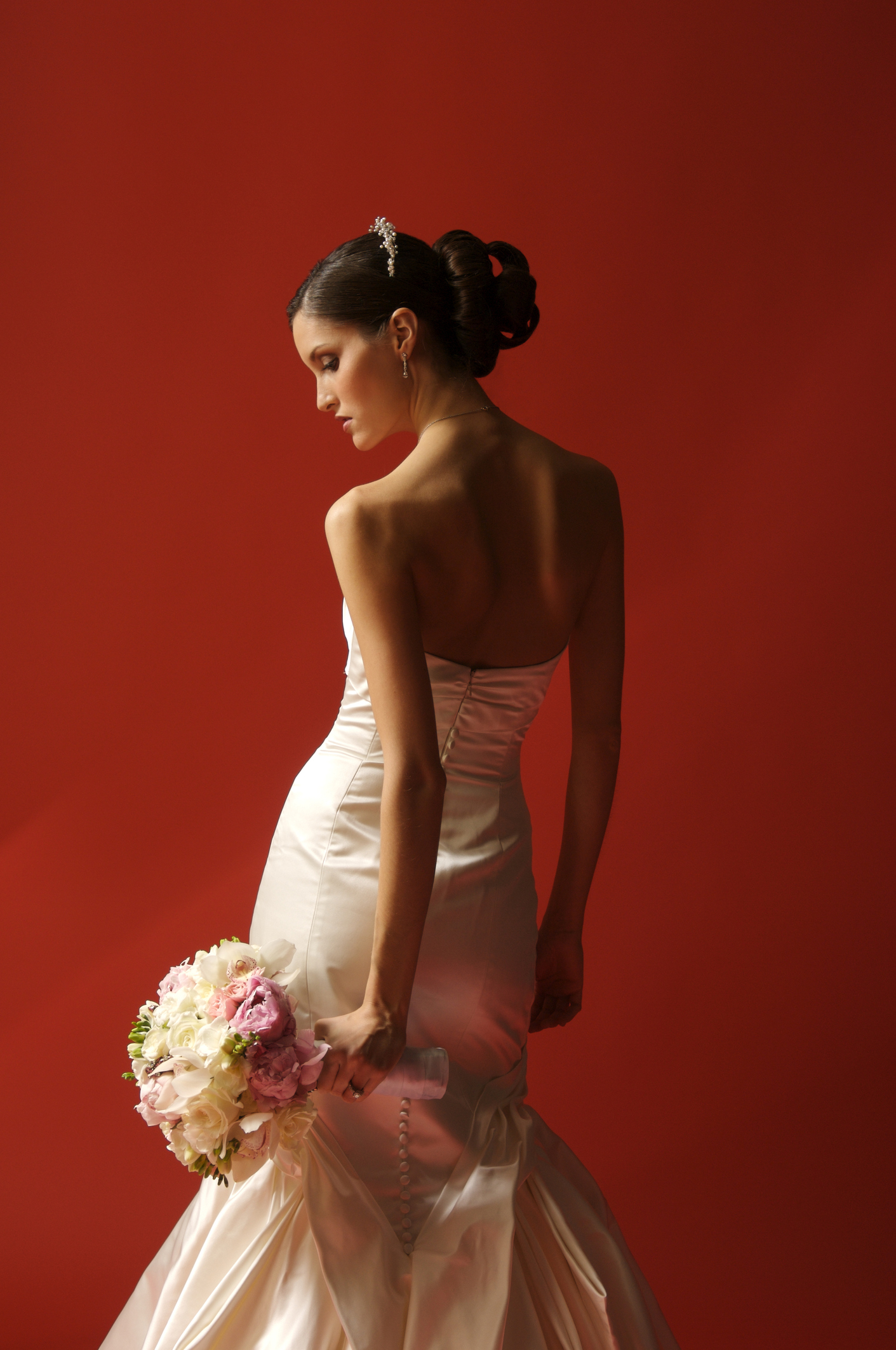 Here is another example of a wedding pose for a bridal portrait taken by Felix, a St. Vincent & The Grenadines Destination Wedding Photographer. Even though this bride has a simple sitting pose, the angle that her lower body is turned to give a nice, sleek line to her beautiful figure and wedding dress.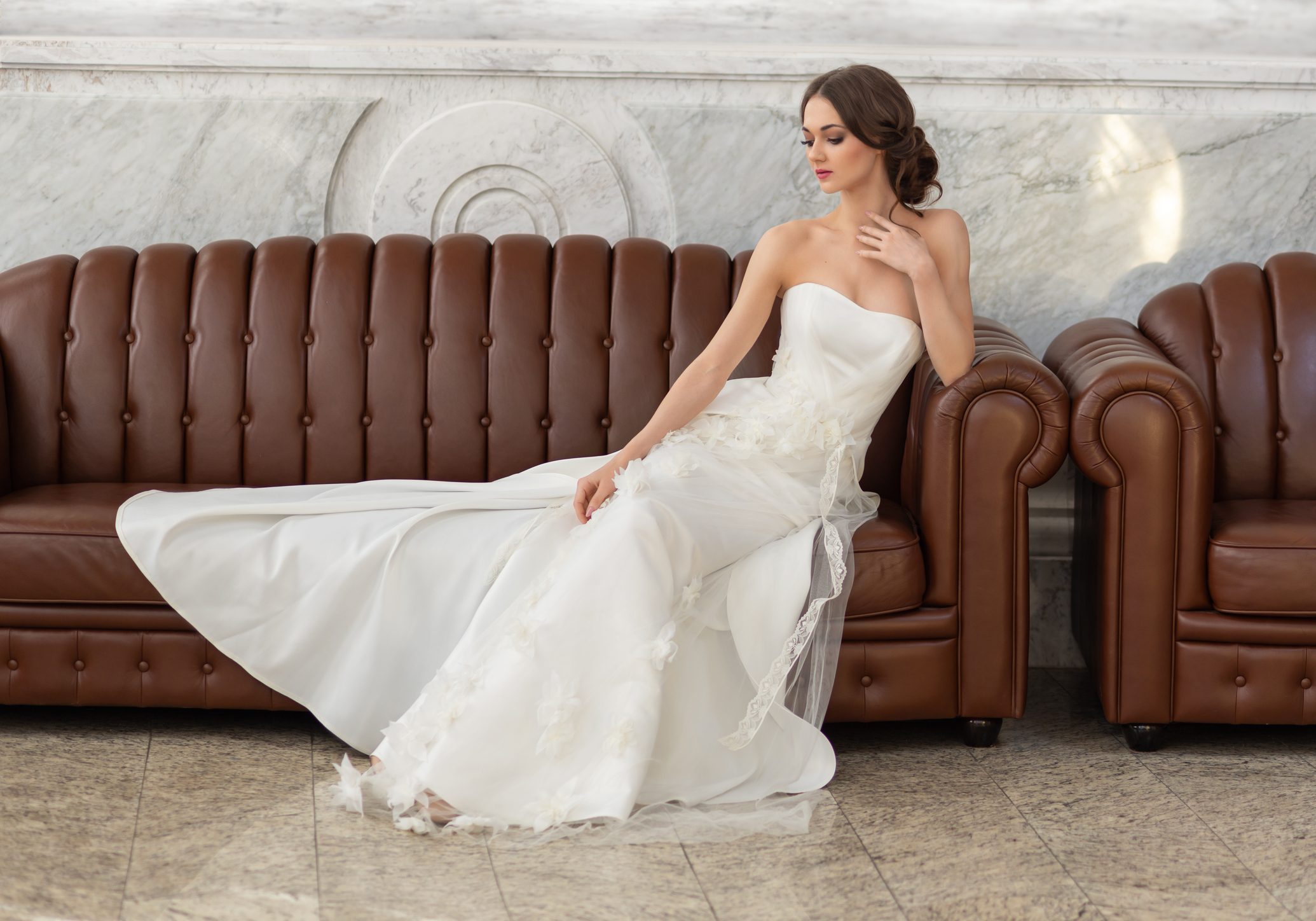 Jessica Little Photography, from Canada, captured a beautiful bridal pose that shows the vulnerability on the bride's face as she awaits her wedding day.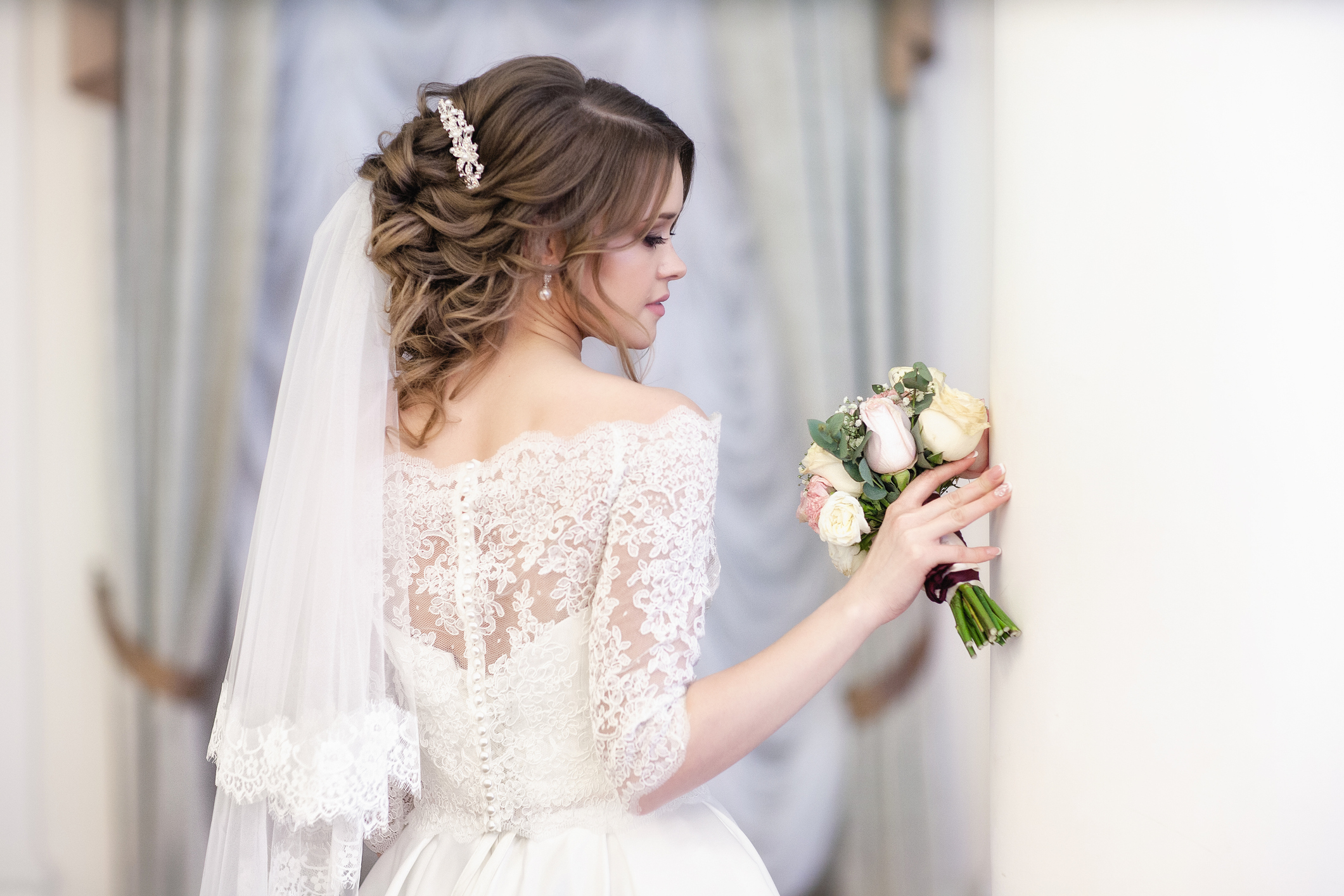 What a cute idea for a bridal photo below by All My Love Photography in Philadelphia!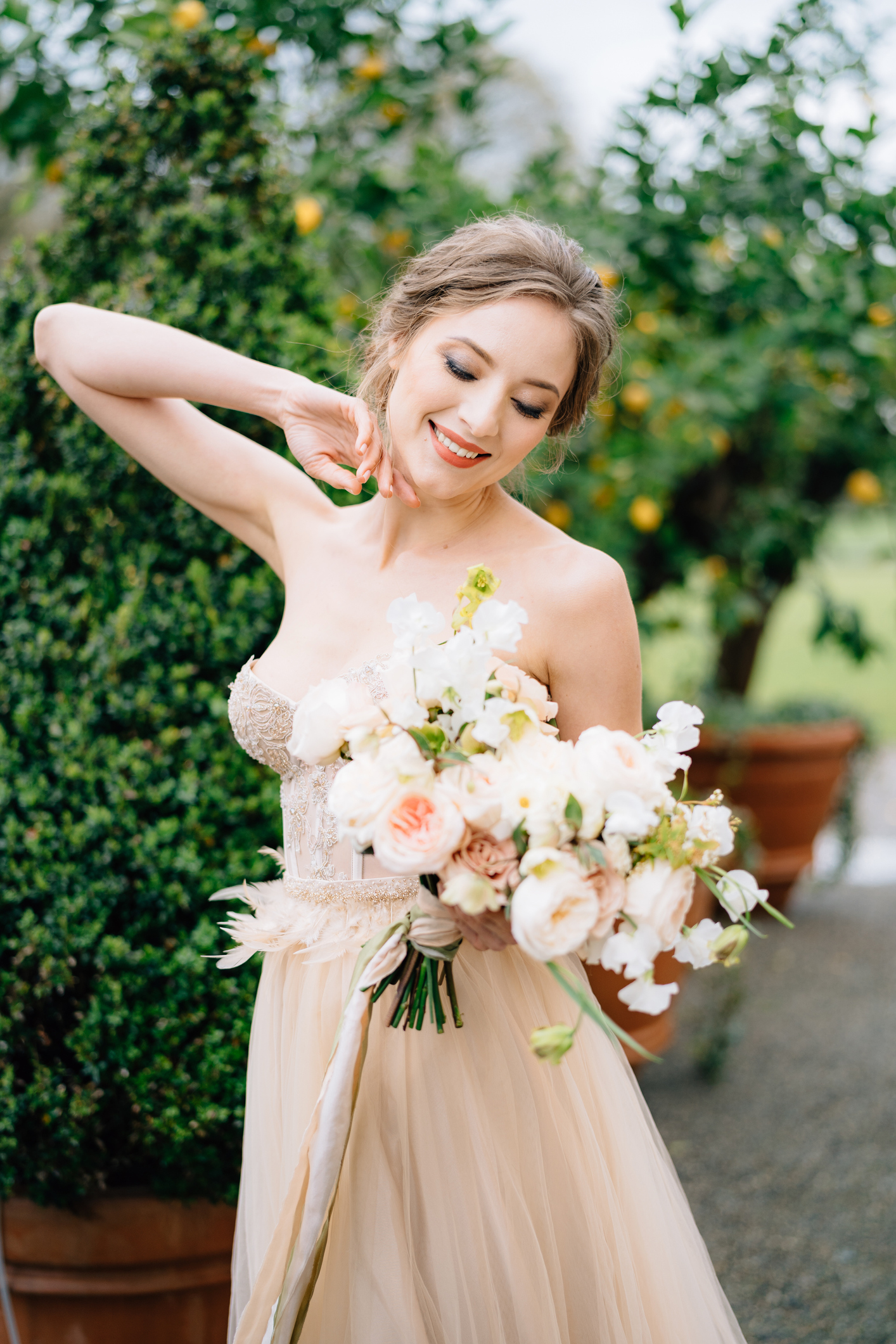 Santa Barbara photographer Leah Valentine Photography took this photo below that shows how a beautiful background can make the portrait stand out that much more. The yellow sunflowers behind the bride are the perfect backdrop for her gorgeous pose.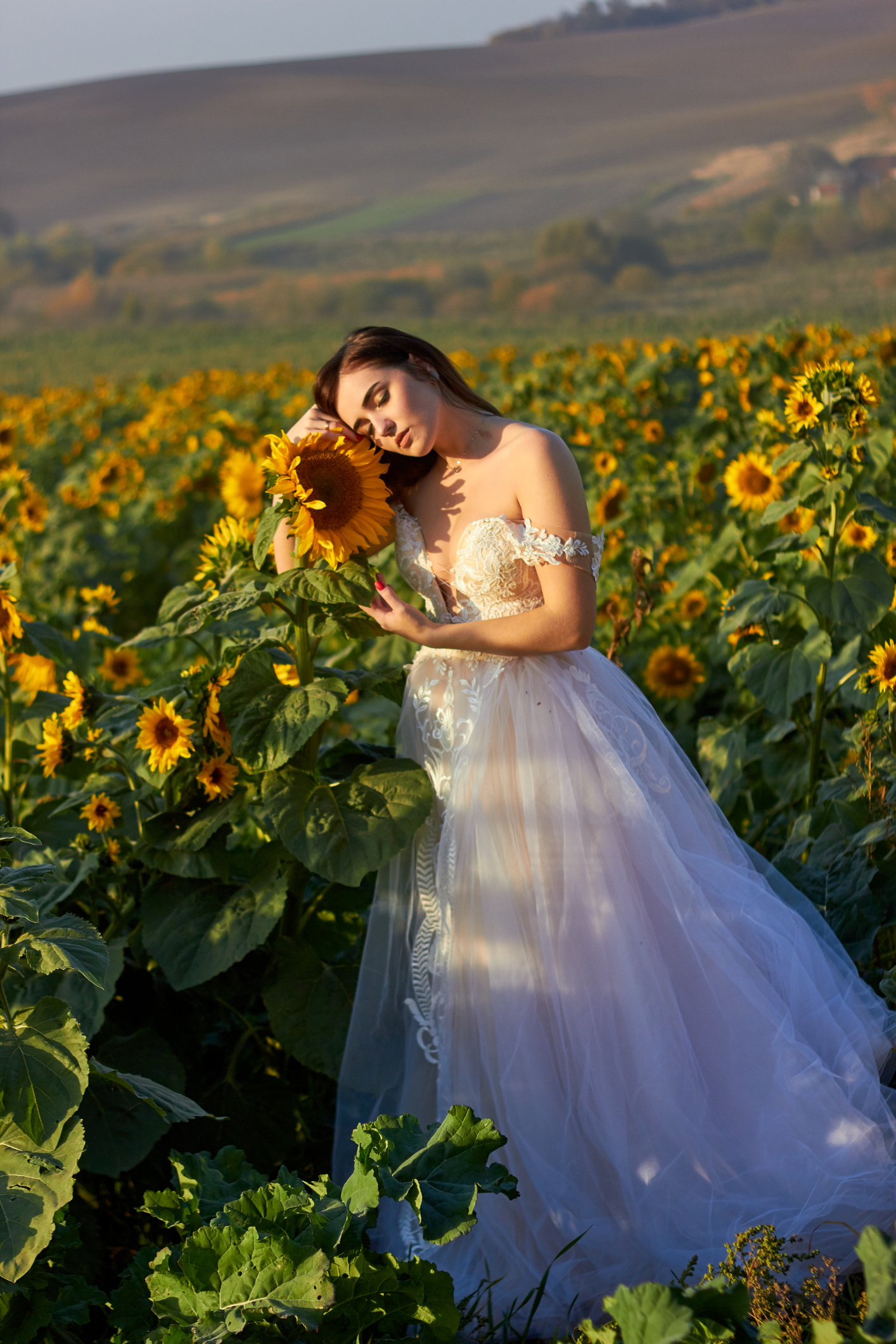 This is a unique photo that takes the shot from above the bride, showcasing the winding staircase, and her wedding gown train. Taking the shot from above shows off a different angle of the bride, rather than the photographer taking it from the same level. This photo was taken by Gallery D Photography in Manassas, Virginia.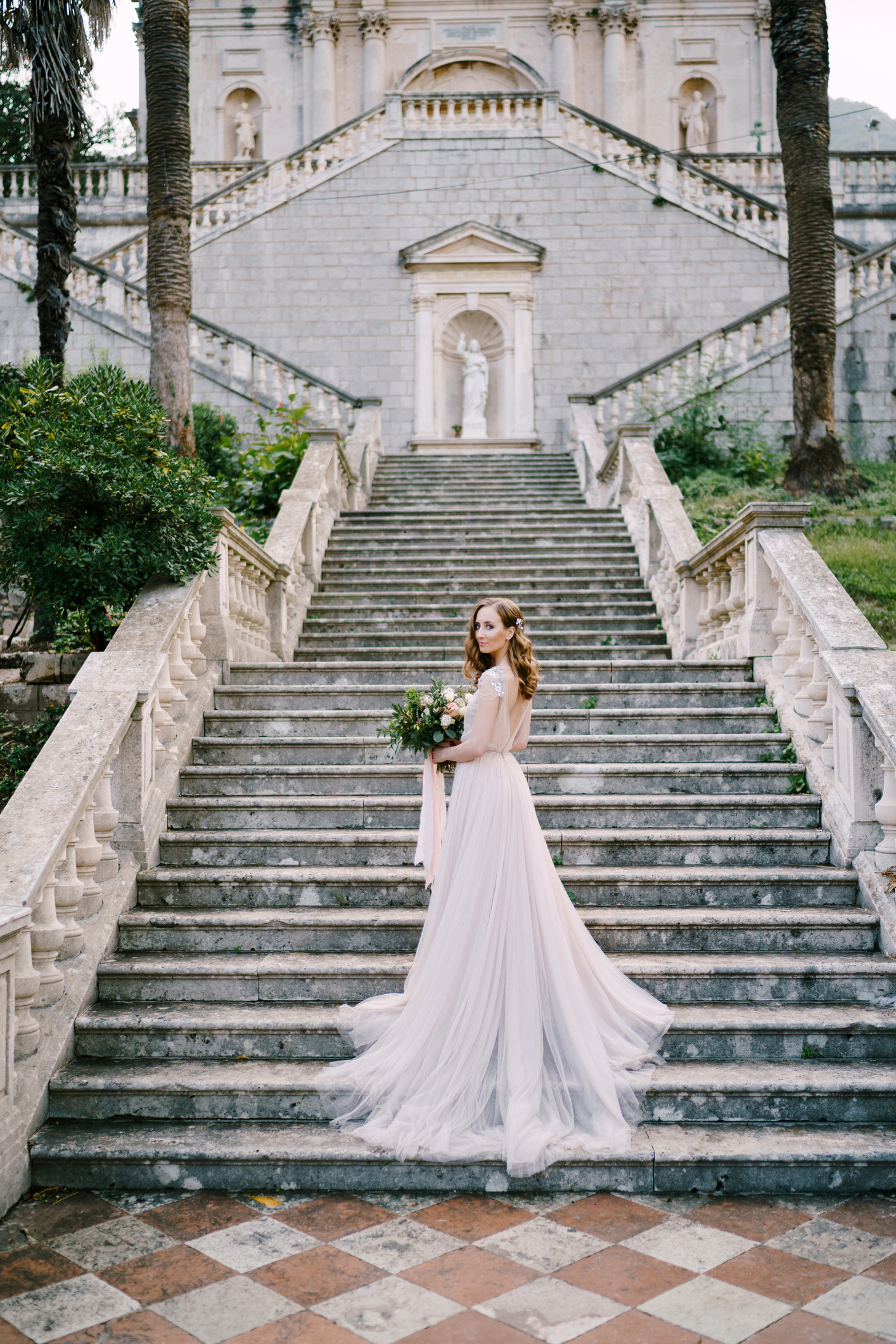 New York photographer, Jessica Haley Photography, captured a beautiful side angle of this bride below. Having the portrait in black and white also gives it that extra special touch that makes it beautiful.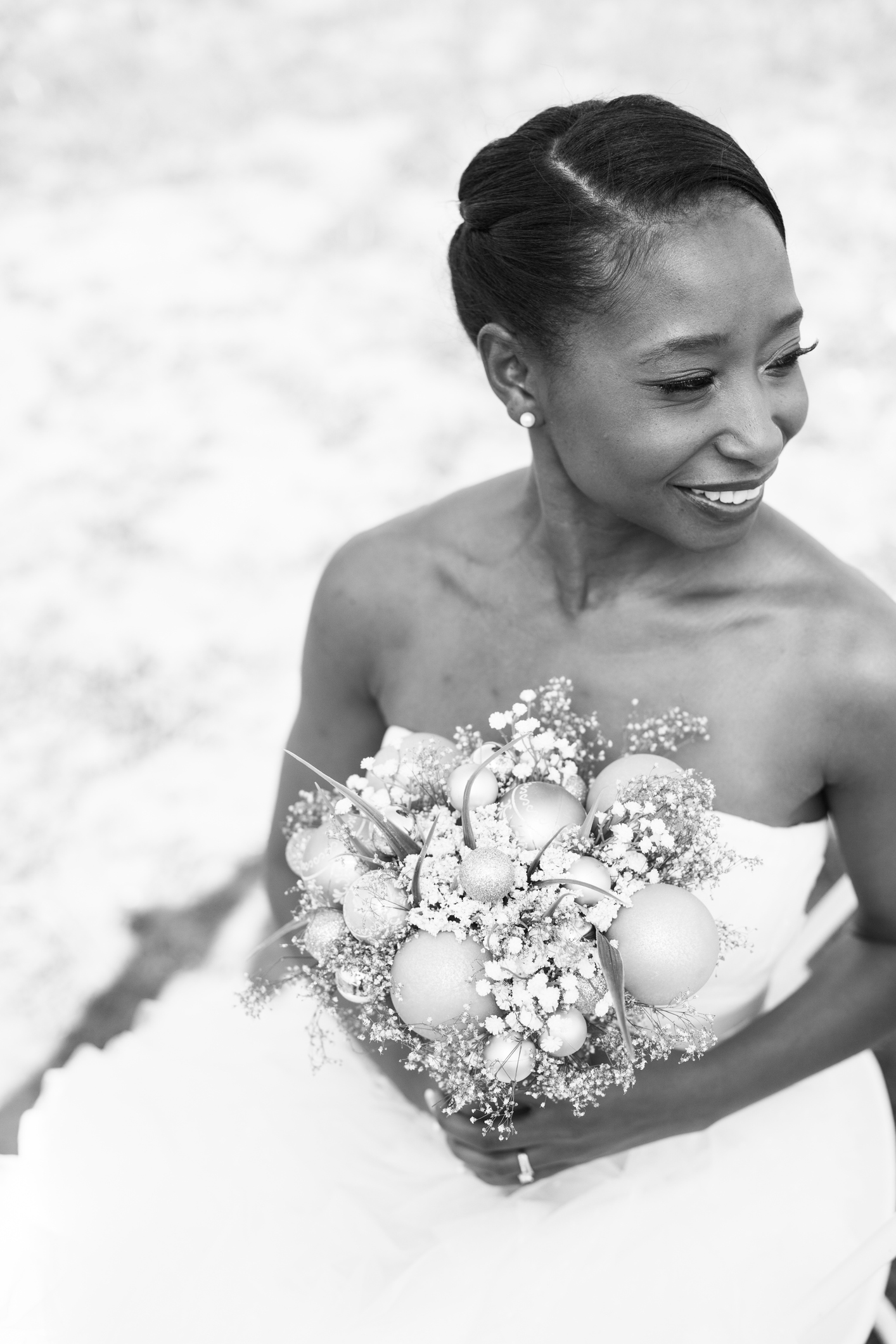 If you have a wedding gown that has a fabulous back, be sure you show it off in at least one wedding pose during your session! You want to make sure you can capture the beautiful dress that you wore for your celebration, just like Rachel Rausch Photography did for this bride.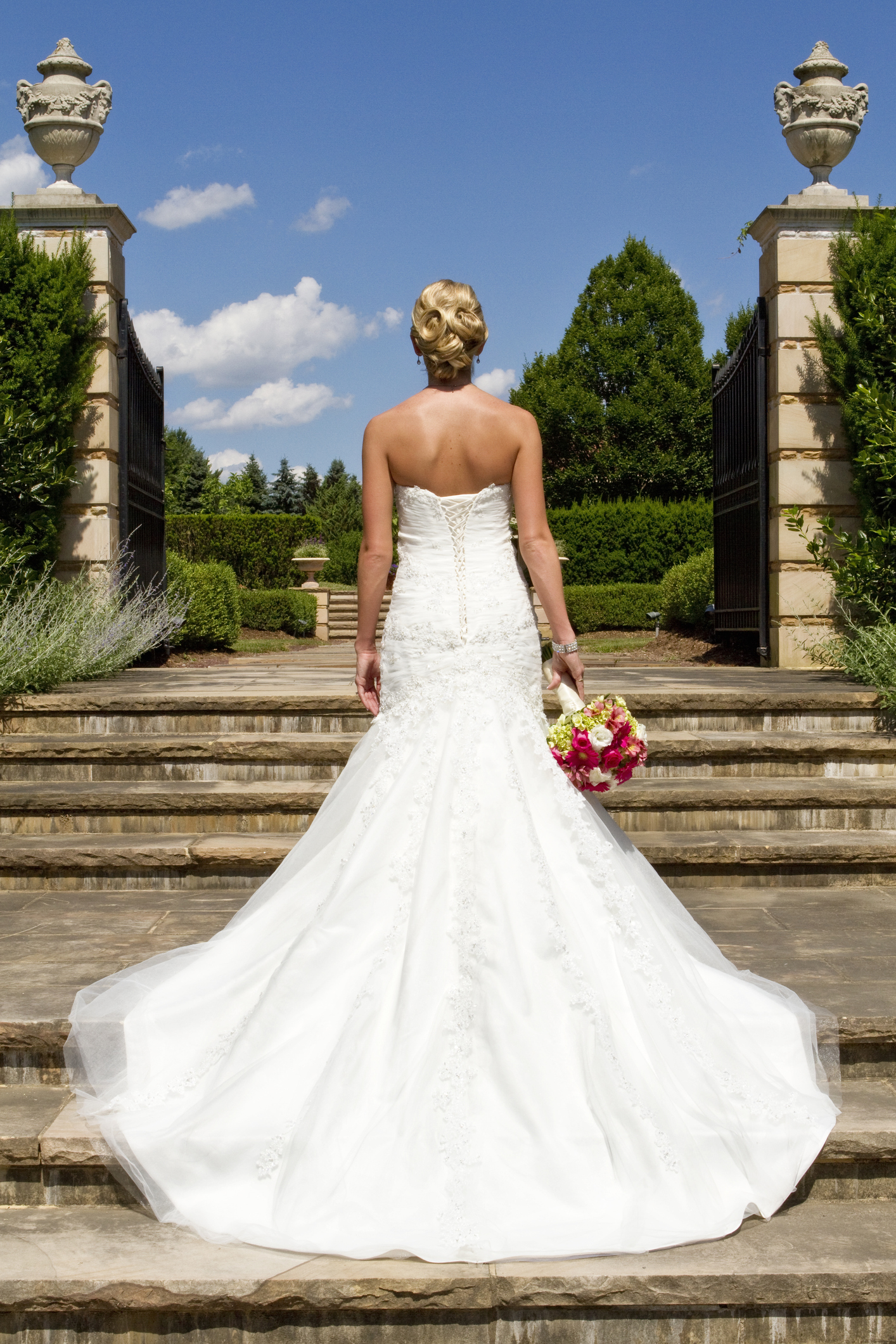 Meg Karl Photography shows off this bride who looks as though she is just glowing from happiness. The simple pose is easy, but the pure joy on her face makes the photo stand out!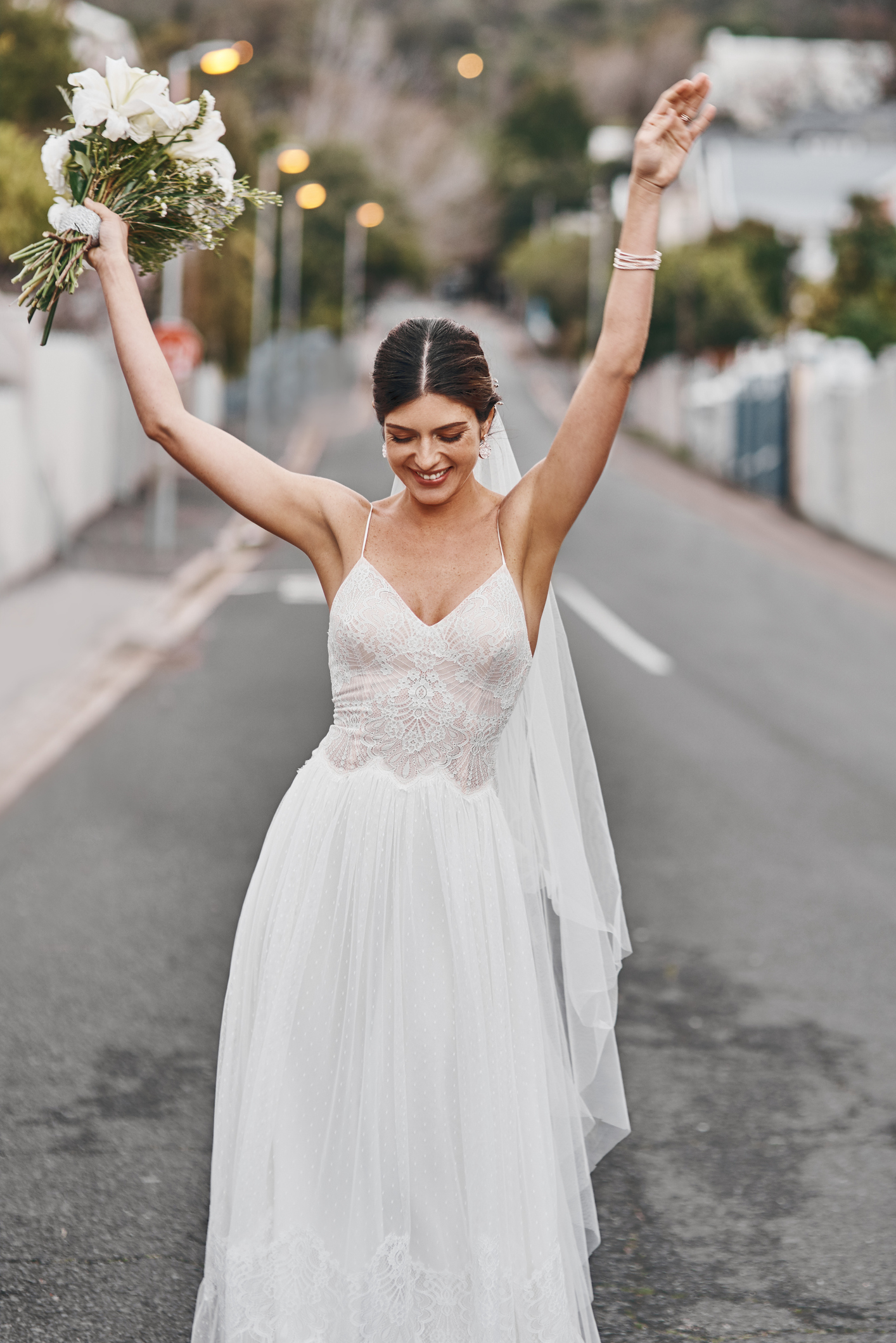 This is a popular shot taken with the bride facing forward, showing that special something you want in your bridal portraits by simply putting a hand on the hip like this photo by Brooke Price Photography.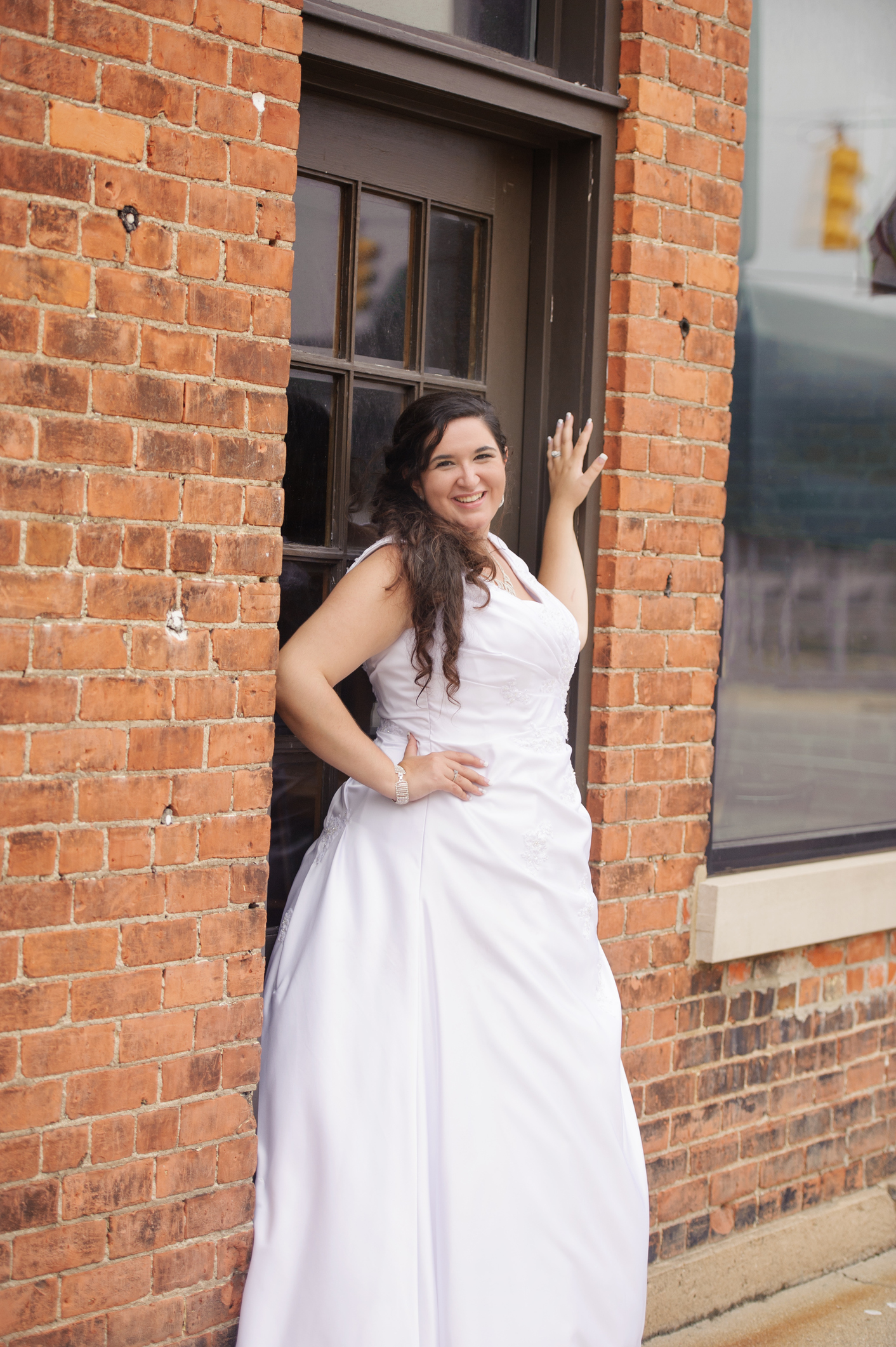 What a gorgeous photo from Sherri J Photography. The bride looks amazing and her pose does not look planned or stiff at all.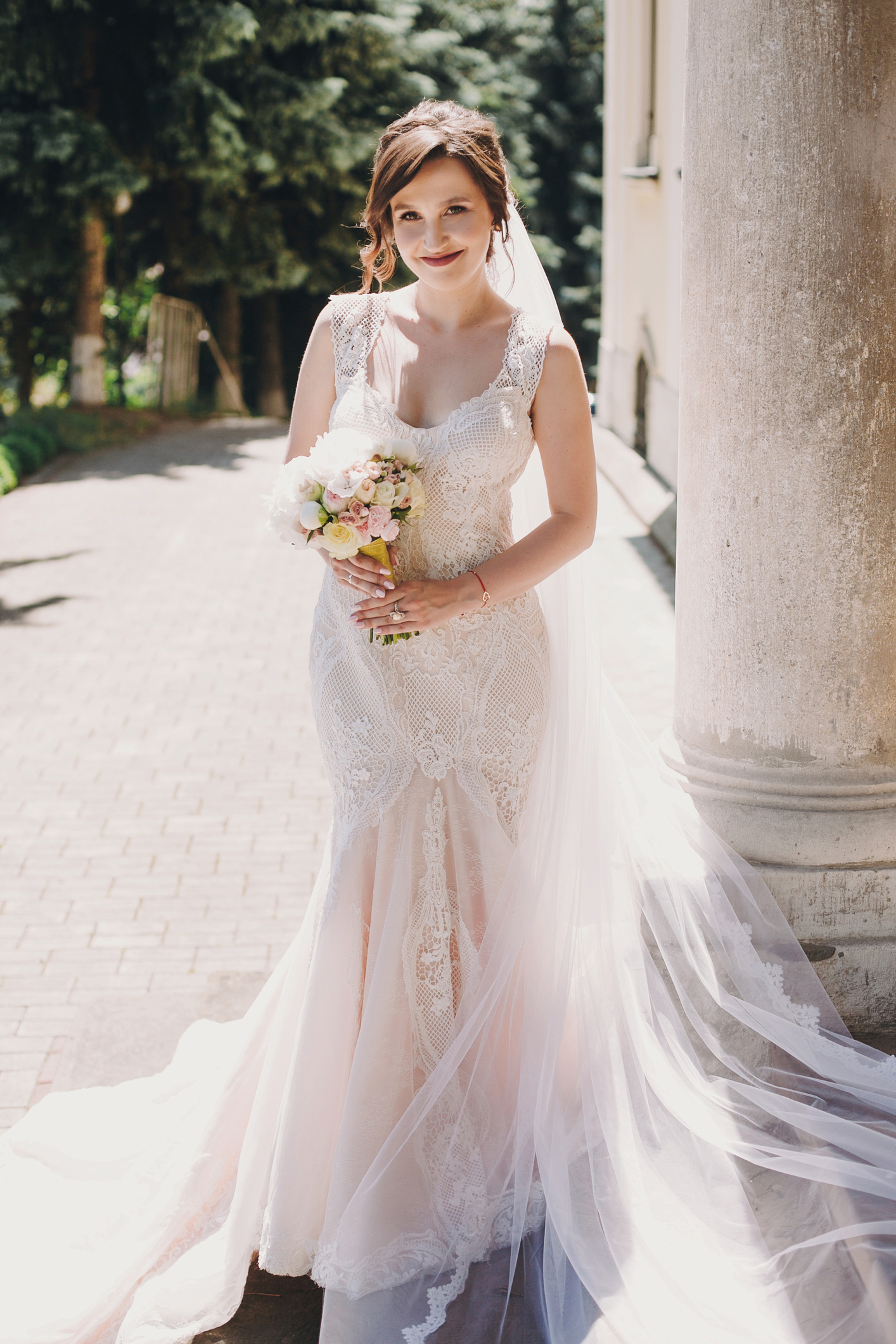 This photo, found on the blog Spotlighting, showcases another wedding pose option for brides. This lying down pose shows off the beauty of the gown as well as the silhouette of the bride.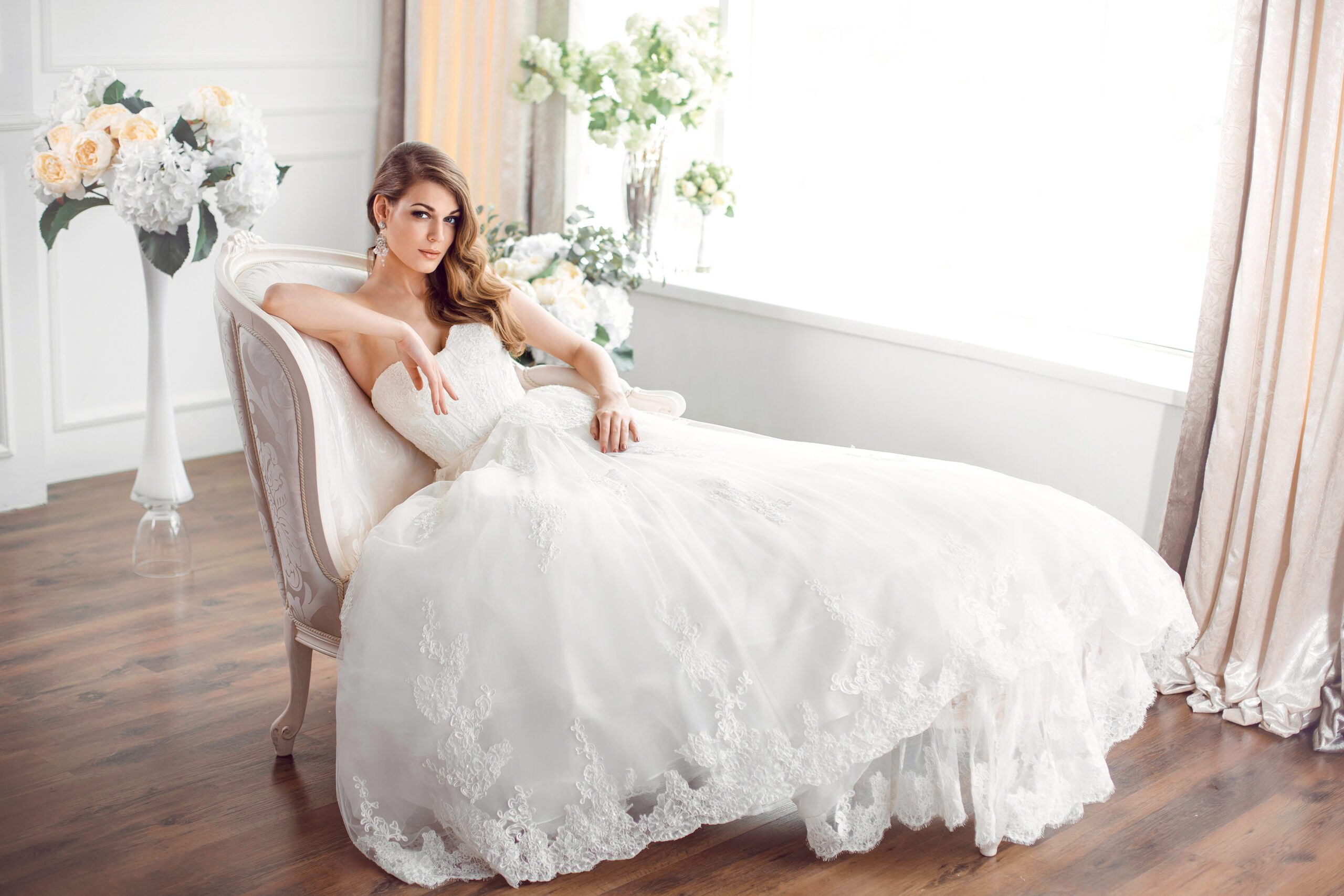 So remember, before you take your bridal portraits (or any wedding photos for that matter!) be sure that you feel relaxed, have ideas in your head for specific poses, and just try to have fun. If you enjoy yourself and act natural, it will surely show in the beautiful bridal portraits you will create!
For other wedding pose ideas, be sure to check out our Get Inspired page or read our tips for taking bridal portraits and wedding poses posts!
Do you have any other unique wedding poses for brides that you would like to tell us about? We would love to hear in the comments below.