You picked out your perfect dress, now it's time to pick out the perfect wedding shoes. There are so many choices out there to choose from that it can seem a bit overwhelming. Well have no fear, we're here to give you some ideas that we are sure you are going to love!
White Heels
If you are looking to keep your look on the more classic side, then a beautiful pair of white heels may be the choice for you! Many people consider the white shoe to be a traditional shoe style for a wedding. Heels are great for adding a little height and looking super elegant.
What is also great about this choice is that within this option there are still many styles. You can choose open-toed, or close-toed, and pick the heel height that works best for you. These shoes will never go out of style, so you can definitely find another event to wear them to again!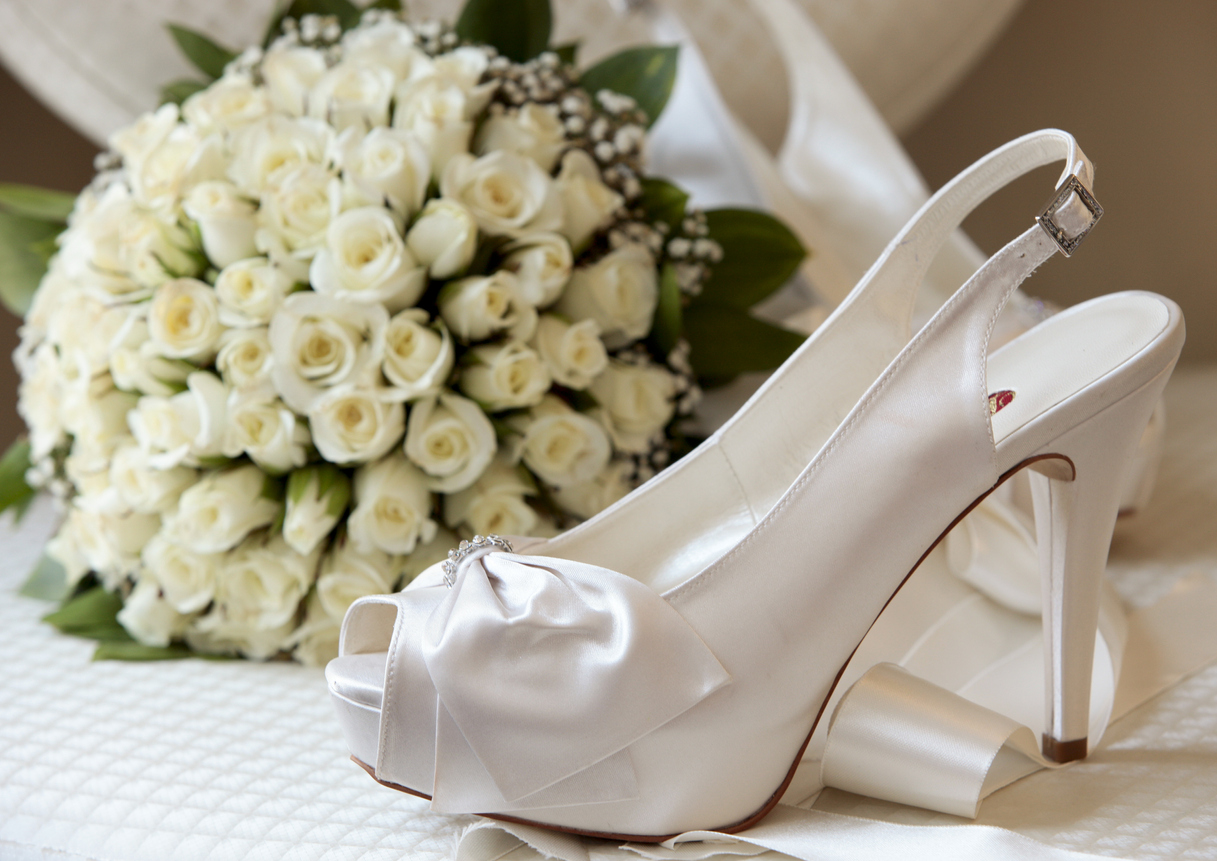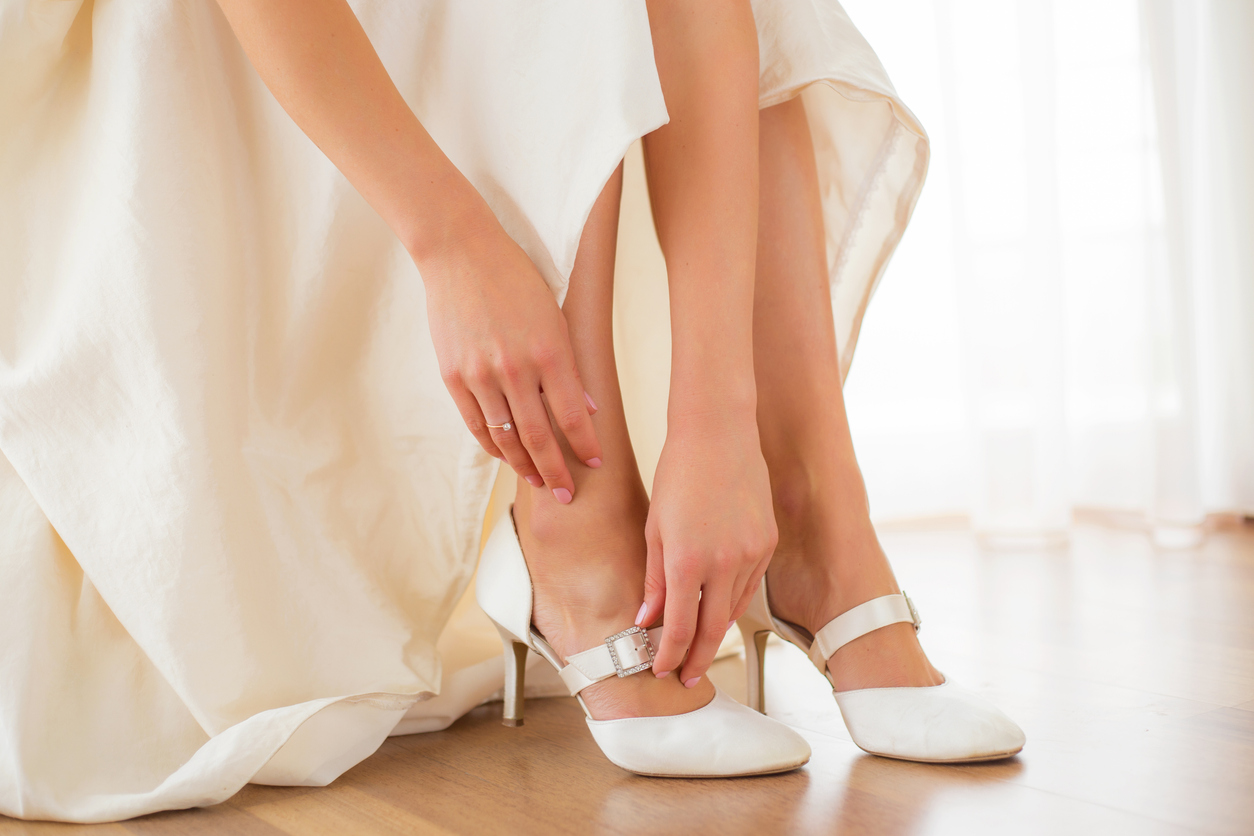 Colored Heels
Add a little color pop to your dress by finding a cute pair of colored heels! Your choice of color could be what your favorite color is, or you could pick the color that matches your bridesmaid dresses. Just like white heels, you have open options for style and heel height. It's a sure way to create some fun pictures too!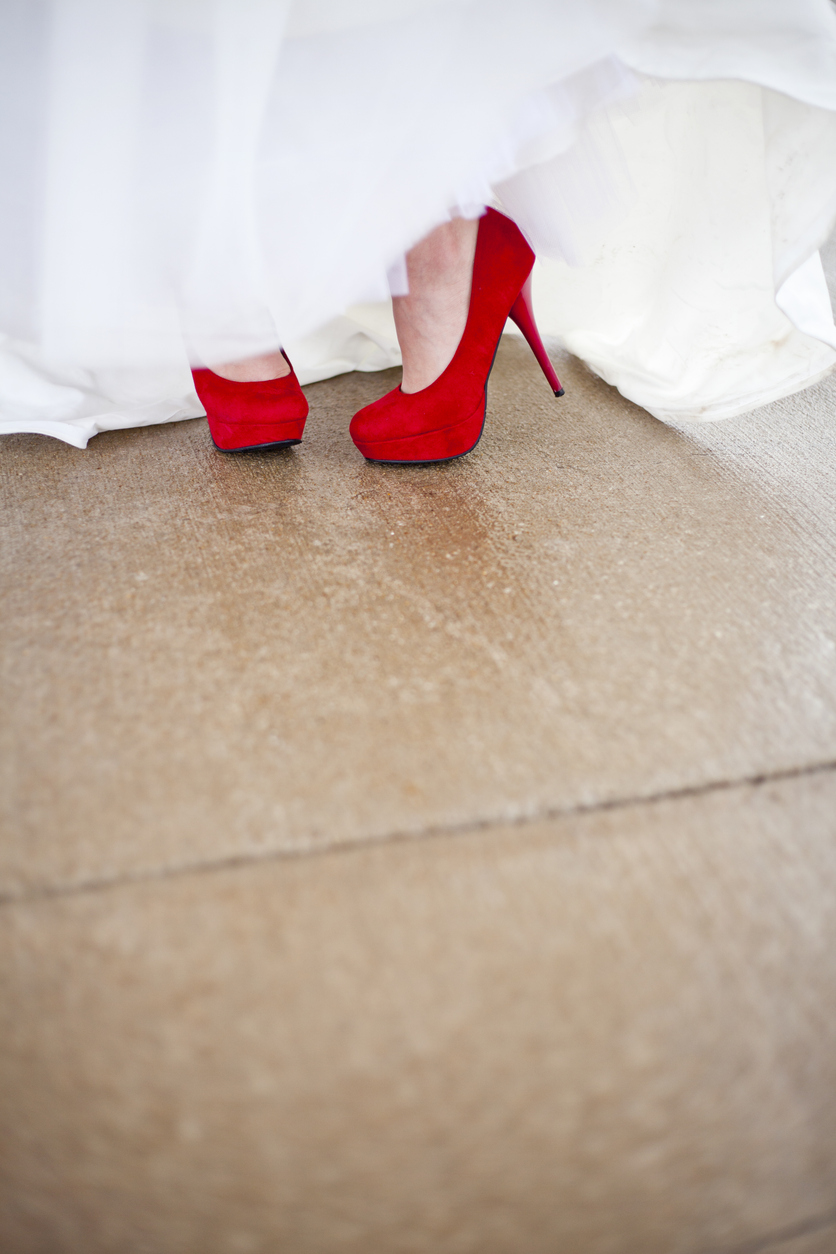 Wedding Sneakers
While heels are a great option, sometimes they aren't the best option for everyone. Your wedding day should be one of the best days of your life, and you don't want achy feet to get in the way of that! The most important thing is that you are comfortable. Jazz up a pair of cute sneakers to make it your dream wedding shoes!
Wedding Day Boots
Some weddings just call for a great pair of boots. If you are having a rustic or country-themed wedding, then cowgirl boots may be the way to go. The great thing about cowgirl boots is that you can customize them to match your personality. You can find a simple pair or find one with beautiful engravings, plus they are super comfy!
If you're worried about a rainy day or having your wedding in an area with wet grounds, then rain boots are also a super cute idea. They're also a great idea if it reflects things you love to do as a couple, like fishing expeditions. Both these boots are great for adding that pop of color as well. Can't go wrong here!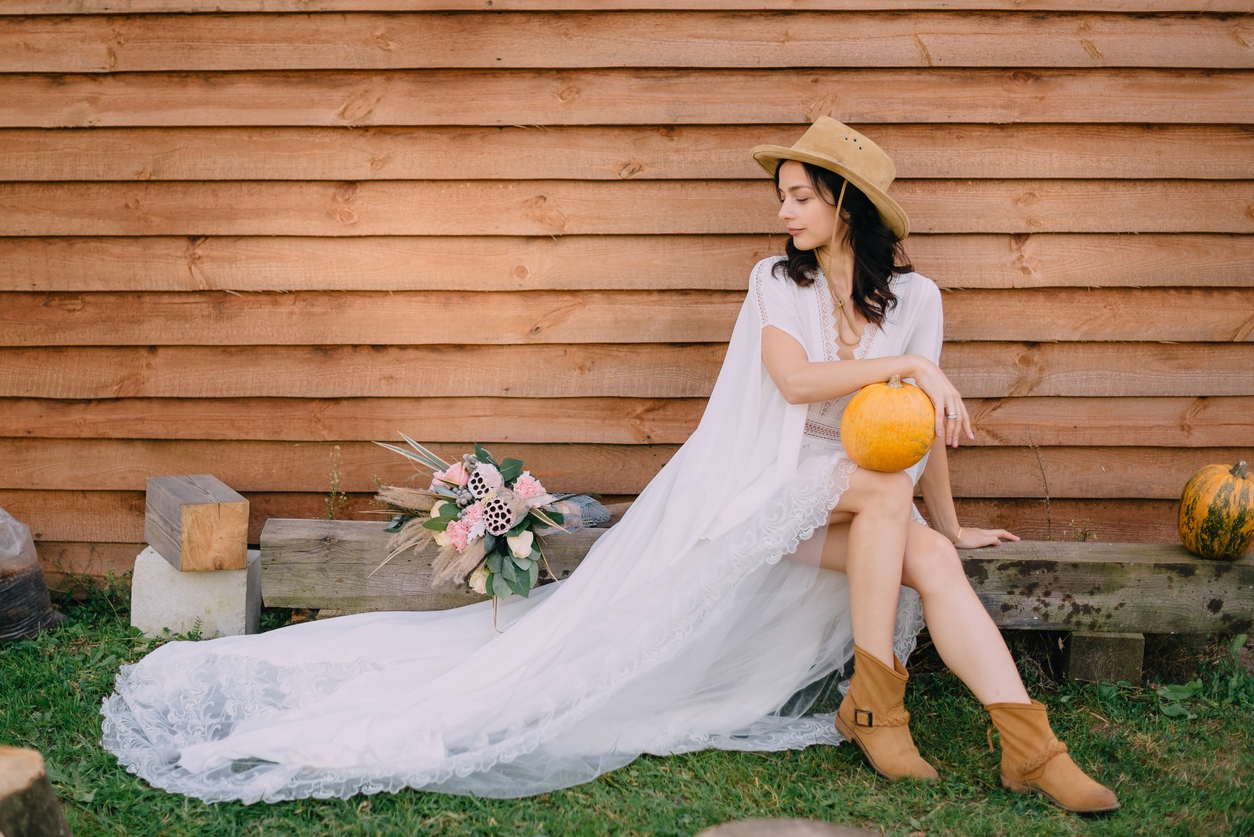 Ballet Flats
As we said earlier, sometimes heels aren't for everyone, so ballet flats are a cute and comfy alternative to the traditional wedding shoe. There are so many styles of flats, you are bound to find the perfect pair. It is also easy to find a pair that looks exactly like the heels you were eyeing, minus the heel part!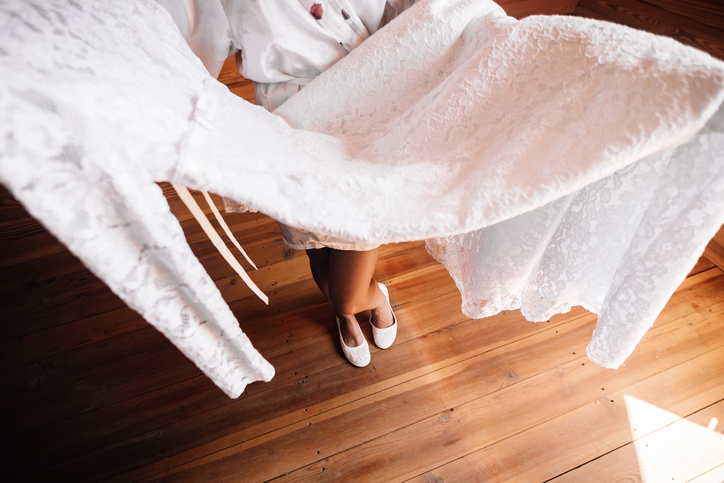 Barefoot
If you're having a wedding on the beach then the idea of shoes may not even cross your mind, but there are still cute beach "shoe" ideas out there for you! Dress up your feet with styles that are basically jewelry shoes. These are such fun ideas and there are so many different styles out there! One style mimics the tops of flip-flops. If you're someone that finds toe rings uncomfortable, then the second option may be more of your style.
The second design is little ankle cuffs that add a cute but simple way to dress up your feet without having to wear shoes. No need to miss out on the shoe shopping for your beach wedding!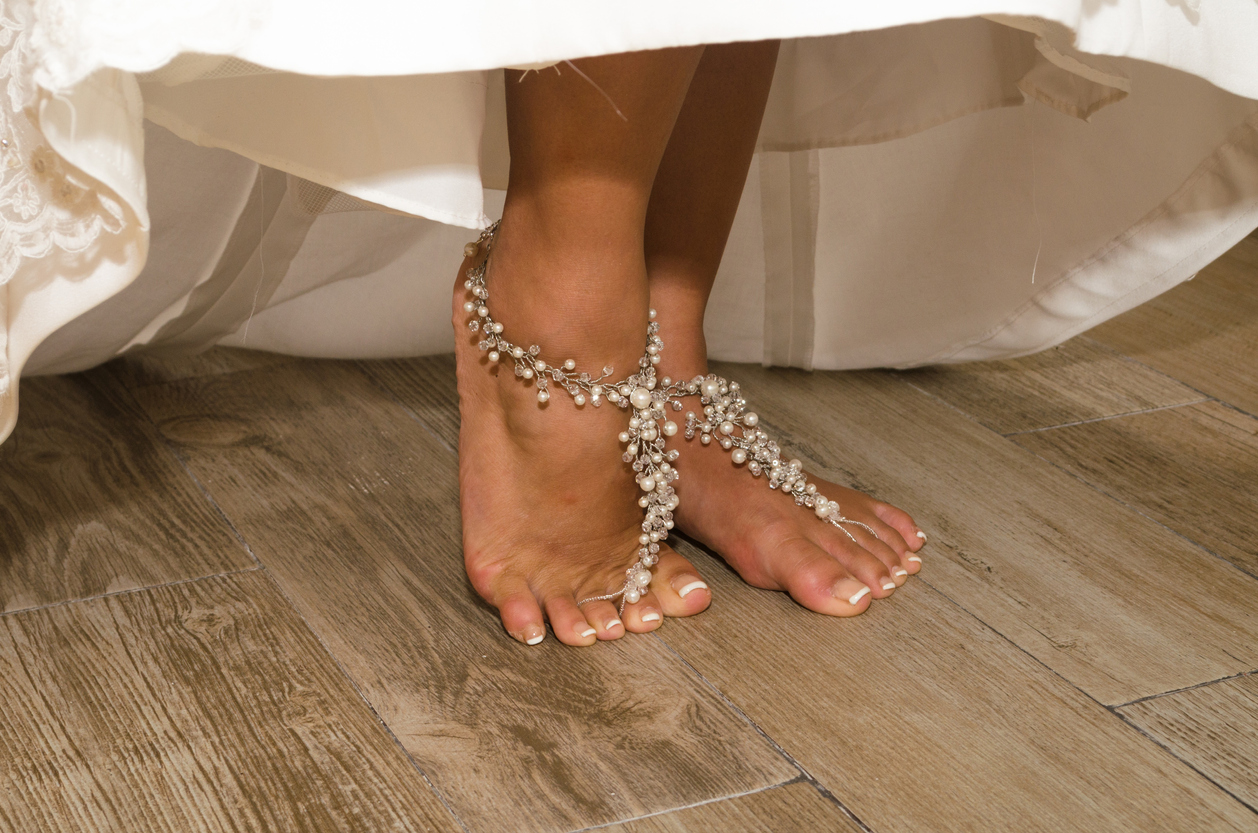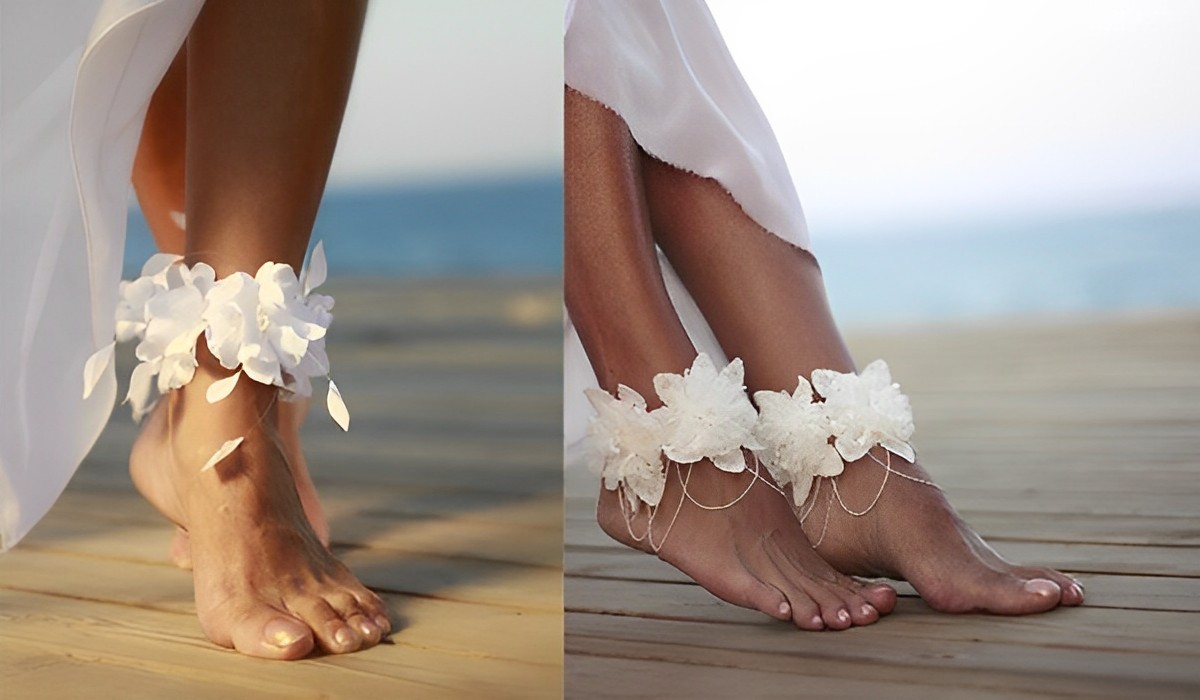 We hope that you enjoyed these ideas and maybe found your perfect wedding shoe! No matter what you choose, we know that you'll rock it! If you liked these ideas, then you will surely love these bridesmaid dress ideas!