There are so many good reasons to have the best disposable camera for weddings. 
Sure, you'll have a professional wedding photographer. And they will be able to capture formal wedding photos and some candids all throughout the celebration. But having disposable cameras available during your wedding means your guests can capture a whole new other perspectives. 
In theory, everyone can grab a disposable camera and document from their own perspective as the celebration goes on. 
We're here to give you an idea of how having single-use cameras for your wedding might be an awesome idea and how to choose the best disposable camera for weddings to use for the occasion. 
Are Disposable Cameras a Good Idea for Weddings?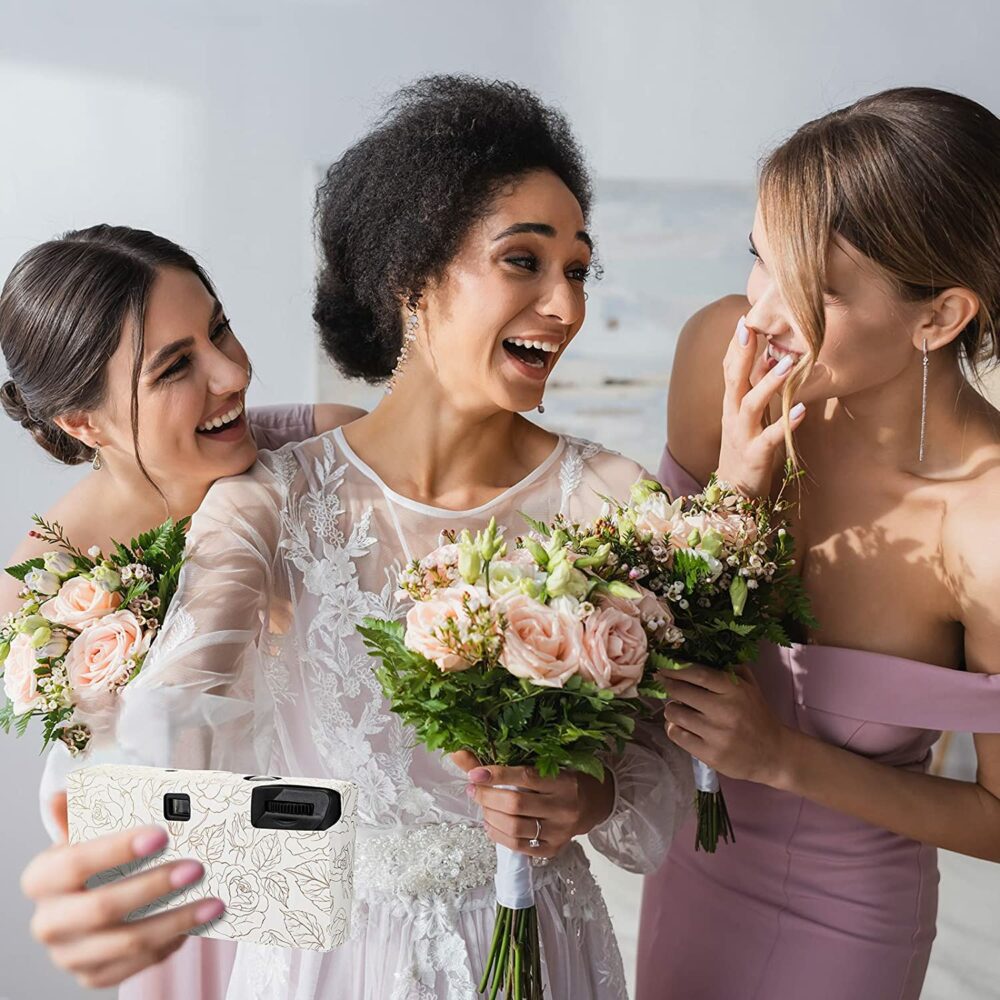 Getting the best disposable camera for weddings is a fantastic way to add some whimsy to the occasion. 
Single-use cameras are not, in any way, a replacement for professional photography for your wedding day. But there are plenty of reasons why providing disposable cameras for your wedding guest is a chance you wouldn't want to pass up on. 
In case you're in need of good reasons, here are the best advantages of using disposable or single-use cameras for you and your wedding guests to help capture as many wedding memories as possible. 
Disposable cameras are fun to use. There is simply something magical about using disposable cameras. They bring out the best in people or the silliest. 
It captures more memories. While the wedding photographer is likely to follow and snap most of the photos of the wedding couple, anyone can pick up a disposable camera and start snapping pictures. It means you capture many more memories and won't even have to pay much for it. 
Single-use cameras are easy to use. One of the best things about disposable cameras is that they are so easy to use that virtually anybody, including kids, can use them without a problem. Simply wind the film and start pressing the shutter release to take beautiful snaps of the wedding behind the scenes. 
Disposable cameras are durable. With the wedding guests having so much fun after too much champagne and dancing during the reception, chances are, disposable cameras can get dropped or kicked around. But the great thing about them is they are super durable, and the cameras and the memories will be just fine. 
Now, let's cut to the chase of choosing the best disposable cameras for weddings that are reliable, affordable, and will very well capture the wedding photos that fit your vibe. 
7 Best Disposable Cameras for Wedding Use
We researched dozens of disposable cameras available in the market right now and checked their notable features, pros and cons, and user reviews to find out which took the best photos.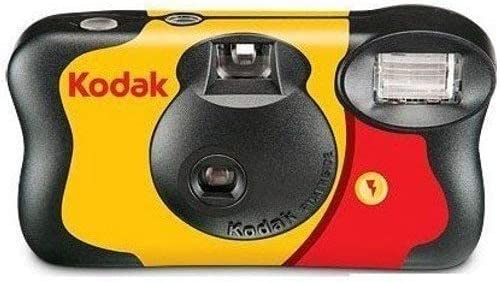 At a glance:
ISO: 800
Film type: 35mm color
Built-in flash: yes
Number of exposures: 27
Great for both low light and sunny days
Kodak is a dominant name when it comes to color films, so it's no wonder why it's also a top brand choice for the best disposable camera for wedding use. The Kodak FunSaver, in particular, stands out among other disposable cameras on the market. Firstly because of its ISO 800 film, which is far superior to most cameras with ISO 400 film. The high ISO means the FunSaver can keep shooting beautiful wedding photos indoors or outdoors, from sun up to sun down. It also has a built-in flash in case you need extra illumination. 
Also, it's a versatile and reliable single-use camera that's affordable and easy to use for beginners. And it will produce warm, flattering photos with a brilliant retro look.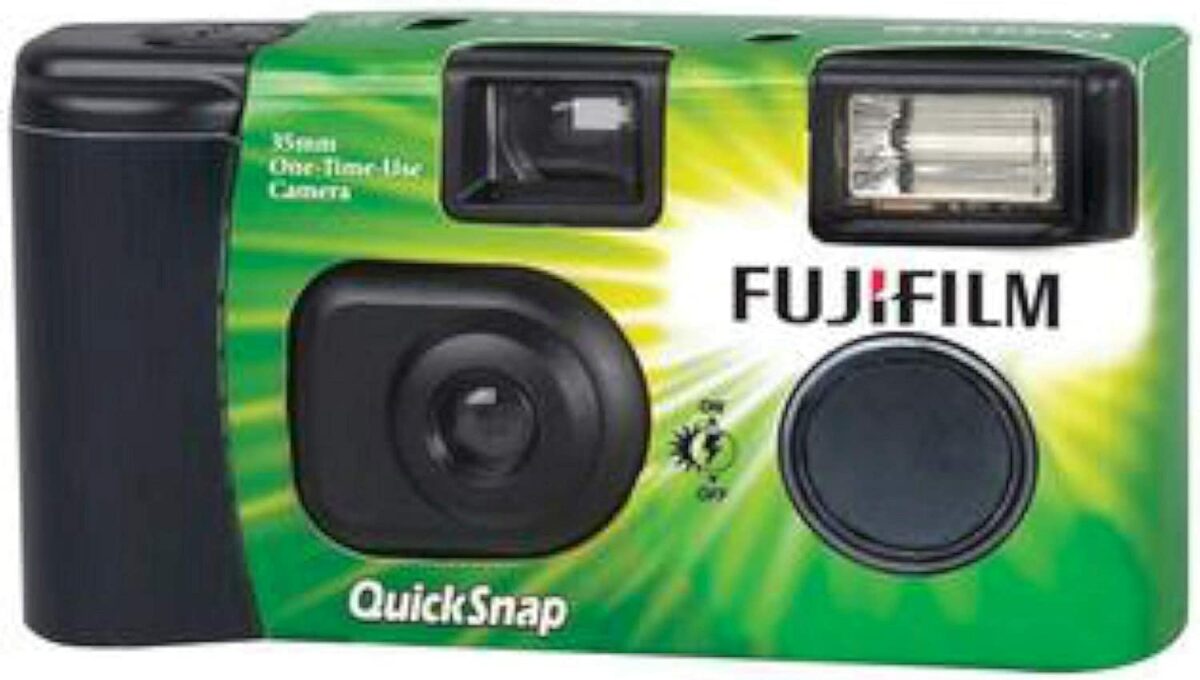 At a glance:
ISO: 400
Film type: 35mm color
Built-in flash: yes
Number of exposures: 27
Suitable for shooting indoors and outdoors
This disposable camera features one of the most practical flash in single-use cameras. There's no need to press the flash button before taking every shot. Just toggle the continuous flash switch to quickly snap photos, perfect for quick-fire shots in indoor, low-light scenes. More than that, the built-in flash can take very sharp images, even from 10 feet away. 
Meanwhile, the fixed shutter speed and aperture are designed for bright light outdoor photography. 
Overall, the Fujifilm QuickSnap is an inexpensive, all-in-one, and easy-to-use disposable camera for wedding use.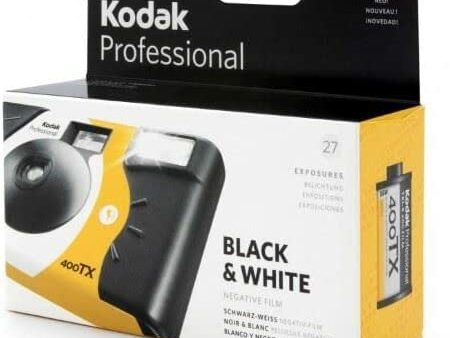 At a glance:
ISO: 400
Film type: 35mm black and white
Built-in flash: yes
Number of exposures: 27
Fixed-focus lens, no manual focusing needed
Easy to use but incredibly versatile, the Kodak Professional Tri-X 400 is one fantastic black and white disposable camera for wedding use. It gives you excellent monochrome films with fantastic contrast for more dramatic photos. But it's also great in terms of capturing details in gray tones. 
Additionally, the built-in flash comes in handy for nighttime shooting, giving you high-contrast films despite the low lighting conditions. It comes highly recommended if you want a disposable camera for wedding use for high drama, memorable monochrome pictures.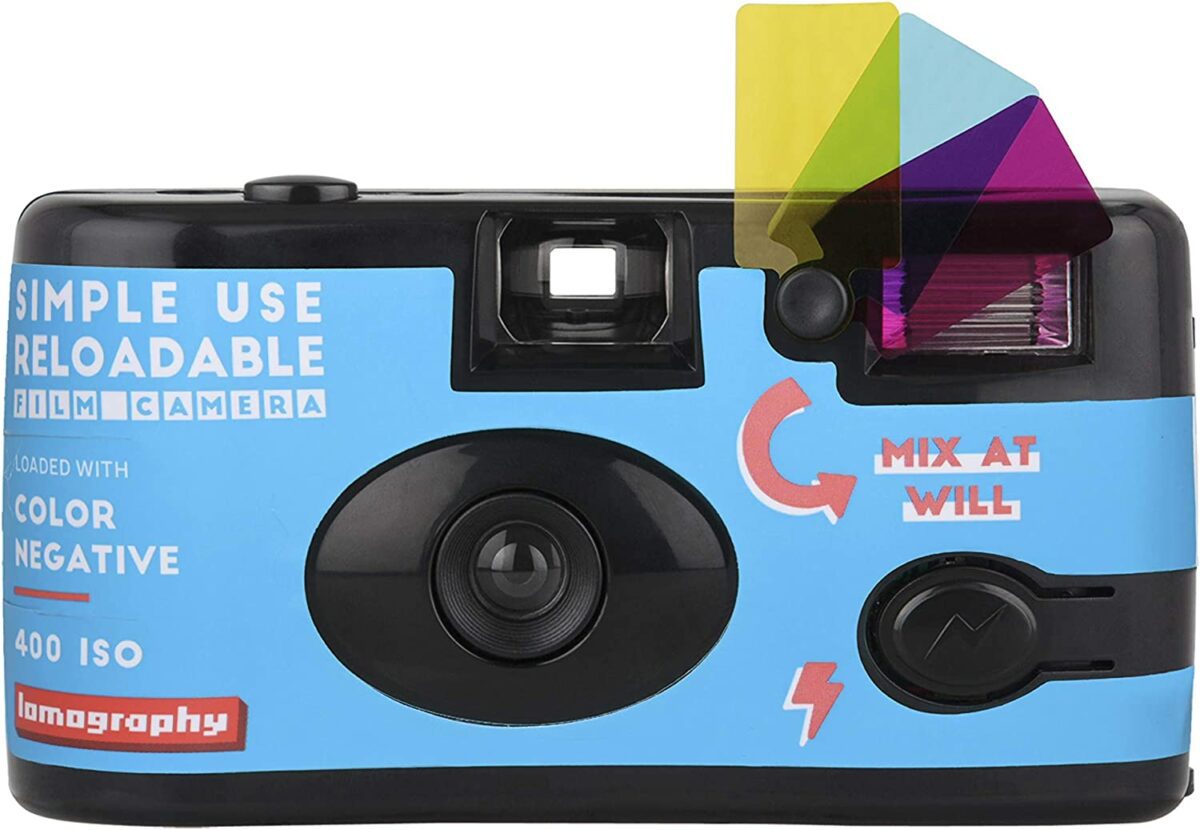 At a glance:
ISO: 400
Film type: 35mm color
Built-in flash: yes
Number of exposures: 36
With built-in gel filters
Unlike the majority of disposable cameras, the Lomo 400 is not actually a single-use camera because it's reloadable with any 35mm film. It's already preloaded with a generous 36 shots, but you can keep refilling the film so you can keep shooting throughout the wedding celebration. 
Moreover, the camera has three built-in colored gel filters you can slide over the flash to give your photos unique and exciting tints. And at a 1/120 shutter speed, the Lomo 400 reloadable camera can capture moving scenes.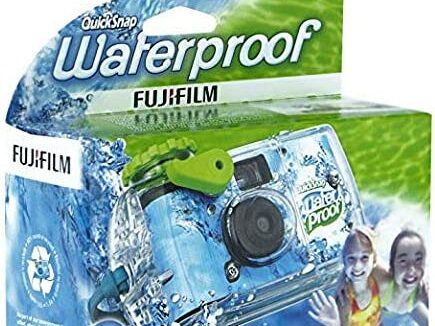 At a glance:
ISO: 800
Film type: 35mm color
Built-in flash: no
Number of exposures: 27
Waterproof up to 17 feet
If you're planning for a beach wedding, you'll need a waterproof disposable camera. And for that, the Fujifilm QuickSnap Waterproof comes highly recommended. It's as easy to use as the standard Fujifilm QuickSnap single-use camera but with added protection against water or spilled champagne at the wedding reception. 
And in case you're planning to take magical underwater wedding shots, this one-time-use camera is waterproof up to 17 feet. Plus, the ISO 800 film gives the camera extra light sensitivity for low-light conditions. The only downside is it doesn't have a built-in flash, so night shots would be a no-go. 
That said, for a beach wedding or a poolside reception, this disposable camera will ensure that you'll have fun in the water and plenty of wedding photos.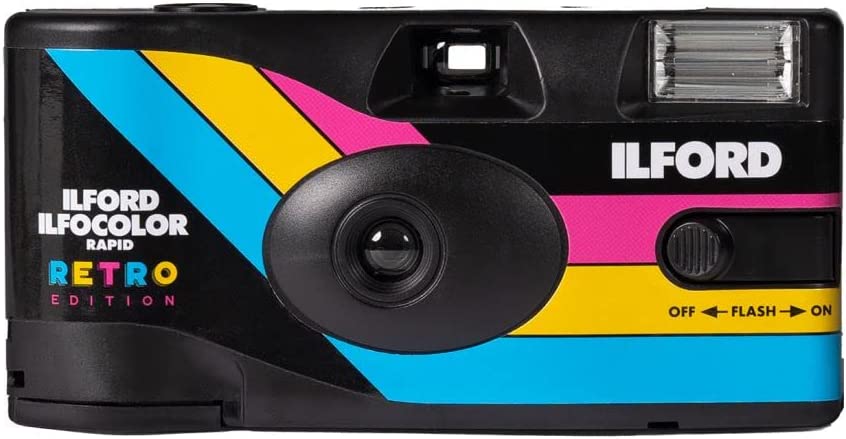 At a glance:
ISO: 400
Film type: 35mm color
Built-in flash: yes
Number of exposures: 27
One-touch flash
It's a good-looking retro camera that produces equally good-looking retro films with nice saturated tones that will look like they came straight out of the 1960s. The camera includes a one-touch flash that automatically recharges after each use. And with the wide-angle lens, fixed focus range, and fixed 1/125 shutter speed, this disposable camera delivers sharp, well-saturated pictures. 
Overall, if you're looking for the best disposable camera for wedding use that will give you that unique vintage look, this one will not disappoint.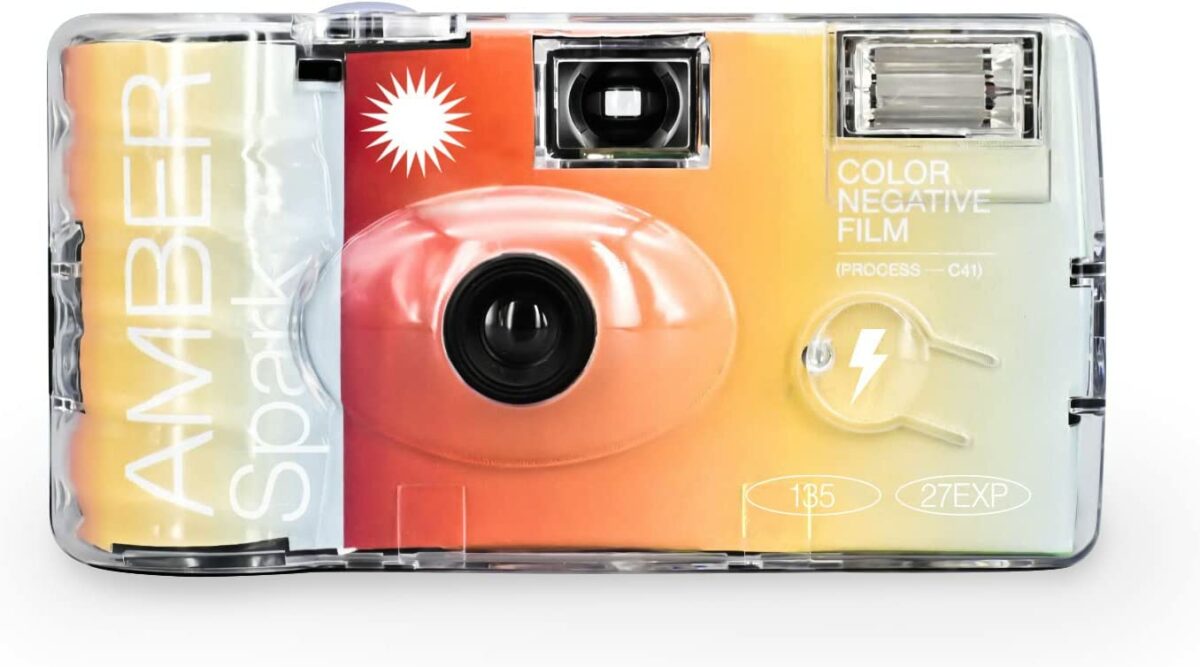 At a glance:
ISO: 400
Film type: 35mm color
Built-in flash: yes
Number of exposures: 27
Loaded with motion picture film
Capture the mood on your wedding day with the pocket-sized Reto Project Amber Spark disposable film camera. It's loaded with a D400 motion picture film that delivers a unique, moody color palette for high-definition, movie-like portraits. It's suitable for shooting in the daytime or at nighttime with flash. The cine film is excellent in low-light conditions and will give you that cool blue tone when taking photos in daylight. 
If you want wedding photos with a super cool cinematic vibe, the Amber Spark is a great option for that.
How to choose the best disposable cameras for weddings?
The disposable cameras we reviewed above are fantastic choices if you want to have some for your wedding. But when buying single-use cameras, you'll want to choose one that is simple to use and fits your needs.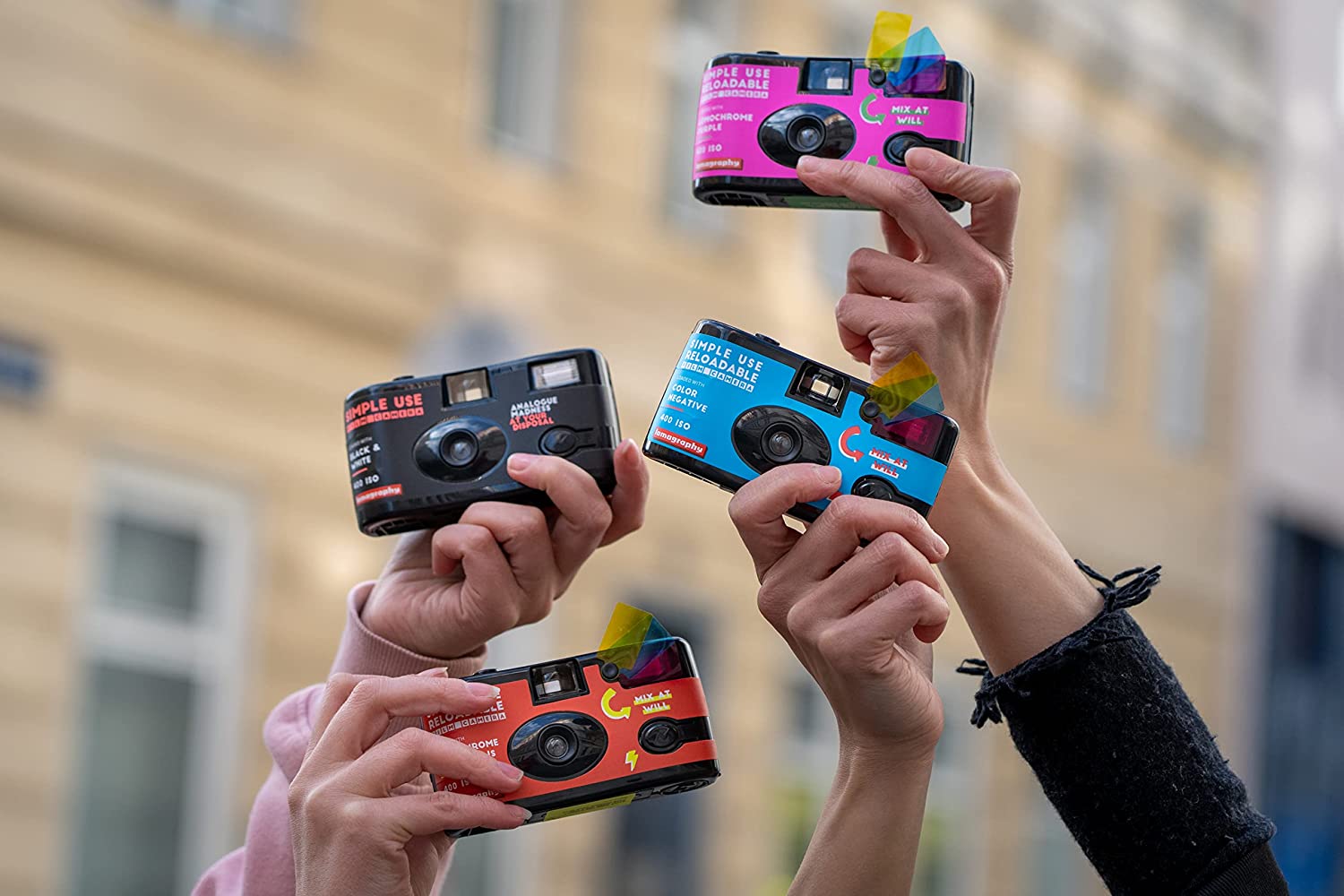 To help your choice further, here are a few essential things to consider for the best disposable camera for wedding use. 
Built-in flash
A built-in flash in a disposable camera makes it easier for guests to take photos regardless of the lighting condition. Whether it's a cloudy day, an indoor wedding reception, or a wedding party during nighttime, a disposable camera with a built-in flash will come in handy. 
Note that not all disposable cameras have a built-in flash, so watch for this feature and where you plan to take photos. 
Shutter speed
Disposable cameras typically come with a 1/100 shutter speed. However, there are a few with faster shutter speeds, like 1/120. A disposable camera with a slow shutter speed will allow more light into the camera, which is suitable for low-light conditions. Meanwhile, those with a higher shutter speed reduce the amount of light, which is perfect for well-lit scenes, the outdoors, and during daylight. 
Film speed
The camera's ISO determines its film speed. You can typically buy disposable cameras in ISO 200, 400, and 800, the most common being an ISO 400 film. The higher the camera's ISO, the better it will be in shooting in low light conditions. If you plan to take photos indoors or in the evening, consider getting disposable cameras loaded with either ISO 400 or, much better, an ISO 800. 
Waterproofing
Are you having a beach wedding? Consider getting waterproof disposable cameras. Then, you won't have to worry about the water getting on the camera and ruining your wedding photos. Waterproof disposable cameras are also a great choice in rainy or snowy weather or in case guests get rowdy and spill champagne on the camera. 
Film
The majority of single-use cameras use a 35mm film, which can last for up to three years from the manufacturing date or longer when kept in a low-light, cool space. That said, there are other things to look for in terms of the film for your disposable camera for wedding use—the type of film and the number of exposures. 
The majority of disposable cameras can take 24 to 27 shots, though a few can provide up to 39 exposures. You'll also need to check if the disposable camera comes with the type of film you want—full color, black and white, or sepia. 
To sum it all up…
Having disposable cameras for weddings is arguably one of the most incredible ideas to make your wedding celebration more fun and interactive for your guests. Not to mention, you'll get plenty of fun and fantastic-looking wedding photos to commemorate the special occasion, whether you want the classic film photography look, a bit more retro vibe, or some cinematic feel. 
All disposable cameras we included on this list will give you wedding photos you can treasure forever. They are generally affordable and simple to use, with some you can also purchase in multi-packs, so you'll have enough for everyone to use.