With Christmas right around the corner, we wanted to share some amazing Christmas wedding ideas with all of you! Christmas weddings can be so beautiful and magical, with the holiday colors, stunning winter florals, and most importantly, the backdrop of a stunning snowfall. With it being one of the most wonderful times of the year, who can resist a Christmas wedding? With these fabulous Christmas wedding ideas, your wedding is sure to be one of the most beautiful your friends and families attend this holiday season!
We found these 25 breathtaking Christmas wedding ideas on Christmas Greetings that we could not resist showing you. Enjoy!
Incorporate your favorite Christmas movie, book, and song choices that can be used to decorate each of the tables at your wedding reception.
There is nothing that will brighten up your Christmas wedding more than traditional Christmas lights strung throughout the room. For bonus points, don't forget about a beautifully decorated Christmas tree too!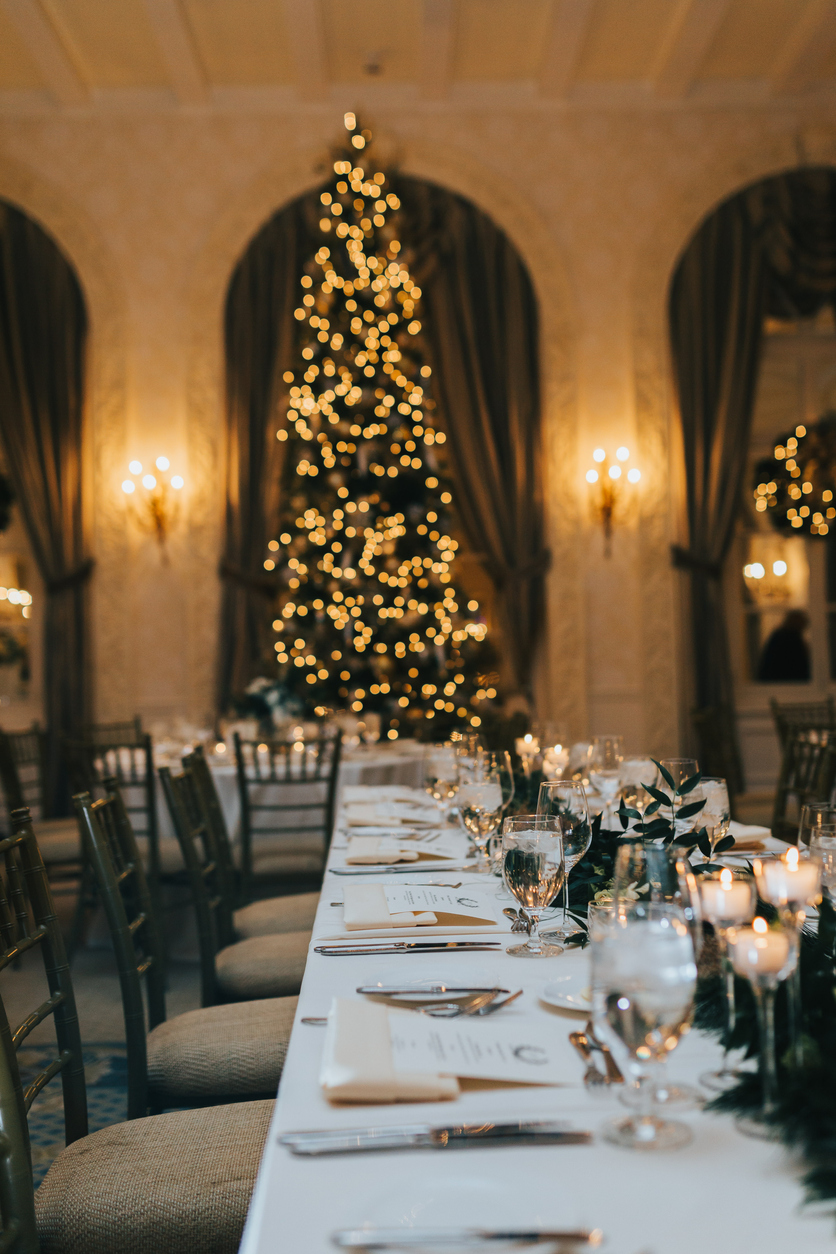 A wedding wishing tree is the perfect centerpiece option, as guests at every table can write down their wishes for the newlyweds and hang them on the tree. Additionally, to keep with your theme, add votive candles and white flowers to the surroundings of the wedding wishing trees.
Another fabulous centerpiece option is to include pinecones, ornament balls, and silver figurines. The combination adds a sense of dazzling class to each of your tables.
For some wedding ceremony decor, consider using poinsettia flowers and ornaments, along with lace and chiffon ribbons, for a romantic aisle setting.
While red napkins match your color scheme perfectly, consider upping your creativity and turn your regular napkins into stunning works of art to impress all of your reception attendees.
A beautiful and elegant cake option that will perfectly match the Christmas theme is a red and white wedding cake with fresh flowers.
A wedding cake with snowflakes and snowmen is sure to be a hit with everyone.
If you're opting for a traditional white wedding dress, adding a festive-colored belt or ribbon is a great idea, to add the perfect pop of color.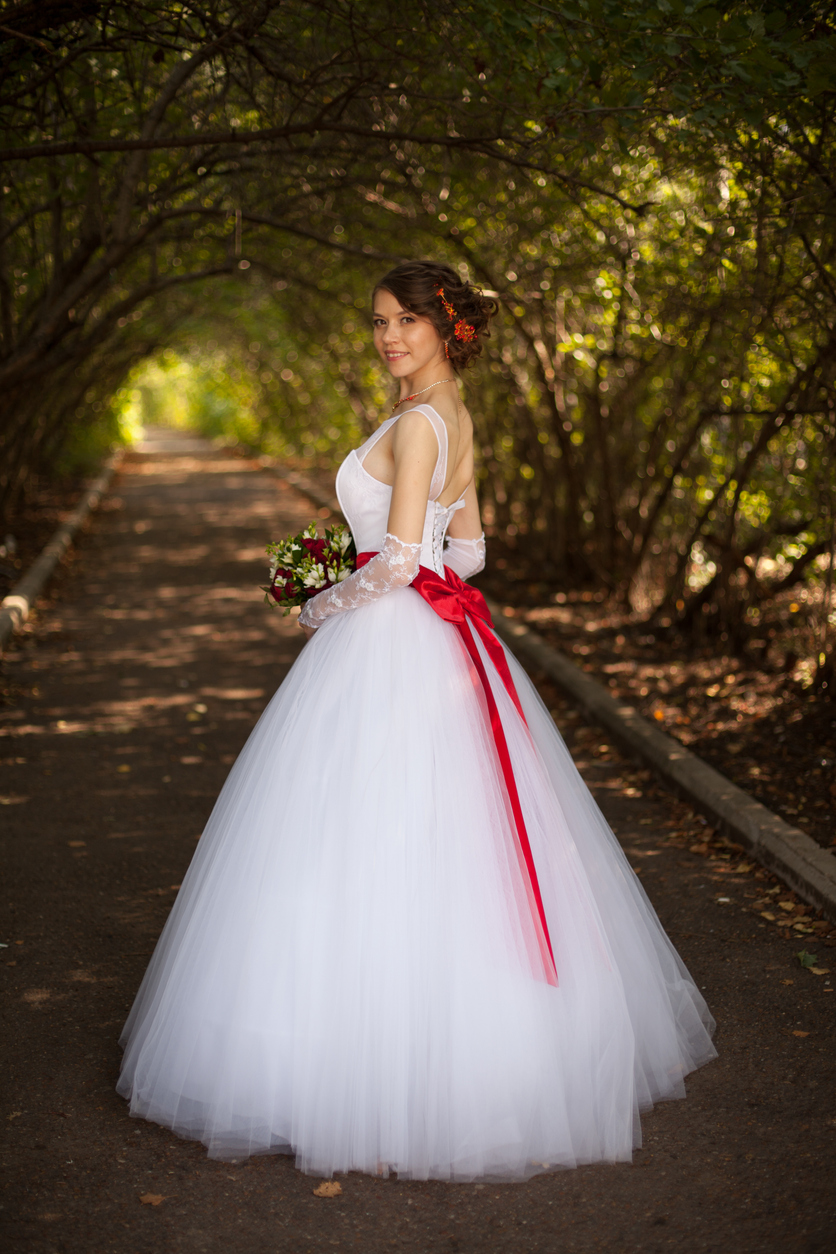 If you aren't afraid to veer away from the strictly traditional white wedding gown, consider a red and white gown similar to the one shown below.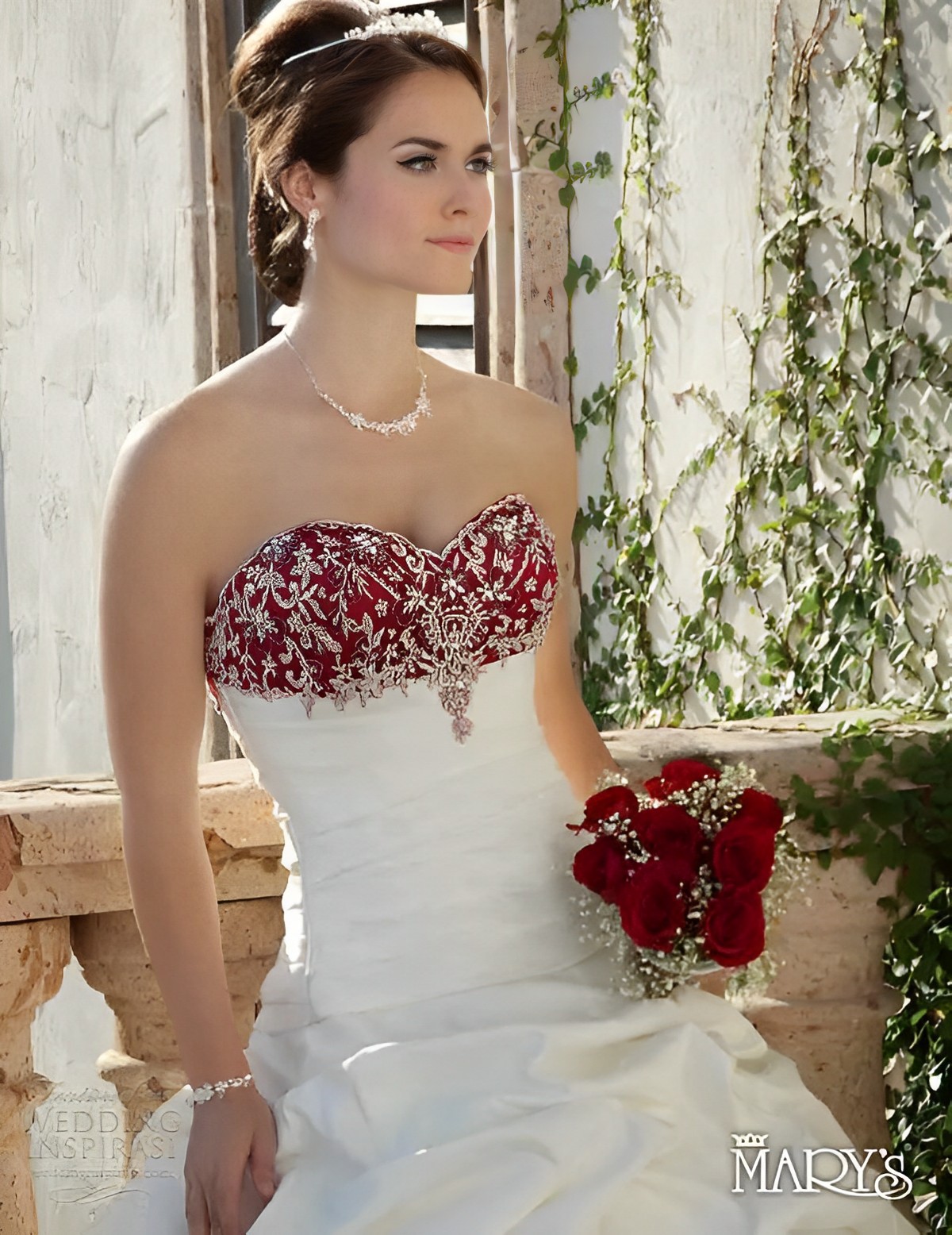 A staple for romantic weddings is the usage of roses, and your Christmas-themed wedding would most definitely benefit from a centerpiece featuring red roses, holly, and pine leaves. To finish off the perfect centerpiece, place everything in clear glass.
Candles are one of the perfect items for creating a stunningly romantic table centerpiece, and to fit your theme, tie a festive ribbon around them. Additionally, place the candles on an elegant silver tray and place small ornament balls on the tray to add a little something extra.
Send guests home with Christmas-themed wine bottle stoppers. Consider designs such as snowflakes or Christmas trees.
Guests will absolutely love receiving an angel Christmas ornament to decorate their tree at home with. The sweet design will remind your guests of your wedding day for years to come!
Create hot chocolate in a jar to send home with your family and friends. Such a fun and unique idea!
What lovely colors for a Christmas wedding… red and green color-coordinated reception tables.
You cannot forget about the most important part of any Christmas wedding: SNOW! Include leafless trees and soft lighting to be shined that gives your wedding ceremony and reception the perfect touch for a winter wonderland affair.
A fun way to save and preserve the wedding invitation from your or a friend's wedding is to neatly cut up the invitation and place it inside a clear Christmas ornament. It is a really creative and sweet idea that allows you to remember special moments for years to come.
If you're choosing to have a Christmas wedding, make them festive and include Christmas colors. Choose a design that incorporates the holiday into simple and elegant.
When having a Christmas wedding, you're going to want to opt for florals such as deep red and white roses, along with green leaves and boughs of holly for a full holiday experience.
If you're going for a complete Christmas look, include white and red poinsettias as your floral choice.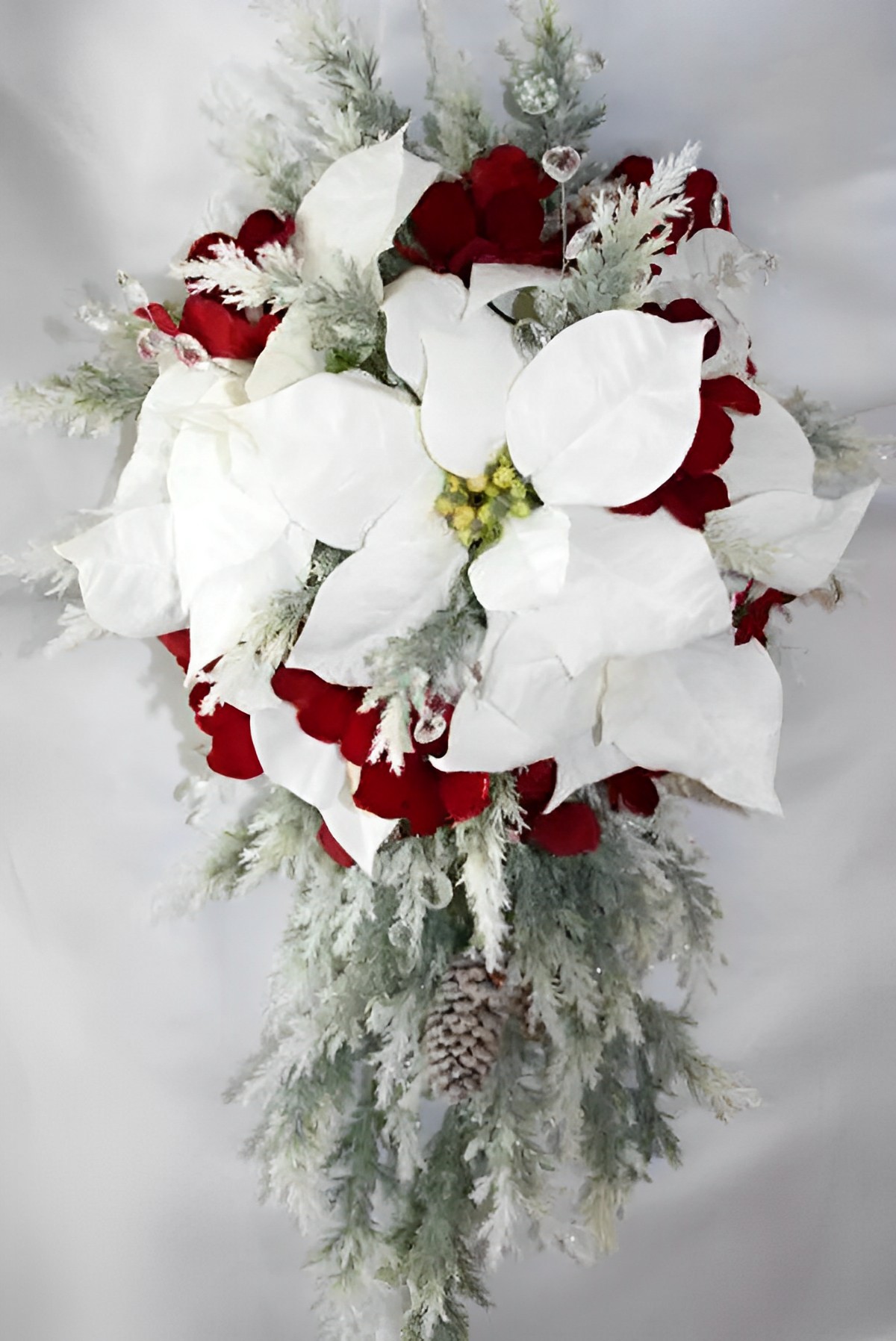 We hope you found these 25 breathtaking Christmas wedding ideas as beautiful and enjoyable as we did!
If you're recently engaged and having your engagement shoot this holiday season, don't miss out on these fun Christmas engagement photo ideas!
Planning a winter wedding can be difficult, especially when trying to be creative, so if you're having a winter wedding, be sure to take a look at these unique winter wedding ideas!