Wedding bouquet compliments shouldn't just compliment your attire but also something that suits your personality. Sometimes the bouquet itself is beautiful but somehow doesn't go with the theme or your dress. If you don't want something clichéd, the best option is DIY wedding bouquets. Creating your own bouquet will add special value to it and you can also customize it just the way you want within a limited budget.
Seasonal flowers, colorful flowers, or common flowers, you will get the liberty to take things into your own hands. If you think choosing fancy flowers will be costly, getting wholesale flowers can be cost-effective. Here are a few tips on DIY wedding bouquets to save you some major stress before your big day.
Tip 1: Gather Inspiration
It is completely fine if you're not the creative type, but you can always find something on the internet! Read up on blogs, and articles and browse through wedding websites. Collect pictures and videos from Pinterest, Facebook, YouTube, and other social networking sites. Tutorials can be very helpful if you are a newbie in crafting. See which colors complement each other and go with your wedding outfit and décor.
Make sure to research the size, shape, price, availability, color scheme, and most importantly longevity of the flowers. Mix and match these criteria and jot down the flowers you shortlisted.
Tip 2: Get the Supplies Beforehand
Don't forget to gather all the floral supplies beforehand! Imagine this: You started to work on your bouquet but the project is halted every five minutes because you can't find the scissors or tape. Is this a situation you really want to put yourself in? You can get each item separately from shops or order online from wholesale flower shops.
Few things that you will definitely need are-bucket, paper towels, ribbon, rubber band, green waxed floral tape, stem cutter, stem stripper, sharp knife, scissors, and straight pins. You will of course need flowers but order them one or two days before the wedding depending on their longevity. Ordering Wholesale flowers would be wiser and you can get them easily online. It is important to get fresh flowers otherwise; they will lose their color and appeal.
Tip 3: Choose Combination Theme-Wise
If you can't get the bouquets theme-wise, it will obviously reflect in the pictures and cinematography- and these are memories that will be captured forever. Therefore choose the color, fragrance, and look according to the theme. Pro-tip: it is always the wisest to go for the seasonal flowers!
For instance, for rustic country-themed weddings, you can go for grass, wild sweet peas, nigella pods, mini peonies, and mint. For beach weddings, you can experiment with white roses and blue and purple orchids. A combination of orange flowers can be great for summer weddings.
Tip 4: Learn to Improvise
If you are not a pro, no need to get too technical when making the bouquets. In case you and your partner need guidance, don't hesitate to take help from friends or family. Things can get fun and interesting when you do things together. Try to give a personal touch to the bouquets, something that would make the bouquets unique.
Improvisation is not only necessary in terms of color and style but also for an ideal timeline. Replace flowers of less longevity with hardy ones. Allocate more time to delicate details and less on easier tasks.
Try and make a realistic timeline and proper division of work while planning. For example- If you allocate two to three persons for making the bouquet, you will have to give them at least 45 to 60 minutes to complete it.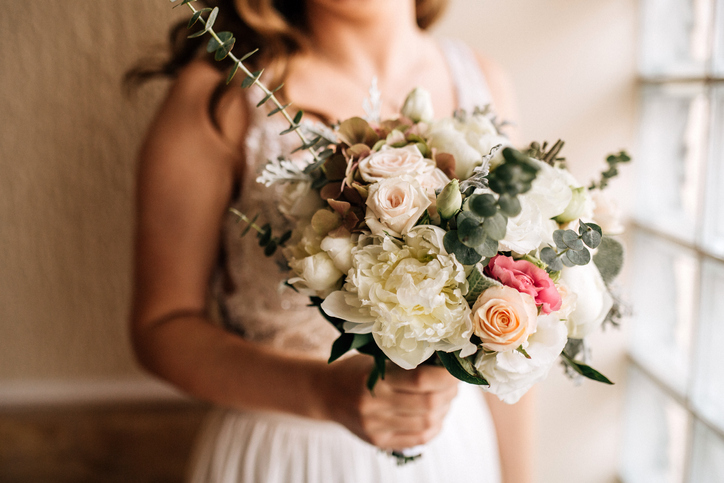 Tip 5: See Yourself with a Bouquet
You shouldn't only trial your outfit, giving a trial with your bouquet is just as important. See yourself in the mirror with the bouquet and also take pictures on your phone. You need to look good with the bouquet both on and off the camera. Making the bouquet is not the hard part rather styling it in accord with you and the décor is the tough part.
Try out making a few bouquets with cheaper flowers that look similar to your chosen ones to avoid the last-minute hassle. Don't get biased with certain blooms, consult with your partner and photographer before making the final call on the bouquets.
Follow these tips to get your perfect DIY wedding bouquets with minimal cost and hassle. For more bouquet wedding ideas, visit SnapKnot.com!