Wedding decor can be anything you dream of. If you want to have beach wedding decor, a rustic theme, or even decor to go along with your favorite holiday, the possibilities are endless! Today we wanted to showcase some gorgeous photos that show off some beautiful and unique wedding decoration ideas that we hope will help inspire you when planning your own special day.
This is such a beautiful spot for a bride and groom table at a wedding reception. It is a gorgeous photo spot with the rustic, red barn in the background, the white lights overhead, and the nicely decorated table. So perfect… we love this look!
Using signage at your wedding ceremony and reception is such a unique wedding decoration idea as there are really so many options with the type of sign you have. Perhaps you write out your own love story, like in the photo below. Maybe you use a chalkboard and write out your cocktail offerings at the reception.
Burlap is also something that can be used during a wedding in so many different ways. The photo below shows a flower made out of burlap in a mason jar for a centerpiece. You could also use burlap bags to give out wedding favors, to help cover tables, and for so much more!
Coming up with unique wedding decoration ideas for card holders, centerpieces and so much more really can add to the beauty of your wedding!
Create unique seating at your ceremony. If you are having an outdoor wedding, you could use hay barrels instead of regular seating. Or, you could have your chairs lined up differently rather than in straight rows like typical ceremony seating.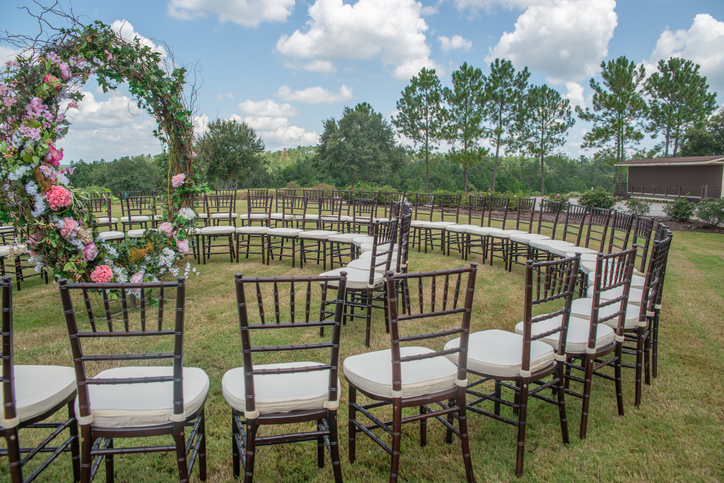 Do you just love the look of flowers? Cover the isle with flower petals.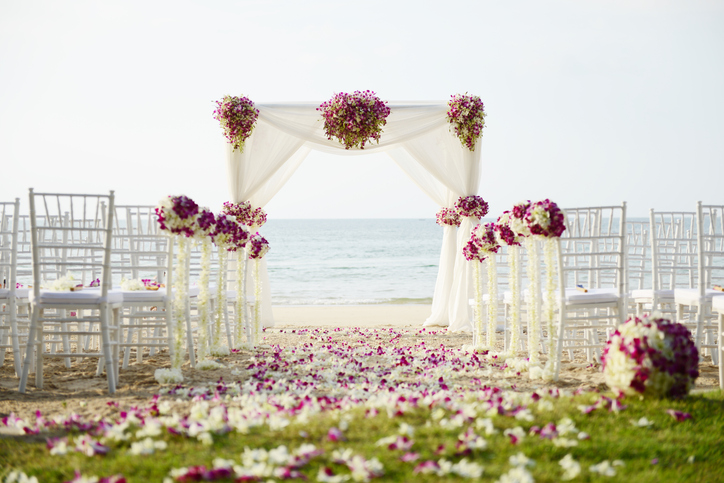 Here is another great use of signage during your wedding. You can make it fun and even a little goofy but still, keep with your wedding theme and colors!
For a unique table centerpiece, use a vintage book theme. You can include flowers, candles, or anything else that goes nicely with your specific wedding theme!
Hanging twinkling white lights is always a fun way to add a little something extra to your wedding reception… especially if you are outdoors!
You could even use hanging lanterns instead of a strand of lights! They really give off such a romantic feel to the event.
When you are choosing a venue for your wedding ceremony and reception, it is always important to look at what the venue offers as far as decor already. Do you love the colors in the carpet, or do they have a gorgeous room with a gigantic fireplace? Or, perhaps your venue is a museum where you can incorporate their various galleries and exhibits into your day, just like in this photo below.
Do you love these wedding decor ideas? Here is another blog post with a bunch of other wedding table decor ideas you will love!