Check out our baby bump photo ideas, inspiration, and tips to capture and preserve special moments into memories! 
Gone are the days when soon-to-be moms hide their baby bellies beneath thick layers of clothing. Becoming a mom is such a beautiful thing. And it's truly a miracle how a woman's body is capable of that you want to make a lasting memory out of the physical changes of welcoming a precious baby into the world. 
These days, it's all about celebrating pregnancies and capturing expectant moms in all their glowing, miraculous beauty. There are plenty of reasons to take photos of your baby bump, whether it's your first pregnancy or your last. To name a few:
It marks your journey to becoming a mom. You will end up with portraits that chronicle your own transition throughout the pregnancy. 
You might not miss nausea and back pain once the baby comes, but you might miss your baby bump.
It's a special time to celebrate and bond with your partner and the rest of the family. 
It will make you feel beautiful and powerful. Imagine what a woman's body is capable of!
If the above reasons swayed you enough to book a maternity photoshoot session, we've rounded up the best and most flattering baby bump photo ideas and tips for you below. 
12 Baby Bump Photo Ideas to Try Before Your Due Date
1. Heart Hands on the Bump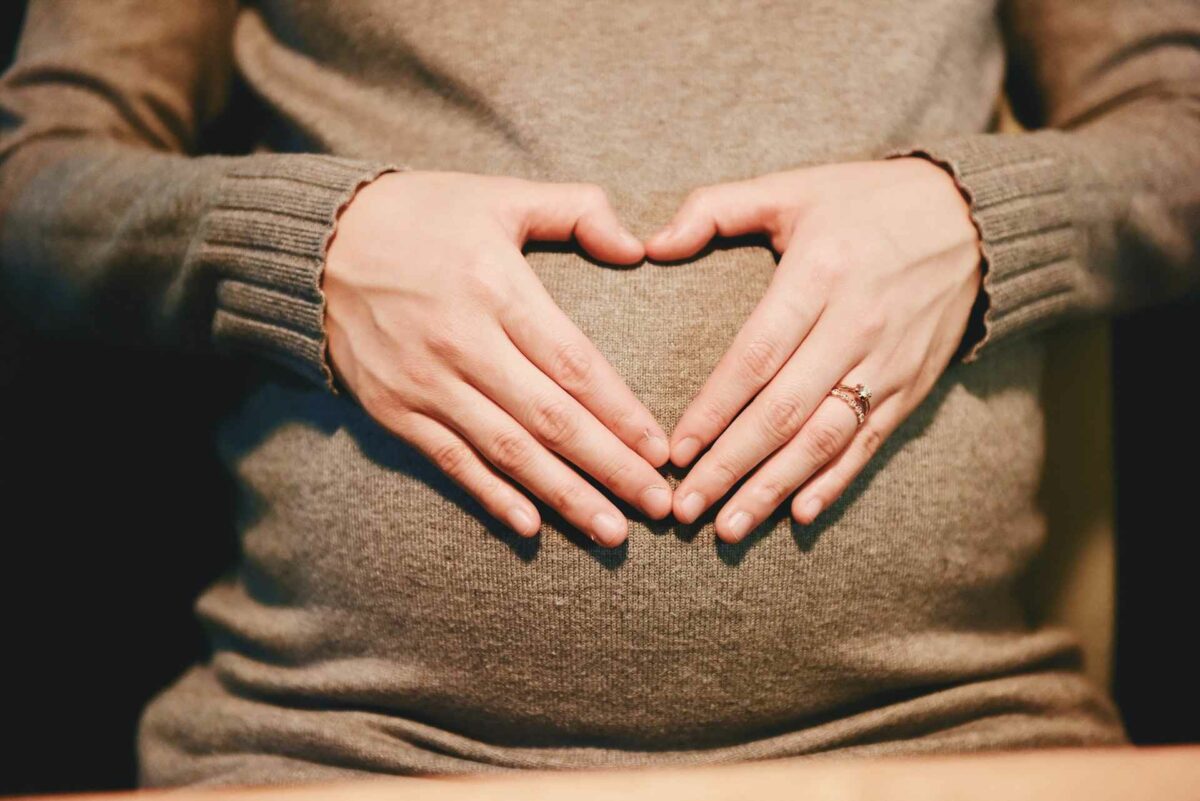 One of the common and must-do baby bump photo ideas is for the mother to cradle her baby bump with both hands while looking down at it. And she can form a heart around her belly with her fingers. This baby belly portrait depicts the mother's love and will look appealing. 
Another option is to get your partner involved in the photo session. Including the father is a great idea since it would be a good bonding time for the soon-to-be parents. He can embrace her from behind in this pose and mimic the mother's heart hands on the bump. 
2. How Big Is the Baby?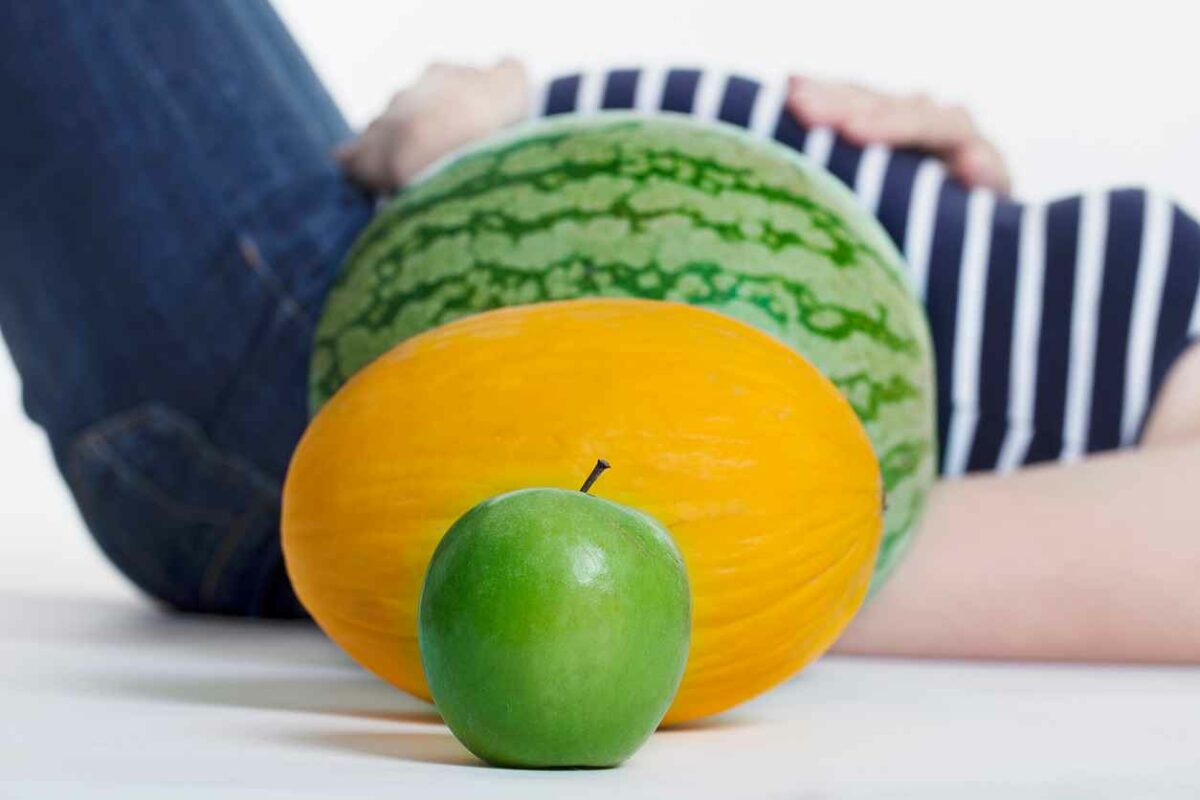 Bring on some produce props! This baby bump photo idea will create cute but funny images that mark growth and transition within the pregnancy. 
Highlight your baby's size this time of your pregnancy using a corresponding vegetable or fruit. And get a letter board to write more relevant details. 
3. Classic Silhouette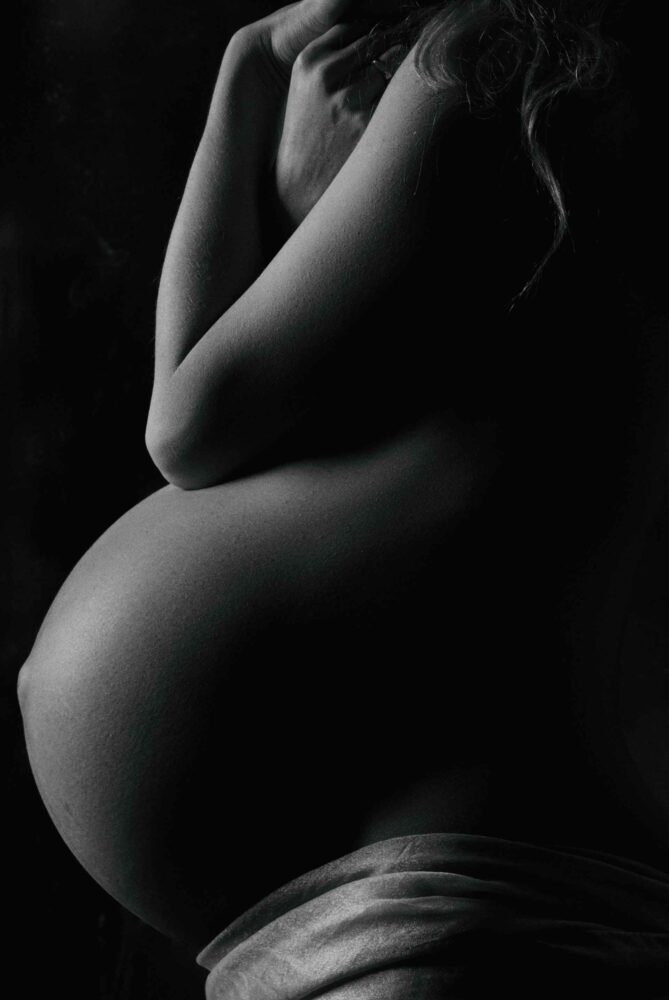 Capture the classic preggo shape for simple but high-impact baby bump photo ideas. You can capture it indoors by placing the expectant mom between the camera and the light source, perhaps a large glass window. 
But here's a savvy tip you can try too: take the photo outdoors with the glowing sunset as your backdrop for something magical. Another thing is to use this baby bump photo idea with her shadow. 
4. Big Bow on the Bump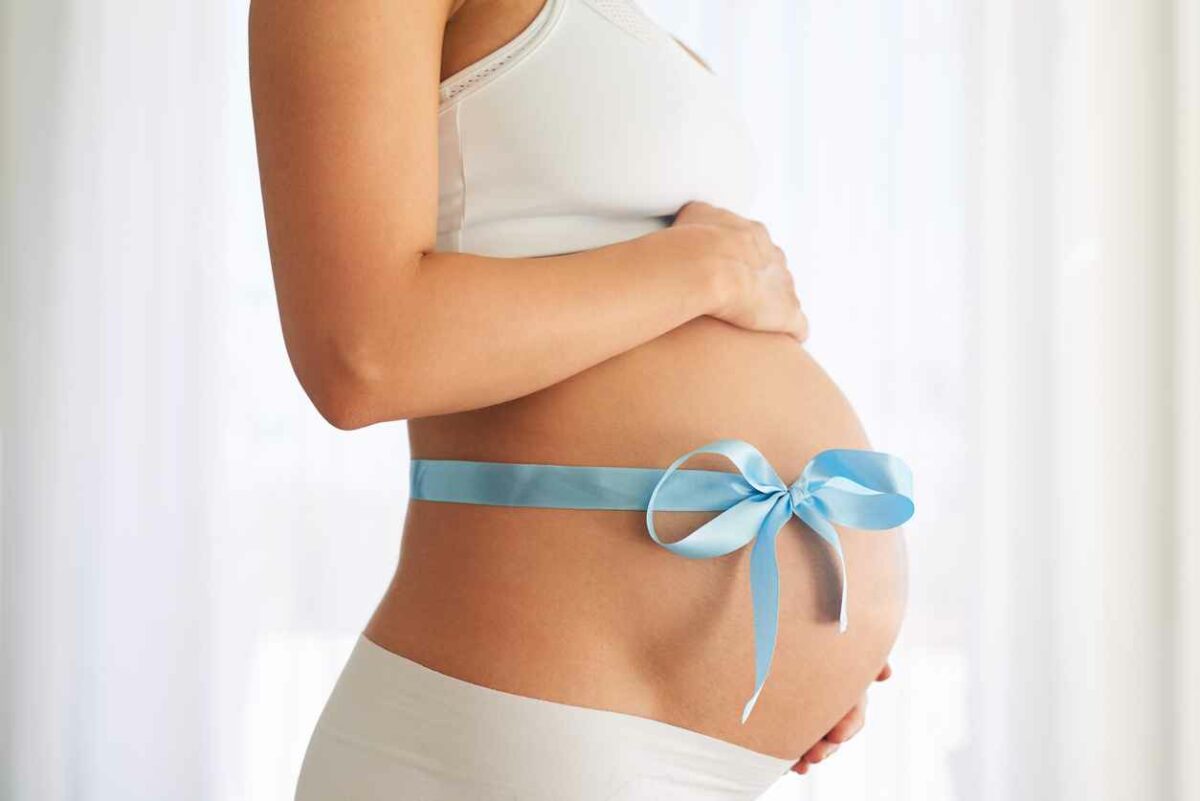 A baby is a wonderful gift, so why not treat it as such during your baby bump photo session? 
Wrap a huge ribbon on the bump to show an expectant mom expecting a wonderful gift—her future baby! Use a blue or pink ribbon, and you can make this shot a gender reveal too. 
5. With a Prop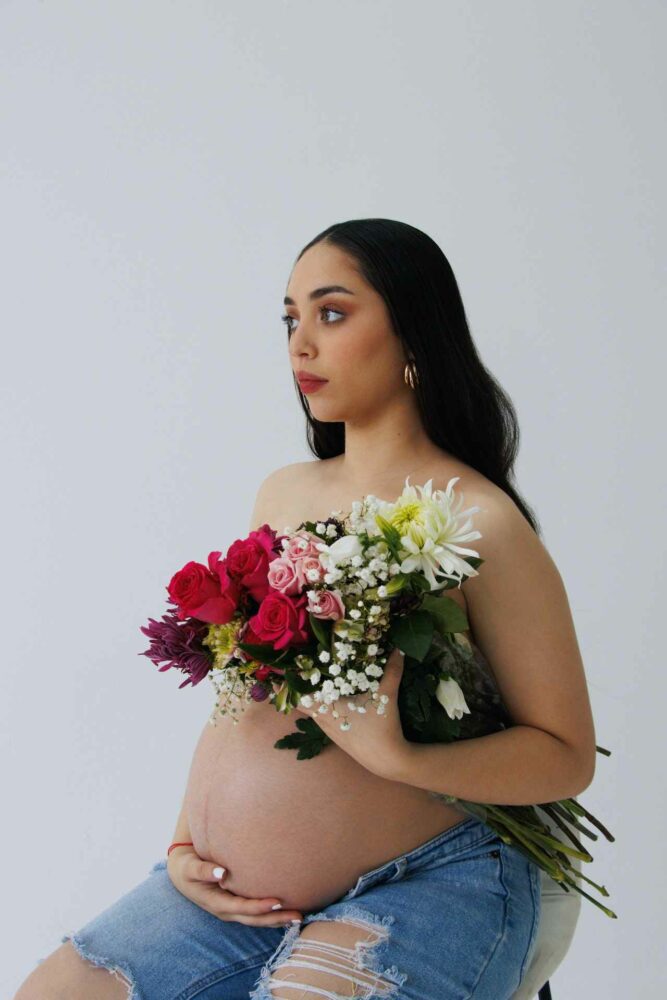 Props make baby bump photos look cuter and more interesting—little touches go a long way and all. And what makes cute shoot props? Baby paraphernalia! 
You probably have a few or plenty of them all ready in the new nursery while waiting for the baby to come. Think of a pair of cute baby shoes, a tiny bonnet, a teddy bear, or a onesie for the future baby. 
6. The Matching Bumps
There are two different ways to get it done: 
Tip #1: Get your partner in the picture for a couples photoshoot and compare bellies.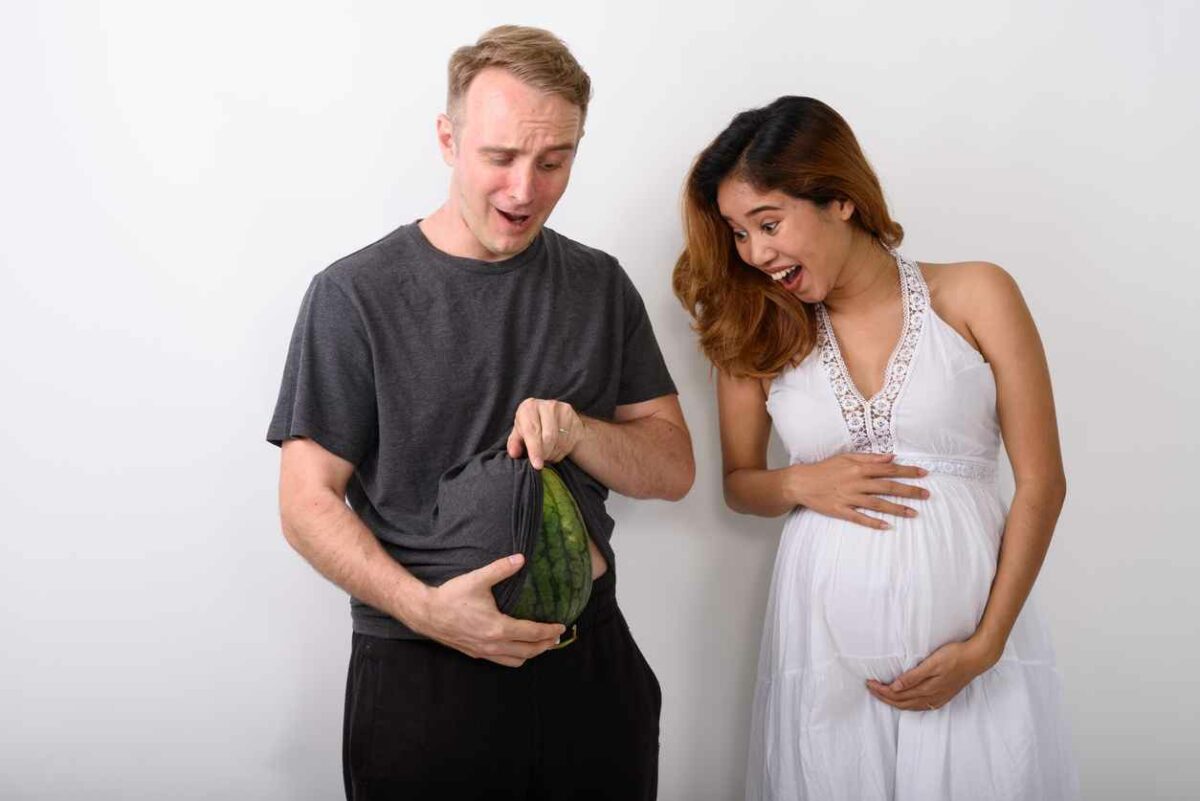 Rope your partner into this humorous and memorable baby bump photo session. Capture funny and joyful images comparing your growing belly with your significant other's inflated belly. You can include your other kids, too, and make it a family affair. 
Tip #2: Team up with other soon-to-be moms.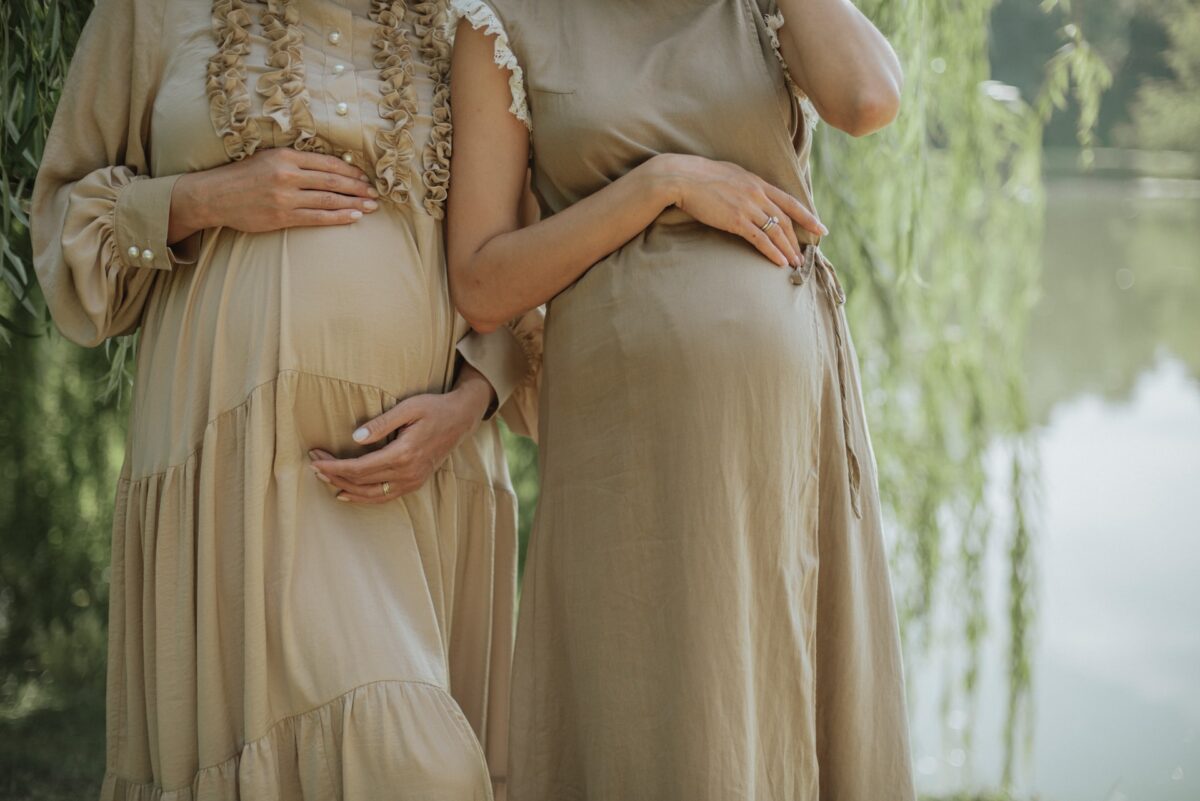 It's awesome to have a best friend. And if they happen to get pregnant the same time you do, why not take advantage of your matching bumps? Arrange a baby bump photo session together. Surely, your kids will become great friends too. 
7. Not a Baby Bump!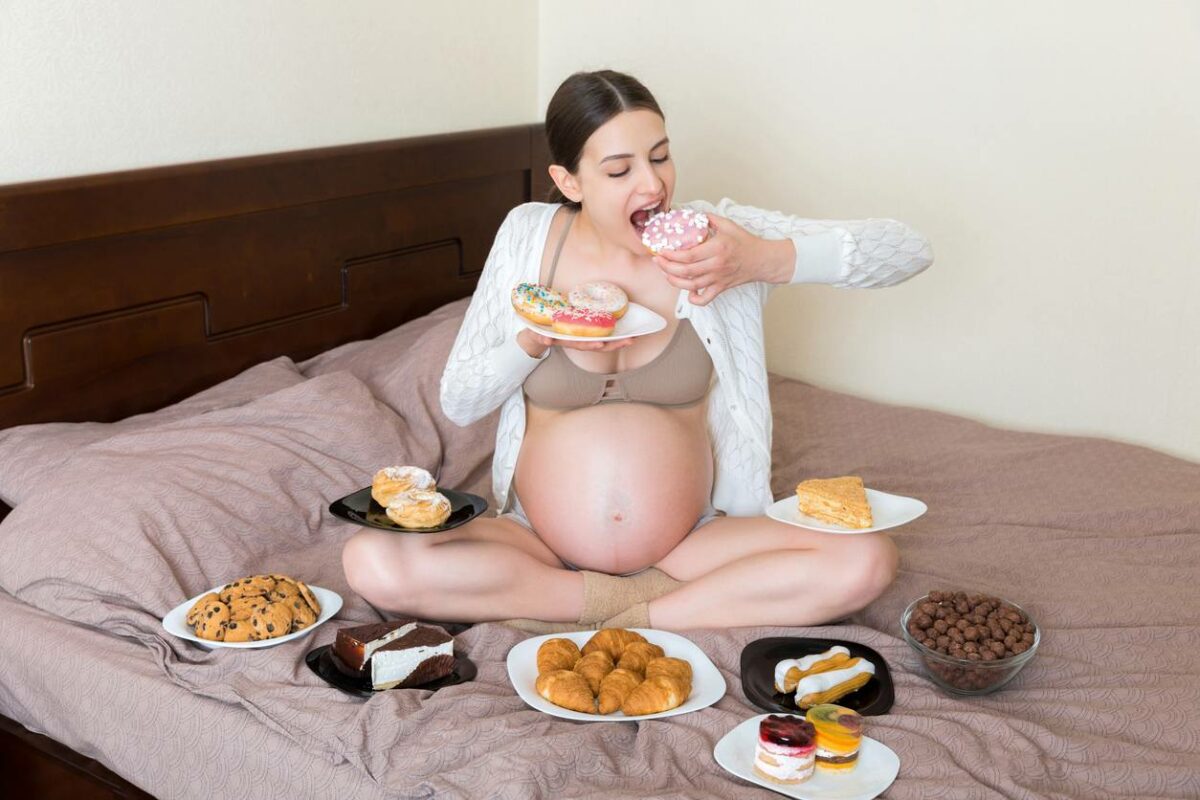 It's not a baby belly—it's a food belly! But in all honesty, this baby bump photo idea highlights one of the key aspects of the life of a pregnant woman—her cravings and endless passion for food. 
Recreate this idea to take funny shots and true-to-life baby bump photos. It could be a fun shoot that will have you looking back on your pregnancy journey with so much fondness. 
8. Sibling Love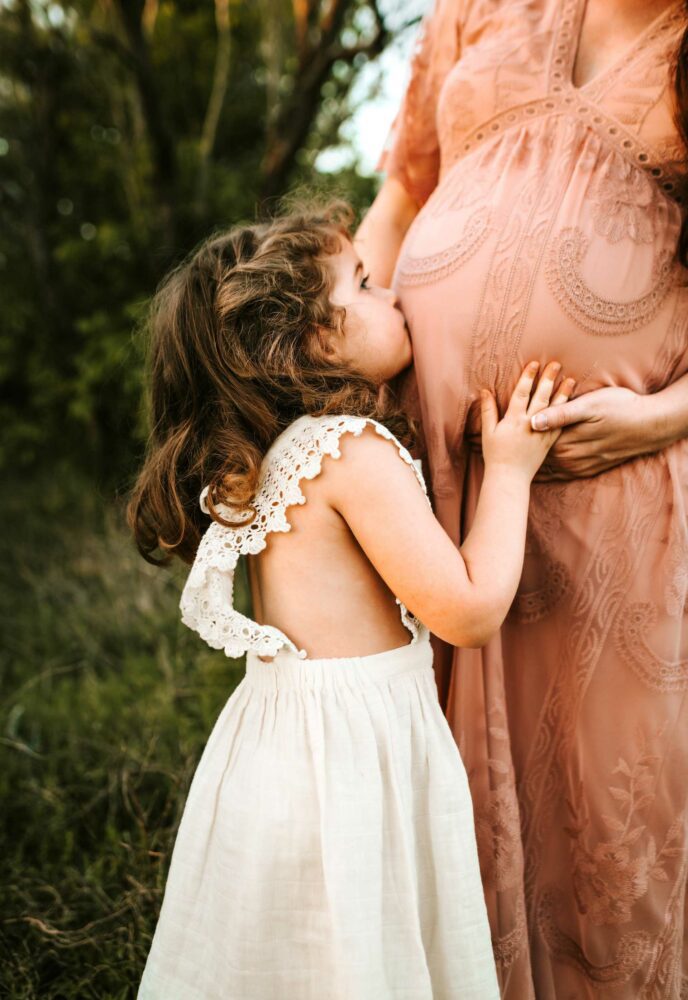 Although the mom-to-be is the star of this photoshoot—and the baby bump, of course—there's always room for siblings who are equally excited for their baby sis or bro. 
Including the soon-to-be big sister or big brother holding the baby bump or giving a sweet belly kiss adds a level of sentimentality and warmth to the photo. Posing a smaller sibling gently atop the baby bump is also a fun way to capture sibling bonds that will only become more meaningful throughout the years. 
9. The Countdown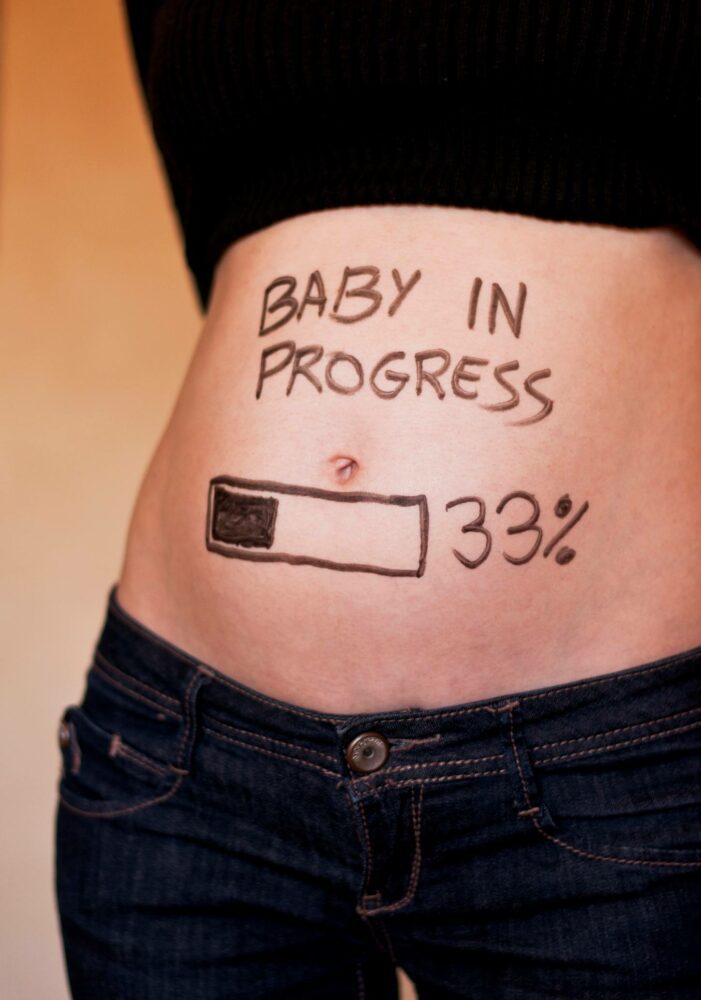 Can't wait for the baby to come? The countdown is on! Count the remaining days until your baby arrives in this world in this adorable and fun baby bump photo idea. Here are a few tips to try:
Use a letterboard. 
Mark a maternity countdown calendar with an "x."
Use milestone blocks.
Write on your baby bump with a sharpie.
Paint a loading concept on the belly. 
10. Painted On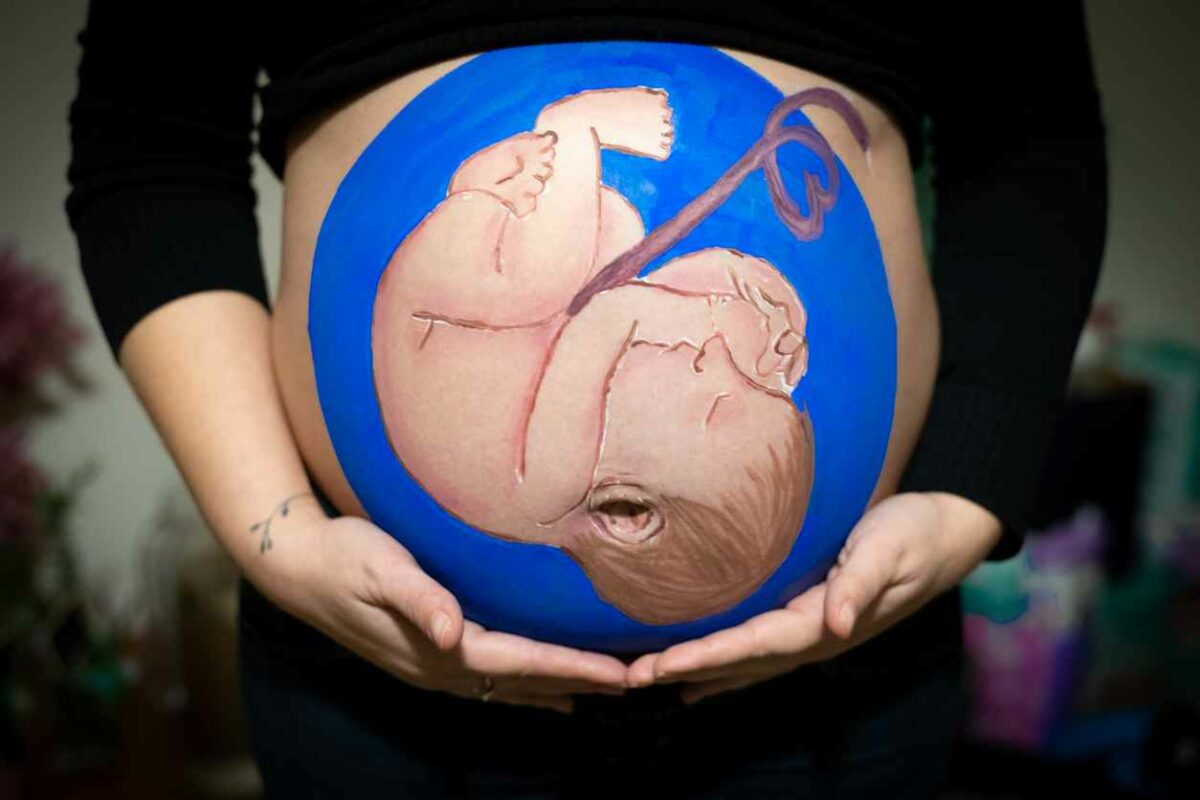 Have your belly painted on for the photoshoot. This baby bump photo idea can be sweet and romantic or humorous, depending on the plot or the painting. The painting can be anything you like—a caricature of a baby boy or girl, a copy of the sonogram, or your favorite cartoon image. The final shot all depends on your imagination and the skills of the painter. No matter what you decide on, a painted baby bump will always look cute in photos.
Just remember: the painting session can last a couple of hours, so be sure to account for that when scheduling your photo session. 
11. It's a Girl! Or Boy
Here's another baby bump photo idea, plus a gender reveal in one picture. Capture your baby bump in a flattering angle—sideways while standing up, lying down on your back, or perched on the sofa. And surprise everyone with your coming baby's gender by using letter blocks. 
12. The Nude Baby Bump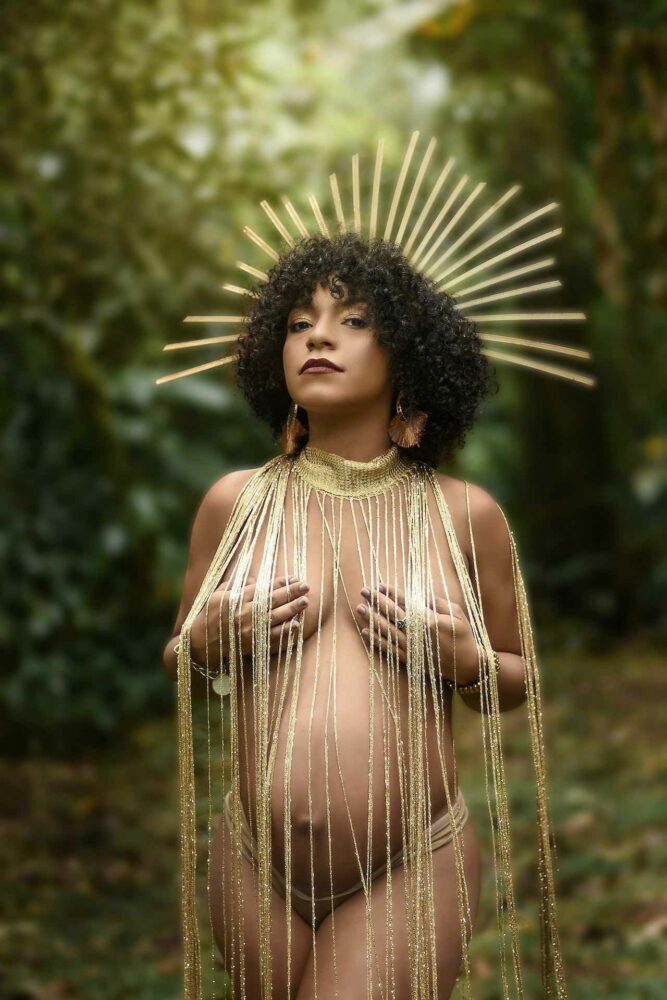 This is one of the boldest baby bump photo ideas we have on this list—not for the faint of heart. But it's a fantastic idea that focuses the shot on the main hero of this photo session, the belly! 
The naked body and rounded tummy capture the healthy body of a pregnant woman and her glow which will result in a unique and extravagant portrait. 
Try This Weekly Baby Bump Photo Idea! 
We've given you plenty of great baby bump photo ideas above. But who said you have to limit yourself to only one single photo session? 
Capture the miracle of your pregnancy by taking weekly or monthly baby bump photos!

These weekly bump pictures are the most adorable way to capture even the slightest changes in your pregnancy from start to finish. Seeing the series of portraits throughout the pregnancy will surely give you a new appreciation of the journey and your body. 
Make this baby bump photo series as simple or elaborate as you want. But we have a few awesome tips to make this weekly bump photo idea the best below.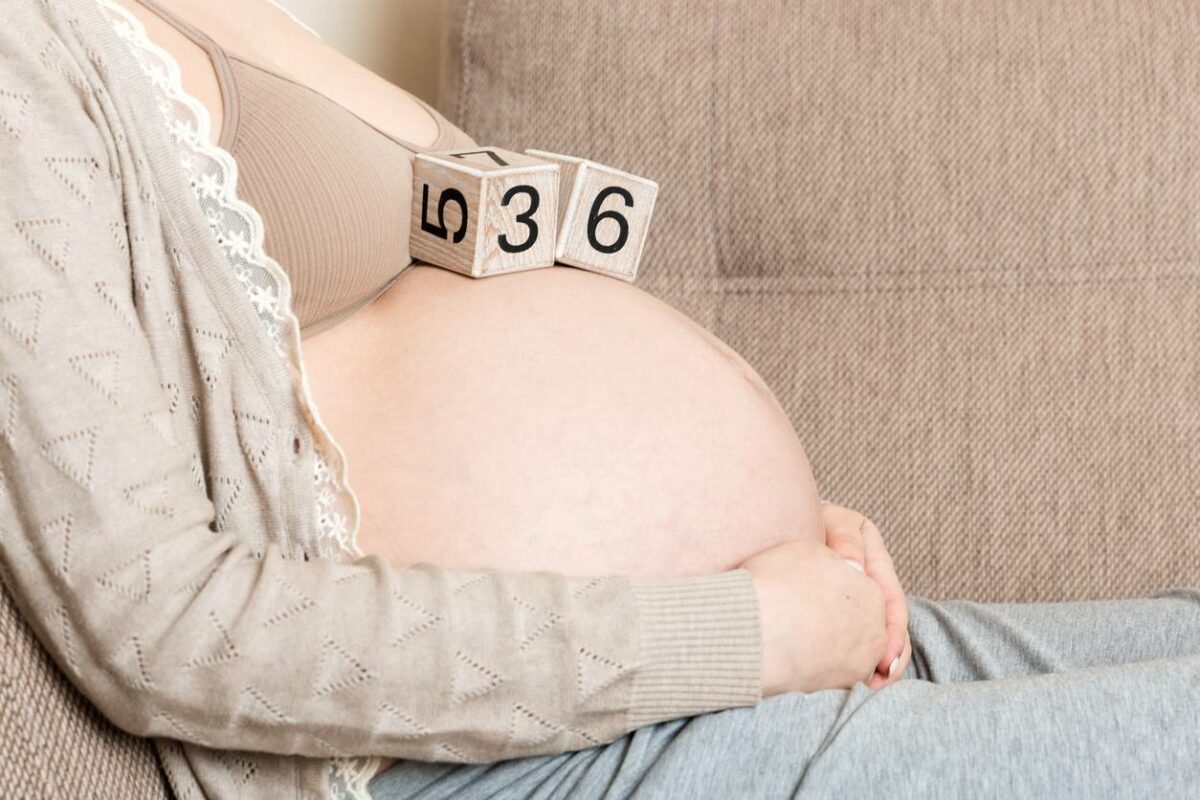 Mark the occasion. You can document the week you're in using a chalkboard or with a baby-size comparison. 
Wear form-fitting clothes. Figure-hugging outfits will emphasize your baby bump better, especially as it grows through the weeks. You'll also want to pick an outfit that will stand out from the background. And a blank background works best, so there isn't anything distracting away from the bump.
Keep your outfit uniform. Wearing the same outfit for all your photos will make the changes in your body and belly bump more visible. Keeping the background and your pose consistent will also emphasize your growing bump more. 
Tips for the Best Ways to Take Photos of Your Baby Bump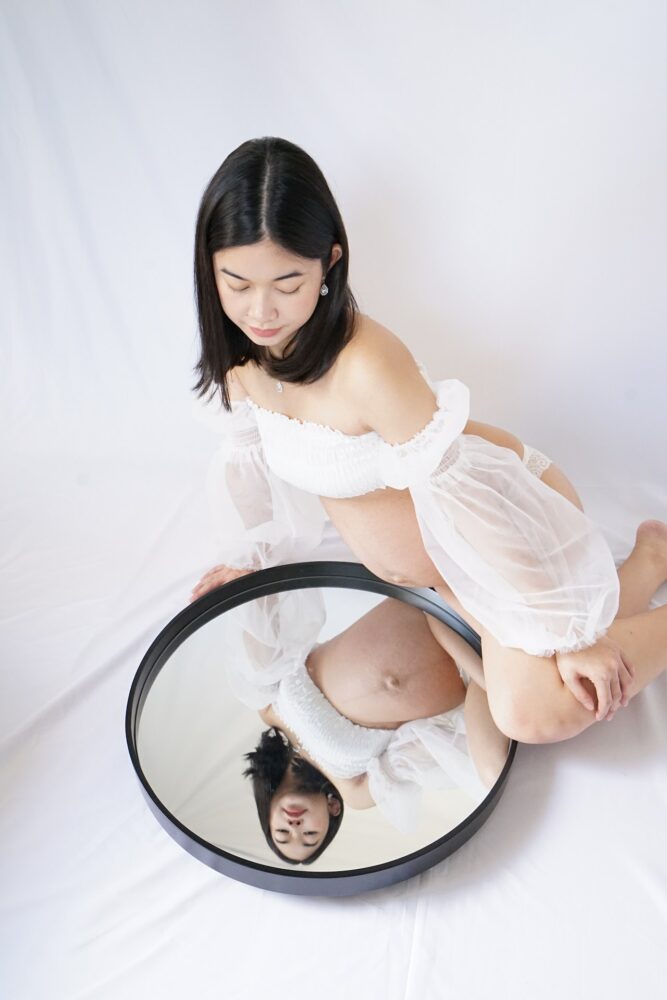 These helpful tips will work with the baby bump photo ideas we have above. 
Choose bump-flattering outfits.
Wear comfortable but flattering clothes to emphasize the star of the photoshoot—the baby bump! A dress with an empire waistline is a great option because it will have the perfect bust and flow to showcase the belly. Figure-hugging outfits like a bodycon dress are also fantastic, but make sure it's not too tight. Another option is peekaboo outfits, which can be a button-down shirt with the buttons left open on the bottom half or a maxi dress that parts in the front to flash a bit of the bump. 
Shoot baby bumps from the side. 
A side-view of the bump is the most flattering. Avoid shooting the belly straight on as much as possible, as it can often make the mother look big instead of pregnant. But if you have to shoot from the front, hold the belly with both hands to help emphasize the shape of the baby bump. 
Another option is to shoot at a 45-degree angle from the camera to better show the shape and size of the bump. 
Encourage movement in photos. 
Although you're mainly photographing the bump, you don't want the rest of your body to look stiff in the photos. Don't just stand in a single spot and your hands stiffly on the side. Create an appearance of movement by encouraging bent arms or legs in poses. Get creative with hand and leg placements or angles. Smile, laugh, keep moving, and make tender touches and sweet interactions when posing with couples or family members. 
There you have it!
We hope these baby bump photo ideas and tips are helpful in giving you precious lifelong memories of your pregnancy journey. 
Photographing your baby bump is a fantastic way to commemorate this special time in your life as a soon-to-be mom. Whether you are currently in your first trimester or well into your third, these portraits will last you a lifetime. So, are you ready to take your baby bump photos?