Want to capture romance with cute photography poses that look natural and genuine? Say goodbye to painfully awkward and too-staged couple poses ever. We've got ideas and tips below for an unforgettable and fun photoshoot that will bring out your charm as a couple in front of the camera!
One of the few things to make sure photos turn out perfectly and truly one of a kind—especially for couples photography—is getting the right poses. But nailing cute poses for couples is no easy task.
Before you jump into your cute photography session, here are a few simple things you should know about that will help make your photography session less awkward and more natural. For starters:
Use props. Adding props makes for pretty and playful photos perfectly match the cute photography theme. More on cute photography poses with props below.
Candid moments. It's easier said than done. But acting natural and creating a laid-back feeling while doing your poses will make the best photos.
PDA. Showing some public displays of affection in your photography poses is a recipe for portraits that will get everyone saying, "aww, so cute!"
We understand that posing for photos can be tricky or awkward, no matter how long you've been together with your partner. Hence, we created this guide to give you plenty of ideas and inspiration to take cute photos together with your significant other.
Whether it's for an engagement photoshoot, anniversary portrait, or just some cute snaps for the gram, or whether you want to capture cute photos sitting down, standing, or with awesome props, below are 30 cute photography poses you can try! 
Cute Seated Photography Poses for Couples
A few different cute photography poses while seated will keep things interesting. Not to mention, it's easy to get comfortable with your partner when taking photos while you're sitting down, and it creates closeness and connection between couples that captures well in close-up portraits.
Sitting-down poses are also great for positioning couples with a significant height difference in photos.
Where to Shoot? The cute photography poses below are perfect for locations with a bench, steps, or grass where couples can sit together.
Pinching the cheeks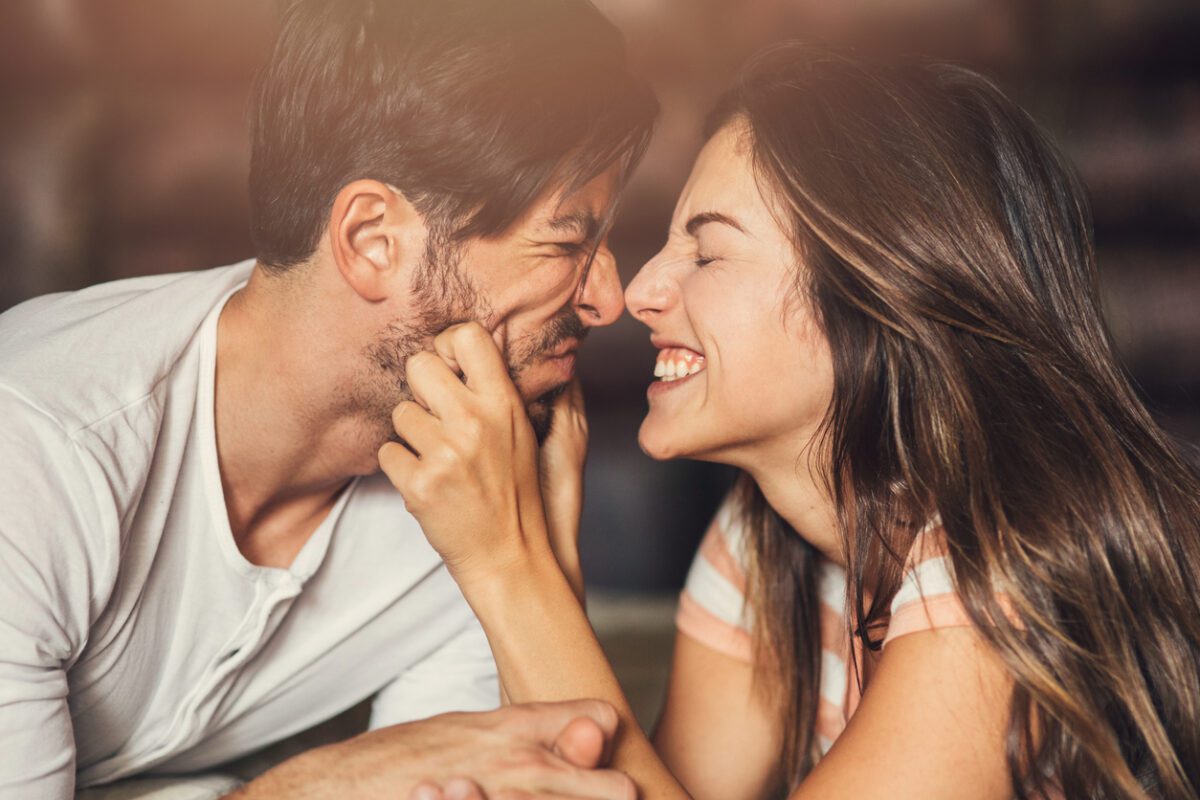 Pinching each other's cheeks is an adorable and endearing way to show your affection to each other. Plus, giving each other's cheeks a light squeeze will surely light up both of your faces and add to the cuteness of your photo.
Snuggling up close
Snuggling with your partner simply happens without any encouragement. It's natural and won't look staged so long as you're comfortable in front of the camera. There may be moments in your photoshoot when one lies their head on the other's shoulder. Take these precious moments to snap cute photographs.
Cozy in the arms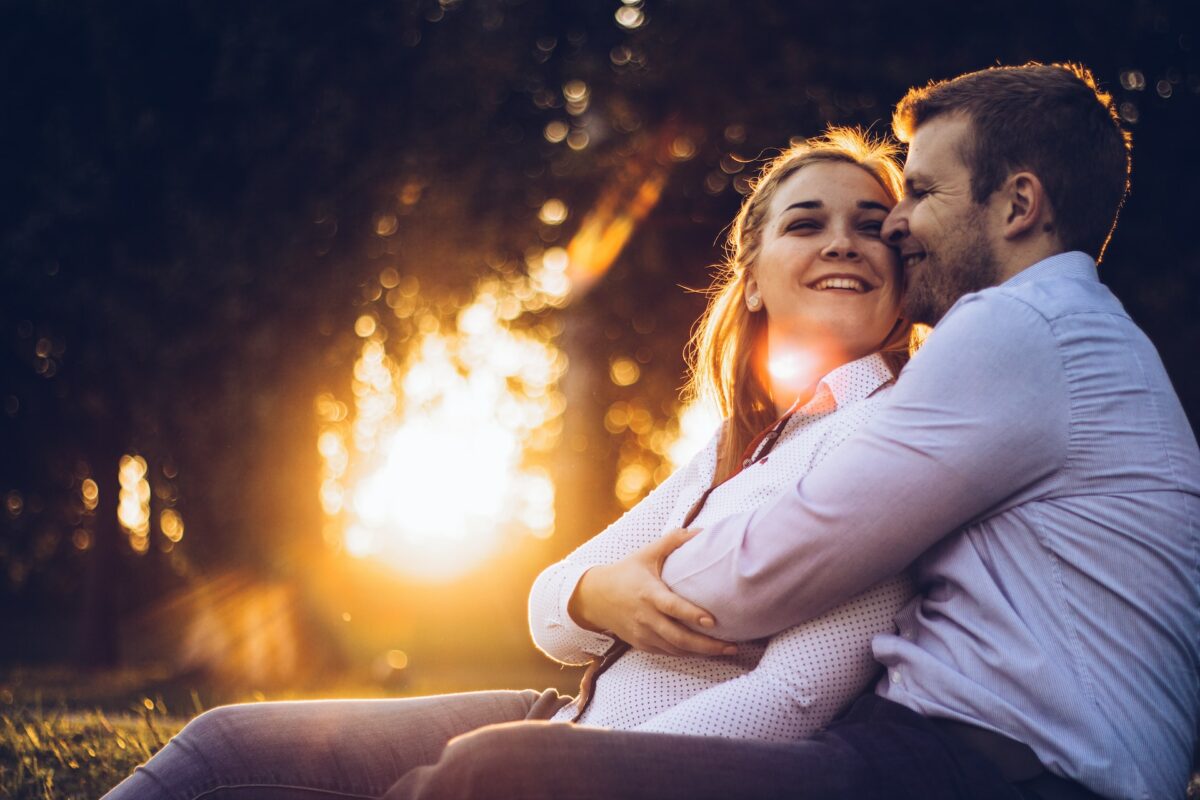 Paint a dreamy picture that makes a cute photo with this pose. It's quite a simple pose that won't even look like a pose in photos—get cozy in each other's arms. And don't forget to share genuine smiles with each other or the camera.
Sitting on the lap
Simple but cute. The pose is easy to do and fits virtually every situation. Emulate this pose by sitting on a bench or chair or the steps and have your partner sit on your lap. Don't be afraid to show more connection and sweetness by wrapping your arms around the other's shoulder or hip.
Cheek to cheek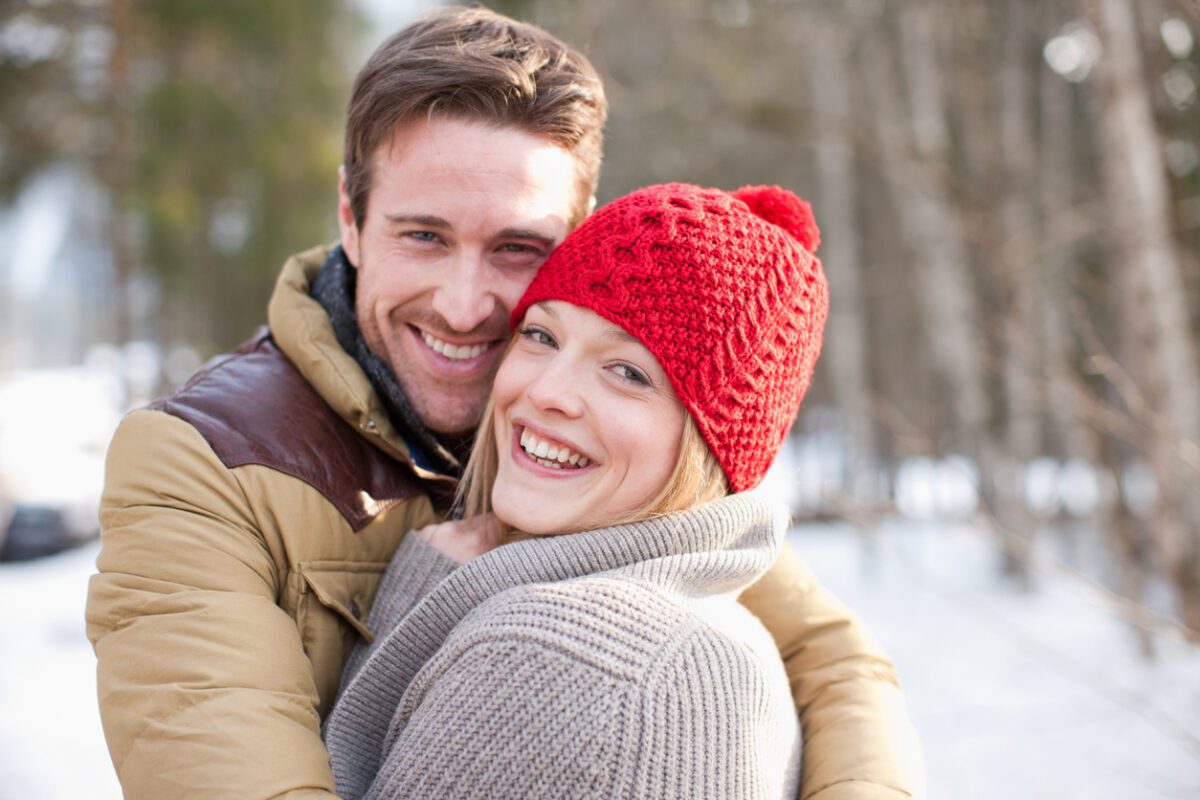 Simple yet cute. It's another charming pose you can try with your partner. Place your cheeks together and unleash your best smile on the camera. Better yet, bring out a little silliness to this pose by making funny faces while posing cheek-to-cheek with your significant other.
Kiss on the cheek
A sweet kiss on your partner's cheek is a cute way to show some affection. Not only that, but a simple kiss-on-the-cheek pose will photograph very well too.
Lying on the lap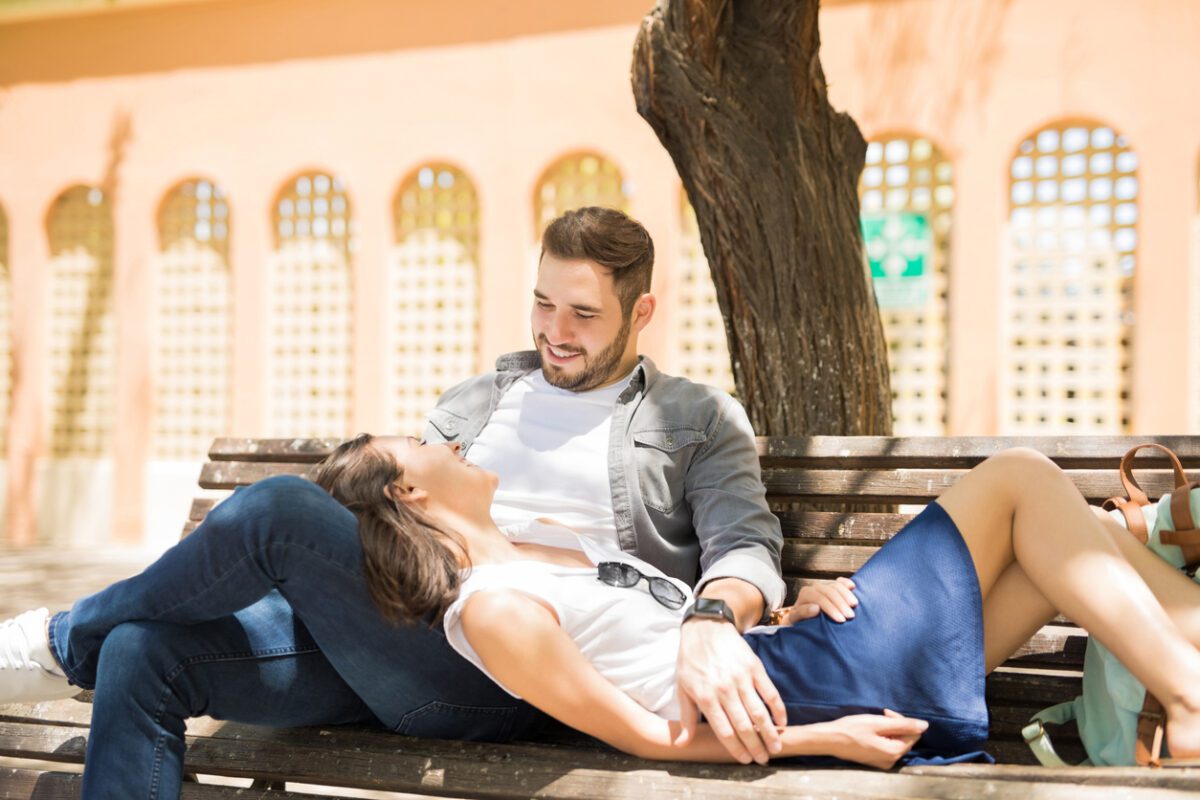 You can do the pose sitting on a couch or on the ground. Have the loveliest seat wherever you choose for your photo shoot, and have your significant other relax their head on your lap.
And for a cuter photography pose—gaze at each other's eyes, share a laugh, and have your hand caress their face or hair. In other words, enjoy while doing this pose and sneak in some little PDA.
Lying on the stomach
It is just another version of the pose above. This time, you're both lying down on the ground, on a bed at home, or on the couch. You choose.
Cute Standing Photography Poses for Couples
Posing for photos while standing up gives you variety to capture some cute pictures, just with a few tweaks here and there. For example, you can change how you stand or your position—side by side, facing each other, one behind the other. You can also change how you hold on to each other, your distance, and your angle. Plus, standing poses give you plenty of options to add action and movement to your photos—playing around, dancing, or lifting the other.
Where to Shoot? Another great thing about cute photography poses while standing is it's suitable for any location. That said, we recommend taking advantage of the great outdoors when shooting standing poses for couples—the garden, park, the beach, or the street you frequent together.
Balancing on a log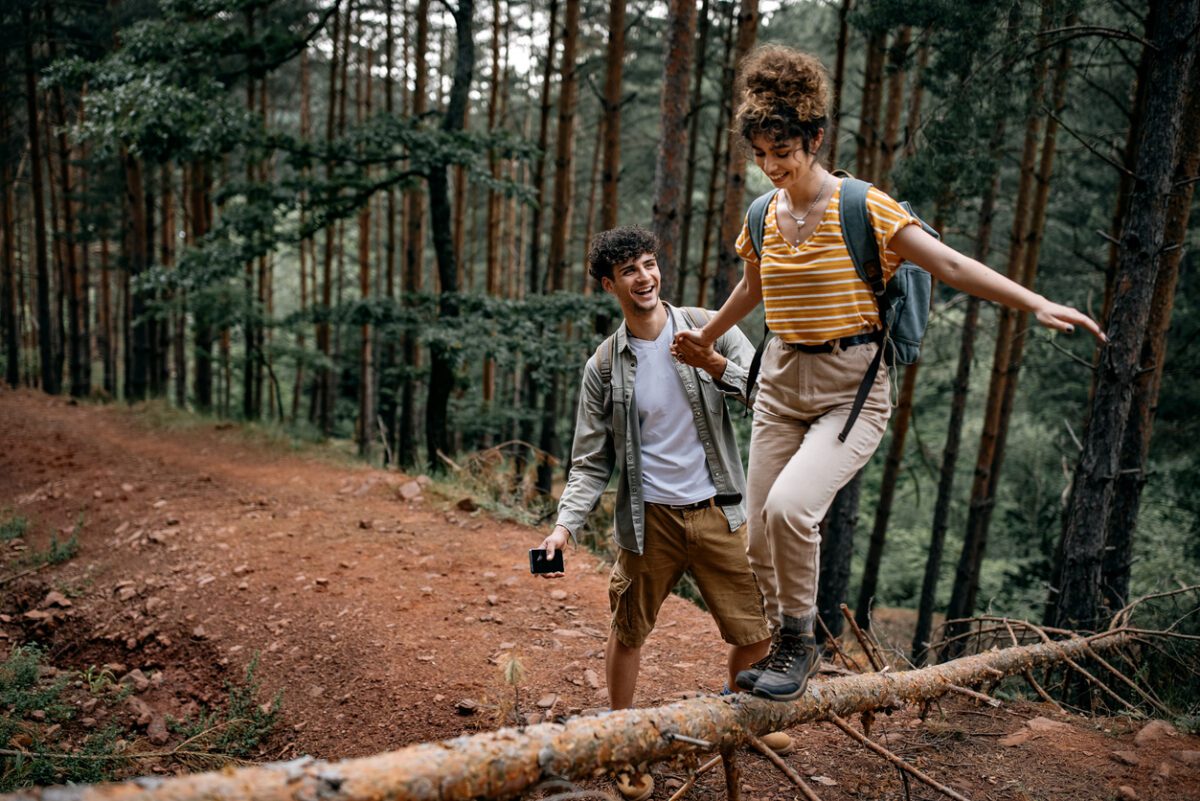 Do you love going for a walk together? Maybe you love to hike. The pose is a perfect way to take cute full-body shots while you enjoy your favorite activity. It's a bit playful too, which is always awesome if you're going for a cute couple's photo.
Of course, you don't really have to balance on a log. You can also stand or even sit on anything that looks like one.
Arm-in-arm while walking
Couples walking arm in arm while cheerfully smiling at each other is always swoon-worthy. So, how about recreating this pose in a beautiful flower field or the beach? One more tip—this pose is fantastic when captured at sunset or sunrise for extra drama.
Cute lifting couple pose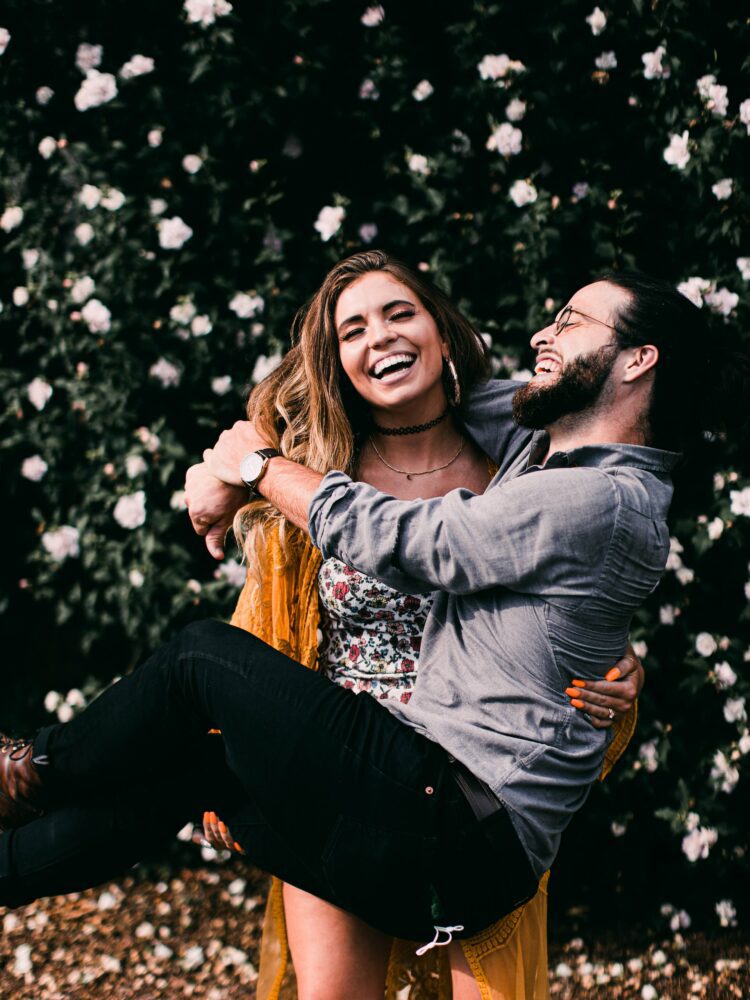 Lifting poses are a classic choice for couples. And there are various ways to do it. Try sitting on the other person's shoulders—fun and cute because it will inevitably make you laugh. Or try a piggyback ride. Or a movie-worthy lift-before-a-kiss pose.
The Twirl Pose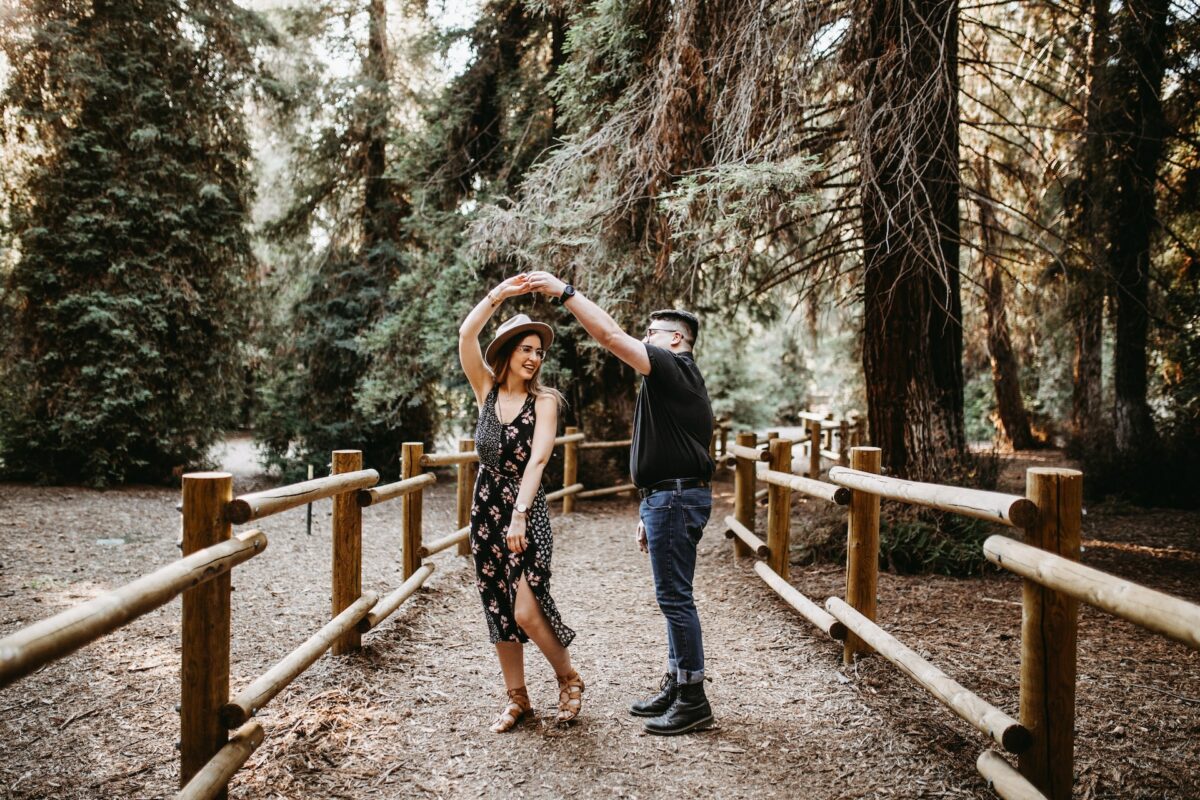 The pose will bring cuteness and lighthearted fun to your photography session. It is one of the cute poses that can add an active mood and movement to your photos. An airy dress for her will be a perfect photoshoot outfit for this pose.
Turning around couple pose
This type of cute photography pose is a combination of two poses mentioned above—a lifting and twirl pose in one!
Man, lift your significant other and turn around. And remember to have some fun. Look at each other's eyes, share a laugh, or even go for that kiss.
Cute Photography Poses with Props
Don't forget to use props for your photoshoot! Adding specific props to your photography poses can add a cute and fun element to your pictures. You have a heap of prop ideas for your cute photography poses to choose from below.
Balloons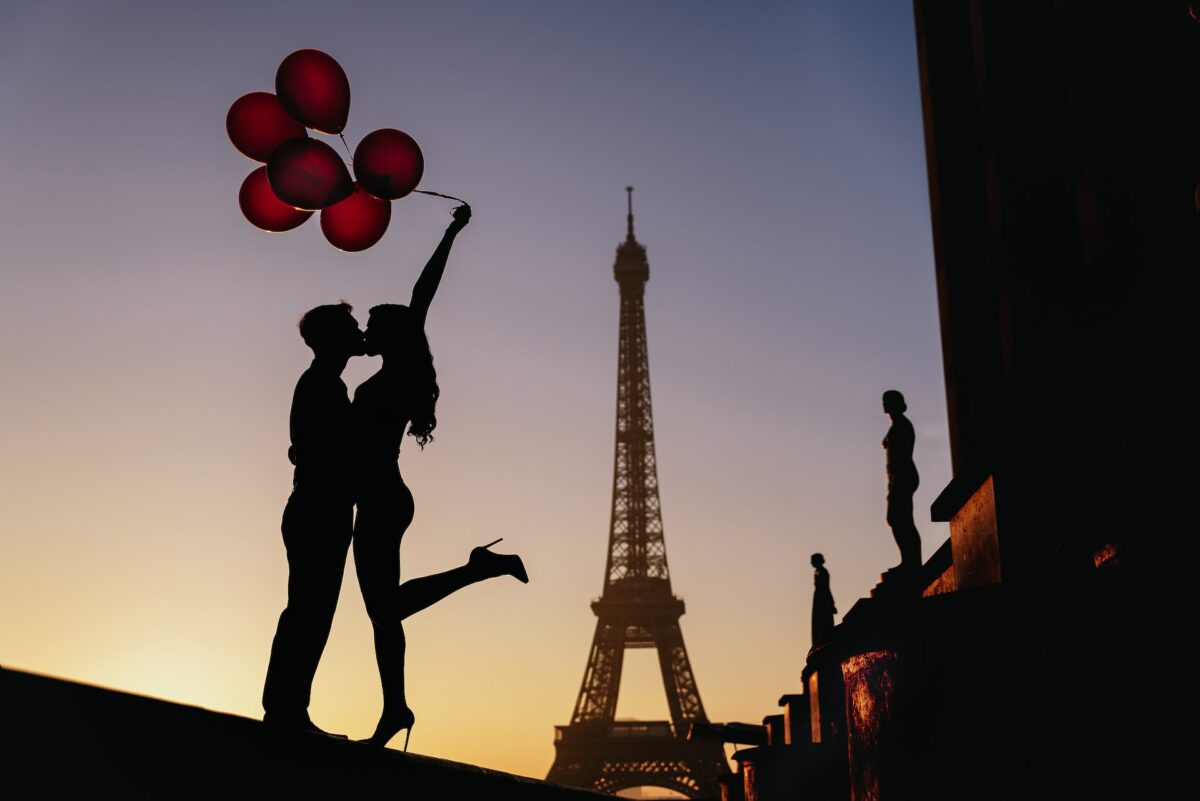 Balloons are essential props that add a bit of whimsy and playfulness to cute photography poses. And incorporating balloons into your pose can be done however you like—a simple bouquet of colorful balloons, red heart balloons floating all over the place, or even more elaborate balloon installations.
Go with a classic pose of holding balloons above your heads while you get close to each other, or use it as a stationary prop, like a balloon arch. Posing with balloons is simply endless.
Bike
If you're an outdoor date kind of couple, a bicycle will make a perfect prop to incorporate into your cute photography pose. It could be cycling in the park at sunset or adding a rustic style to your photo by posing next to a vintage bicycle.
Picnic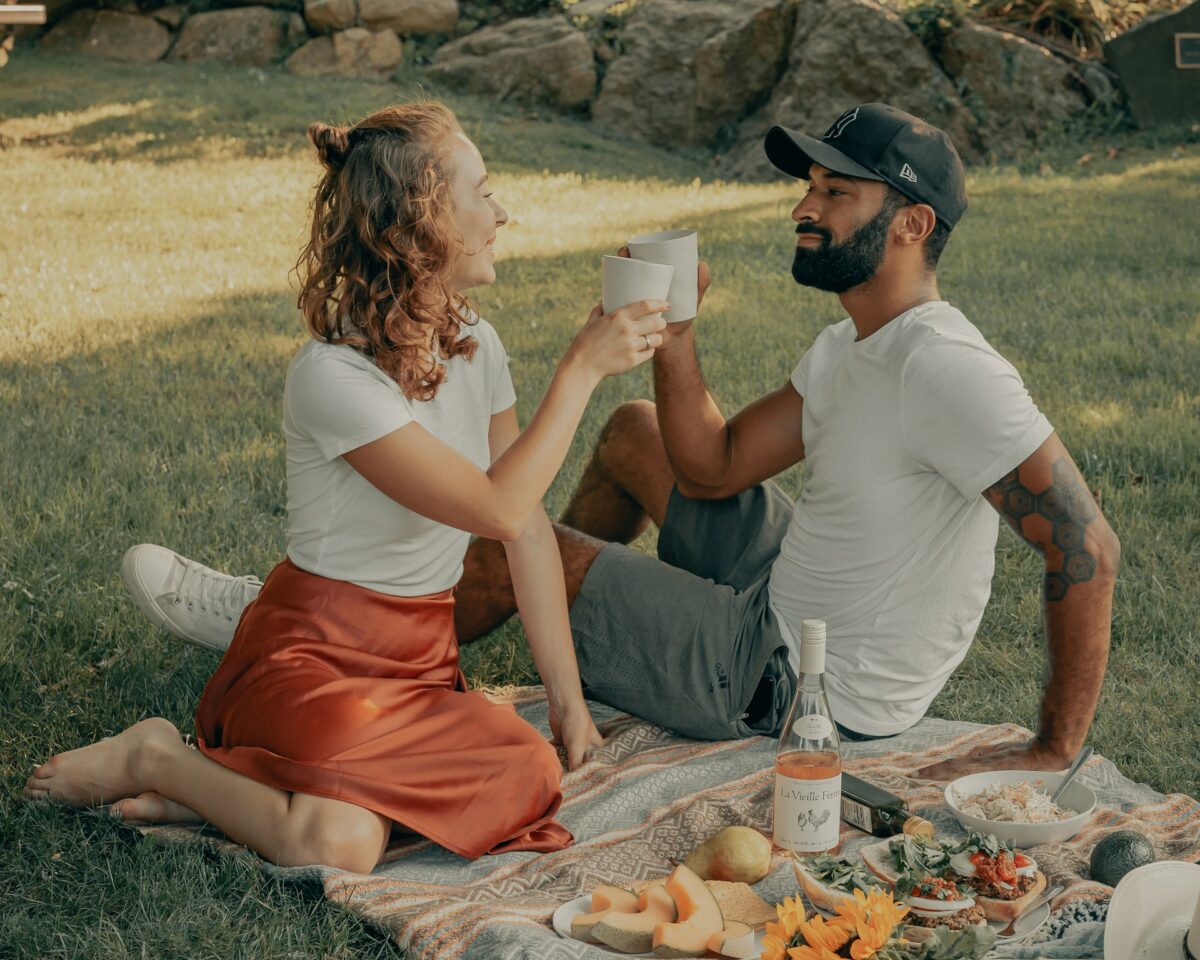 A picnic is a casual and cute setup for your photoshoot. And creating picnic photo props is relatively easy. All you need to bring to your photo session are classic picnic elements—a picnic basket, blanket, flowers, and some food. If you want, you can bring a bottle of champagne too!
Ice Cream
Ice cream can make for an excellent dessert for your date. And it can be a fantastic prop for your cute photography poses. You can share the ice cream with your better half or kiss behind it.
Cotton Candy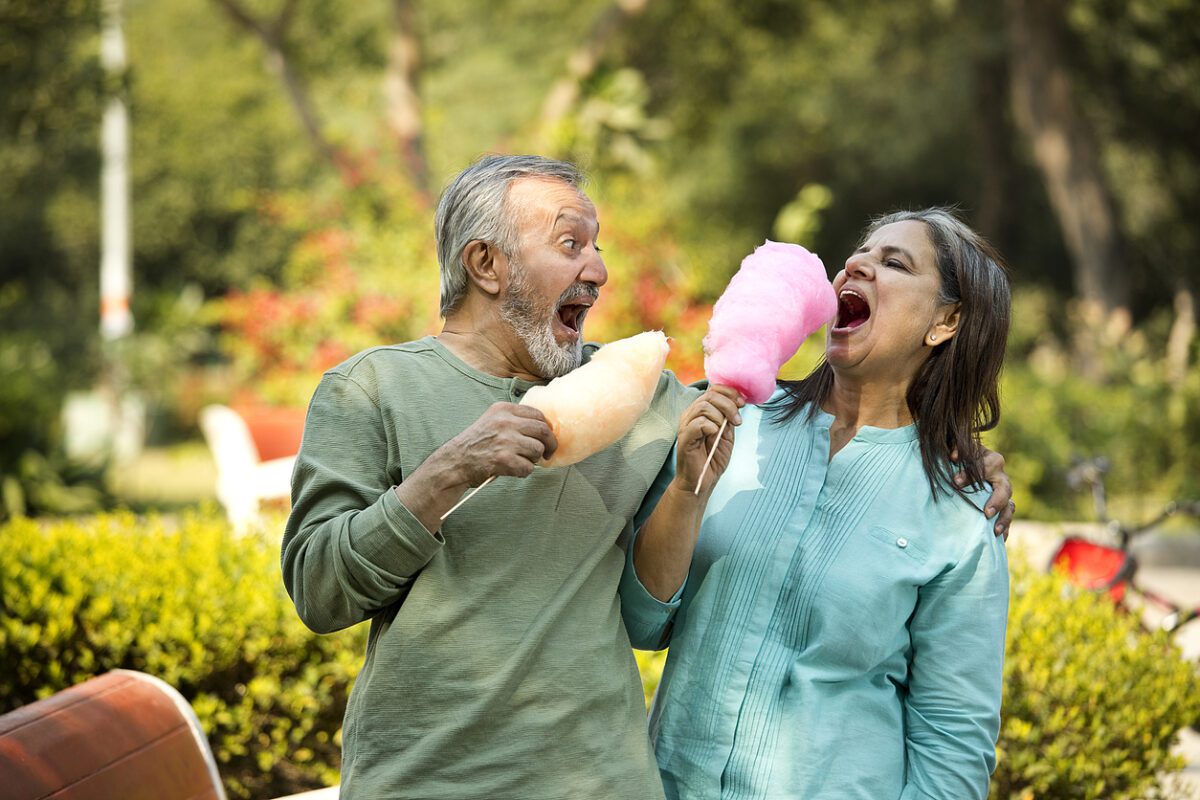 It's another wonderful dessert that makes a great prop for your cute photography pose. Cotton candies are colorful and sweet, something you and your significant other can share or play with during the session.
Bubbles
What could be cuter photography pose than blowing bubbles with your significant other? Incorporate bubbles into your outdoor shoots. Their translucent nature will add an element of fun and dazzle to your pictures.
Instruments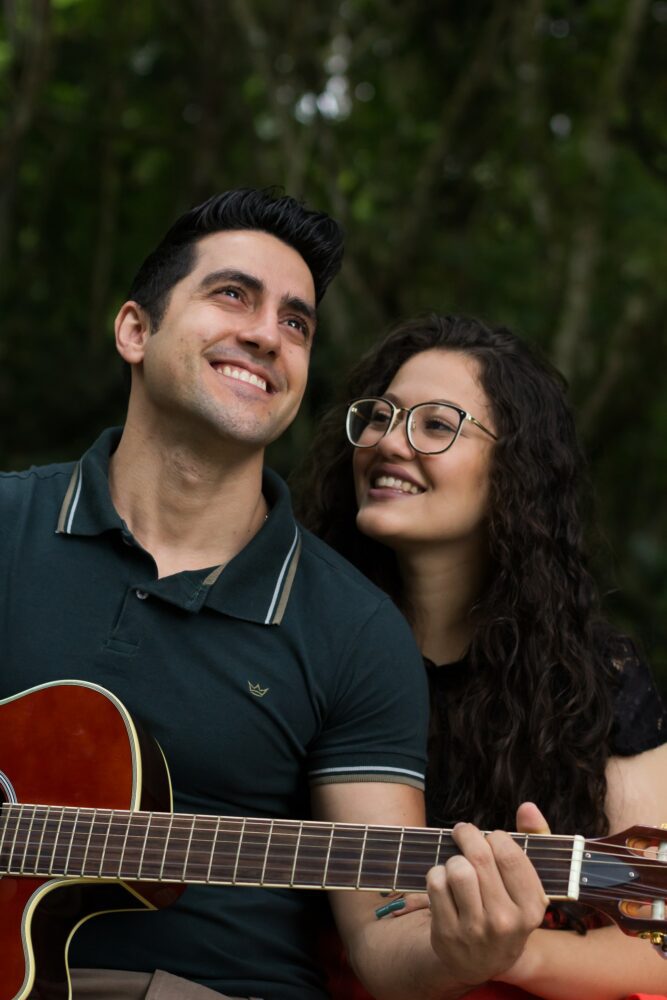 If you're a couple who loves listening to music, musical instruments make unique props for your photoshoot. Play your favorite music, or have the man serenade his girl. It might be a cliche movie scene, but swoon-worthy nonetheless.
Paint or Colored Powders
If you don't mind getting messy to get that perfectly cute couple's photo, paint, or colorful holi powders, make for the cutest photos. You can have fun smearing each other with colorful substances and be prepared for a chaotic but fun shoot.
One tip: Bring an identical set of clothes with you for the photoshoot. That way, you can get multiple tries. And remember to bring along an extra set of clothes and towels for after your photo session.
Fairy Lights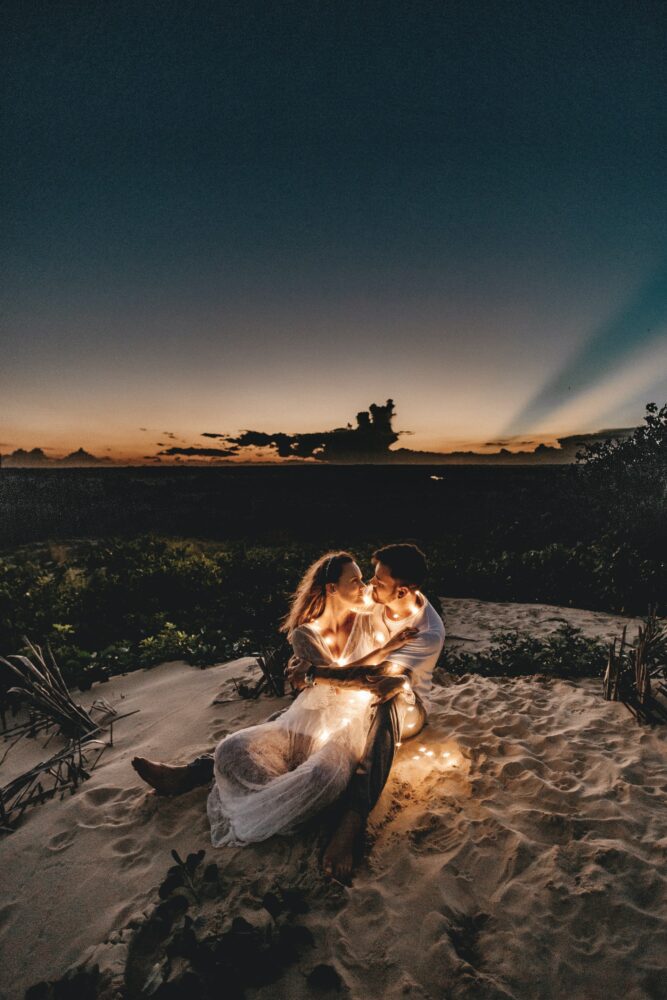 Fairy lights add a romantic glow to photos taken in dark settings. You can use the prop wrapped around you and your partner or as a background to resemble twinkling stars in the night sky.
Sparklers
Sparklers are another perfect cute photography prop for nighttime shots or against a black background. They make for a dreamy and dazzling prop for photography poses. You can either play with the sparklers or create unique designs by using the light to draw hearts or sweet words.
Pillows
This cute photography prop works best for indoor shoots like the bedroom or your living room. If you don't mind wrecking a couple of pillows, engaging in a pillow fight with your partner makes for fun, energetic, and cute images. But be prepared for a clean-up session after your photoshoot.
Pets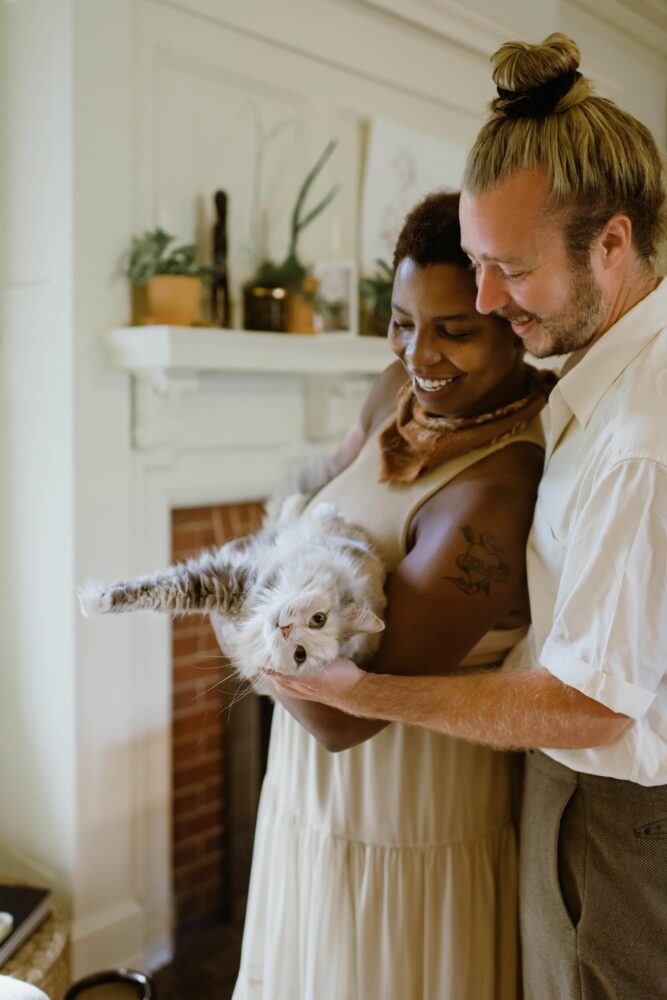 If you want to include a bit of cuteness in your photo session, getting your cute furry friends in the camera will do it, hands down. Plus, playing with your pets will surely be fun and full of laughter, which is just perfect for capturing candid shots.
Ready to Snap Cute Photography Poses?
Good knowledge of cute photography poses will make your next photoshoot a breeze and more enjoyable. Hopefully, we've given you endless ideas and inspiration.
Feel free to recreate the most adorable photography poses you found on our list. Not every pose above will work for every couple. But that's okay. Don't be afraid of experimenting with different poses and props to find positions that will give you the cutest, most adorable shot of yourself and your partner.