Are you looking for couple photography ideas and tips to commemorate the love and affection between you and your partner? Whether you choose to click your couple photos outdoors, at home, or in a photo studio, we've got some inspiration and tips for you below.
There's simply something magical about capturing memories and moments. And what better, more romantic way to do that than by taking lots of couple photos? Selfies with your partner are great. But do you know what can depict the feelings, unconditional love, and intimacy you have for each other better? Romantic couple photography.
Whether you just got engaged, celebrated your anniversary, or "just because," we have the greatest selection of romantic couple photography ideas to inspire you.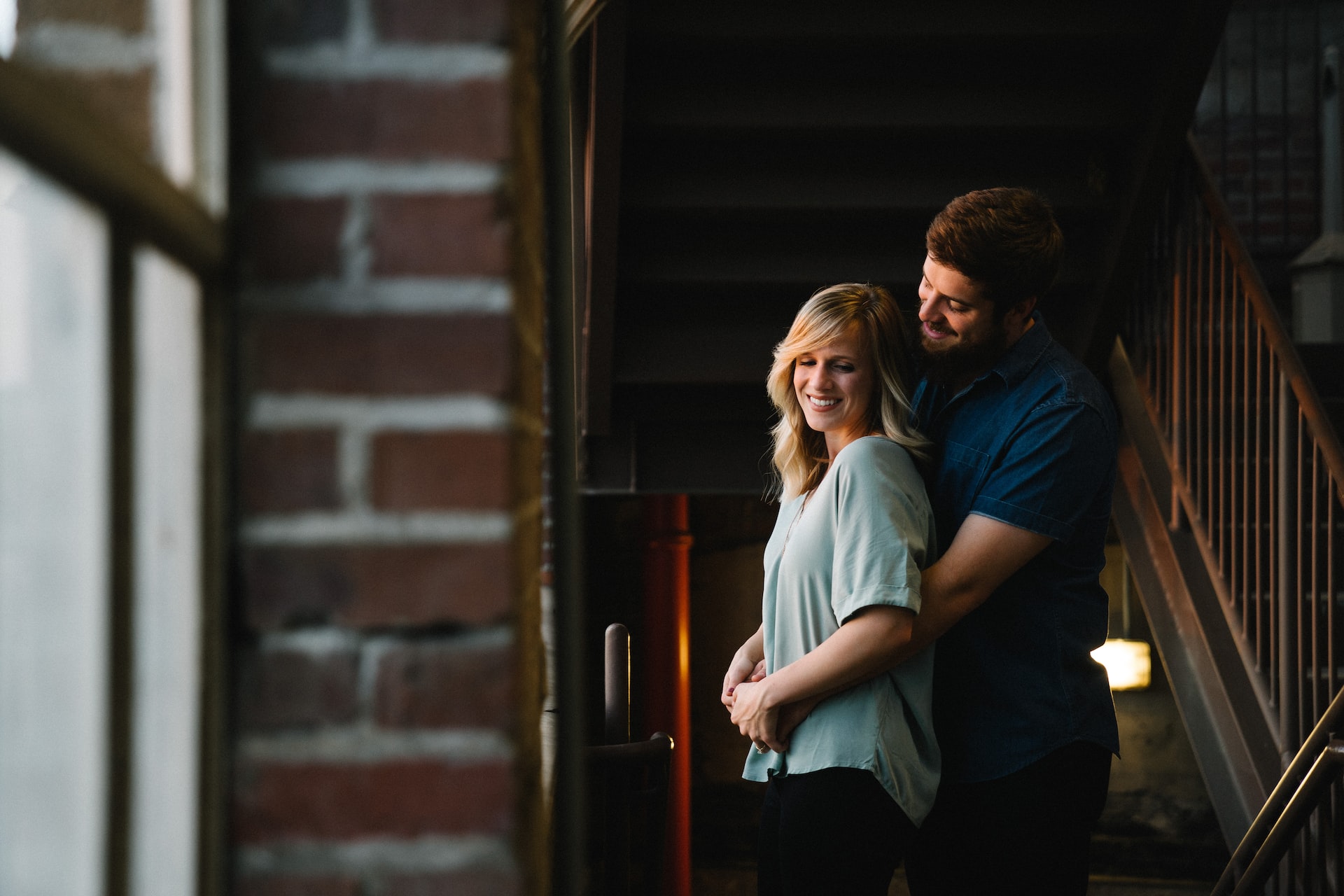 How to Prepare for a Couples Photography Session
Preparing for a photoshoot session is always a must. It ensures that you'll bring home the most beautiful images according to your vision and that you'll get a fun and unique experience from it.
So, here are simple but essential tips to prepare for your couple's photography session.
Schedule your couple's photo session wisely.
You'll want to have plenty of time to capture enough photos. You don't want to rush during the session and eventually end up with photos that have barely captured your vision. Scheduling your photography session is also critical for technical reasons. Ideally, you'll want to shoot outdoors in the morning or during the "golden hour" or late afternoon. Early mornings are less crowded, a worthy consideration if you're shooting in touristy areas.
Choose the perfect outfit(s). 
You'll want to know what to wear for your session. Are you going casual or something more dressy? You can always plan for an outfit change too. In fact, plan for two outfits for your couple's photoshoot.
Research and save your favorite couple's photography ideas.
Having ideas on what you want from your photoshoot will make the process easier and less of a hassle. It's not saying that you should save and imitate the couple's photography poses you find online. But saving and making notes will give you plenty of ideas and inspiration, including photoshoot outfit ideas and props.
Eventually, having the nitty gritty details figured out, you'll surely have more fun during your couple's photo session.
You've got the irresistible chemistry down pat. What else do you need for a successful photo studio couple photography session? Creative couple photography ideas to get the ball rolling!
At-Home Couple Photography Ideas
You can take couple's photos anywhere you want. But sometimes, the most romantic place to photograph couples is somewhere they are comfortable and familiar with—at home.
And here are a couple of photography ideas you can do with your partner in the comfort of your home.
Cozy in the Bed
This couple's photography idea is not aiming to capture something sexy but, instead, something caring and intimate. You want to capture the tenderness and comfort you feel for each other.
Talk, joke around, or flirt with each other. Cuddle or share a kiss. The key to this photo is to capture sincere emotions.
Fun with Pillows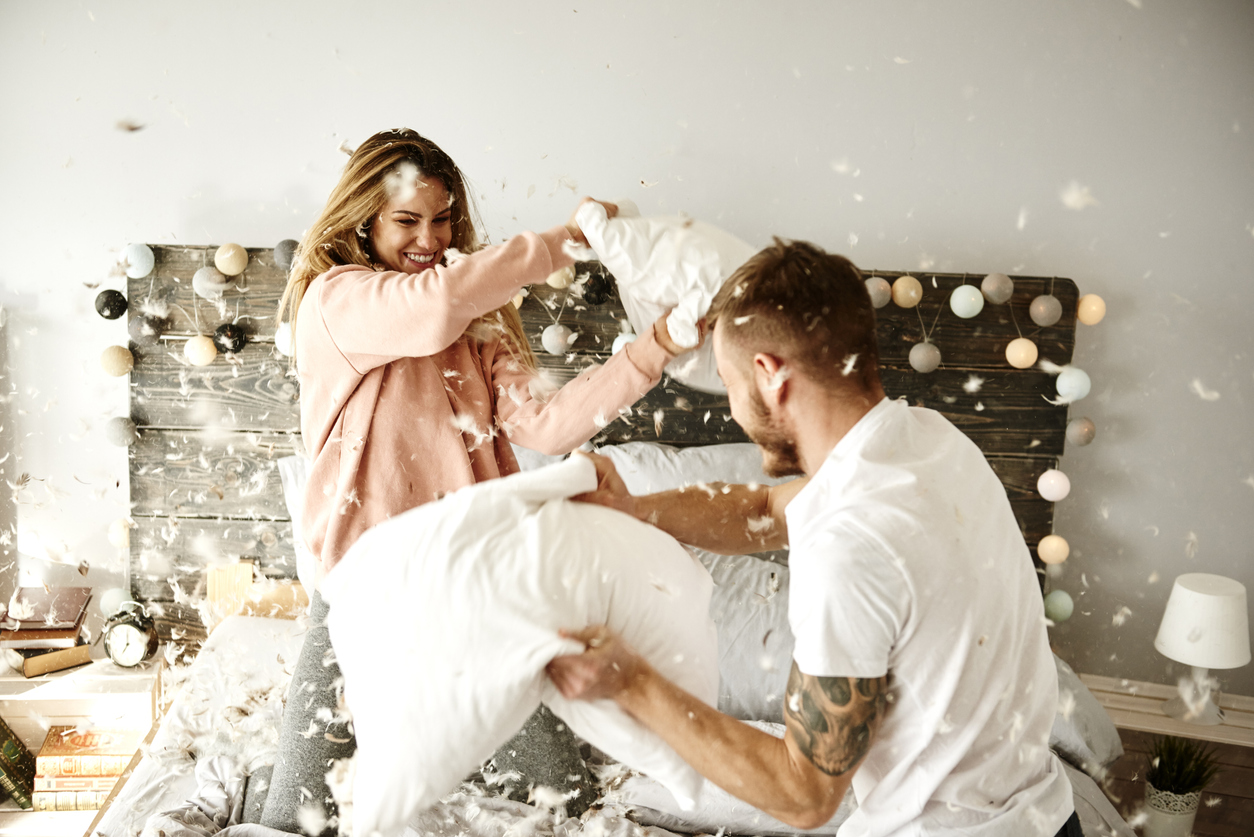 If you're looking for a simple but fun and natural-looking couple photography idea at home, here's one—a pillow fight! A playful romp between couples never ceases to instill a magical moment when captured in photos.
It would be perfect for a morning photo shoot with your partner. And don't forget to dress comfortably.
The Kitchen Romance
Go for something comfortable and natural—wear your sweats, prepare breakfast or luck, and share a smile with your partner.
Or maybe, you want your photo to capture your fun side. Bake a cake and smear some flour on your partner's nose and capture their genuine expression.
Another option is to set up a romantic scene in the kitchen. Have someone do the cooking, and the other does the PDA—a kiss on the cheek or an embrace from behind.
Common Hobbies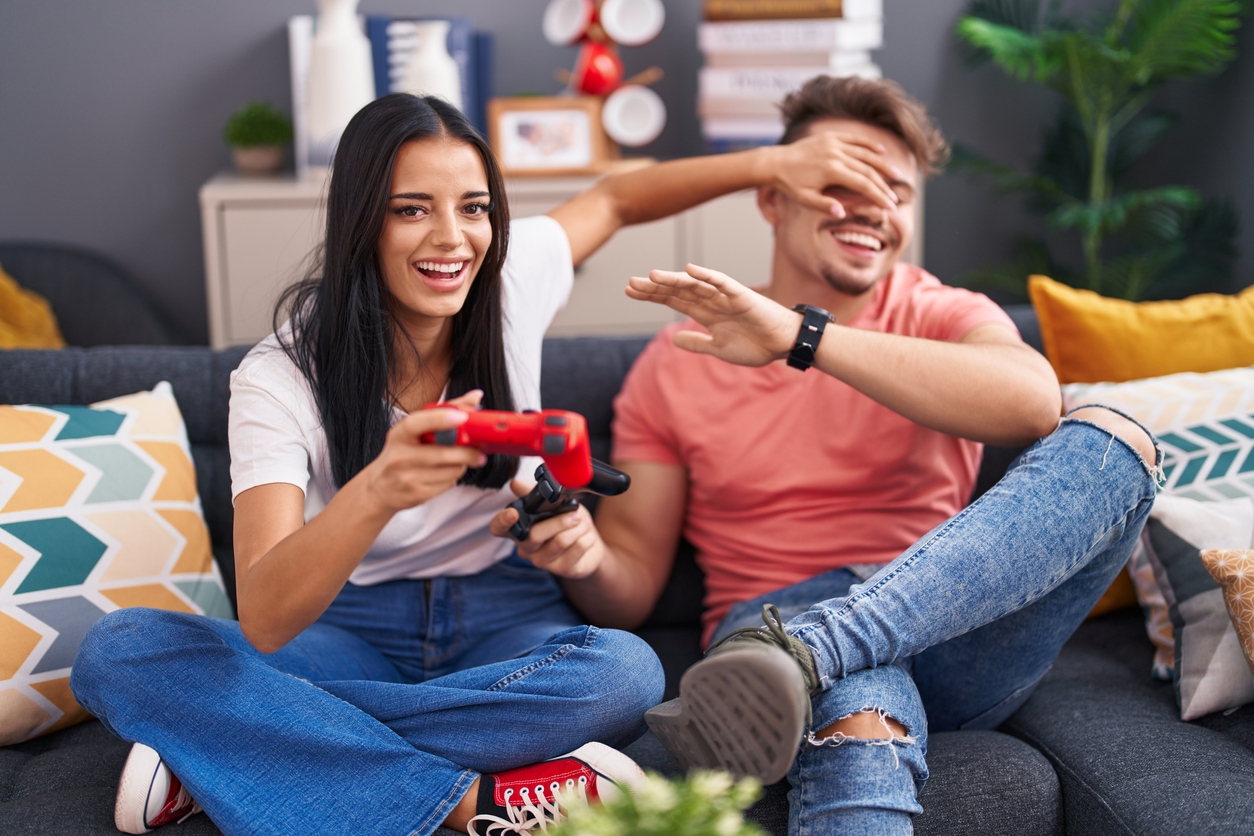 Another great at-home idea for a couple's photo is taking shots while doing something together. Do you like to play video games together? Watch movies? Garden? Bake? The key here is to capture authentic moments between lovebirds.
Outdoor Couple Photography Ideas
Using the setting can be a perfect way to add depth and drama to a shot. And what's a better way to do that than by bringing your couple photoshoot session outdoors, where you'll have countless options for cute, fun, or romantic locations?
Candlelit Dinners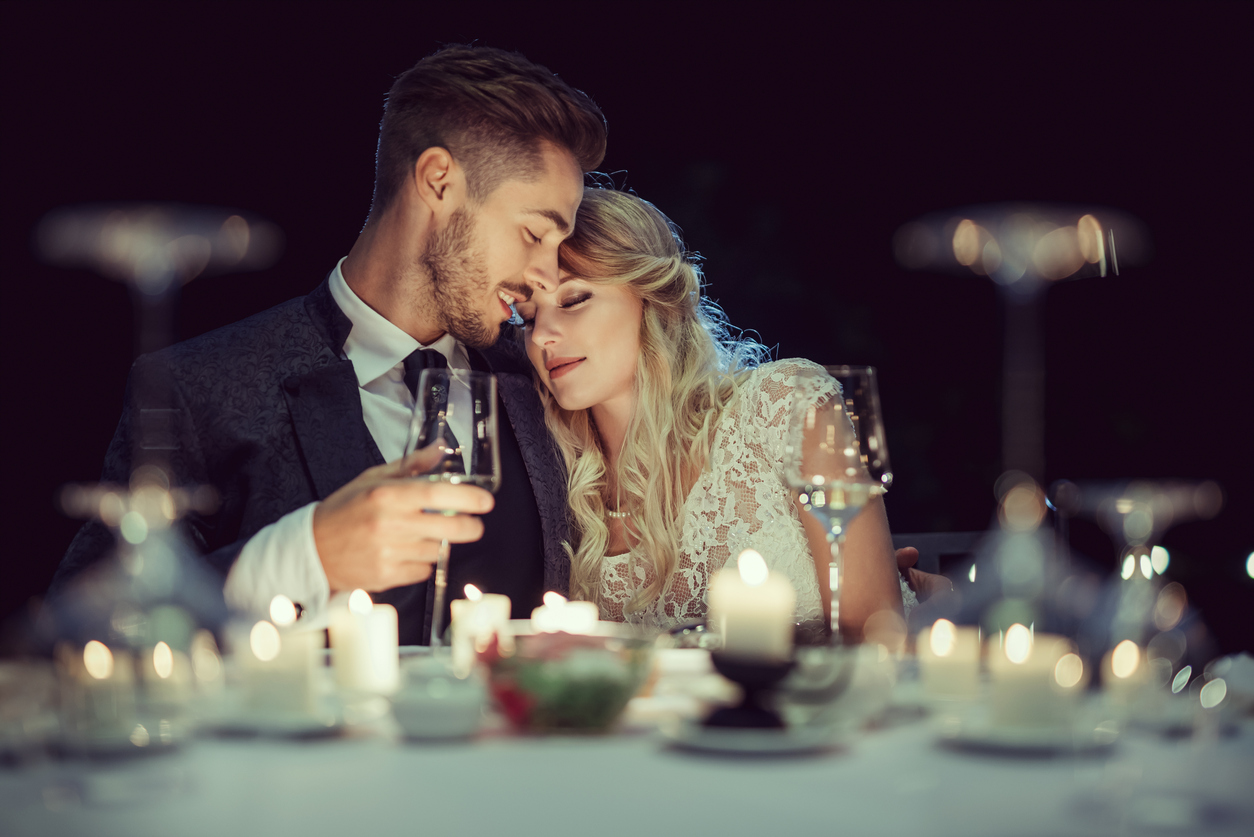 Nothing is more romantic than having a candlelit dinner with your partner. But what's more romantic is the perfect lighting shadow from the candles that can make everything look more dramatic in photos—a romantic scene right out of a movie!
Romantic Shadows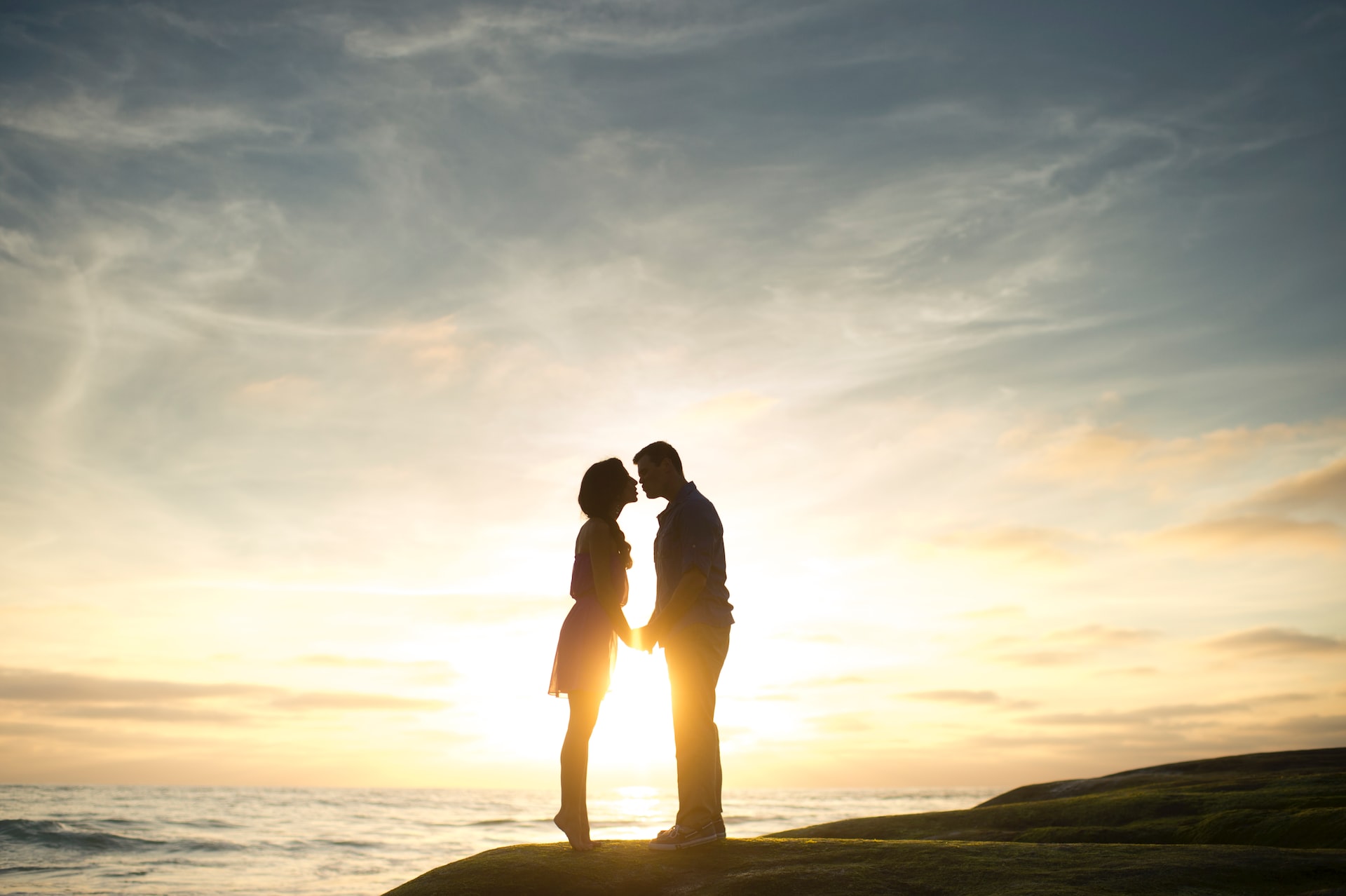 When shadows fall, they can create surprisingly beautiful silhouettes that make romantic, sensational photos. This setting will work perfectly well for captivating poses for couples.
Under the Stars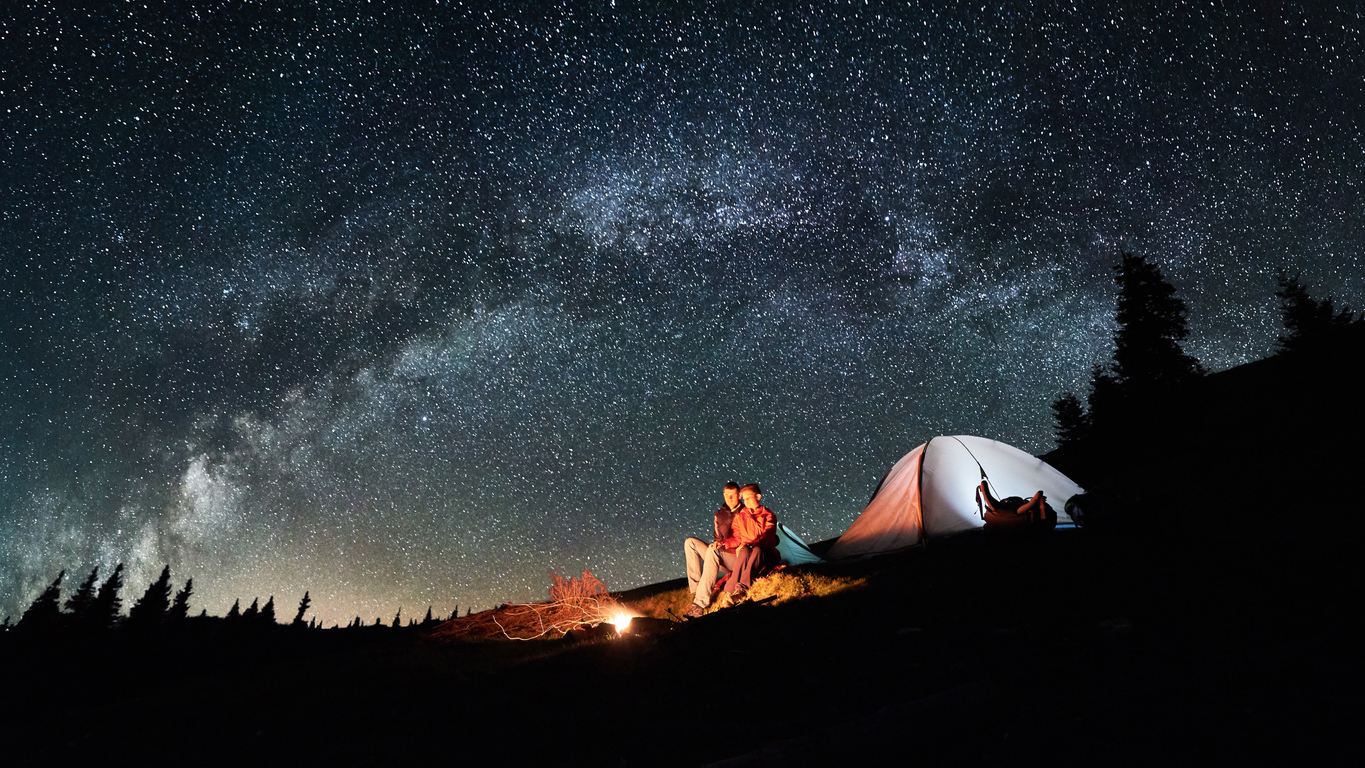 Stargazing is such a classic date idea. On top of that, it makes an awesome photography inspiration for couples. Relaxing on top of a blanket or the hood of the car while looking at the sky together creates such a picturesque and romantic image.
Aesthetic Sunsets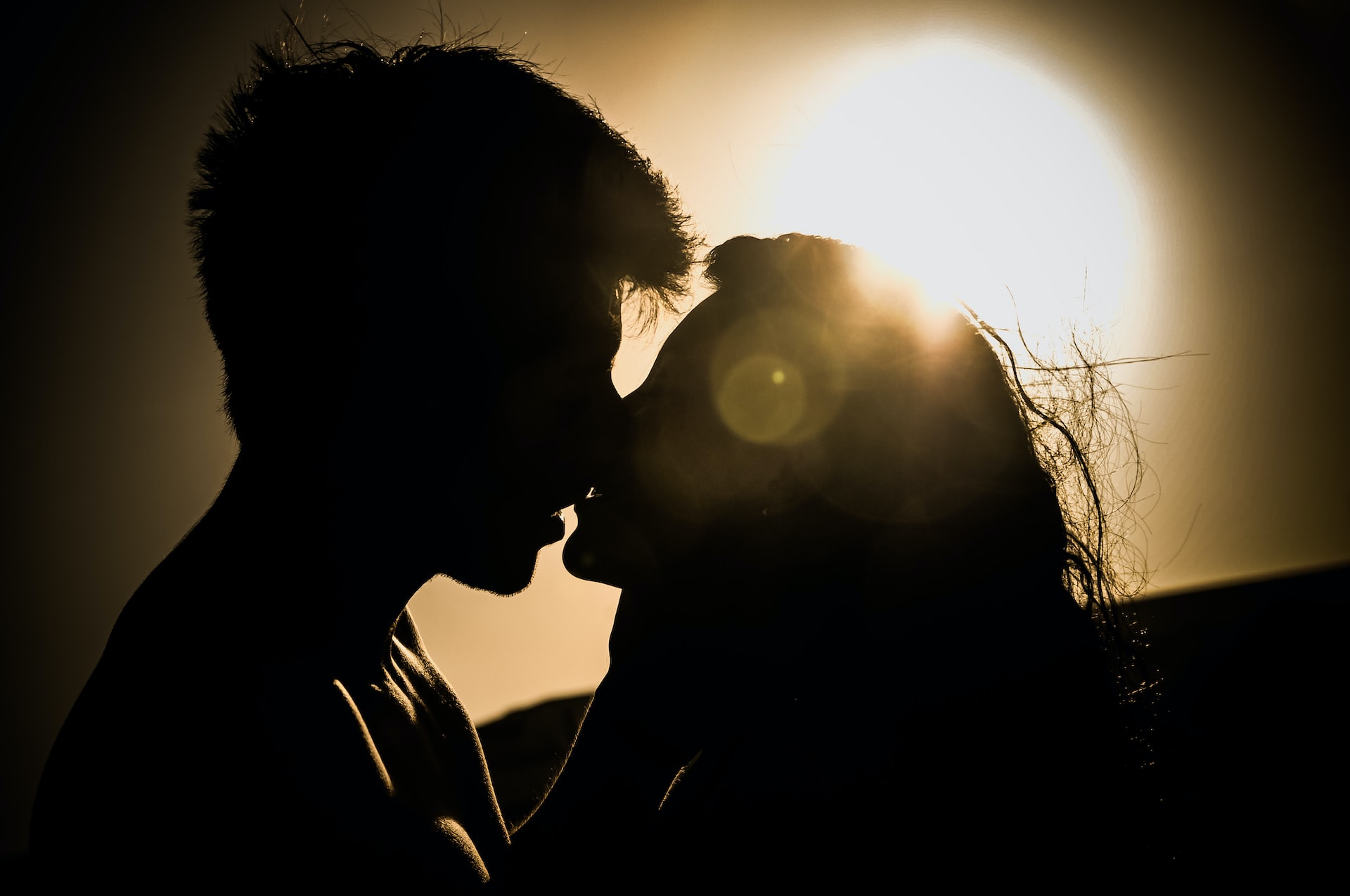 Creating dramatic scenes just has a way of capturing romance between two people in love. And if there's a perfect time to capture a romantic photograph, it's going to be sunset.
A romantic pose taken as the sun starts to descend over the horizon, that golden hue and magnificent sky in the background, is just like the movies.
Wild, Free, and In Love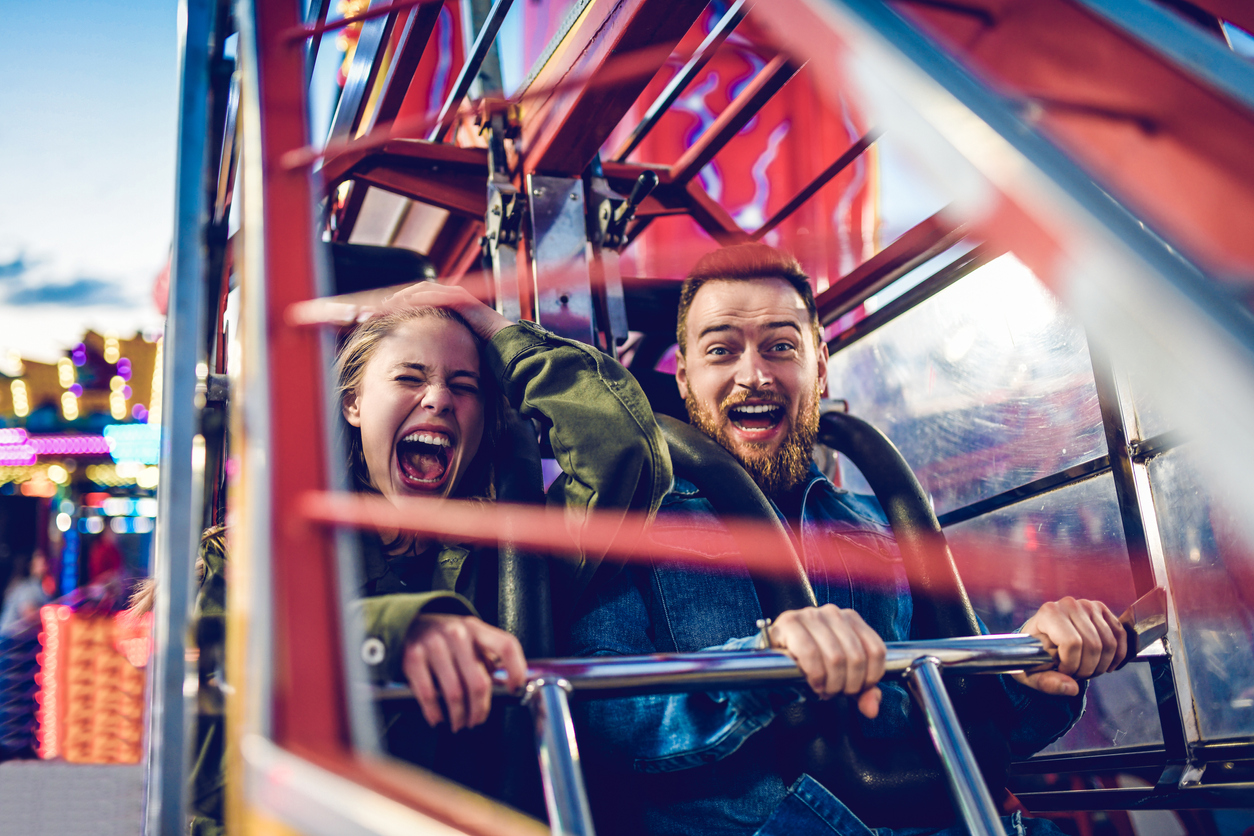 Highlight your fun, playful side as a couple in the photograph. Try silly poses and make each other laugh. You can also try taking your shoot in a fun, upbeat atmosphere like the amusement park.
Make sure you have fun because the large grins on your faces will give you the best shots.
A Dreamy Picnic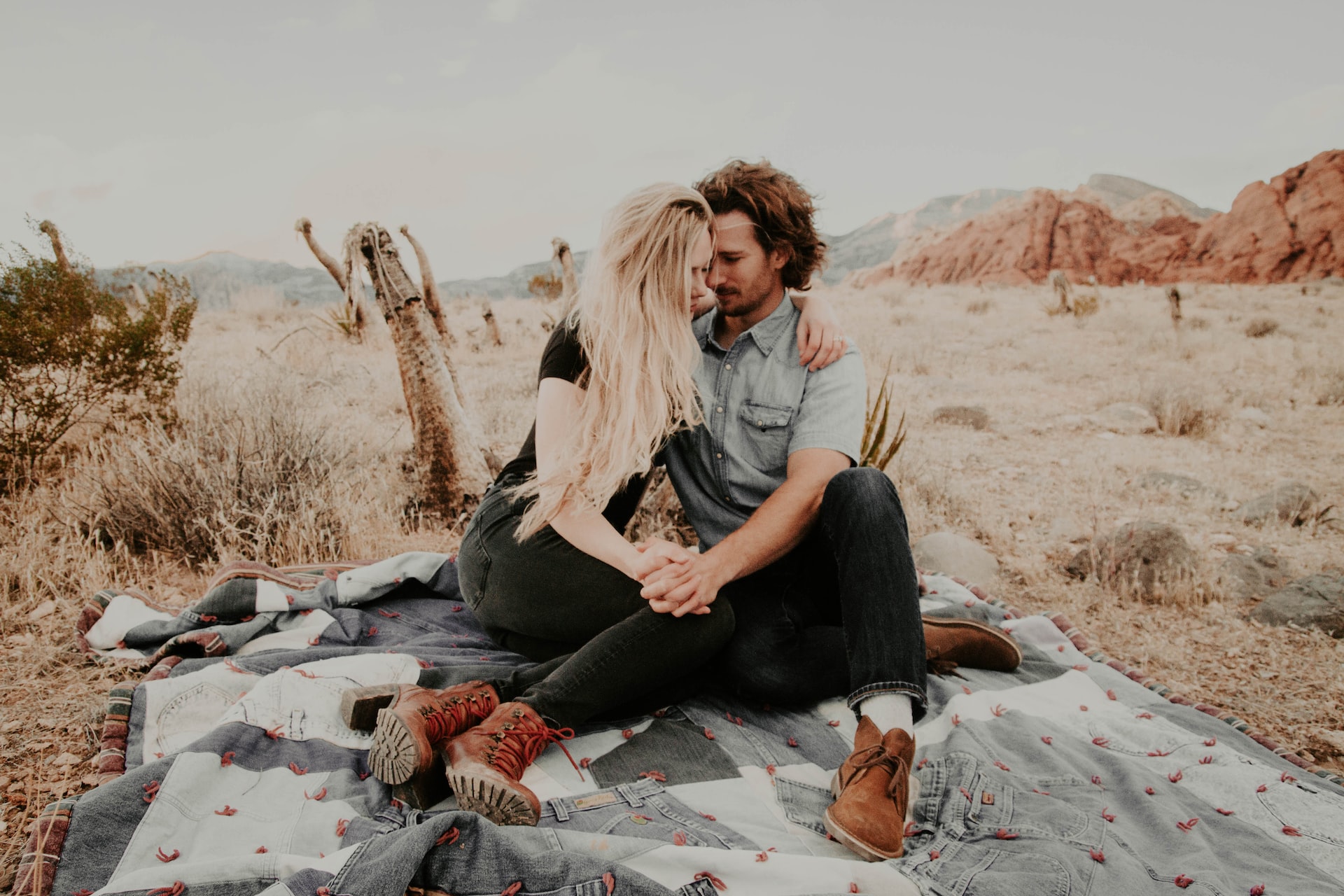 This couple's photography idea is perfect for sunny days. Make sure to bring along a picnic blanket or any other prop—a picnic basket, some snacks, or maybe a bottle of bubbly. Better yet, consider making this a picnic date instead of just a photo session to make it more authentic in the photos.
Dreamy picnic couple photos are awesome when taken from a low angle for extra depth. Also, pick a shaded area for the shoot. You don't want to worry about rough lighting ruining your photos.
Into the Woods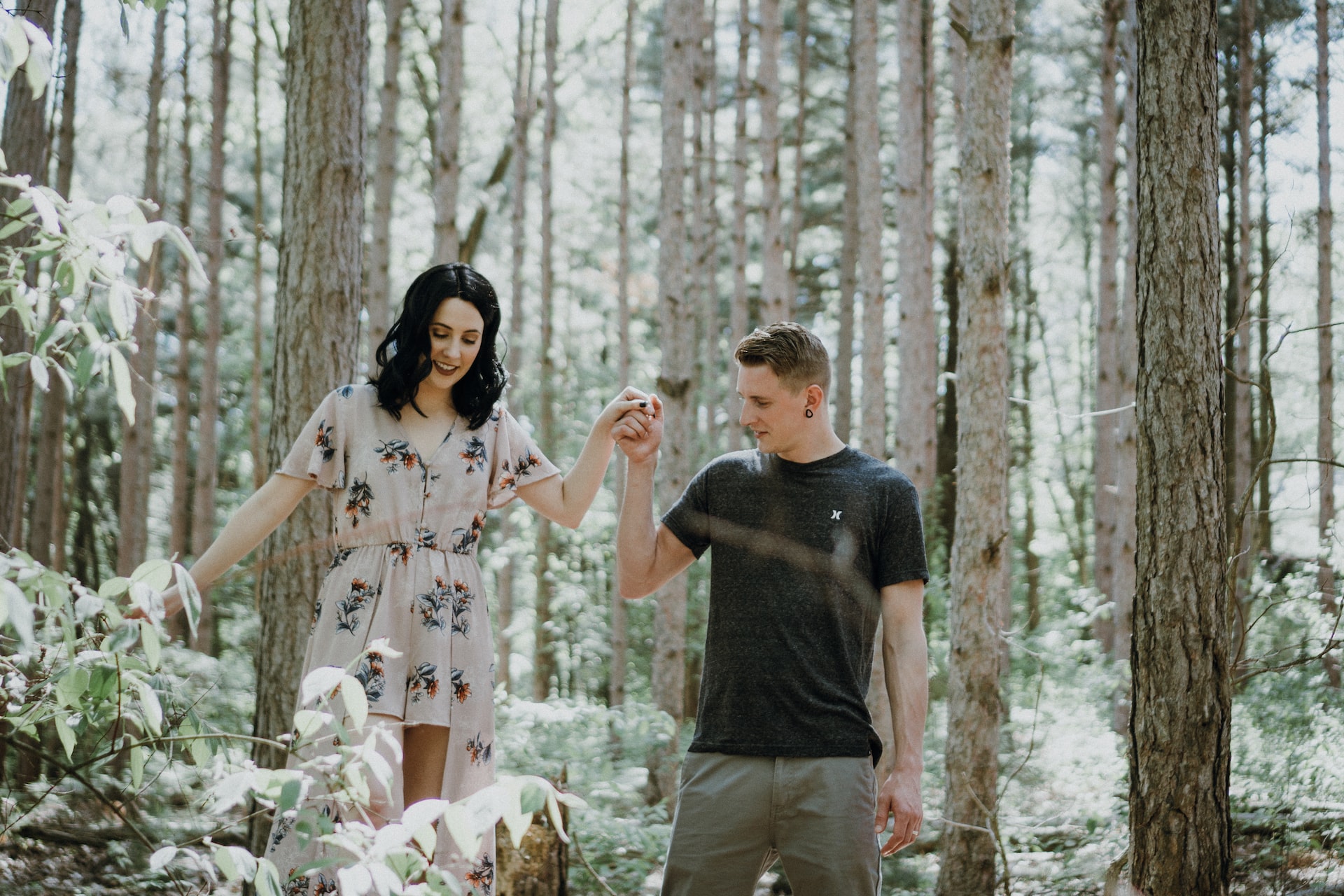 Are you a couple who likes the outdoors? A stroll among the beautiful greenery or tall trees is fantastic for taking natural photos filled with tenderness between a couple. Hold hands and enjoy the scenery. Maybe share a warm embrace or a kiss on the forehead to look more intimate.
Under the Rain
Still shots of a couple under the rain are romantic and iconic. They can be running hand in hand and laughing, dancing in the rain, or sharing a kiss under an umbrella in the rain. However you want to stage this photo, make sure to enjoy the moment.
Pin this couple photography idea in your notes, in case the weather doesn't want to play by your rules. You can make the most out of bad weather and capture a beautiful shot.
Festive Vibes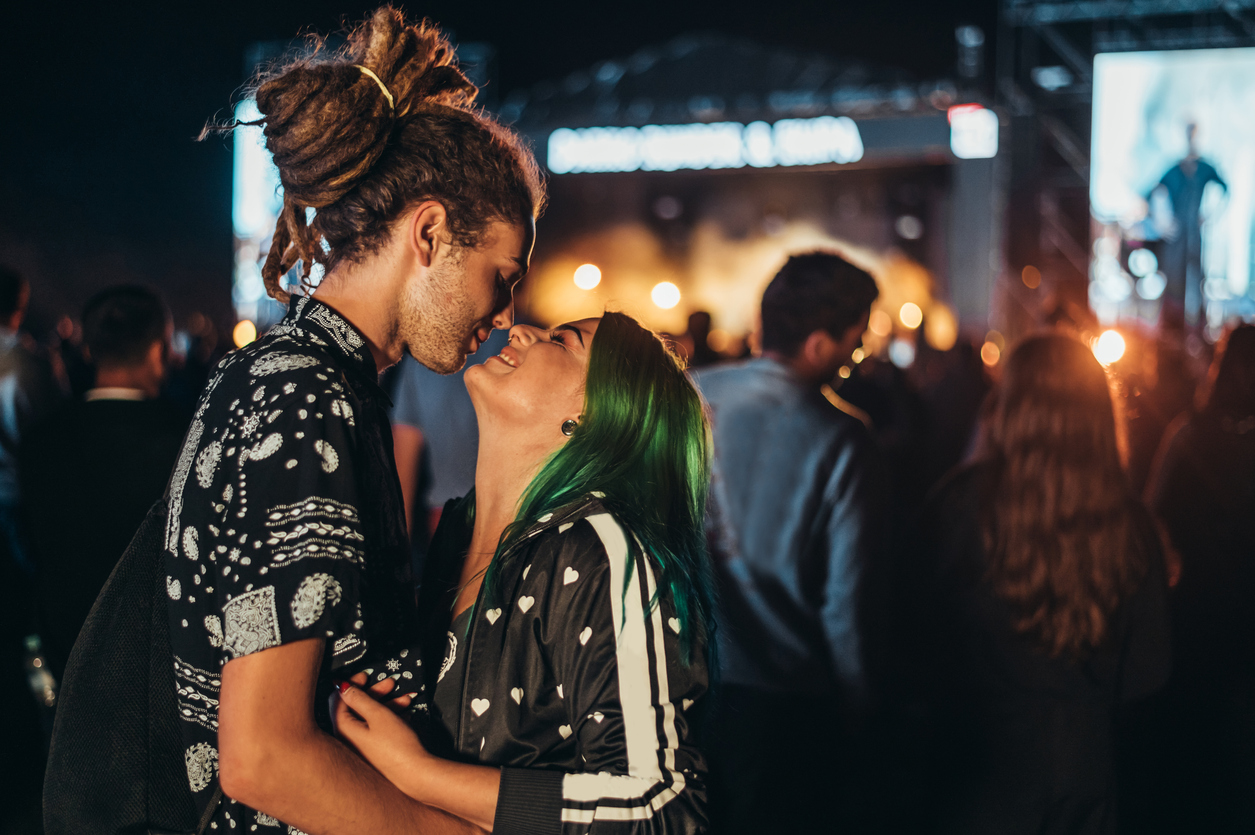 Festivals just have a way of capturing the happiest times and the biggest smiles. If there are traditions, rituals, or celebrations important in your relationship, how about making that the core of your couple's photography?
Beautiful Cityscapes and You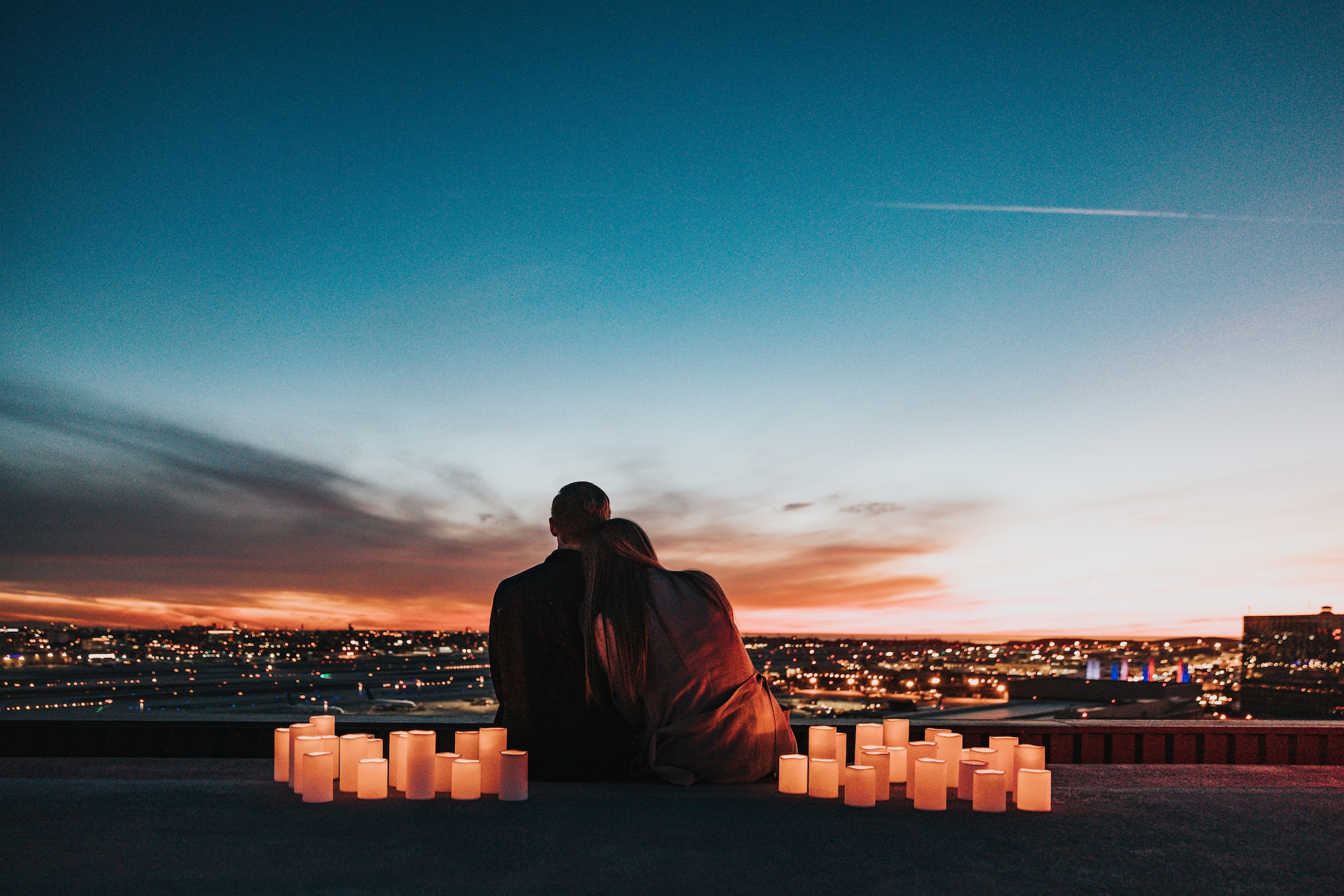 Do you want to take couple photos during the day or night? The cityscape makes a fantastic backdrop for either option. Whether it's the skyline in the city where you two met or the streets you frequent, you can take romantic images from stylized city shots.
But a reminder, the focus should be on the couple and not the background.
Romantic Getaways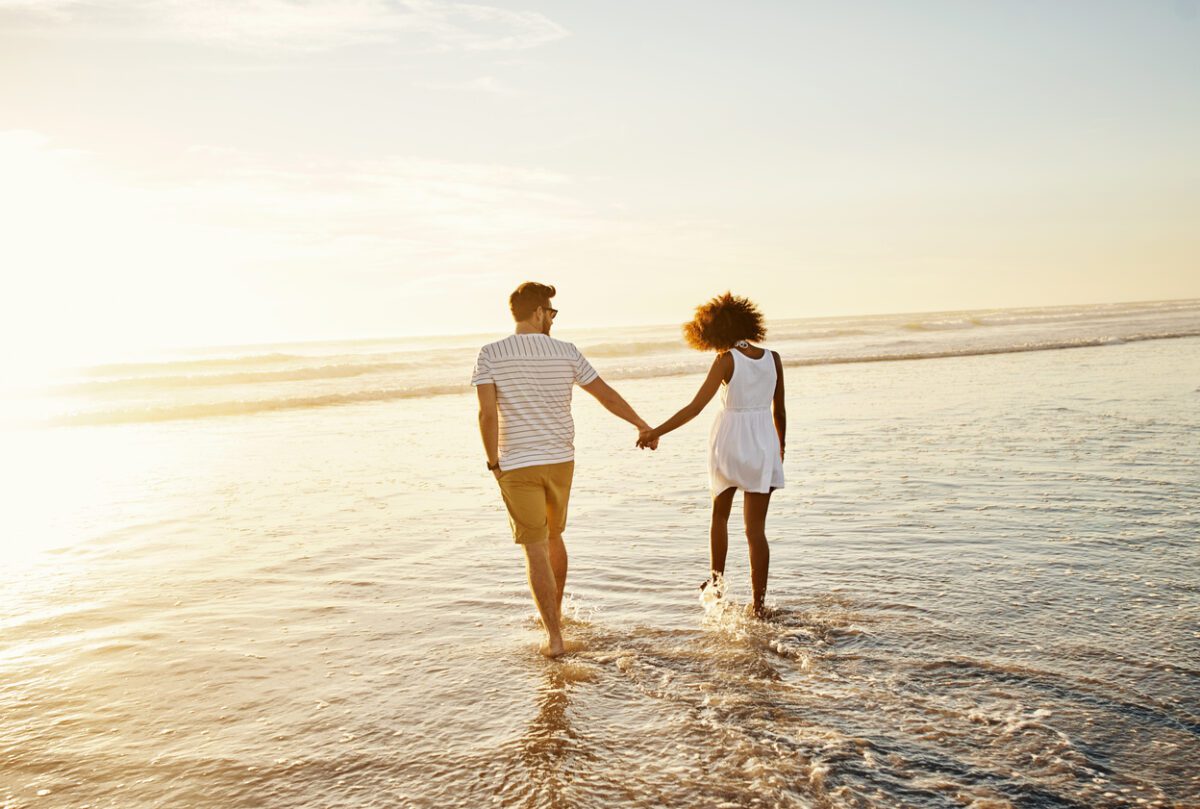 Shooting somewhere idyllic can bring a sense of romance to your photos. It could be a day at the beach and walking barefoot on white sand with crashing waves and a vibrant sky behind you.
Think about this—what is your idea of a romantic getaway? And don't hesitate to make a date with your significant other out of this couple photography idea.
How About Close-up Portraits for Couples?
Close-up portraits get into the details. It zooms in on those cheesy smiles, warm grins, and flirty eyes. A good close-up portrait can reveal true emotions and stories, putting the magic between you as a couple in the spotlight.
And here are a few tips to capture that close-up couple magic.
Nose Touch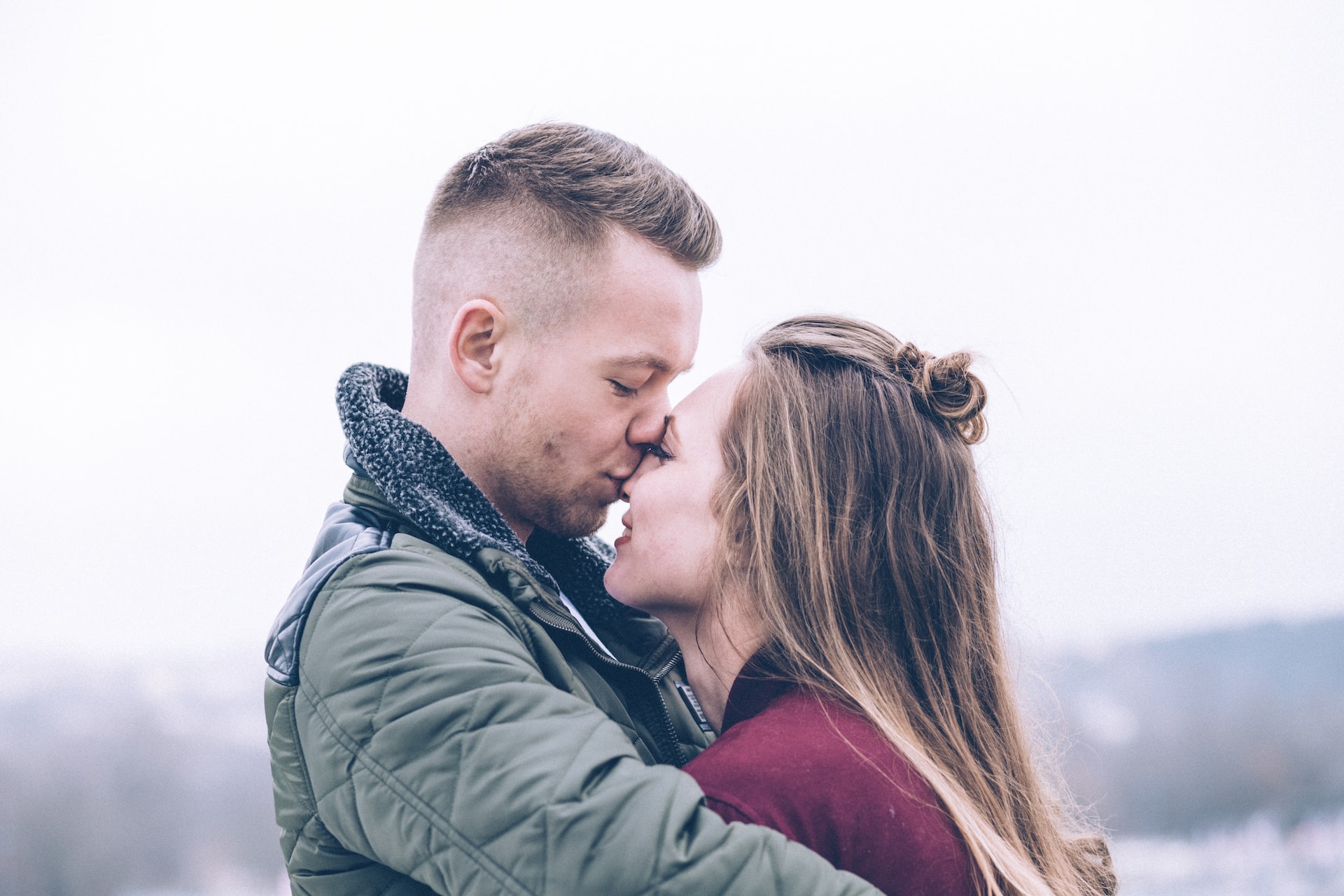 It's a cute photography idea for couples that work very well for close-ups. There are many variations to this pose—nose to nose, nose to forehead, or lips to the nose. Feel free to try out different ideas. You can either close your eyes or look into each other's eyes. You'll probably smile or laugh while taking this photo, which is a perfect opportunity to capture candid moments.
Forehead Kisses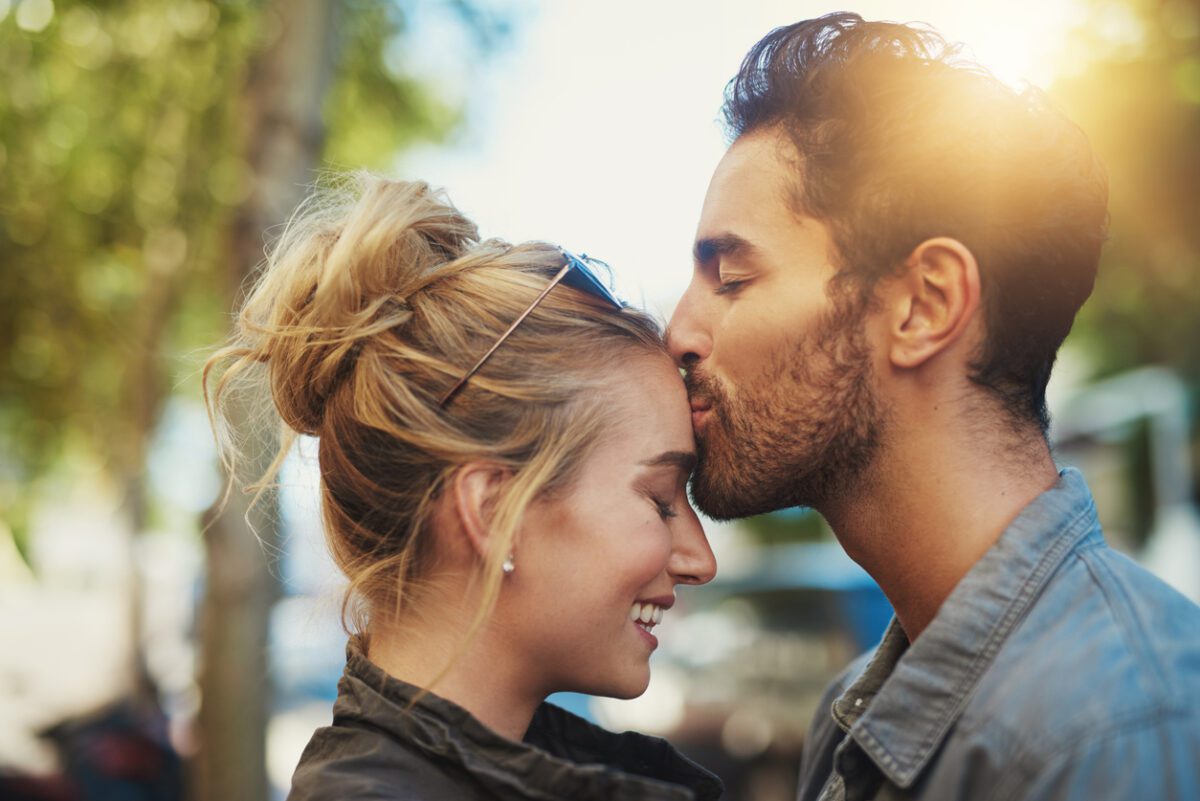 A forehead kiss is a classic, perfect, romantic pose for couples that works for any setting—cozy at home or something dramatic during sunrises or sunsets.
The main part of this image may be the forehead pose, but you can make it your own by trying out several variations. You can hold each other's faces, hold hands, or hug each other. 
Whisper Your Love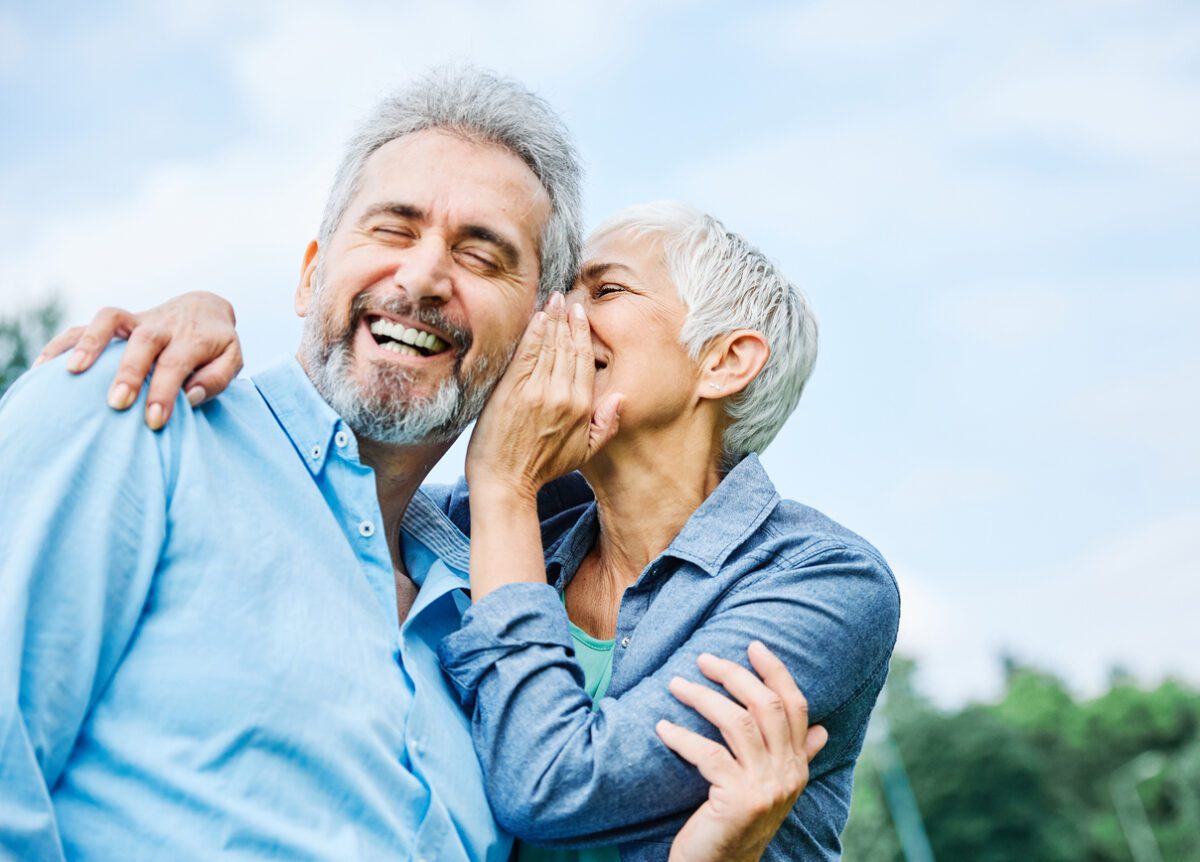 It is a fun yet romantic-themed couple photography idea that can capture the coziness between couples. Whisper something funny or flirty and capture the genuine emotion of your partner in the photo.
Cage Me in Your Embrace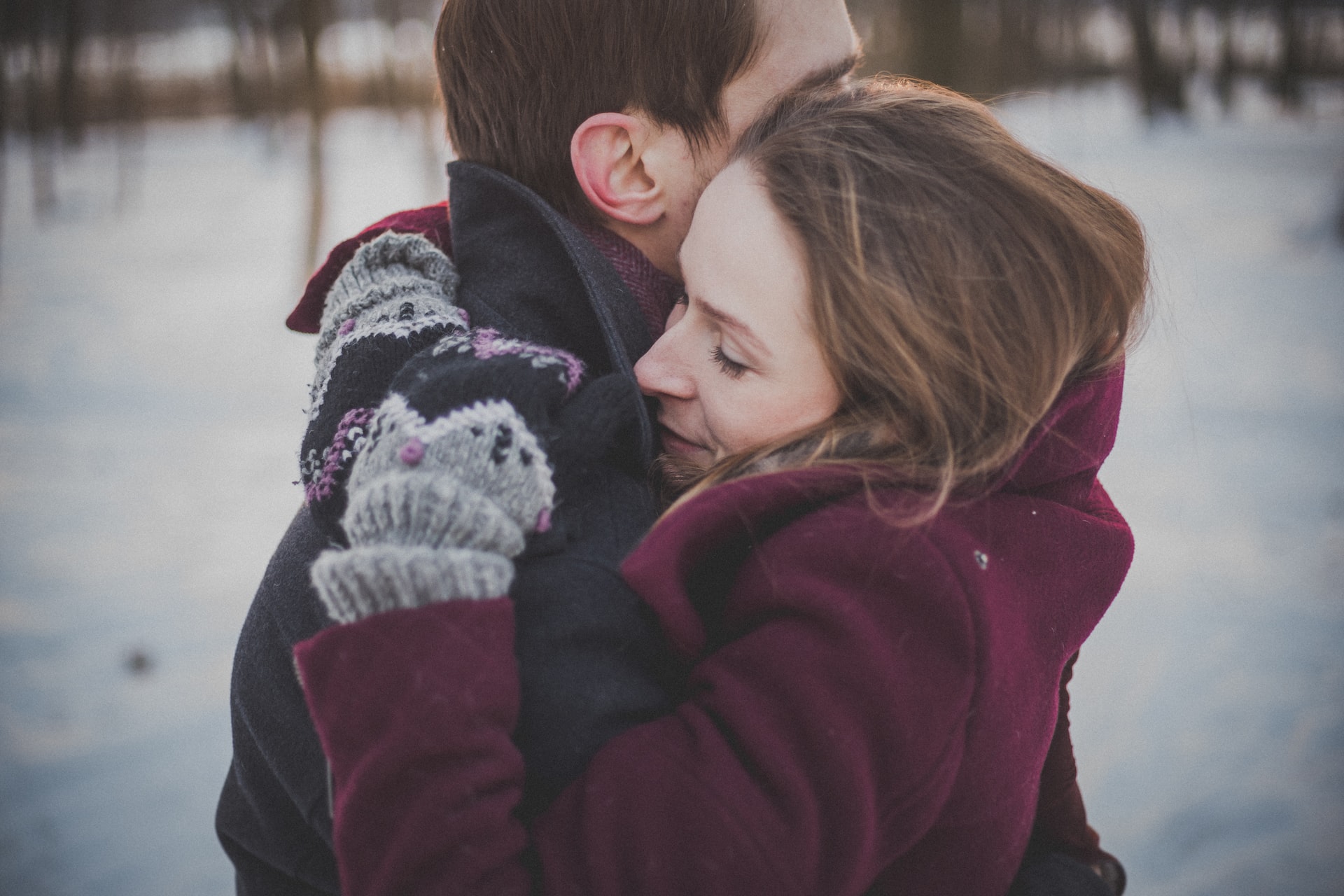 Whether you've been together a couple of months or decades, a couple's embrace is one of the couple photography ideas that every lovebird should try. It's a simple pose but perfectly portrays the love, warmth, and commitment between two people.
To click this scene picture-perfect, show your happiness of being close to each other. It could be through your eyes, big smile, or charming grin.
Couple Photography Ideas—Final Words
Couple photos ideas come in various shapes, moods, and sizes. Feel free to use our couple photography ideas to inspire your next photoshoot with your partner, but also, don't be afraid to get creative and add your own flair.
In the end, you want to capture photos that are unique to your story. And often, the best couples photos are the candid ones, the in-betweens where you're relaxed, lighthearted, and enjoying your time together.