White sand, a warm breeze, the sweet sound of waves crashing on the shore — sound like paradise? The answer is 'yes'! From the idyllic setting to the laidback atmosphere, there's truly nothing better than a beach wedding!
But, the best part about a beautiful seaside celebration? There are so many great (and easy) DIY beach wedding ideas that you can do! It is easy to create an ambiance that's not only adorable but affordable as well!
Here are a few DIY beach wedding ideas that won't burn a hole in your pocketbook:
Sweet (and Simple) Centerpieces
Who knew that sea shells and starfish could double as stylish centerpiece decor?! Gather a few of these natural elements and head over to your local craft store to pick up clear vases or columns. Consider filling them with colored sand, water, or candles, and add starfish and seashell accents to achieve that straight-off-the-beach effect. Add polished driftwood for a more rustic touch, or incorporate floral elements if you'd like to add a dose of elegance to each arrangement.
Delightful Details
Even the smallest details can often be expensive additions to a wedding budget. But if you're hosting a beach affair, crafting those details is possible with a minimal extra cost! For instance, mini conch shells adorned with table numbers make perfect place cards and also double as cute take-home gifts for guests! And since everyone will likely be outdoors for the majority of the festivities, consider giving them something unique to remember your day — pinwheels or streamers are fun additions to any party and can also be used in your grand exit!
Cute Cake Adornments
The wedding cake presents a perfect opportunity for you to tie the entire theme of your beach affair together! So, why not get creative with the cake topper and toppings? Graham cracker crumble is a dead ringer for sand, while Adirondack chair cake toppers add a unique (and utterly adorable) touch!
Whimsical Wedding Altar
Let's be honest — there's no backdrop quite like the ocean, with the sun shining just over the horizon! Still, no beach wedding is complete without an altar to frame the natural setting, and believe it or not, it's easy to craft one on your own! Long, airy drapes look absolutely stunning when caught by the summer breeze and can be attached to the framework of the altar. Consider adding floral arrangements for a pop of color or paper lanterns if your wedding takes place at dusk.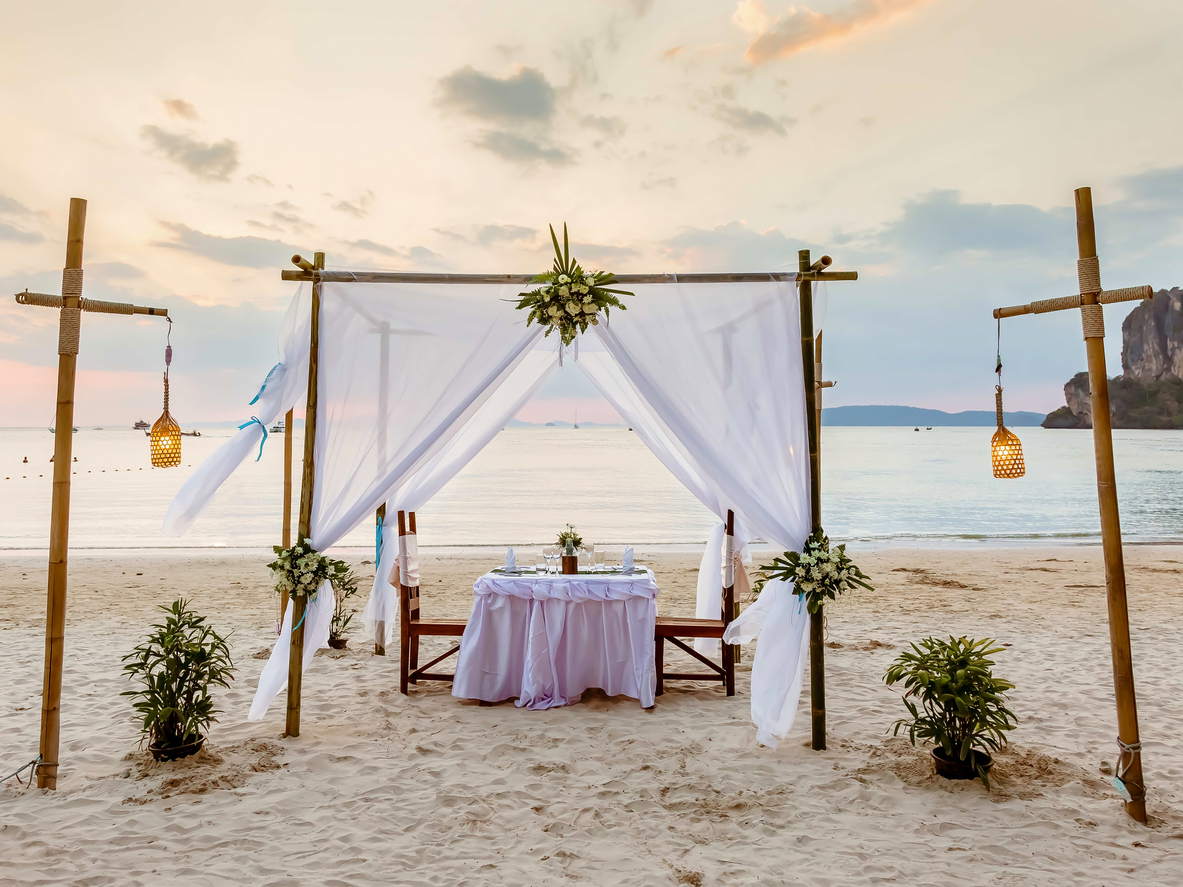 Creative Signage
To achieve that rustic, beachy look, make hand-painted signs directing your guests to the day's events! Score an added bonus if you collect beach wood and craft it into signs for a truly authentic effect! You can also have fun with the signage for your reception chairs — wooden placards attached to rope are effortlessly beachy and inexpensive!
Once your sweet beach soirée has come together, you'll definitely want to reflect on all the hard work you put into making each detail come to life! That's where your photographer can help plan out shots that showcase the decor and DIY beach wedding ideas that you created to help tell the entire story of your day, from the ceremony to the grand exit! Now, mix yourself with a tropical cocktail and get planning!
If you are planning a summer wedding – even if it is at the beach or not – be sure to check out this "5 Summer Wedding Photos" post for inspiration!
For more information on gorgeous wedding photography, engagement sessions, and wedding videography visit George Street Photo & Video.