Your engagement session is all set up. You have some engagement photo ideas, know exactly what to wear for your engagement photos, and where to take them…now what? Depending on the style you have selected, there are so many ways to make your engagement session fun and uniquely you. Every wedding photographer has tips to share, so we have asked our photographers and they have given us some of their best engagement photo tips to share with you and we can't wait to help make them one of a kind!
A fun engagement picture suggestion from Veronica and Jim Warnock of 2now1 Photography for what to do once you've used all of our tips and landed your fabulous engagement photos:
"Use your images for save the dates, wedding guest books, table decor, etc. Your guests will LOVE seeing them."
1. Make an engagement photo ideas list or bring picture samples.
"It may be helpful to look at bridal magazines or online for photos that have the look or feel you would like for your wedding day images. This will allow you to share your inspiration pictures with your wedding photographer, and most importantly, it will help to create a better connection with him or her." – Eugenio Williams, The Wedding Traveler
2. Check out the blog of the photographers you are considering.
"Be sure to check out the blog of the photographer for engagement photo sessions and engagement slideshows before the shoot. When the prospective groom and bride view an engagement picture slideshow in advance, it helps them feel comfortable in front of the camera." – Eugenio Williams, The Wedding Traveler
3. Bring along props.
Engagement Photo Ideas – props:
Signs
Pets
Symbolic pieces of your setting (ex. carnival tickets, balloons, cars, boats)
Wedding rings
"There are a lot of different ways to feature your wedding ring, and sometimes it simply depends on the backdrop and location of the session. So for example, if you choose to do a fall engagement session, have your photographer place it in the middle of brightly colored leave on the ground…it will provide excellent contrast to feature the ring as well as bountiful color for the composition." – Jessica Chapman of Brio Media Photography & Design
"Bring along props that really reflect your fantastic personality. Don't hesitate to bring anything that truly reflects you individually or as a couple." – Eugenio Williams, The Wedding Traveler
4. Know where to put your hands.
"Guys, you can put 'em in your pockets occasionally (even if Momma always said not to). Girls, your hips are a great go-to place. But the best engagement photo ideas should encourage you to change it up! Cling to your skirt; play with your necklace; pick up a flower; stretch your suspenders; run your finders in your hair. Just be creative and, as they say, "don't be caught with your hands in your pants" (except in pockets, which we've established is OK)." – Phillip of Blume Photography
"Hopefully your photographer is directing you as you go, but always remember hands on hips, delicate loose fingers and a great bent leg kick always give you that extra special feminine touch." – Leah Valentine Photography
5. Know which direction to stand.
"Try not to stand straight to the camera. Turn your bodies in toward each other and stand close. Try holding hands if you feel awkward." – Kristin Griffin Photography
"Even though you shouldn't look into the camera often ("spike" the camera), you still want your face visible for the picture. If you want to make your engagement photographer a very happy camper, avoid turning your face completely away for long; and make a habit of turning your nose toward the direction of the sun or other light source." – Phillip of Blume Photography
6. Try and control your expression.
"You don't always have to smile either. You don't want a forced expression, so close your eyes and think back to when you first met. Relax and let your expression come naturally." – Kristin Griffin Photography
7….And your posture.
"Don't laugh at this but this technique is called the Turtle Head… Many of us have the tendency to sit or stand with our neck and head back causing our necks to flatten out. To give the illusion of a more narrow (not squishy) neck simply sit up straighter, then push your forehead out and down just slightly. Practice it in the mirror and you'll see!" – Josh Fisher Photography
"Own it! Though most engaged couples aren't professional models, you can fool your engagement photographer by following a few foundational principles of posing: keep a straight back, relax your shoulders, bend slightly at the waist and lean toward camera. And when you find yourself becoming stiff, shake it off and just bear-hug your partner!" – Phillip of Blume Photography
8. Practice posing in the mirror.
"I know it can be silly but when your photographer asks you to smile or give a serious face… you want to nail it! Look around on the internet and your photographers website to get a sense of their style and practice those types of posing. YouTube is great but always trust your photographer from behind the camera! Some poses feel crazy and weird but look amazing!" – Josh Fisher Photography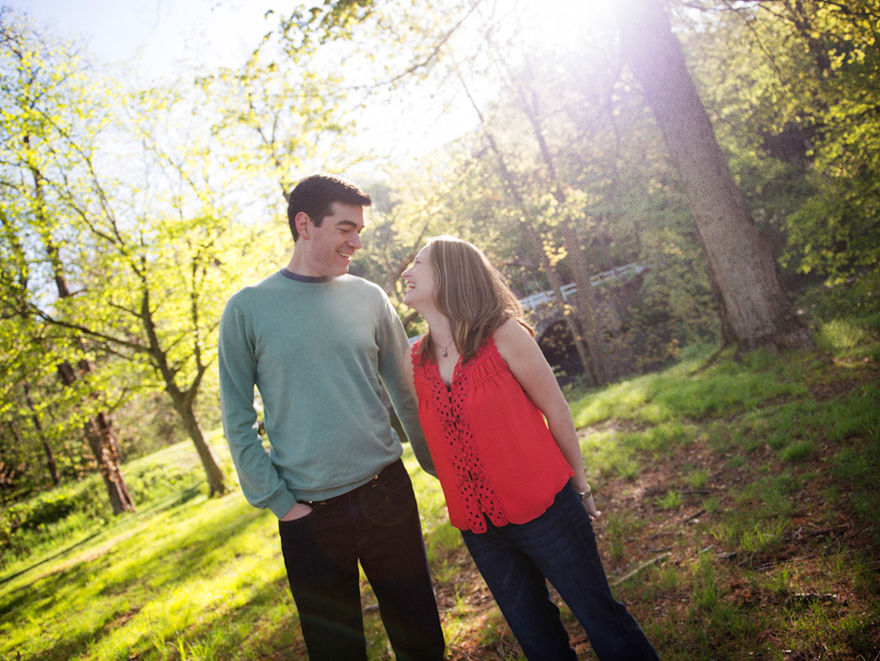 9. The "Almost Kiss".
"Everyone loves a kissing photo during engagement portraits. But no one likes the uncomfortable fish kiss look. I always tell my clients don't hold a kiss pose, just keeping giving each other little kisses. Often times they forget I'm even there and the best portraits are just before or after a kiss when they are so close and looking longingly at each other." – Leah Valentine Photography
"If your photographer asks you to kiss for one of the photographs, make it a soft, light kiss. "Puckering up" emphasizes fine lines and wrinkles around your lips and cheeks, but if you smooch without a pucker, your skin will look smooth! Also, a lighter kiss means that we'll be able to see more of each of you, so keep it PG!" – Kristin Griffin Photography
10. Just be yourself.
"Always remember to have fun and be yourself. Some of my favorite images and engagement photo ideas are just of couples being ridiculous with each other. Especially if they think I'm not watching. I'll tell them I'm checking the light or something then I can capture a few adorable images of them just being themselves." – Leah Valentine Photography

"Forget the camera. A photographer can always ask you to look and "say cheese" when the image calls for it. But the last thing you want is a collection of images looking longingly into the eyes of the "viewer" rather than into each other's eyes." – Phillip of Blume Photography
Ron Lima has a final note to wrap up our list of engagement photo ideas:
"Don't be shy to share your different engagement photo ideas with the photographer; after all, an engagement session should be about you and photographers are always looking for different and new things that can serve as inspiration."
Now get out there and create some awesome pics with these engagement photo ideas!