Your next photo session will be a breeze with these photoshoot poses tips!
Posing is one of the key aspects of capturing memories and turning them into visually captivating photographs that make lasting memorabilia. Nailing the right photoshoot pose will make all the difference. It determines whether the picture shows the emotion or vibe you're going for, tells the love story you want to convey, and looks authentic and natural or stiff and staged.
And this means one thing—you need to step up your photoshoot posing game.
Don't know how to pose? Fear not. We have you covered.
If you're not used to being in front of the camera and a bit camera shy, struggle to get organized going into photo sessions, get authentic emotion into couples photographs, or simply need some guidance on how to snap effortlessly beautiful pictures, these photoshoot poses tips are for you.
Let's get on with it and take some notes!
Photoshoot Poses Tips to Get You Started
Any photoshoot pose will crumble if you don't have a solid foundation. And to get the most from your photo session, it's smart to prepare yourself. And here are a few tips to bring your couple's photoshoot to a good start.
Think About What You Want the Photo to Capture
Great photoshoot poses aren't taken. They're made.
So, think about this question for a bit—what do you want your final photos to look like?
Do you want some posed photos or a timeline of your love story? Or do you want to highlight the kind of couple you are in the photo?
Do you have photoshoot themes in mind? Maybe, you want something whimsical, straight out of fairytale photos? Dramatic, cinematic sunsets? An out-in-the-wilderness photoshoot to capture your adventurous side? Or funny and quirky poses to show your playful side?
In other words, start by creating a vision board of your ideal photoshoot poses. Choose a concept and let that be the basis for your photo session.
Plan Your Outfits
Another huge part of your photoshoot planning is choosing your wardrobe. Many cute and romantic photoshoot poses come from outfit choices that help you tell your story. You have an endless choice for this—from casual shirts and jeans combo to formal evening wear.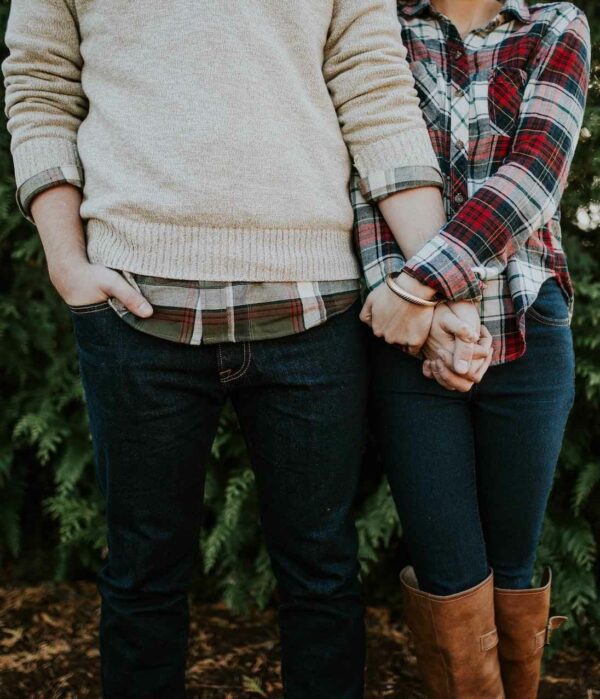 But, as a rule of thumb for choosing a wardrobe for your photoshoot poses:
Choose outfits that make you feel confident. It's great to spice things up, but stay true to your style. Wearing clothes that make you feel icky and awkward will only result in awkward photoshoot poses. That's absolutely something to avoid. In other words, wear clothes you feel at home wearing.
Coordinate your outfits, don't match. Matching outfits can sometimes look cute, but you will look more like cute twins than a couple, which is not exactly what you're going for. On the other hand, if you wear uncoordinated outfits, your relationship may also look uncoordinated and separate. You want to hit that middle spot, and using complementary colors can help.
Stay away from too-busy patterns. Screaming colors and patterns in your photoshoot outfit will only take the attention and focus away from you as the subject.
Choose a couple of outfits. Two different outfits for a photoshoot are often enough. It will give you an opportunity to capture different looks or switch outfits if needed.
Have a Few Photoshoot Ideas Lined Up
Now that you have the basic idea of the shoot you want, you can get into another key aspect of what makes a stellar couples portrait—photoshoot poses!
Getting a photo shoot together can be daunting if you're not used to being in front of the camera. Knowing some basic poses will get you started. Look for cute, fun, and romantic photography poses for couples.
But remember, the key is to find some pose inspiration, not try to mimic the couple's poses you find in posing guides to a tee.
Incorporate Props into Your Photoshoot Poses
Using props in photos can add a bit of drama and visual interest, give your hands something to hold if you feel awkward, and give cute and interesting elements to your photos.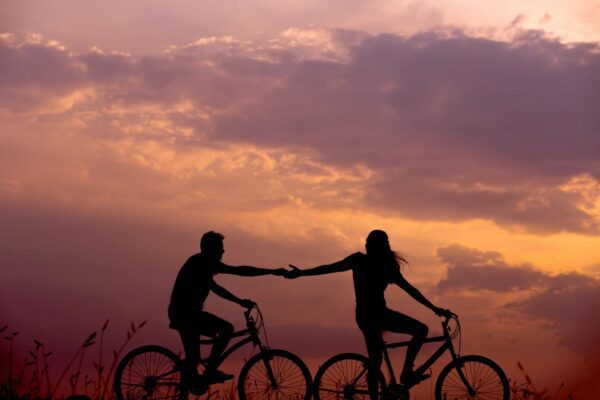 Some prop tips you can incorporate into your photoshoot poses:
Fireworks
Smoke bombs
Sparklers
Hats
Umbrella
Balloons
Champagne
Lights
Props related to your favorite activities: bikes, cars, tents, boats, guitars
Photoshoot Poses Tips for Authentic Couples Photos
There's just something exceptionally beautiful about photoshoot poses that are well-executed and captures personal stories.
Here are a few photoshoot poses tips and tricks to get cute, sweet, and romantic portraits.
Keep the Mood Light
If you're tense and awkward, it will show in the photos. Think happy thoughts and keep the mood light. Relax your body and face.
And these photoshoot poses tips can help you keep the mood light and capture all your best moments.
Be yourselves and enjoy each other's company.
Don't be shy to get cozy with your partner.
Try to envision your photoshoot as just another date or bonding experience
A little flirtation in front of the camera never hurts.
Remember that capturing stellar moments on camera becomes easier if you have that positive energy flowing in your photoshoot poses.
Use Real Laughter to Capture Genuine Emotion
Laughter is not only the best medicine. It's a key recipe for creating authenticity in your photos too.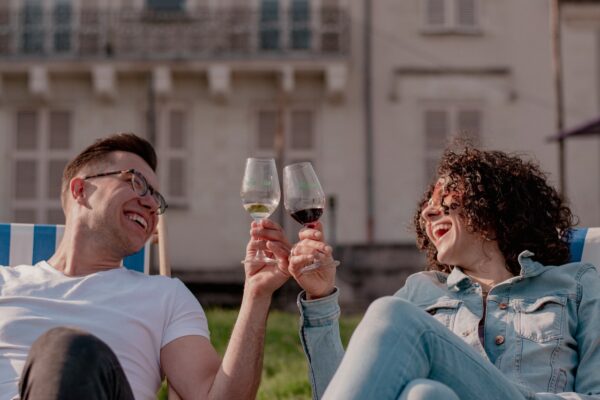 If you're feeling stressed or stiff in between photoshoot poses, try laughing—for real. Laughing can instantly relax your face and loosen body movement, and the more natural it is, the better it will look in photos. Plus, real laughter is a genuine way to brighten and lighten a photo.
Get Moving
Photoshoot posing guides are fantastic for giving you some posing inspiration. But it's easy to get caught up trying to capture that perfect couple's pose. And when you seriously attempt to mimic certain poses, it often comes out stiff and too staged in pictures, taking out the tenderness and romance you want in couples portraits.
Here's a secret—get moving and grooving.
If you feel stiff and unsure, try creating movement in your picture. Move naturally. Try walking, running, dancing, or jumping. You can also create different movements for photos by flipping your hair or twirling your skirt.
These are all amazing ways to add movement and energy to photographs, making them more lively and dynamic.
Tell Your Story
You can follow classic photoshoot poses. But you'd also want to capture something unique and real for you as a couple. Look for ways to add a little depth and story to your photos.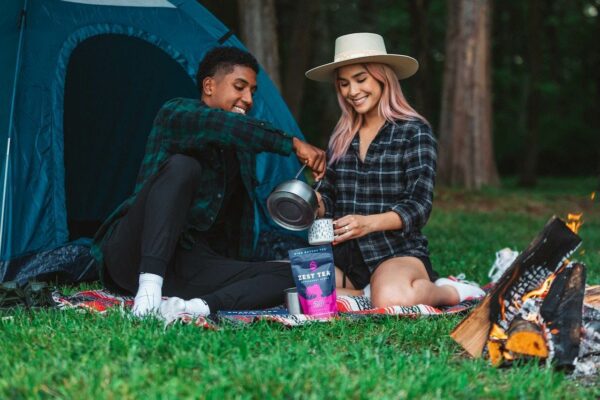 Here are a few prompts to get your thoughts flowing.
Where did you two meet?
What do you envision as the perfect date?
What activities do you enjoy doing together?
Using simple details of your special moments in your photoshoot poses, whether a prop, location, or weather, is a fantastic way to incorporate your love story into your portrait.
Tips for Posing Couples with a Height Difference
Looking natural in photoshoot poses is often challenging for couples who have fallen deeply in love with their "height opposite." But not to worry because he have some awesome photoshoot posing tips and tricks for couples with height differences.
Take seated portraits.
Try a piggyback pose.
Try laying down photoshoot poses.
Try leaning-in photoshoot poses. Have the taller person lean into the shorter person or, the shorter person into tippy toes.
Create a space between the couple. Have the shorter person in front of the taller person.
These photoshoot posing tips are fantastic for balancing extreme height differences in poses. But remember that height differences are not something you need to hide or fix.
Location Tips for Photoshoot Poses
Like wardrobe choices, choosing the perfect location will add a lot of flavor to your photoshoot poses. Pick a place that isn't only good to look at in photos and where you feel relaxed, happy, and passionate. It couple be someplace where you first met or on your first date—your options are endless.
But to give you ideas, here are a couple of fantastic locations to serve as a backdrop to your photoshoot poses.
The Beach
If you want a frame-worthy setting to pair with your photoshoot poses, head to the beach!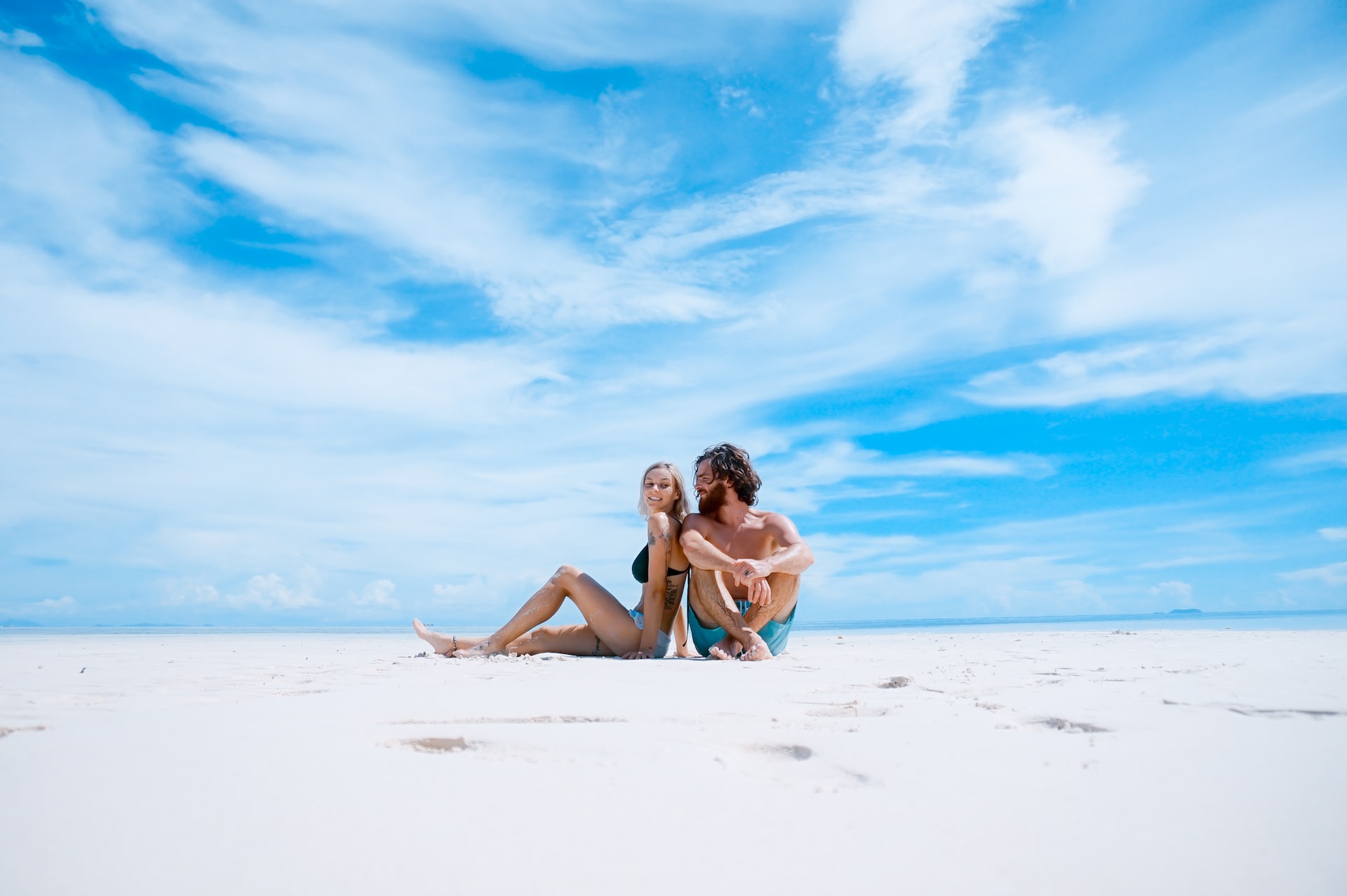 The sand in your toes and the crashing waves in the background make for a relaxed yet romantic couple's portrait. Shoot your couple's poses while the sun is rising, or maximize the beauty of the golden hour.
Cityscape and Landmarks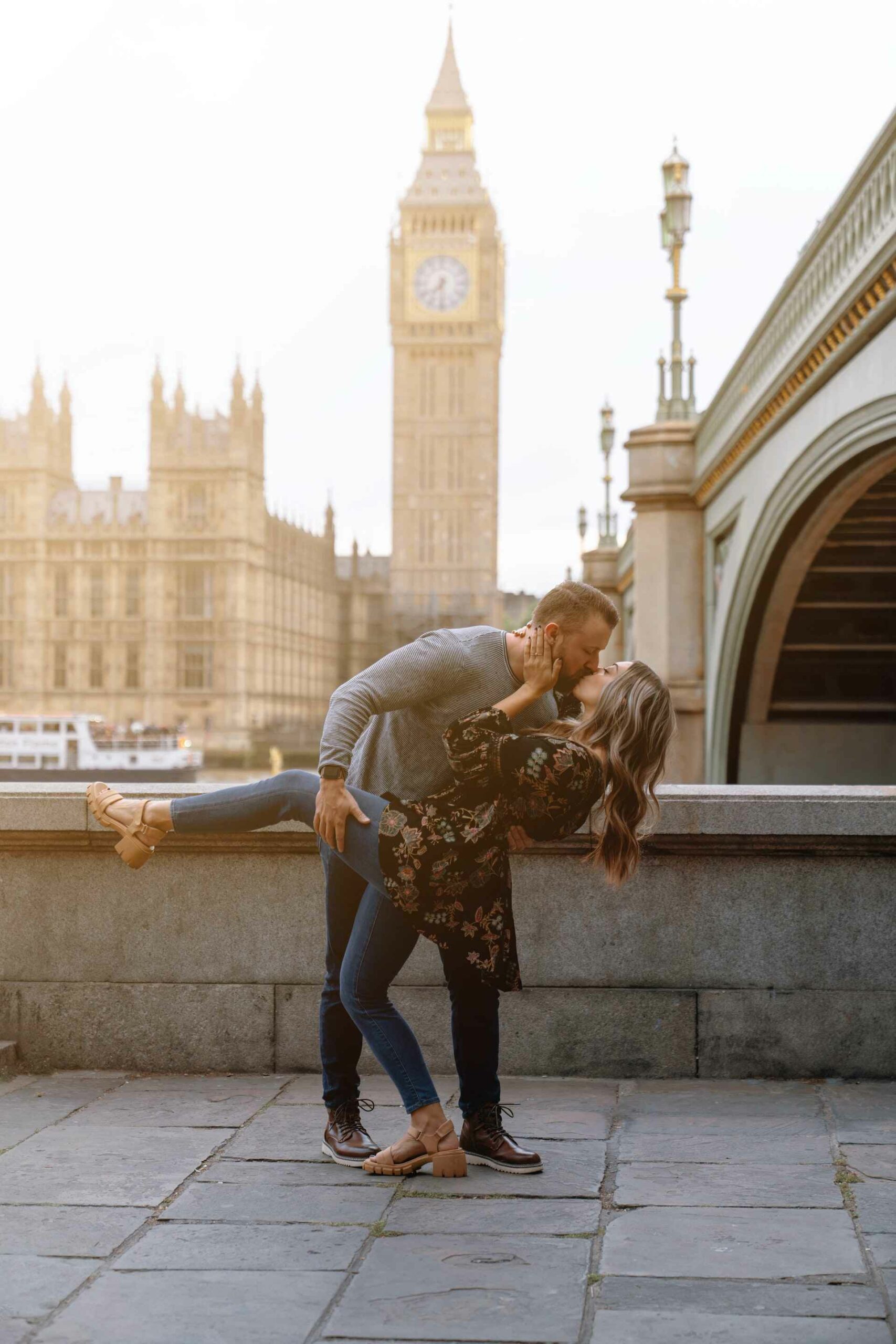 Iconic landmarks add a sense of place to your couple's photoshoot, while city backdrops give a casual setting that works with many photoshoot poses. If you want something a bit romantic, consider shooting your photos with the cityscape as the backdrop at sunset or nighttime.
Amusement Parks
It's a good option for carefree, fun-loving photoshoot poses. Shooting couple's portraits in amusement parks have a way of capturing the youthful and fun side of your relationship.
Flower Fields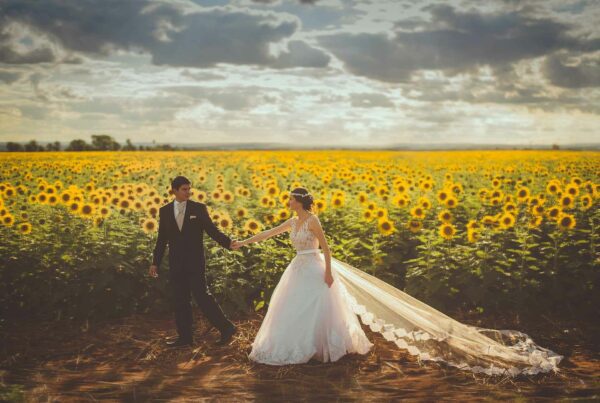 Flowers and greens are always a great idea if you're looking for gorgeous, romantic backdrops. Romantic photoshoot poses will go well with the vibrant, dreamy colors in the flower fields.
Nature Settings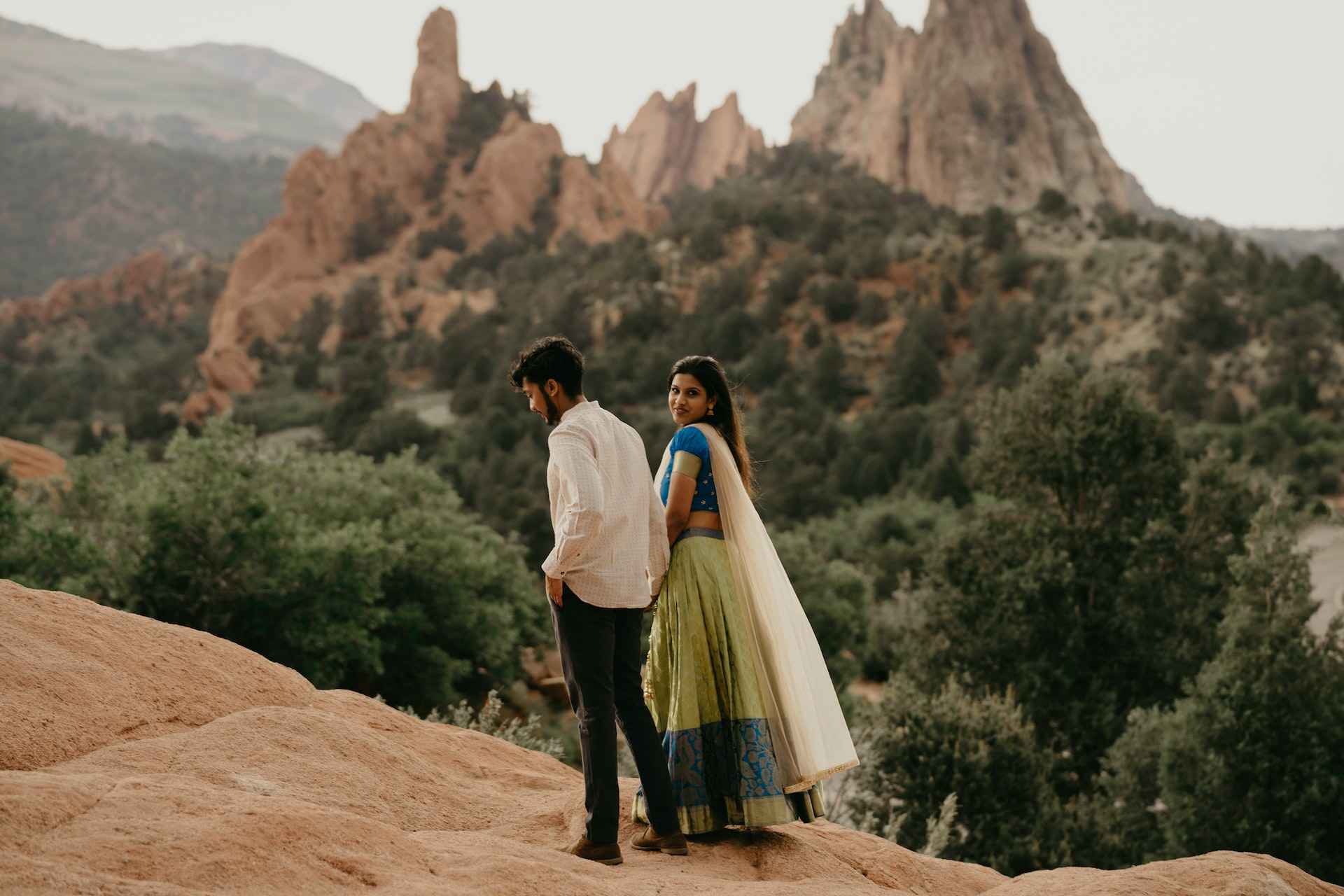 Are you both huge fans of the outdoors? Then go outdoors for your photoshoot. Make use of nature to bring an extra dimension to your photoshoot poses.
At Home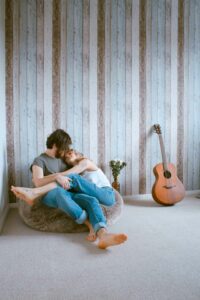 Your home is another logical place for a couple's photoshoot. Photoshoot poses taken at home screams comfort and ease. Your pictures will look cozy and intimate.
Are You Ready to Take Snaps of Your Special Moments?
Hopefully, this article has given you a lot of ideas and inspiration to capture your special moments for your next photoshoot. Feel free to use any of our photoshoot poses tips and tricks to let your love shine through in your couple's portraits. But remember, the best photoshoot poses should be about telling a story—your story.